I have a confession to make. I don't drink taro milk tea just because it tastes divinely delicious, but also because purple is my favorite color.
It's surprising how this purple-ish drink always seduces your taste buds with creamy, nutty, and sweet flavors as if you're tasting it for the first time.
Okay, I won't reveal too much about this amazing drink right in the beginning because that would be a sacrilege. Dear reader, keep reading.
A Few Words About Taro Milk Tea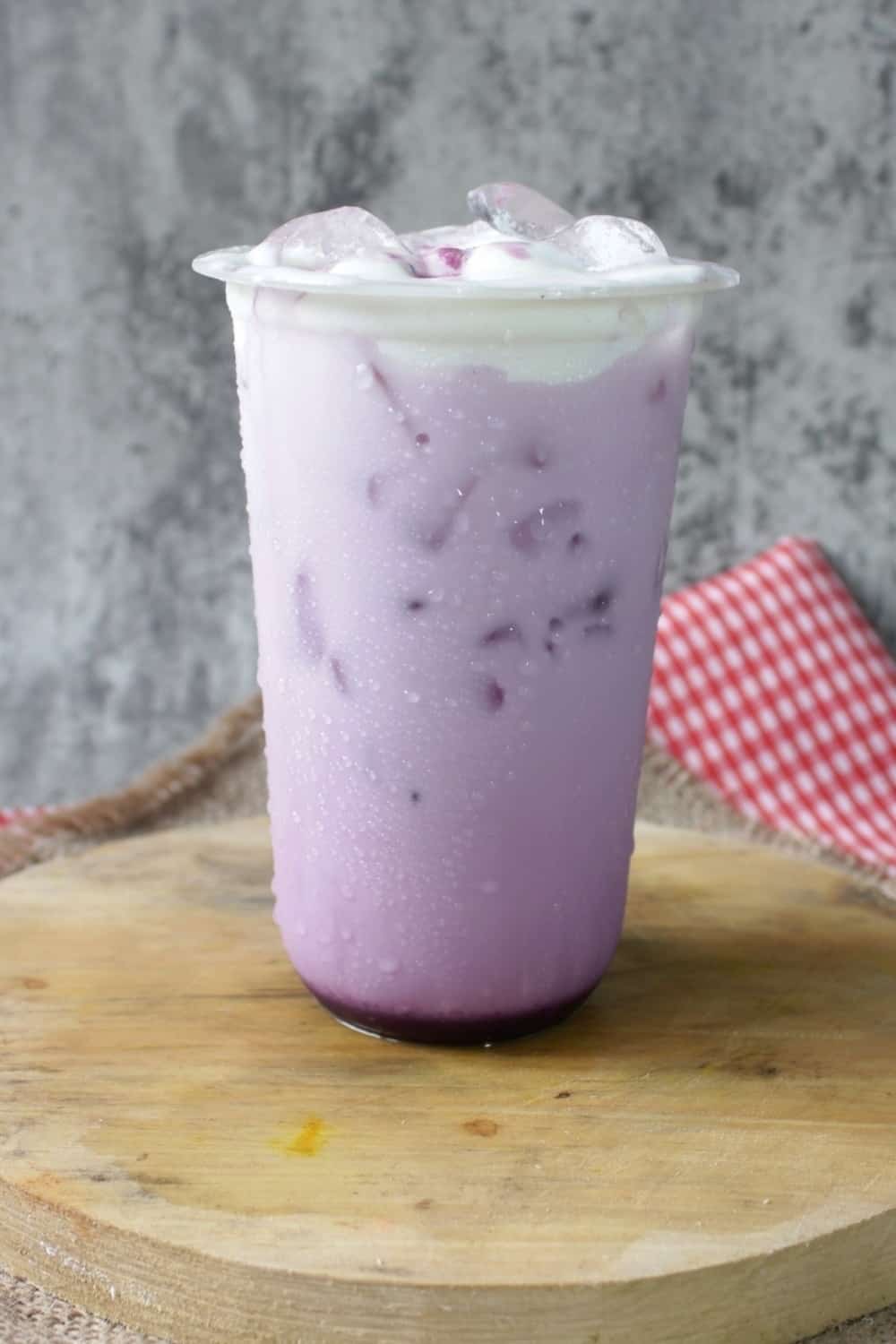 Before diving into what taro milk tea taste like, I think you should learn a few facts about Taro and what this drink is made of. If you don't agree with me, then feel free to skip the following few paragraphs.
What is Taro, anyway?
Taro is a tropical plant that is believed to be native to Southeast Asia. This starchy root vegetable has brown husky corms and big, green leaves that resemble the ears of an elephant.
If we had to compare taro with another vegetable that is known to us, it would be a potato. Ube and taro are also very similar since they are both root vegetables and share some flavor traits.
Although ube can sometimes be used as an alternative, you have to know that it is much sweeter.
Taro's leaves and corms aren't only used for making taro milk tea but they are also used in many other dishes such as puddings and breads.
WARNING: It's not safe to consume taro raw because raw corm contains a toxic element known as calcium oxalate which may cause serious harm to your health. To successfully remove calcium oxalate, you should boil, roast, steam, or bake taro before consuming it.
So, what is taro milk tea made of?
Taro milk tea is a type of boba or bubble tea that is also known as bubble milk tea, pearl milk tea, tapioca milk tea, or simply boba. The only difference is that the base of taro milk tea is taro root or taro root powder.
Taro milk is made of the following ingredients: taro root or taro root powder, green tea, milk creamer (or milk), tapioca pearls, sugar, honey (optional), ice, and water.
Besides taro root powder, the light purple color is another trademark of this drink. That's why I sometimes refer to this drink as 'purple pleasure'.
The Taste Of Taro Milk Tea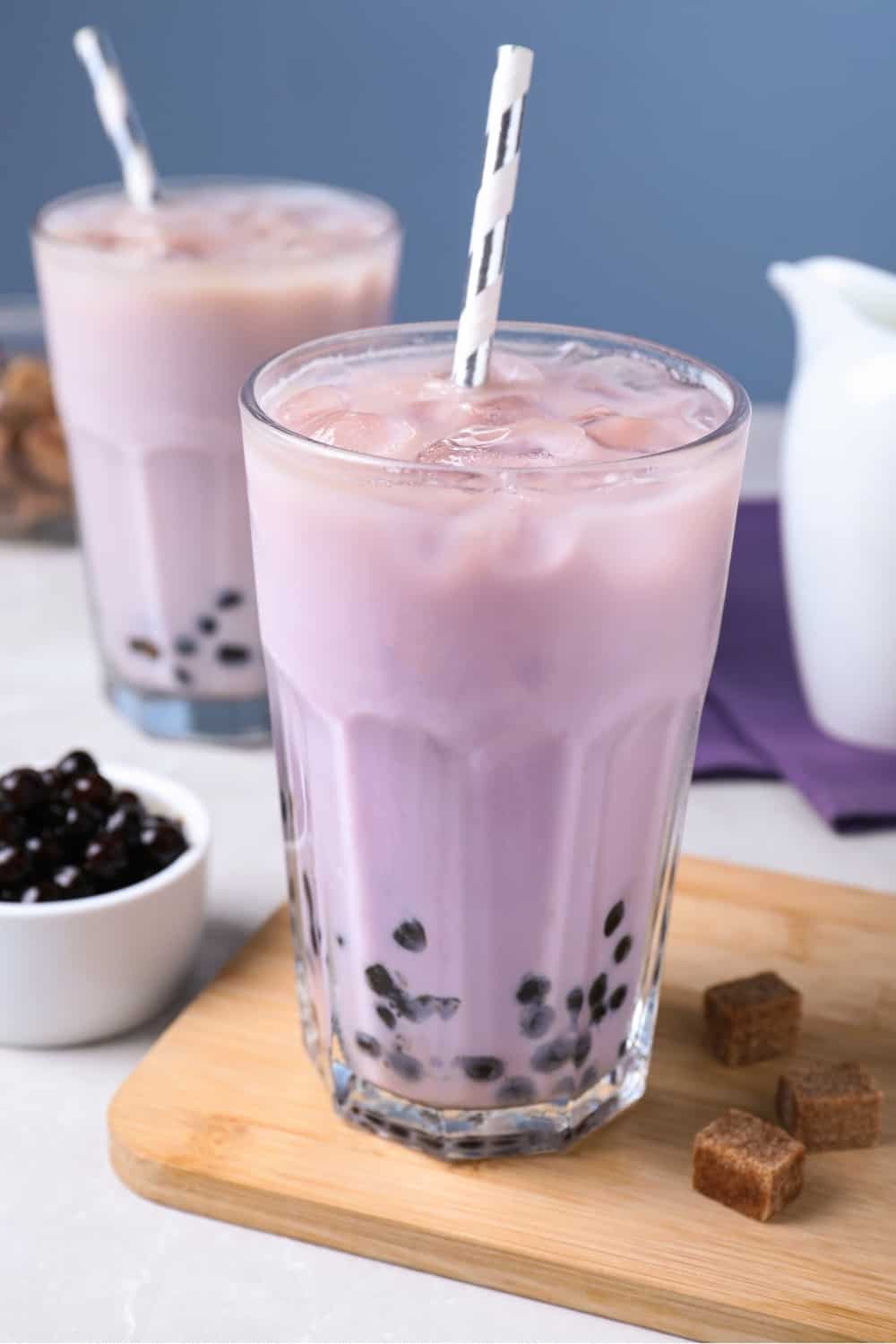 Generally, taro milk tea has a nutty, vanilla flavor. Depending on the ingredients used, it can taste sweet or savory. For example, if you add sugar or honey to this tea, the vanilla flavor will be more dominant.
When it comes to bubble tea shops, you can find two versions of taro milk tea:
• Fresh taro: Taro milk tea made with fresh taro has a mild, nutty flavor and the texture is more grainy.
• Pre-made taro: Taro milk tea made with pre-made taro has a sweet, vanilla-like flavor.
Where Can You Buy Taro Bubble Tea?
You can most definitely buy taro milk tea at bubble tea shops. Additionally, you can also find taro smoothies, or you can prepare an instant taro mix in less than three minutes.
Here's what I recommend. If you can't find taro milk tea at bubble tea shops (or you're too lazy to go there), then I suggest that you make your own. See the recipe below!
RELATED: Does Starbucks Have Boba Tea On The Menu?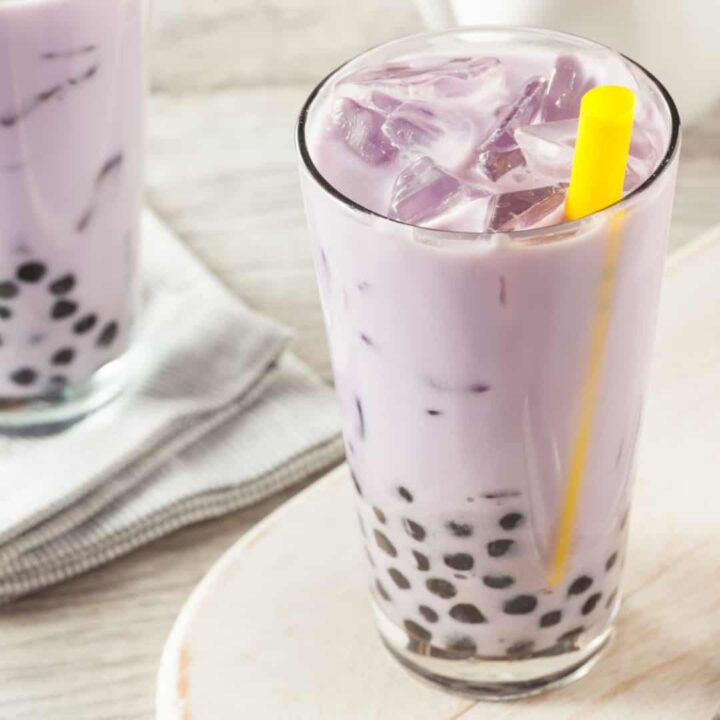 Homemade Taro Milk Tea Recipe
Cook Time:
1 hour
20 minutes
Total Time:
1 hour
30 minutes
Ingredients
1 tbsp loose-leaf jasmine green tea
½ cup sugar + ½ cup water
2 cups water
4 tbsp taro powder
½ cup tapioca pearls
3 tbsp honey
½ cup half and half
ice
Instructions
Step 1: Mix two cups of water with a pinch of salt and bring to a boil. Then add tapioca pearls and boil for 1 to 2 minutes. When done, let tapioca pearls rest for around 10 minutes.

Step 2: Make the simple syrup by mixing ½ cup sugar and ½ cup water and heat until the sugar dissolves. Then add honey and pour the mixture into a bowl.

Step 3: Add drained tapioca pearls into the simple syrup and allow it to soak for 1 hour.

Step 4: Make the tea. Bring the water to a temperature of 176°F and brew the jasmine green tea for 5 minutes. Then remove the tea leaves and add taro powder. Whisk thoroughly until it dissolves. Wait for the light purple color to appear.

Step 5: Add ice and pour tea into a cocktail shaker. Shake. Prepare two glasses. Add some tapioca pearls into the two glasses, then add ice, and divide the taro tea into the two glasses. As a final touch, top with the half and half. Add the straws and stir the taro milk tea a few times.
Notes
You can prepare tapioca pearls by yourself (see below) or you can purchase them at a supermarket or online stores. If you don't have much time to make these pearls on your own, then buying them is an ideal solution. That way you'll be able to prepare honey milk tea any time you want in the quickest way possible.
Nutrition Information:
Yield:

2
Serving Size:

1
Amount Per Serving:
Calories:

523
Total Fat:

6g
Saturated Fat:

4g
Trans Fat:

0g
Unsaturated Fat:

2g
Cholesterol:

21mg
Sodium:

54mg
Carbohydrates:

118g
Fiber:

1g
Sugar:

80g
Protein:

2g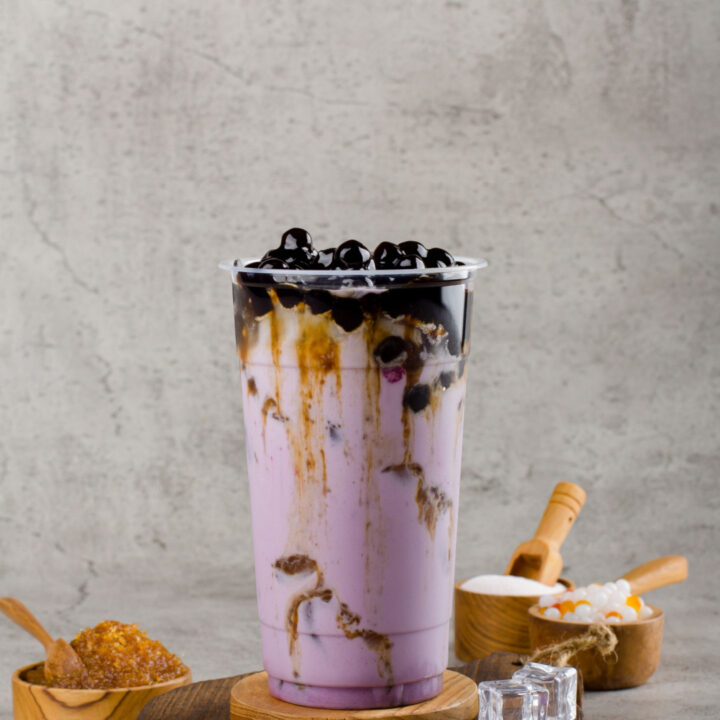 Homemade Tapioca Pearls (Boba Balls) Recipe
Making tapioca pearls can be a bit complicated for beginners, but practice makes perfect. Good luck!
Ingredients
100 g tapioca starch
80 ml water
50 g brown sugar
Instructions
Step 1: Add 30 g of brown sugar to 60 ml of boiled water. Turn the heat off and add half of the tapioca starch. Mix well. Slowly add the rest of the tapioca starch. Mix again and let it cool.

Step 2: Roll out the mixture on a flat surface about 1 cm thick. Cut it into 2 cm to 2 cm squares. Roll the squares in your hand to create small ball shapes. Pour some tapioca starch over the balls to prevent them from sticking to each other.

Step 3: Bring 8 cups of water to a boil and add tapioca balls/pearls. Cook them for 7 minutes on medium heat. Then, cook them for another 5-10 minutes on low heat. Once the tapioca balls begin to float to the surface, remove them from the boiling water and add them to an ice bath for 1 minute.

Step 4: Boil 20 ml of water and 20 g of brown sugar for 5 minutes. Put the tapioca balls into the brown sugar syrup on low heat for 6-8 minutes. Stir frequently. You can add immediately tapioca balls/pearls to hot drinks. If you're going to use them for cold drinks, then let them rest for 10-15 minutes before serving.
Nutrition Information:
Yield:

2
Serving Size:

1
Amount Per Serving:
Calories:

274
Total Fat:

0g
Saturated Fat:

0g
Trans Fat:

0g
Unsaturated Fat:

0g
Cholesterol:

0mg
Sodium:

9mg
Carbohydrates:

69g
Fiber:

0g
Sugar:

26g
Protein:

0g
Enjoy Your Taro Milk Tea!
Congratulations! Now you know what taro milk tea tastes like, and what it is made of. You also know how to prepare your own taro milk tea, so that you don't need to depend on bubble tea shops.
Don't get me wrong. I have nothing against bubble tea shops, but I get greater satisfaction from making my own taro milk tea. Also, I can play with different ingredients and create new flavors for this amazing tea! Cheers!
P.S. I also suggest that you try making your own honey milk tea and wintermelon milk tea if you haven't already.