When I first heard about this popular drink, I had 3 questions in mind:
1. What is wintermelon milk tea?
2. Wait, what is wintermelon?
3. What does wintermelon milk tea taste like?
After I gathered answers to these questions, I was interested in preparing wintermelon milk tea at home. There were a few failed attempts after which I came up with a perfect recipe for this amazing tea that all my friends and family have literally fallen in love with.
Before sharing this recipe with you, let's first answer the above three questions. I'm sure that those of you who aren't familiar with this tea will be interested in learning more about it, right?
QUICK ANSWERS
1. Wintermelon milk tea is a type of bubble tea that is also known as bubble milk tea, pearl milk tea, tapioca milk tea, boba tea, or boba. The only difference is that wintermelon milk tea is made with wintermelon syrup instead of sugar syrup like traditional bubble tea.
2. Wintermelon fruit is a combination of melon and squash, and it's native to Asia. It has a mild taste similar to that of cucumber.
3. Wintermelon milk tea has a mildly sweet, caramel-like, refreshing taste. It can be served hot or cold. The cold version is perfect for summer days!
NOTE: You'll also find health benefits, nutrition facts, and origins of wintermelon milk tea below the recipes.
Homemade Wintermelon Milk Tea Recipe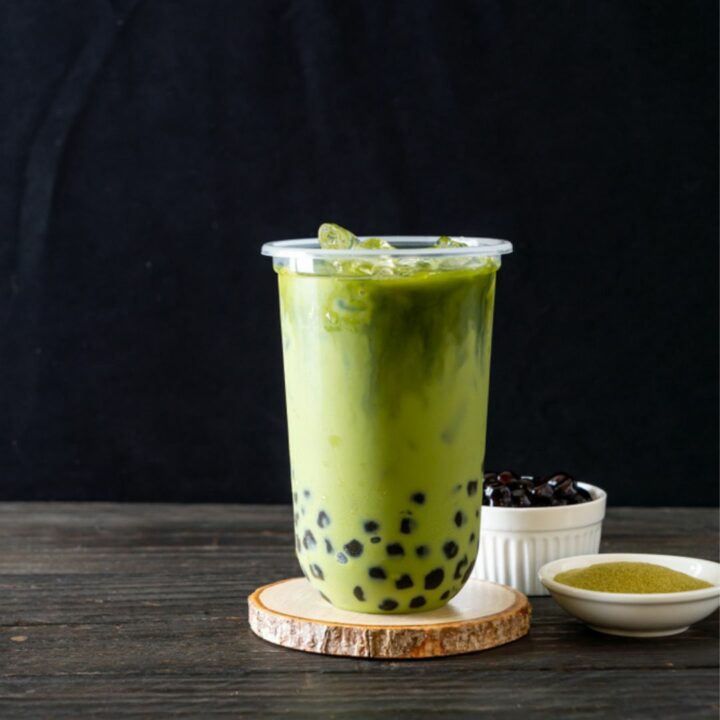 Homemade Wintermelon Milk Tea Recipe
Total Time:
2 hours
10 minutes
This tea is definitely on the list of the best summer drinks that have a refreshing taste and energizing effect on your body. Depending on the season and your preference, you can choose whether you want to make it cold or warm.
Ingredients
For wintermelon syrup
2 medium wintermelons
1 cup brown sugar
3 tablespoons rock sugar
For tea
1 tablespoon sugar
1 tablespoon jasmine tea leaves (or other tea filters)
2 tablespoons wintermelon syrup
2 tablespoons milk or creamer
Ice cubes and tapioca pearls (boba balls)
Instructions
For wintermelon syrup

Step 1: Wash, peel, deseed, and cut the wintermelon into small chunks. Heat a pot or skillet, add the wintermelon chunks, and cover them with brown sugar and rock sugar. Just make sure to add sugars gradually.

Step 2: Set it on a low heat and simmer for one hour. Don't forget to stir, so the fruit doesn't stick to the bottom of the pot. Let it boil.

Step 3: Cook until the wintermelon turns transparent and its watery content turns into syrup. When done, let the pot cool for around 90 minutes and then strain it.

For tea

Step 1: Prepare boba balls according to the instructions on the package or make your own at home (see the recipe below).

Step 2: Brew jasmine or other tea of your choice by boiling water and adding the filter or leaves to the tea. Wait for it to infuse for up to 5 minutes.

Step 3: Add milk, boba, syrup, and tea to a large cup. Add ice cubes if you want your wintermelon milk tea ice cold or hot tea if you want it warm.
Homemade Tapioca Pearls (Boba Balls) Recipe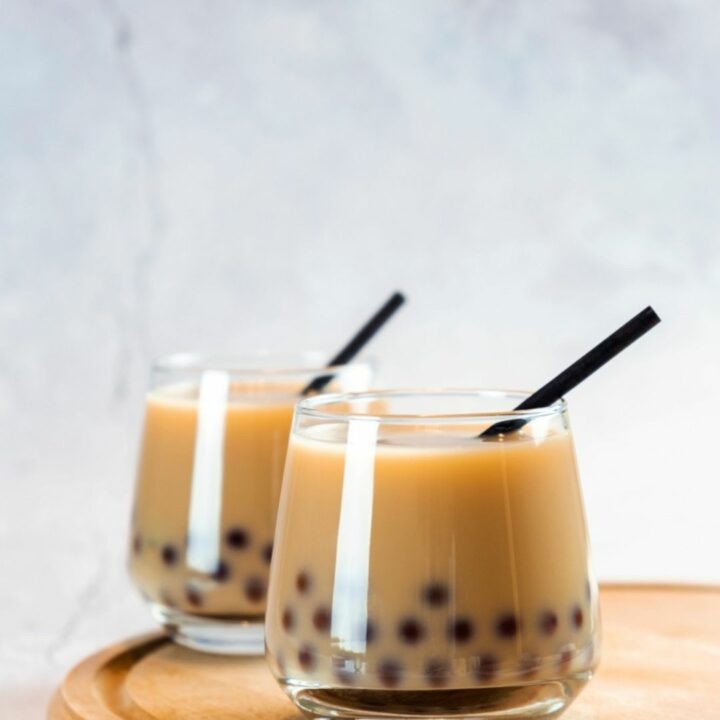 Homemade Tapioca Pearls (Boba Balls) Recipe
Making tapioca pearls can be a bit complicated for beginners, but practice makes perfect. Good luck!
Ingredients
100 g tapioca starch
80 ml water
50 g brown sugar
Instructions
Step 1: Add 30 g of brown sugar to 60 ml of boiled water. Turn the heat off and add half of the tapioca starch. Mix well. Slowly add the rest of the tapioca starch. Mix again and let it cool.

Step 2: Roll out the mixture on a flat surface about 1 cm thick. Cut it into 2 cm to 2 cm squares. Roll the squares in your hand to create small ball shapes. Pour some tapioca starch over the balls to prevent them from sticking to each other.

Step 3: Bring 8 cups of water to a boil and add tapioca balls/pearls. Cook them for 7 minutes on a medium heat. Then, cook them for another 5-10 minutes on a low heat. Once the tapioca balls begin to float to the surface, remove them from the boiling water and add them to an ice bath for 1 minute.

Step 4: Boil 20 ml of water and 20 g of brown sugar for 5 minutes. Put the tapioca balls into the brown sugar syrup on low heat for 6-8 minutes. Stir frequently. You can add immediately tapioca balls/pearls to hot drinks. If you're going to use them for cold drinks, then let them rest for 10-15 minutes before serving.
Wintermelon Milk Tea: Health Benefits + Nutrition Facts
Wintermelon milk tea is considered a healthy version of boba tea drinks mainly because it contains wintermelon. Now, what does wintermelon give to this drink and your body?
Here are a few wintermelon health benefits:
• Contains high amounts of vitamins, fiber, and antioxidant content
• Lowers cholesterol
• Helps control blood sugar levels
• Boosts the immune system
• Increases energy
• Improves cognitive function
• Promotes weight loss
• Improves vision
Keep in mind that adding lots of sugar and artificial sweeteners to wintermelon milk tea may decrease the effectiveness of the above health benefits. Therefore, reducing the sugar content is the best bet.
Nutrition facts
After talking about health benefits, it's time to talk about nutritional value! Here's what your body is getting from your favorite wintermelon milk tea in regular and large serving sizes: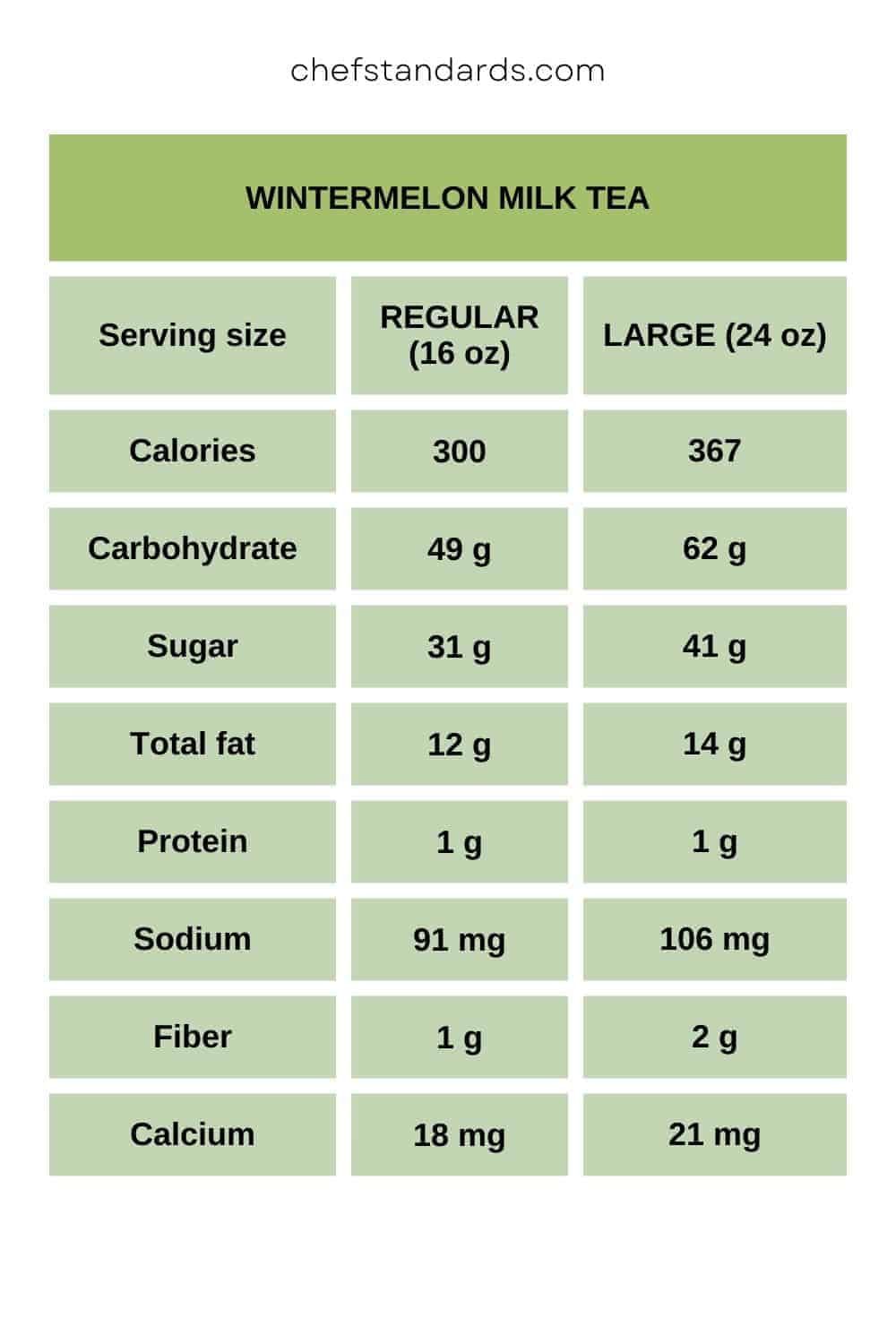 Wintermelon Milk Tea: Origins
When speaking about wintermelon milk tea origins, we're actually talking about bubble tea origins because wintermelon milk tea or honey milk tea are just types of bubble tea or boba tea. Here's an interesting interpretation of bubble tea history by Bubble Tea Supply:
"Bubble Tea originated in Taiwan in the early 1980s at a small tea stand. Elementary school children would look forward to buying a cup of refreshing tea after a long, hard day of work and play.
Tea stands were set up in front of the schools and would compete for business with the best-selling tea. One concession owner became popular with her tea when she started adding different fruit flavorings to her tea.
Because of the sweet and cool taste, children loved the taste. Soon, other concessions heard about the "unique" and popular tea, so they started to add flavoring to their teas.
When adding flavor, the tea and flavoring needed to be shaken well for a good all-around taste. This formed bubbles in the drink, which came to be known as 'Bubble Tea.'"
See also: Does Starbucks Have Boba or Bubble Tea On Their Menu?
Ready To Make Your Own Wintermelon Milk Tea?
My first homemade wintermelon milk tea was drinkable but it was far away from the desired outcome. With time, I've learned that adding more sugar or reducing the amount of sugar plays a significant difference when it comes to taste and the refreshing properties of this drink.
The above wintermelon milk tea and tapioca pearls recipes are the result of multiple preparations and taking notes. Still, remember that you have the freedom to alter these recipes according to your personal taste (e.g. you can add frozen cantaloupe or any other melon instead of wintermelon). Enjoy!