If you ask my husband to name his two favorite things in the world (besides me), it would be beer and sandwiches. His sandwich mania has bewitched me, and I daresay that experimenting with different sides for sandwiches has become our new hobby.
Given that I'm generous by nature, today I'll share with you the list of our favorite sides for sandwiches you need to try ASAP.
I've organized them into categories from my personal favorites to kid-friendly sides. I've also included recipes for some sides so that you can easily prepare them at home.
You're welcome! 😎
Sides For Sandwiches: My Top Picks
Some of these sides are totally vanilla, while others are a bit more exciting. Keep in mind that you have every right not to like what I prefer. Luckily, there are more sides below for you to choose from.
1. Mashed potatoes
If you ask me, mashed potatoes are one of the best side dishes for deli sandwiches. Why? Because they add this extra layer of flavor and creamy texture that pairs perfectly with the crunchy bread and savory fillings of these sandwiches.
2. French fries
I eat French fries with everything and I mean EVERYTHING. Okay, I don't eat them with ice cream or sweets. What I wanted to say is that adding some crispy French fries to your sandwiches will make it even more enjoyable.
I'll use this opportunity to mention Kennebeck fries as well because their versatility makes them a perfect side dish for almost any dish including sandwiches.
3. Green salad
Olive oil + green salad + sandwich = yummy delight. This yummy option is perfect for grilling outside and picnics or as a comfort food when you see your ex on social media. And yes, salad greens have plenty of health benefits.
4. Pasta salad
Pasta salad can be made with any type of pasta from macaroni to penne. You can also add a variety of ingredients such as vegetables, meats, cheeses, and dressings.
5. Cheese soup
This option will excite your taste buds! It is also an easy and quick way to add extra nutrition to your meal. Cheese soup can be made with various types of cheese, such as cheddar, Swiss, mozzarella, and blue cheese.
Here's my favorite recipe for cheese soup:
Creamy Cheddar Cheese Soup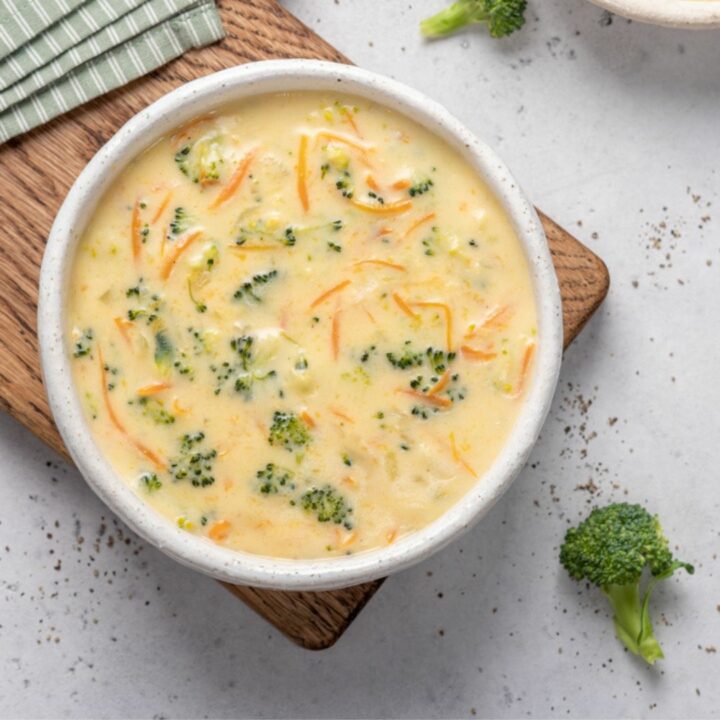 Creamy Cheddar Cheese Soup
Ingredients
1 onion (chopped)
¼ cup butter
2 (8-ounce) packages shredded Cheddar cheese
3 cups chicken broth
3 cups milk
¼ cup all-purpose flour
Instructions
Step 1: Add butter to a saucepan and melt over medium heat. Then add onion and cook for 5 minutes. Add the flour, broth and cook until the mixture thickens. Finally, add milk to the mixture and cook until it starts boiling. Don't forget to stir.

Step 2: Pour the soup into a blender and blend it until it reaches a smooth consistency.

Step 3: Then return the soup to the saucepan and cook over medium heat until it reaches the boiling point. Congrats, now you can remove the soup from the heat and add cheese to it. Whisk it until it's melted.
6. Tomato soup
Looking for a delicious, healthy, and easy-to-make side for sandwiches? Tomato soup can be served hot or cold, and it pairs well with many different types of sandwiches, from classic grilled cheese sandwiches to veggie wraps.
7. Mexican street corn salad
Mexican street corn salad is versatile enough to be enjoyed as part of a hearty breakfast sandwich or as an accompaniment to lunchtime sandwiches. It can also be added to wraps, tacos, or burritos for an extra kick of flavor.
8. Chilli con Carne
One of the most underrated but best side dishes out there is chili. This goes for sloppy joes, cold sandwiches, and copycat Subway sandwiches. Here's my favorite chili con Carne recipe:
9. Mac and cheese
Mac and cheese and sandwich? YES! Mac and cheese go perfectly with a Reuben sandwich with some Italian or Mediterranean cheese combo. Who has time to count calories, anyway?
10. Mushrooms
The best thing about mushrooms is that they can be cooked in many ways, from sautéed to grilled. Adding classic mushrooms like white mushrooms to your sandwich will be more than delicious, but you should also try a more exotic option: the kikurage mushroom.
See also: 12 Edible Mushrooms In Michigan And 6 Toxic Ones To Consider
Healthy Vegetable Sides For Sandwiches
One can never go wrong with healthy veggie sides. Find your favorite combo.
1. Air fryer veggies
Potatoes, carrots, onions, peppers, mushrooms, you name it. With an air fryer, you can cook numerous vegetable combos. You can also season them with your favorite herbs and spices.
2. BBQ veggies
Mix and match different veggies to create a unique BBQ veggie side for sandwiches that's sure to please everyone.
3. Brussels sprouts
Brussels sprouts benefit your health because they are a great source of vitamins, minerals, and fiber. Not only that. With their crunchy texture and nutty flavor, Brussels sprouts add a unique flavor to any sandwich.
4. Baked beans
Baked beans are bound to enhance the flavor of every sandwich. They are versatile, a good source of protein, and are easy to prepare.
Baked beans can also be used in salads or as a topping for toast or crackers. I prefer black beans but from time to time I also experiment with black beans substitutes and leftover refried beans.
Here's one of my fav recipes for baked beans:
Homemade Baked Beans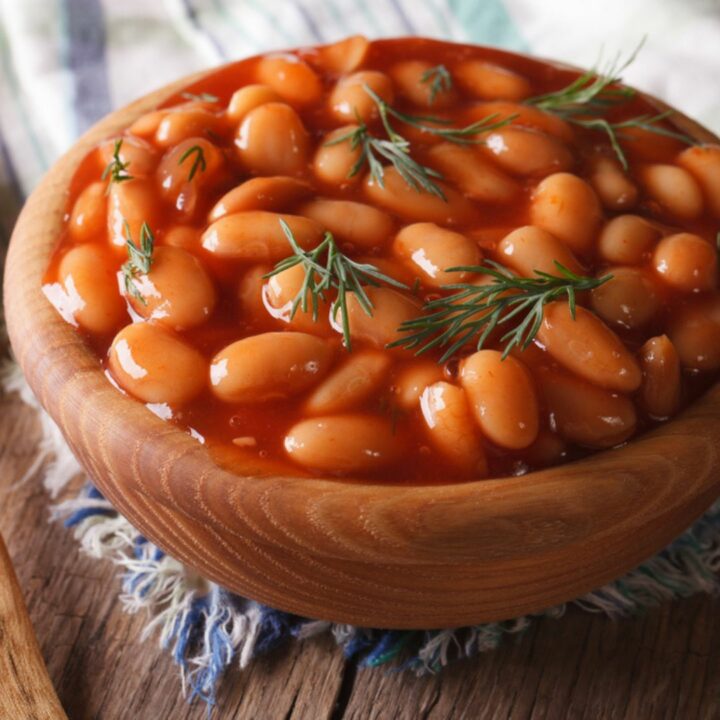 Homemade Baked Beans
Ingredients
1/3 cup firmly packed brown sugar
1 1/2 tsp Worcestershire sauce
1/2 cup sorghum syrup or molasses
1 small onion (diced)
4 bacon slices
1/2 cup ketchup
4 (15-ounce) cans pork and beans in tomato sauce (drained)
1 tsp dry mustard
Cooking spray
Instructions
Step 1: Preheat the oven to 350°F, and grease the baking dish with cooking spray. Add bacon to a skillet and cook it over medium heat for 4 minutes. Drain it and leave 1 teaspoon of drippings in a skillet.

Step 2: Add onion to the skillet and sauté it for 7 minutes. Add pork, beans, onions, and the rest of the ingredients to the baking dish with the bacon on the top. Bake it for 45 minutes.
5. Zucchini
Zucchini is low in calories, and high in fiber and vitamins. In other words, it's a nutritious and delicious addition to any sandwich. It can be grilled, sautéed, roasted, or even eaten raw for added crunch. Additionally, here are some health and nutrition benefits of zucchini.
6. Kale
Kale can be sautéed, roasted, boiled, or even eaten raw in salads or sandwiches. Sure, the taste of kale isn't that popular but there are ways in which you can make it tastier.
7. Coleslaw
Coleslaw is made with shredded cabbage and carrots and can be dressed with mayonnaise or a vinaigrette. The result – a crunchy and flavorful combination of veggies.
8. Peas
Peas and I have a special bond mainly because they can be prepared in so many ways, from steamed to mashed. Also, they are a great source of vitamins and minerals.
Healthy And Delicious Salad Sides For Sandwiches
What's better than vegetable sides? Salad sides, of course! From refreshing fruit salad to sour dill pickle salad, there's something for everyone on this list.
1. Fruit salad
It can be a simple mix of fruits or you can get creative and add different flavors like honey, yogurt, nuts, seeds, and more. Fruit salads add an extra layer of flavor to sandwiches.
2. Vegan Cesar salad
The vegan version of the classic Cesar salad can be made with vegan mayonnaise, vegan Parmesan cheese, and Worcestershire sauce. Add vinaigrette or another vinegar-based dressing to make the taste pop.
3. Antipasto salad
This is an Italian-inspired side dish that is perfect for sandwiches. It's made with a variety of ingredients like olives, artichokes, peppers, and salami, and can be served either cold or warm. Here's a recipe for you to try:
Antipasto Salad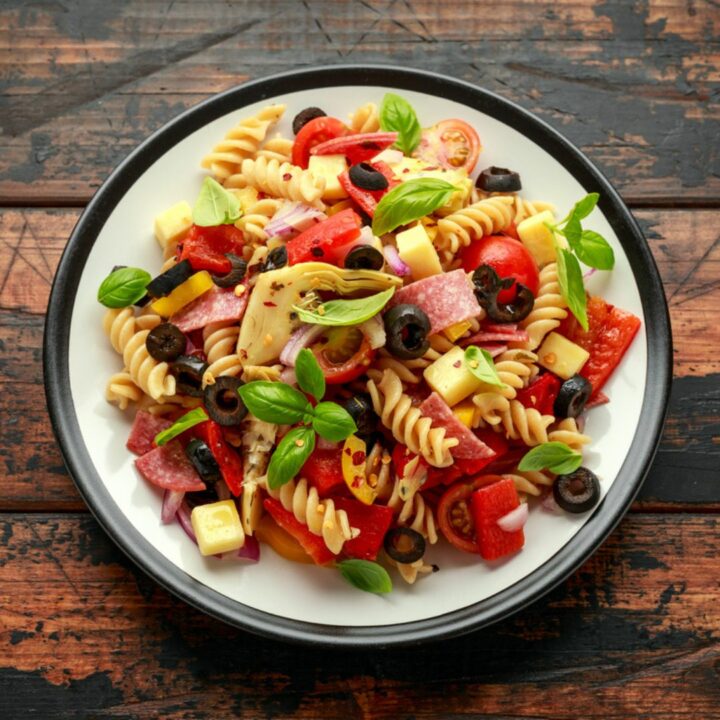 Antipasto Salad
Ingredients
10 cherry tomatoes (halved)
3 tbsp red wine vinegar
⅛ tsp crushed red pepper flakes
6 ounces macaroni
¼ cup grated Parmesan cheese
½ cup shredded mozzarella cheese
4 ounces sliced pepperoni sausage
1 tsp dried basil
½ cup vegetable oil
2 cups broccoli florets
1 tsp salt
1 clove garlic (minced)
Instructions
Step 1: Cook pasta in salted water al dente and drain it.

Step 2: Combine oil, garlic, vinegar, basil, salt, and pepper in a bowl and stir well. Add warm macaroni to it and toss with parmesan. Cover the dish and place it in the fridge for 2 to 3 hours.

Step 3: Add pepperoni, tomatoes, and broccoli to the dish and stir. Final touch: sprinkle with mozzarella.
4. Cucumber salad
Cucumbers are high in water content and provide a cooling effect that helps to balance out the flavors of the sandwich. This is one of the best sides for sandwiches, especially if combined with other veggies.
5. Broccoli salad
It's crunchy, flavorful, and full of healthy ingredients like broccoli, red onions, and sunflower seeds. Plus, it's easy to make with just a few simple ingredients.
6. Spinach salad
This salad is packed with vitamins and minerals that are essential for maintaining good health. It pairs perfectly with almost any sandwich.
7. German potato salad
Are you looking for a quick sandwich side dish for lunch or an easy side dish for your next gathering? This versatile salad can be served warm or cold and it's simply delicious.
8. Macaroni salad
Macaroni salad can be made with various ingredients such as mayonnaise, mustard, celery, onions, pickles, olives, and other vegetables. This salad is easy to make and can be served cold or hot.
9. Feta cheese salad
This salad adds a burst of flavor to any sandwich and can be customized to fit your tastes. Melt the feta or add cranberries and other berries into the mix to freshen it up. Here's my recipe for feta cheese salad:
Simple And Tasty Feta Cheese Salad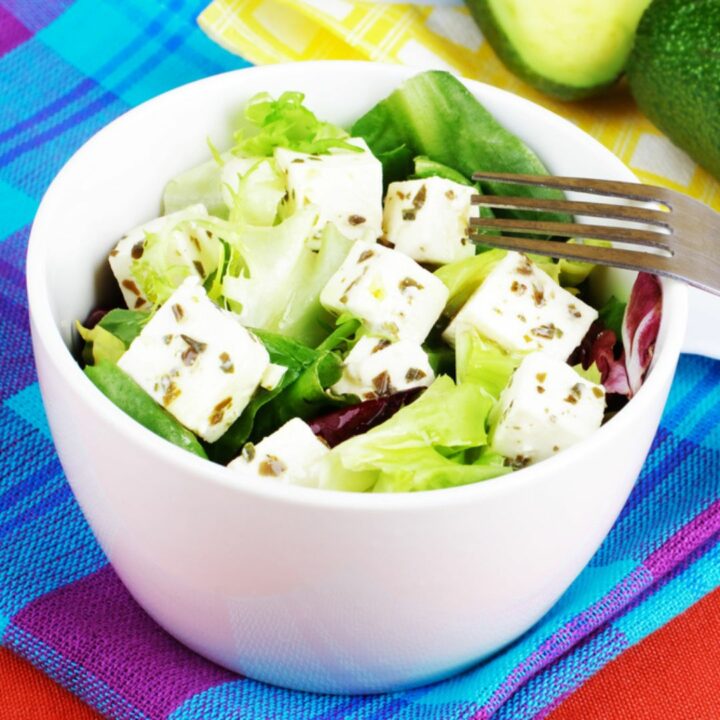 Simple And Tasty Feta Cheese Salad
Ingredients
1 tbsp olive oil
1 tbsp lemon juice
½ onion (diced)
3 tbsp crumbled feta cheese
12 cherry tomatoes (thinly sliced)
Instructions
Step 1: Combine the cherry tomatoes, feta cheese, onion, olive oil, and lemon juice in a bowl and serve.

10. Chicken salad
Chicken salad is a great way to add protein and flavor to any sandwich. Wouldn't you agree? Classic chicken salad is made of the following ingredients: mayonnaise, celery, cooked chicken, green onion, dill, salt, and pepper.
11. Dill pickle salad
This easy-to-make salad combines pickles, mayonnaise, and celery. It's also great as an appetizer or snack on its own.
More Tasty Sides For Sandwiches
Surprise! We're not done yet. Here are more tasty sides for sandwiches for you to enjoy:
1. Sushi
Sushi brings out the savory flavors in your sandwich. It adds a unique flavor profile and texture to sandwiches, making them more interesting and enjoyable. You can choose classic sushi nori or snow crab rolls. And yes, you can eat sushi the next day if stored in the fridge.
2. Cottage cheese
It's high in protein, low in fat, and has a creamy texture that pairs well with many types of bread. Cottage cheese can be added to sandwiches as is or blended with other ingredients such as mayonnaise or avocado for extra flavor.
3. Potato wedges
Potato wedges are an easy and affordable way to make your sandwich more filling and satisfying. They can be served with ketchup, mayonnaise, or even just butter for a delicious accompaniment to your sandwich.
4. Pierogies
Pierogies are made of unleavened dough filled with various fillings, such as potatoes, cheese, and onions. They can be boiled, steamed, or fried and are often served with sour cream and sautéed onions.
Additionally, here are some delicious side dishes for pierogies you can serve with sandwiches as well.
5. Beef consomme
This is a savory, flavorful broth that can be used to add a delicious twist to your favorite sandwiches. Beef consomme is a versatile condiment that can be used as a dipping sauce, marinade, or even as an ingredient in salads and soups.
6. Potato soup
Potato Soup
Not only does it add flavor to sandwiches, but it also adds a creamy texture that helps to balance out the other ingredients. Here's a creamy potato soup recipe to try out!
Ingredients
salt and freshly ground black pepper to taste
3 tbsp butter
1 onion (chopped)
2 stalks celery (diced)
1 cup heavy cream
1 tsp dried tarragon
4 cups chicken stock, or enough to cover potatoes
8 potatoes (peeled and cubed)
¼ cup all-purpose flour
1 pound bacon (chopped)
3 cloves garlic (minced)
3 tsp chopped fresh cilantro
Instructions
Step 1: Cook bacon in a Dutch oven over medium heat for 5 - 10 minutes. Turn frequently. When done, drain the bacon pieces on a paper towel. Preserve ¼ cup of the bacon grease.

Step 2: Add onion and celery to the pan and cook it on reserved bacon grease for about 5 minutes. Add garlic and continue to cook for 1 - 2 minutes.

Step 3: Add cubed potatoes and sauté for 3 - 4 minutes. Add the drained bacon pieces to the pan and pour with chicken stock so that it covers the potatoes. Simmer for 15 - 20 minutes.

Step 4: Use a separate pan to melt butter over medium heat. Add flour to it, and keep stirring for 1 - 2 minutes. Finally, add tarragon, cilantro, and heavy cream to it. Whisk it.

Step 5: Bring the cream mixture to a boil and cook for 5 minutes by stirring constantly. Add the cream mixture to the potato mixture and stir.

Step 6: Pour ½ of the soup into a blender and purée. Return the mixture to the Dutch oven and season to taste
7. Salsa
From mild to hot, there are many types of salsas available that can be used as a side dish for sandwiches. With its vibrant colors, delicious taste, and versatile uses, salsa is an ideal choice.
8. Noodles
Noodles can be used in a variety of ways to create unique and delicious sandwich combinations. Choose your noodles, be it tan tan noodles or ramen.
9. Yogurt
There are many ways to use yogurt as a side dish for sandwiches. You can add it as an ingredient in the sandwich itself or use it as a topping or dip for the sandwich.
10. Hummus
Now, this is the ultimate dip on the list of sides for sandwiches. Hummus adds buttery flavor and creamy texture to sandwiches which makes them more enjoyable to eat. Also, I feel obliged to share with you how long hummus can sit out so that you don't end up wasting any of it.
11. Ranch
Ranch dressing is an excellent choice for anyone looking for delicious creaminess. In my house, this is one of the most popular side dishes for sandwiches.
Kid-Friendly Sides For Sandwiches
I'm sure your young ones will love these sides for sandwiches in their lunch boxes:
1. Potato chips
Whether you're looking for a crunchy addition to your kids' sandwich or something salty and savory, potato chips are the perfect accompaniment.
2. Sweet potato fries
Potato provides essential vitamins and minerals. Sweet potato fries can be cooked in a variety of ways, from oven-baked to deep-fried. Oven-baked is definitely a healthier version, so I would recommend it.
3. Applesauce
Applesauce can be used as an alternative to mayonnaise or mustard in sandwiches. With its versatility and distinct taste, applesauce is the perfect side dish for any type of sandwich.
Homemade Applesauce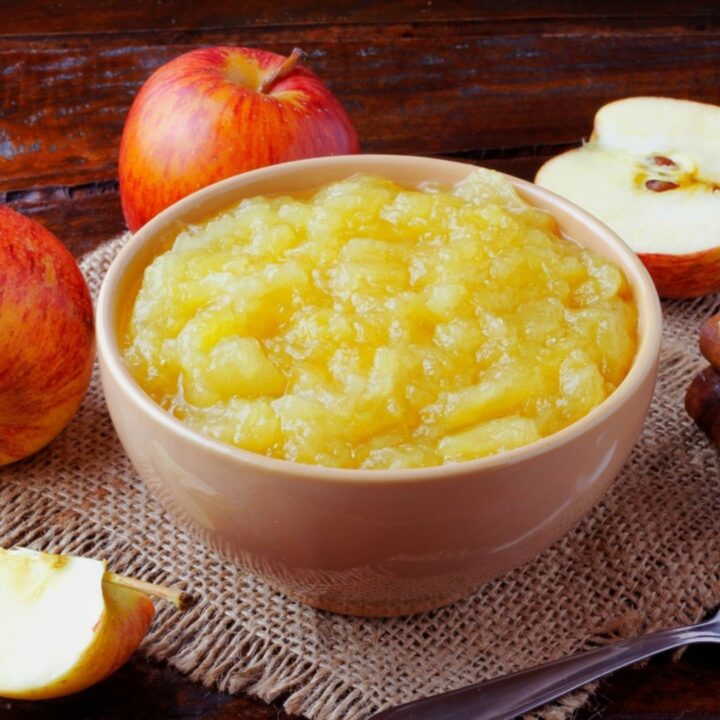 Homemade Applesauce
Applesauce can be used as an alternative to mayonnaise or mustard in sandwiches. With its versatility and distinct taste, applesauce is the perfect side dish for any type of sandwich.
Ingredients
¼ cup white sugar
4 apples (peeled, cored, and chopped)
¾ cup water
½ tsp ground cinnamon
Instructions
Step 1: Add water, apples, cinnamon, and sugar to a saucepan. Cover it and cook over medium heat for 15-20 minutes until the apples are tender.

Step 2: Let the apple mixture cool. When cooled, mash it with a fork or potato masher to the desired consistency.
4. Baby carrots
Baby carrots are a healthy alternative to other side dishes like chips or fries, as they are low in calories and contain valuable vitamins and minerals.
5. Corn
5 words: boiled corn on the cob. It goes perfectly with a sandwich. All you need to do is load the corn up with butter and add salt and pepper.
How Do You Like These Sides For Sandwiches?
No rush! You'll have plenty of time to try every single one of these sides (or the ones that piqued your interest).
Friendly reminder: Don't forget to share your favorite combos with your friends and family. Enjoy!