If you have ever tried dumplings, there is a good chance you have probably tried perogies. Perogies have a Polish origin, and they are a kind of European dumplings.
Dumplings are considered an Asian dish and it may be a bit strange that these types of dumplings originate from Eastern Europe. But that does not mean that they are any less tasty, even more so.
Confirmation of this comes from the fact that perogies spread across the United States and became a very popular dish. I think this is a very good reason to plan dinner for your whole family tonight right now where perogies will play the primary role.
And I will help you to decide what to serve with perogies and how to prepare them in the most delicious way possible.
Let's Find Out What To Serve With Perogies
Perogies are considered a comfort food, they are very versatile and can be filled with almost anything. But what you are interested in is the delicious side dishes that can be served alongside perogies. So, let's find out.
1. Caramelized Onions: Sweet And Versatile Option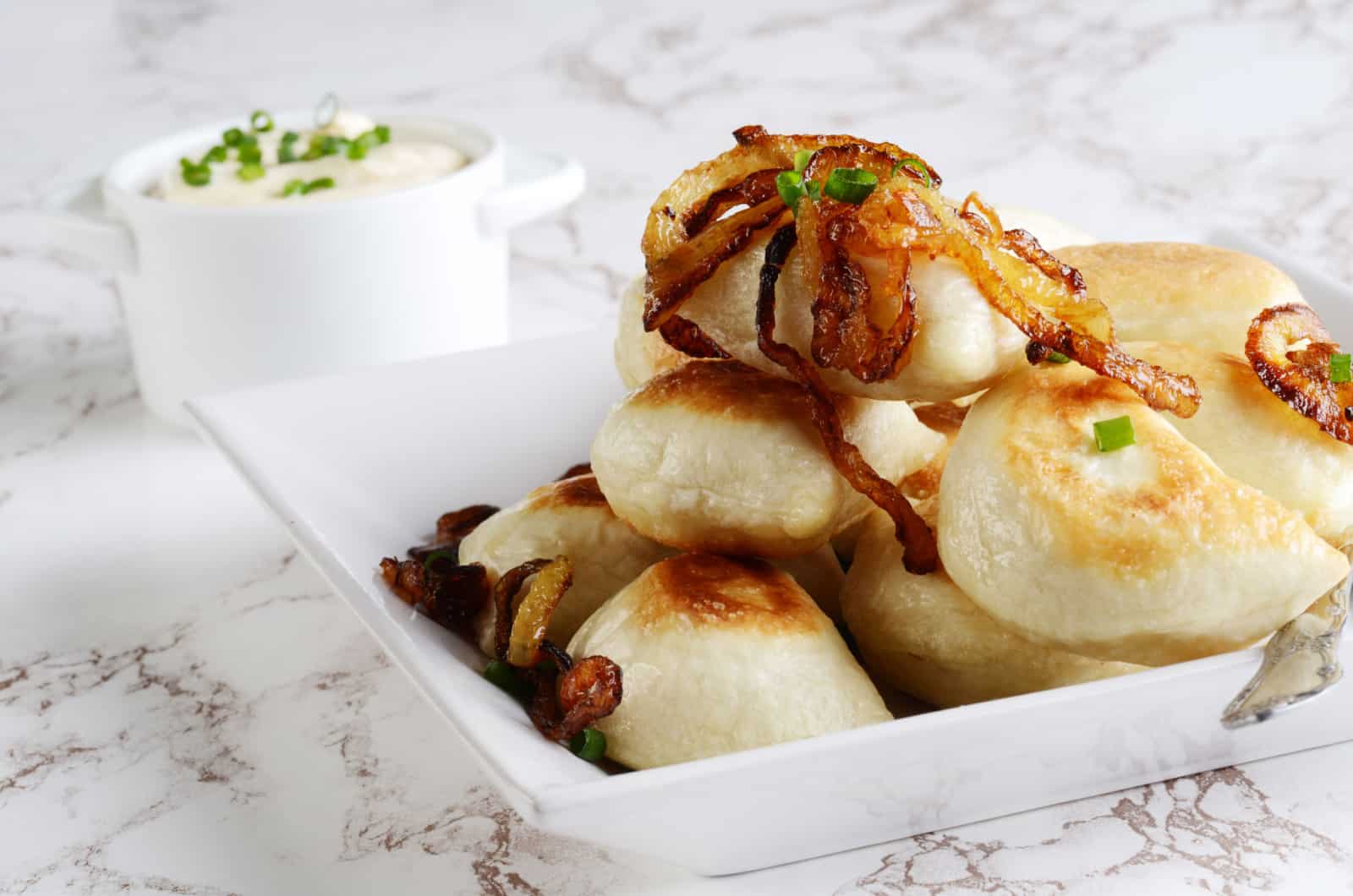 This is one very versatile option that is best suited for burgers and steaks. But it can definitely serve as a delicious option with pan-fried savory perogies.
Caramelized onions are also full of nutrients. So people who take extra care of their health and what they will eat need not worry.
The process of preparing sauteed onions is not difficult and I will try to briefly explain the process here.
First, you need to slice the onion in half, then into semi-circle slices.
Then, you need to slow cook your onions until they become soft and deep brown.
The ingredients you will need to add include butter, kosher salt, white balsamic vinegar, and canola oil. If you don't have canola oil, you can add vegetable or olive oil instead.
And at the end, when you get melted butter and beautifully browned onions, you can freely add some thyme for an additional flavor of fresh herbs, and there you have it. You can immediately serve your sweet caramelized onions with perogies.
2. Sour Cream: Easy Recipe
As the name suggests, this type of cream has a sour taste, which makes it logical for it to be served as an excellent topping for savory perogies.
The most important thing to say in this case is how to make sour cream in the first place. Well, let me tell you right away that the procedure is very simple. So, let's find out.
You need to mix a few ingredients and those are lemon juice, milk, and cream. You can use any clean jar.
All you have to do when you properly mix those ingredients in the jar is to put a piece of breathable textile on top of the jar.
You will then let the mixture sit overnight.
And, when you wake up in the morning, it is ready for your delicious perogies.
3. Brussels Sprouts: Sweet And Earthy Flavor Combo
If you are struggling to work out what to serve with perogies for your special dinner, brussels sprouts could be a perfect side dish.
The main reason for this is that they are a really good option with the savory dish. Also, they are considered a very light food that can be served raw with salads, for example.
But it can be also cooked and served as a hot dish. By the way, they are considered one of the healthiest foods out there containing a bunch of nutrients such as vitamins B, C, and K, and most of the essential minerals. Therefore, Brussels sprout's health benefits shouldn't be neglected.
It is also important to emphasize that heating them does not cause significant nutritional losses, as can be the case with some other types of vegetables.
There are many recipes for brussels sprouts, but my personal favorite, and the one that gives the specific earthy flavor with sweet undertones to the meal, is definitely the recipe for balsamic garlic roasted brussels sprouts.
4. Kielbasa: Traditional Polish Sausage
A delicious sausage is something that many of us like to see on the table. So, when you're already eating Polish dumplings, it makes sense to add Polish sausage to the meal.
Kielbasa is indispensable in Polish cuisine, especially when there are perogies on the table, another traditional Polish dish. Kielbasa is made from a variety of meats and some flavoring ingredients like juniper, marjoram, and garlic.
When it comes to serving it with perogies, I personally really like to smoke kielbasa. You can also add ham and some mustard, which also goes well with both kielbasa and perogies, and you will have your perfect dish.
5. Cucumber Salad: Creamy Greek Cucumber Salad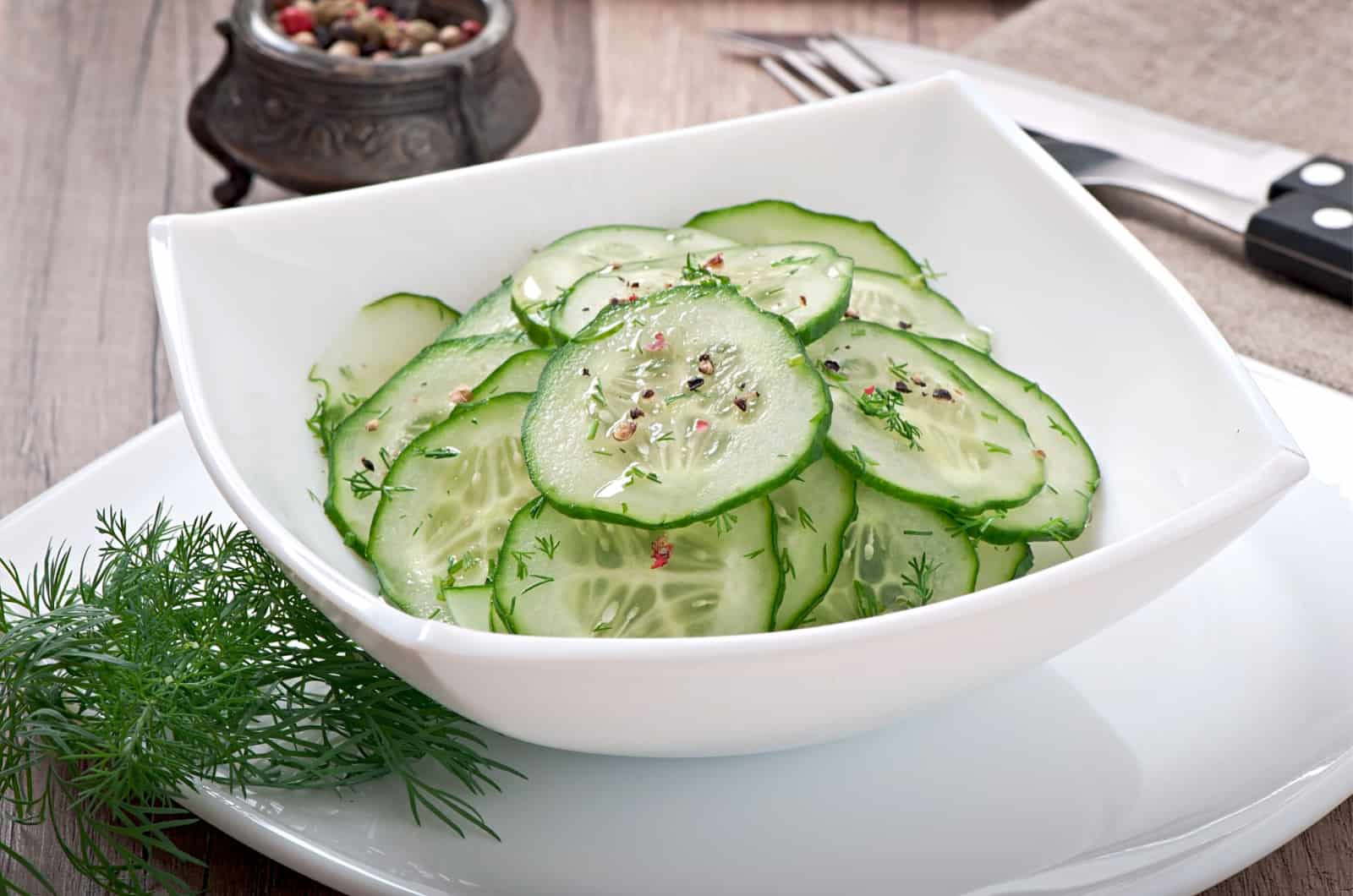 There are many recipes for cucumber salad and, of course, it is clear that its main ingredient is cucumber itself. But what if you have perogies as a main dish on your table and some cucumbers and greek yogurt in the fridge? What would you do?
So, you are not even aware that you have the ideal combo of ingredients for a delicious Greek salad that goes great with your fried, crispy perogies.
Those are the three main ingredients and – along with the others: red onions, salt, fresh dill, red wine vinegar, olive oil, lemon, some oregano, and garlic or garlic powder – make a fresh and delicious salad that will delight your taste buds.
6. Cranberry Relish: Blend Of Tangy And Sweet
The first thing I will say is that cranberries are a type of berry, and we all know very well that berries are perhaps the healthiest fruit in the world. Since cranberries are the main ingredient of cranberry relish, you can assume that this type of relish is also very healthy.
Apart from cranberry relish being very healthy, it is also very tasty. So, where do you get a better combination, right? The only better thing is to serve cranberry relish together with perogies.
An interesting fact is that when making cranberry relish, cranberries are not cooked, but freshly crushed and mixed with other ingredients.
Those ingredients include crushed cranberries and sugar, along with some apples and oranges, and sometimes walnuts and pecans.
This relish will give your palate a perfect and unique blend of tangy and sweet that will go well with savory perogies for one perfect delicious meal.
7. Pork Chop: With The Addition Of Apple Chutney
Apple chutney is actually a relish and a very delicious one that includes apples, apple vinegar, spices, and sweeteners as ingredients.
Actually, applesauce is a very usual side dish for perogies, but by adding apple chutney you are adding some seriously unique sweet and tangy flavor.
Adding to that the always delicious pork steak, which you really can't go wrong with, you get an even more unique and incredibly tasty combination that you won't be able to resist.
8. Roasted Tomatoes: With Parmesan And Garlic
This is one of those side dishes that can be used in many types of meals.
It possesses a juicy, savory flavor with a hint of parmesan cheese and garlic. Ingredients that you'll be needing, aside from garlic and parmesan cheese, are olive oil or avocado oil, and some Italian seasonings.
You are also free to experiment with other ingredients such as rosemary, or if you like to spice things a bit you can try some Mexican spices, such as chipotle chili powder.
It isn't a complex process to make this dish. Your task is to slice your tomatoes and toss them in a bowl with the mentioned ingredients. Then you will put them in your oven spread out on a sheet pan and cook on a low heat (about 400 degrees) for about 30 minutes. Easy peasy!
After that, you are free to serve them with your delicious perogies.
9. Nachos: Deep Fried Dumplings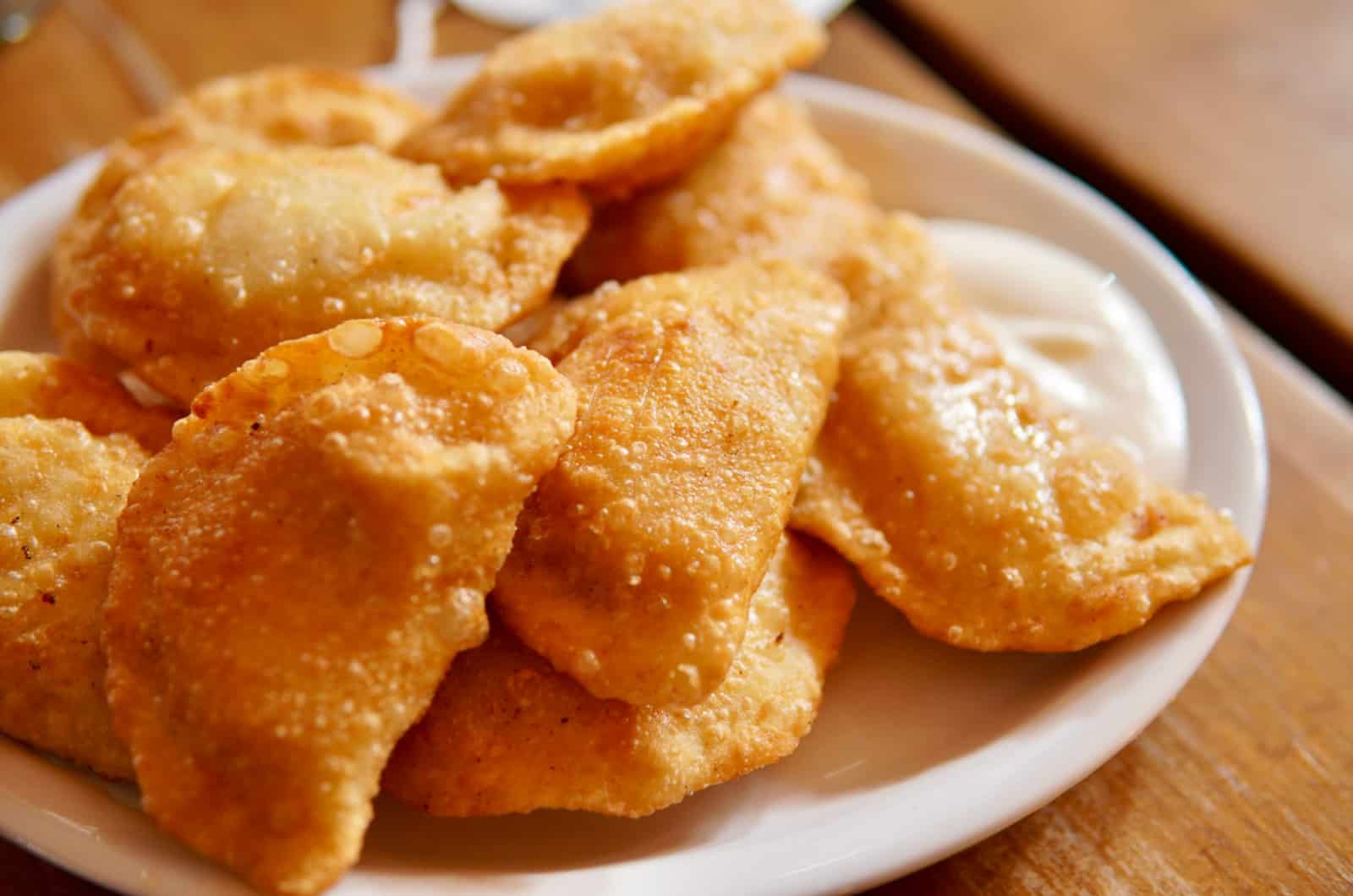 Although the question is what to serve with perogies, this time it is a bit of a different story. The reason is that, this time, nachos are not a side dish, but they are the perogies themselves.
Your only task is to deep fry your dumplings and create a kind of perogies nachos. After that, you can top your nachos with ingredients like jalapenos, green beans, tomato sauce, cheddar cheese…
You can also add some sour cream and put some dipping sauce along with it and enjoy a wonderful combination of Polish and Mexican cuisine.
10. Green Cabbage: Alongside Bacon
The combination of green cabbage and bacon is just incredible. The cabbage is there for health. It is packed with nutrients, especially the important vitamin C, and vitamin K as well.
It is full of antioxidants, it may lower inflammation, it can improve your digestion, your heart health, your blood pressure… There is no end to the health benefits that this phenomenal veggie provides.
On the other hand, the bacon is there to provide you with some good salty and smoky flavor, although you should not forget that bacon also has some health benefits of its own. But, it is there predominantly for taste.
When you add crispy perogies to this fantastic combo, you get a dish that your taste buds simply won't be able to resist.
11. Carrots, Brussels Sprouts, And Parsnip: Fantastic Trio
Your pierogies are savory, Brussels sprouts are nutty, parsnips are earthy, and carrots are so sweet. You have it all! Isn't that fantastic? Of course, it is.
Such a palette of flavors is the main reason why this incredible trio made it onto the list of what to serve with perogies.
If you also add a little maple syrup, the explosion of fantastic flavors with an emphasis on sweetness will be dazzling.
All you have to do is to put this incredible flavorful combo into the oven and wait for it to caramelize, and you will have a dinner that your taste buds will never forget.
12. Sauteed Mushrooms: Plus Garlic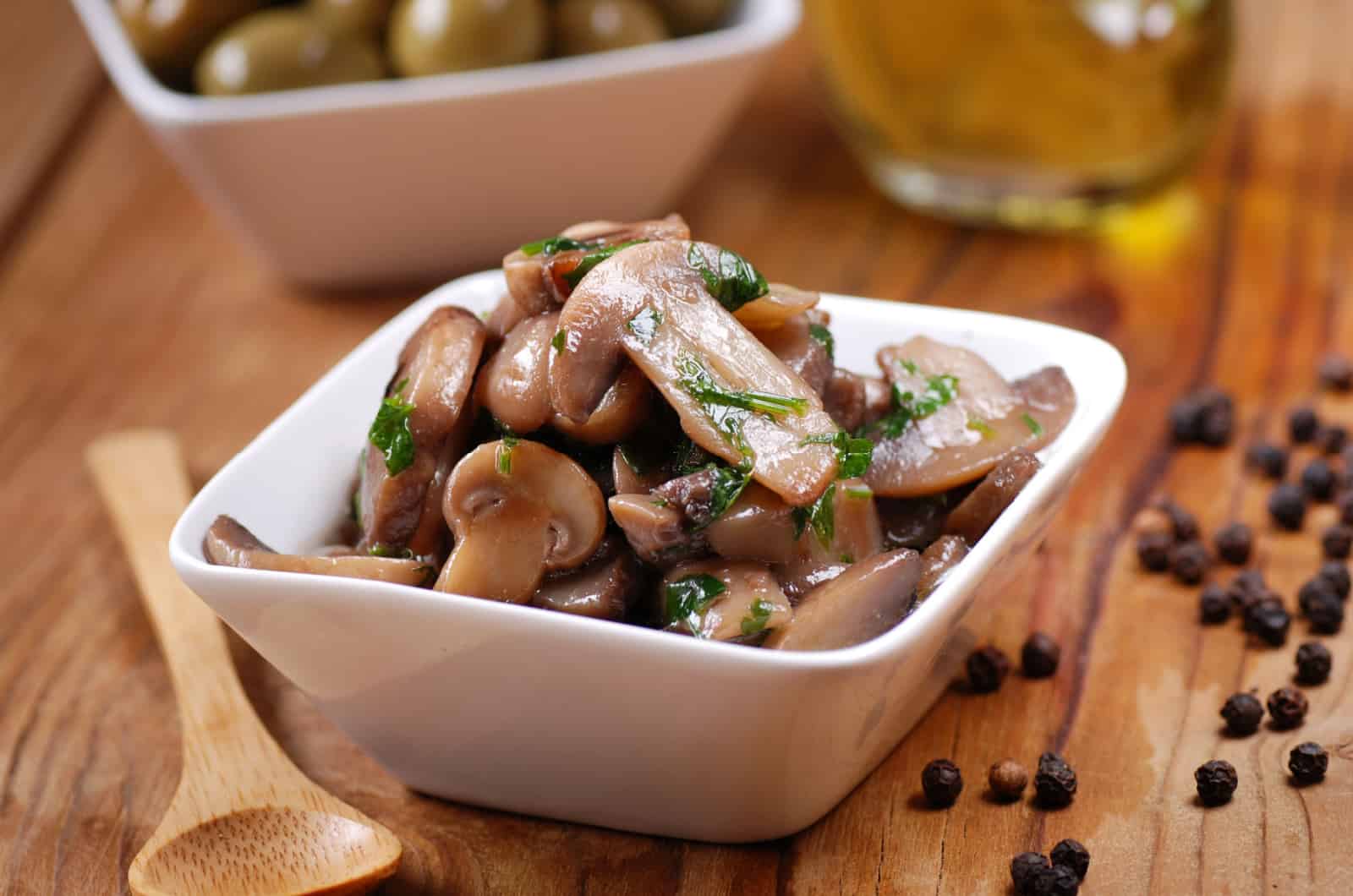 These sauteed wild mushrooms with garlic and parsley create one strong earthy flavor, and along with potato, meat, and sauerkraut make a wonderful side dish for your perogies.
All you need for this tasty side dish are mushrooms, garlic, butter, parsley, and some salt, pepper, and olive oil. The key to good sauteed mushrooms is to caramelize them properly.
And the key to that is to heat mushrooms at a medium-high temperature until they get a nice brown sear on the bottom. When you see that one side of the mushrooms is brown, you then have to flip them over and wait until the other side turns brown as well.
Then you will get your perfect sauteed mushrooms with garlic and parsley whose flavors you will be able to enjoy without limits.
13. Beet Soup: Roasted
This incredible soup is not only extremely delicious. It is also very healthy which is no wonder considering that its main ingredient is one of the healthiest types of veggies out there.
It is also eye-catching with its unique reddish-purple color. But its most important property is that it goes well with your pierogies. So, when you worry about what to serve with perogies, this soup is definitely one classy idea.
Beet soup is the perfect combination of roasted beets, carrots, red onions, and parsnips. Also, there are some ingredients like thyme, cloves, honey, cream, and balsamic vinegar.
The basis of the flavor profile of this incredibly thick soup is the sweetness, which is actually a result of the caramelization of the beets.
14. Applesauce: Slow Cooker
Applesauce is something that naturally goes well with perogies and is even considered a classic pierogi topping.
When it comes to applesauce, anybody can make it at home at any time as it doesn't involve anything complex at all. It is very easy really.
The only work that you will have to do is chop your fresh apples and put them in your slow cooker. And the slow cooker will do the rest of the work. After about 3 hours the magic has been done and you have your delicious applesauce.
You can add some cinnamon for a sweeter flavor and your applesauce will finally be ready for your perogies.
15. Taco Lasagna: Enchilada Casserole
Pairing perogies with taco lasagna is like blending Polish, Mexican, and Italian cuisine together. And that is awesome, I assure you. That is a really extraordinary blend of flavors that you won't be able to resist.
This Mexican lasagna is not a typical one because it uses lasagna noodles instead of tortillas. The main ingredient is ricotta cheese mixed with eggs. When you get your mixture, you will spread it on the boiled lasagna noodles and sprinkle a layer of taco meat on it.
Then you can add salsa to the whole mixture and sprinkle a lot of cheese on top. You can repeat the layers of lasagna noodles twice and it is ready for the oven.
When it is done, it is ready for your delicious perogies for a wonderful meal.
20 Extra Ideas For Serving Perogies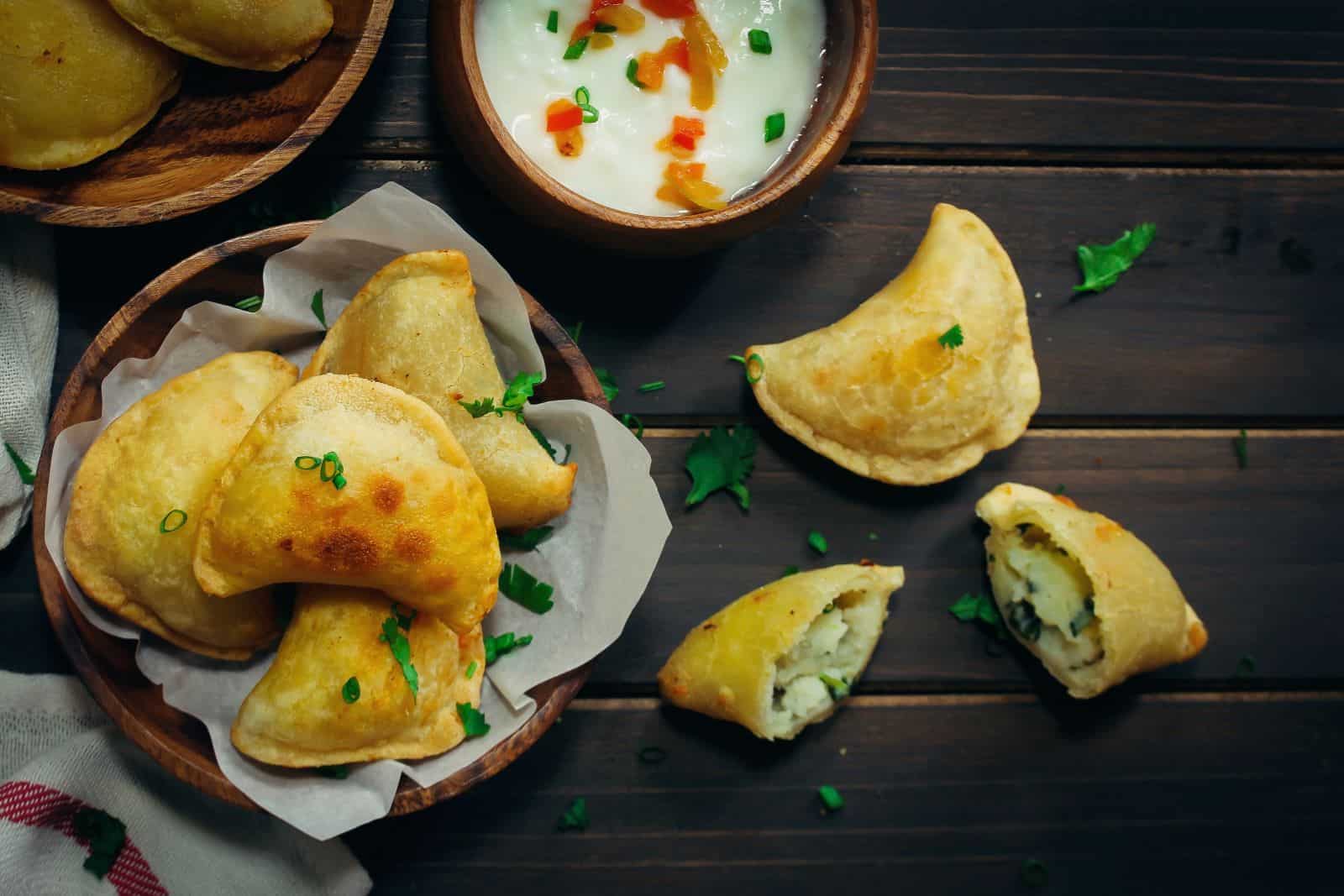 Needless to say, this isn't an exhaustive list of ideas when it comes to pierogi additions. Here are a few easy side dishes I haven't tried so far, but have potential:
16. BBQ Pork Spare Ribs
17. Beef Brisket
18. Roasted Broccoli
19. Roasted Asparagus
20. Green Beans
21. Cauliflower Soup
22. Polish Coddle
24. Roasted Tomato Soup
25. Instant Pot Chili
26. Roasted Cumin and Turmeric Carrots
27. Creamed Corn
28. Quinoa Cabbage Salad
29. Pickled Cabbage
30. Coriander Sauce
32. Green Salad
33. Fried Bacon
34. Kennebeck Fries
35. Cottage Cheese
After walking you through this list of additional options that can be served as an excellent accompaniment to your delicious Polish dumplings, I'll reveal a few interesting facts about perogies themselves.
A Few Interesting Facts About Perogies Or Pierogis
• Pierogi first arrived in Poland in the 13th century
• These Polish dumplings can be called perogies or pierogis, but pierogi is the correct Polish spelling
• Although most of them are savory, there are also sweet perogies
• This traditional Polish dish is made from pastry or flour dough
• It is most often filled with mashed potatoes and cheese
• The flavor of perogies can be changed with a sauce made from basil, thyme, chives, and green onions
• It can also be stuffed with veggies such as sauerkraut, mushrooms, broccoli, fried onions, and spinach
• The most common way of serving is as savory perogy with meat filling
How Are Perogies Traditionally Served?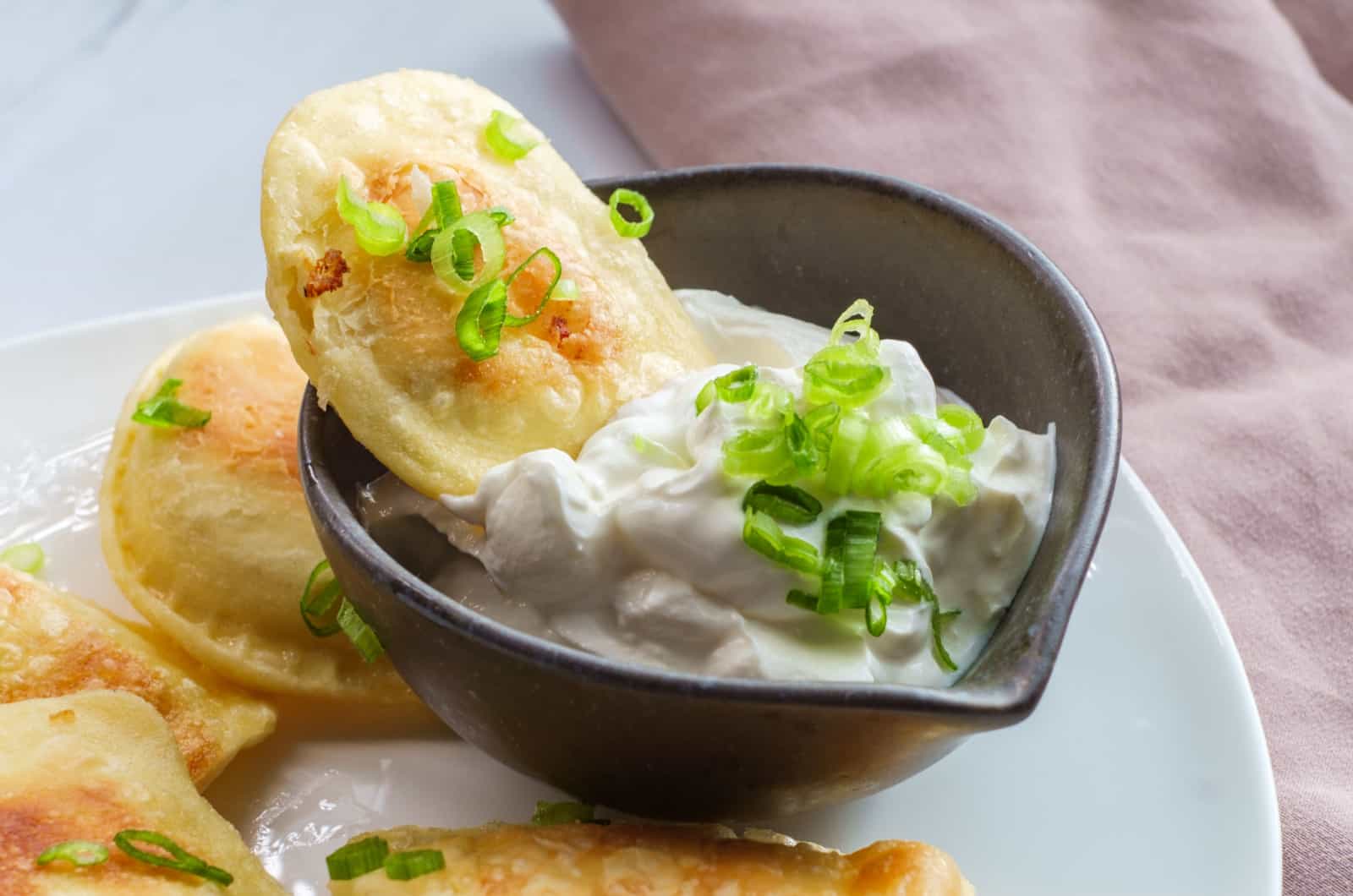 Perogies are traditionally served with fried onions, melted butter, lardons, sour cream, or pork ribs. These ingredients are mainly used as toppings.
There are also some fresh herbs that can be traditionally added to dishes of perogies, and some of those are chives, parsley, mint, dill, rosemary, basil, or thyme.
What is also good to emphasize is that perogies are traditionally cooked in boiling water and, after that, they can be pan-fried before they enrich the table. But they can be baked as well.
What Is A Traditional Pierogi Filling?
Perogies can be filled with three traditional fillings and those are herbed potato, sauerkraut, or cheesy potato.
Aside from what to serve with perogies, it is also very important to know how to fill those perogies.
Except for these traditional fillings with potatoes, meat, and sauerkraut, perogies can be filled with some sweeter options like some fruits, or they can also be filled with cheese.
There really aren't many restrictions when it comes to filling perogies. It is up to you to let your imagination run wild and, really, only your palate is the limit.
Last Thoughts On Perogies
After reading this article, you definitely don't have to worry about what to serve with perogies.
I took on that task and tried my best to present to you in the best and simplest possible way all the delicious side dishes that can make a great combination with this amazing traditional Polish dish.
The only concern you have left is to decide which of these side dishes to choose but, whichever it is, you certainly won't go wrong.