Kikurage mushrooms are edible mushrooms native to Asia, and are widely used in ramen, stews, and stir-fries. They have a crunchy texture with a mild and earthy flavor.
These mushrooms are also known as Wood Ear mushrooms because they look like a small brown ear when fresh. They are referred to as "medicine for immortality and longevity" due to their numerous nutrients and health benefits.
But of course, that's not all!
I have more interesting facts about kikurage mushrooms that you'll find below along with my three favorite recipes that contain these mushrooms. So, let's see!
Getting To Know The Kikurage Mushroom
How does kikurage mushroom taste? What is the nutritional value of kikurage mushrooms? What about its geography and use?
Here are the answers to these questions spiced up with some fun facts:
• Description and taste
The kikurage mushroom has a brownish-gray color, and it's small to medium in size with a round shape. It is usually about 6 to 8 inches (3-8 centimeters) in diameter and can weigh up to 3 pounds.
Fresh kikurage mushrooms have a gelatinous and rubbery texture. When cooked or dried, they are crunchy with a mild and earthy flavor.
• Geography and history
Kikurage mushrooms are native to Asia and have been growing since ancient times. These mushrooms were first classified in 1753, and then reclassified several times through 1888.
They can be found growing under rocks, in forests, or on tree stumps, and are typically harvested in late November or December when they are at their peak flavor and texture. Today, many major Asian countries export kikurage mushrooms in dried form around the globe.
• Nutritional value
Kikurage mushrooms are a low-calorie food with high energy. They are rich in carbohydrates, proteins, fat, fiber, vitamins (D, B1, B2, B5, B6, B9), and minerals (Calcium, potassium, magnesium, iron, and Zinc).
They also contain high levels of polysaccharides, which have been shown to have antiviral and anti-inflammatory properties due to numerous antioxidants.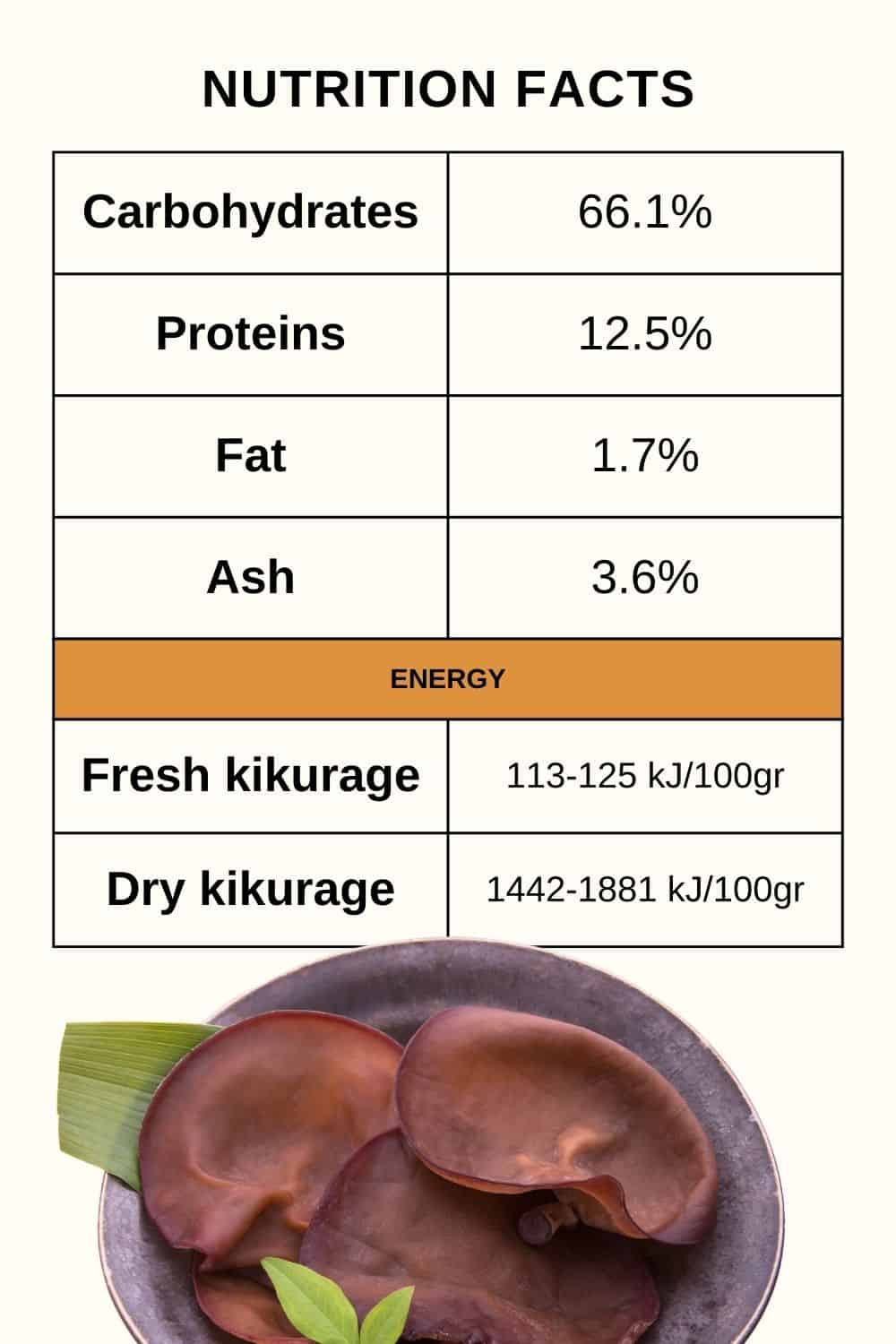 • Use
With its distinct taste and texture, kikurage mushroom can be used in many dishes, such as soups, stir-fries, or even salads. It can be eaten raw or cooked, and it is best suited for boiling, stir-frying, and sautéing.
Kikurage mushrooms pair well with green onions, ginger, soy sauce, perogies, potatoes, sesame oil, green peas, shrimp, ham, cucumber…
I like to prepare kikurage mushrooms with rice, beef consomme, and butter. If you choose to prepare this meal, here's the best rice-to-water ratio for cooking rice to perfection.
• Other names
Kikurage mushrooms are botanically known as Auricularia auricula-judae. They are also known as Cloud Ear, Jelly Ear, Jew's Ear, Mu Er, Tree Ear, Black fungus, and Wood Ear mushrooms.
See also: 12 Edible Mushrooms In Michigan And 6 Toxic Ones To Consider
10 Health Benefits Of Kikurage Mushroom
Kikurage mushrooms have been used in traditional Chinese medicine for centuries. This mushroom contains essential antioxidants, vitamins, and minerals, and it's mainly used as an immune booster and to treat chronic dry coughs.
Here are a few health benefits of kikurage mushrooms:
1. Improves gut health
2. Strengthens immune system
3. Helps lower blood glucose levels
4. Helps remove harmful radicals from the body
5. Slows down the growth of cancer cells
6. Fight against bacteria such as Escherichia coli and Staphylococcus aureus
7. Improves heart function
8. Helps maintain a healthy weight
9. Helps treat inflammatory disease
10. Prevents platelet aggregation and blood clotting
3 Japanese Recipes With Kikurage Mushrooms
Now that you're familiar with kikurage mushroom's numerous health benefits, here are a few ideas on how to prepare them:
1. Kikurage Mushroom Ramen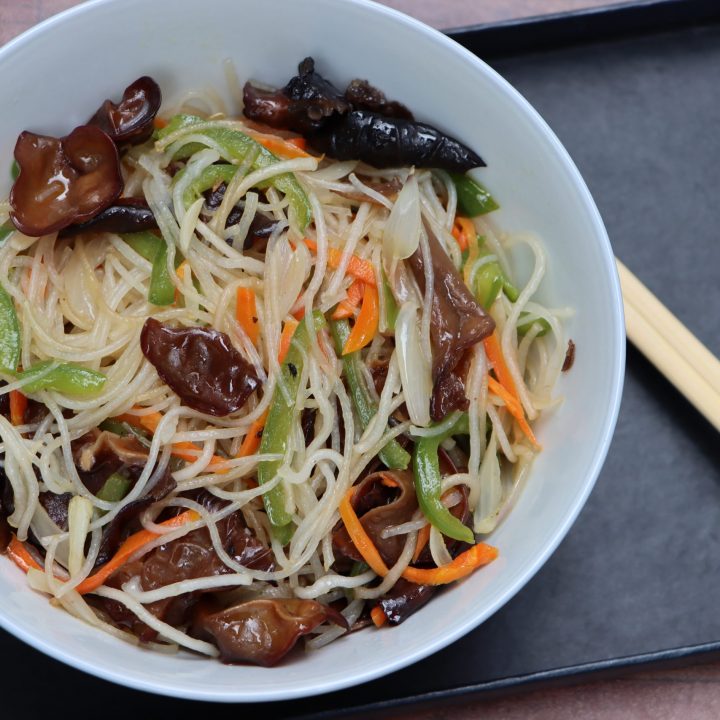 Kikurage Mushroom Ramen
Prep Time:
2 hours
15 minutes
Total Time:
2 hours
18 minutes
Ingredients
1/3 of a cup of dried or 1 cup of fresh kikurage
1 tablespoon soy sauce
1 tablespoon sesame oil
1 teaspoon mirin
Instructions
Once your dried mushrooms have their old form back, which takes around 2 hours of soaking, cut their stems and cut them into strips. Then, bring them to a boil in warm water, and let them boil for 3 minutes.
Once the mushrooms are done, strain them and dry them. Then, add the condiments (soy sauce, sesame oil, and mirin). Now your kikurage aka wood ear is ready for your ramen, so add them to the bowl!
Notes
When preparing kikurage for your ramen, you need to soak the dried mushroom in cold water, so they return to their original form.
Nutrition Information:
Yield:

1
Serving Size:

1
Amount Per Serving:
Calories:

141
Total Fat:

14g
Saturated Fat:

2g
Trans Fat:

0g
Unsaturated Fat:

11g
Cholesterol:

0mg
Sodium:

876mg
Carbohydrates:

3g
Fiber:

0g
Sugar:

2g
Protein:

1g
2. Kikurage Mushroom Salad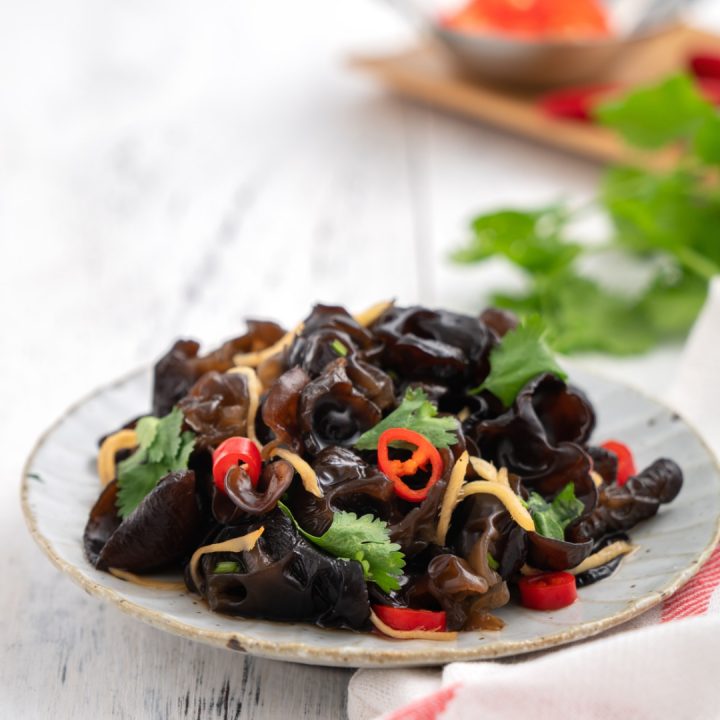 Kikurage Mushroom Salad
Prep Time:
2 hours
30 minutes
This salad is to die for when it comes to mushroom cravings.
Ingredients
4 cups fresh kikurage mushrooms or 1 cup dried
2 fresh red peppers (it can be poblano or ancho chiles)
4 garlic cloves
1 tablespoon parsley
1 tablespoon Chinese black vinegar
1 tablespoon soy sauce
1 tablespoon sesame oil
1 teaspoon sugar
Instructions
If you have dried wood ear mushrooms, let them soak for 2 hours. Then, cut the veggies into medium-sized pieces, and boil the mushrooms for 3 minutes. Before combining the ingredients, soak off any water.
Mix together the garlic, peppers, parsley, vinegar, soy sauce, sesame oil, and sugar. This will form a marinade, which you should leave in the fridge. The bowl should be covered and left to chill for half an hour.
Nutrition Information:
Yield:

6
Serving Size:

1
Amount Per Serving:
Calories:

46
Total Fat:

3g
Saturated Fat:

0g
Trans Fat:

0g
Unsaturated Fat:

2g
Cholesterol:

0mg
Sodium:

148mg
Carbohydrates:

5g
Fiber:

1g
Sugar:

3g
Protein:

1g
3. Pork And Wood Ear Stir Fry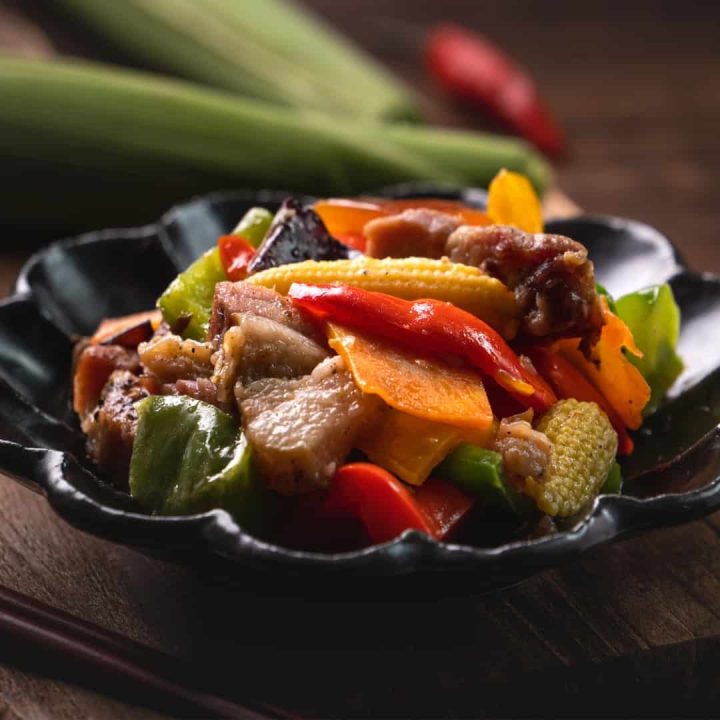 Pork And Wood Ear Stir Fry
My favorite way to combine meat and mushrooms is a stir fry since it brings out the best of both.
Ingredients
For the pork marinade and sauce:
0.5 pound pork tenderloin
1 tablespoon soy sauce
1 tablespoon sesame oil
1 tablespoon rice vinegar
1 tablespoon rice wine
For the stir-fry:
0.5 cup dried and soaked kikurage mushrooms
5 cloves of garlic
2 red chile peppers
2 spring onions or 0.5 yellow onion
1 cucumber
1 teaspoon cornstarch
Instructions
Cut and marinate the pork in an Asian mix of soy sauce, sesame oil, rice wine, and vinegar.
Then, soak the kikurage mushrooms with warm water for 15 minutes. Cut the rest of the stir fry ingredients into medium-sized chunks. If you don't have kikurage mushrooms, substitute them with shiitake mushrooms or cloud ear.
Boil the mushrooms for 1 minute and fry the pork. Use the cornstarch and a bit of water to make a paste. In the same dish, add your stir-fry ingredients gradually. Stir while mixing for up to 10 minutes on medium heat.
Nutrition Information:
Yield:

2
Serving Size:

1
Amount Per Serving:
Calories:

334
Total Fat:

13g
Saturated Fat:

3g
Trans Fat:

0g
Unsaturated Fat:

9g
Cholesterol:

83mg
Sodium:

529mg
Carbohydrates:

21g
Fiber:

6g
Sugar:

8g
Protein:

34g
Enjoy Your Kikurage Mushroom!
Now that you know everything about kikurage mushrooms and how beneficial they are for your health, I'm sure you'll find some time to prepare a delicious 'kikurage meal'.
So, get your soy sauce and sesame oil ready! It's time to rehydrate that dried kikurage, and enjoy its crunchy texture.