For a long time, I thought that beef consomme and beef broth is the same thing. I even started convincing my friends and family that there is no difference between the two. Guess what? I was wrong.
Beef consomme is actually clarified and reduced beef broth. Let that sentence kick in.
A Few Words About Beef Consomme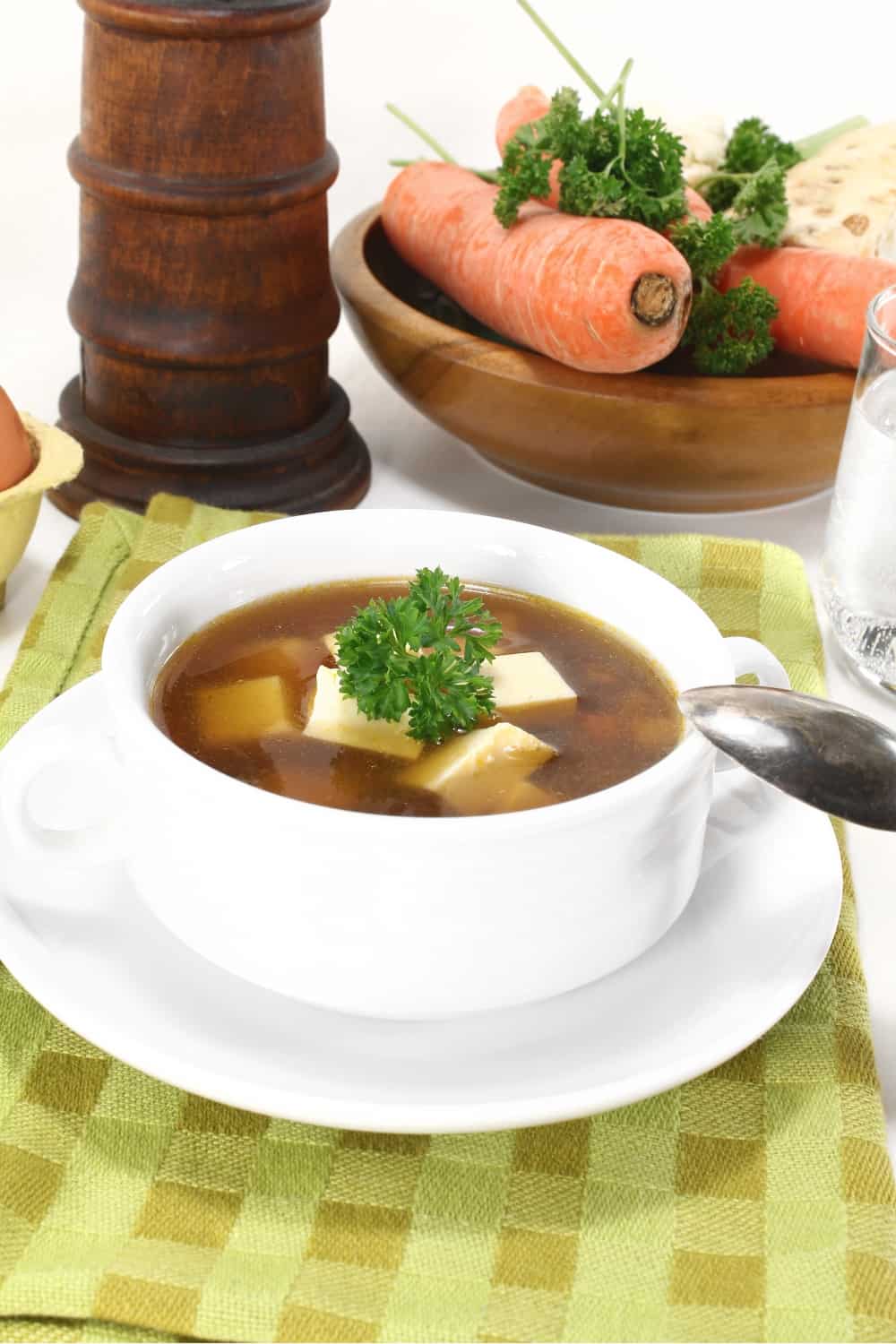 In this section, I'll just briefly summarize the most important facts about beef consomme:
• Made of: Beef consomme is made of clarified and reduced beef broth. Clarifying means removing fat and all the floating particles by simmering, while reducing means intensifying its taste by thickening.
• Taste: Beef consomme gets that intense beefy flavor from clarifying and reducing.
• Color: Beef consomme has a dark brown color which is much darker than beef broth.
• Texture: Its velvety texture is what makes consomme so appealing.
• Serving: Beef consomme is commonly used to make soups, stews, and gravy.
• Substitutes for beef consomme: Some of the best beef consomme substitutes include beef stock, beef broth, vegetable broth or vegetable broth substitutes, and beef bouillon cubes. Beef bouillon substitutes are also popularly used as substitutes for beef consomme.
• Origin: It is believed that beef consomme was created when Louis XIV of France ordered his chef to "make a soup so clear that he could see his kingly reflection in it".
• Name origin: Beef consomme is a French word that means "perfect" or "complete".
Beef Consomme Vs Beef Broth
Now that we know beef consomme is not the same as beef broth, I've summarized the main differences between the two in the table below:
| | BEEF CONSOMME | BEEF BROTH |
| --- | --- | --- |
| Made of | Clarified and thickened beef broth | Beef meat, spices, herbs, and vegetables |
| Flavor | More intense beefy flavor | Beefy flavor |
| Texture | Velvety | Thin, liquid |
| Color | Deeper brown | Deep brown |
| The average price | $3 per 32 oz | $9 per 32 oz |
How To Use Beef Consomme In Cooking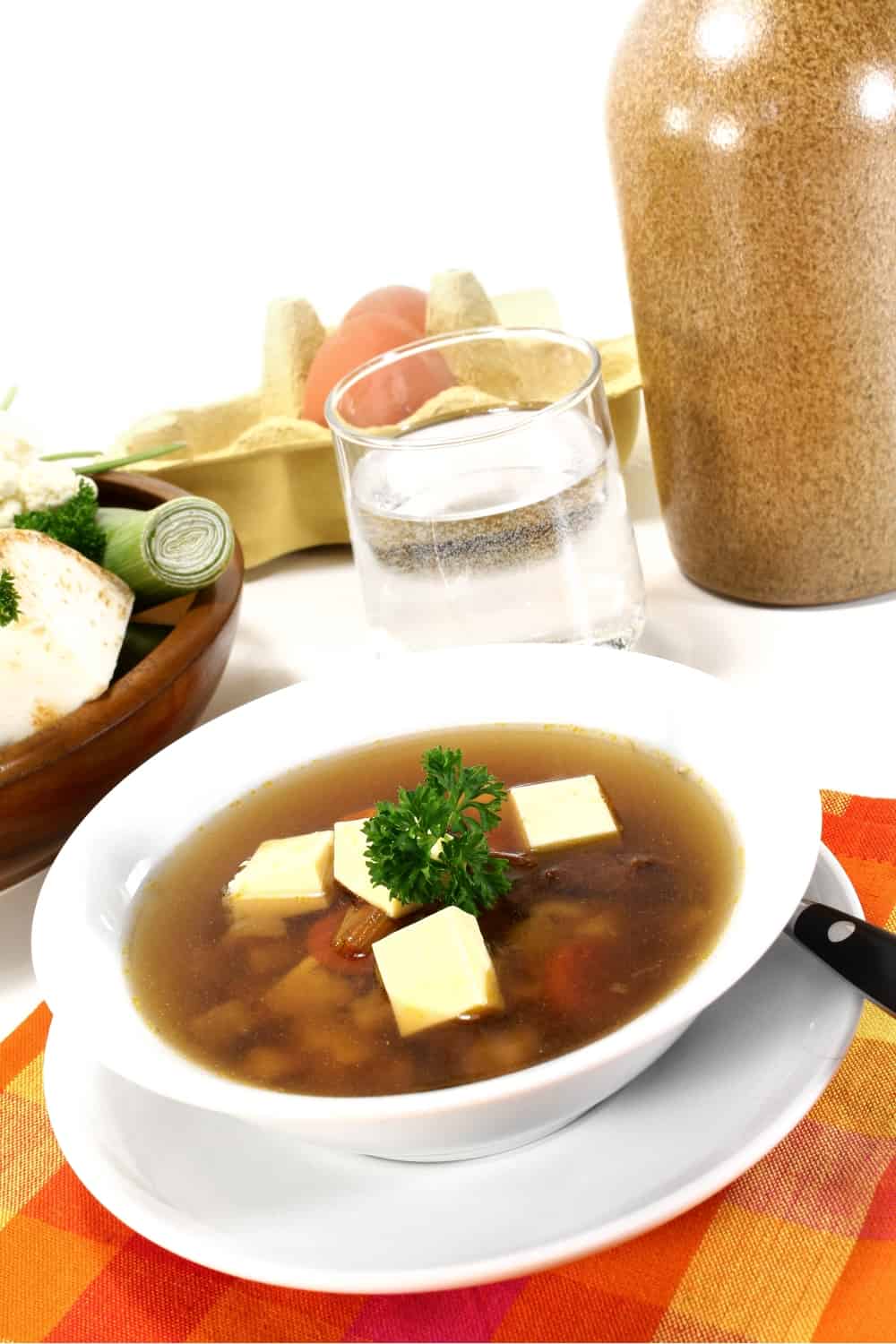 The importance of beef consomme in cooking is perfectly described by The New York Times in the following words:
"The importance of a consommé for great feasts is obvious. It offers a clean, clear, hot, appetite‐whetting introduction to a meal, particularly one that will include rich foods laced with cream, be they main courses, accompaniments or desserts."
You can use hot or cold beef consomme, and here's how to use each one of these two versions:
Hot beef consomme
Hot beef consomme is served at the beginning of the meal, obviously. You can eat it as an appetizer and pair it with meat, ravioli, eggs, quenelles, you name it.
Or you can use it as a stock in different recipes that call for stock. My fav is rice with kikurage mushrooms, beef consomme, and butter (here's how to cook rice to perfection). Also, you can garnish hot beef consomme with carrots, truffles, parsley, and some other herbs.
Cold beef consomme
The main difference between hot and cold beef consomme is that cold consomme contains gelatinous bones which are added to the egg white. The result is a cold beef consomme with a rich, creamy texture that is best served with lemon slices and eaten as an appetizer.
Homemade Beef Consomme Recipe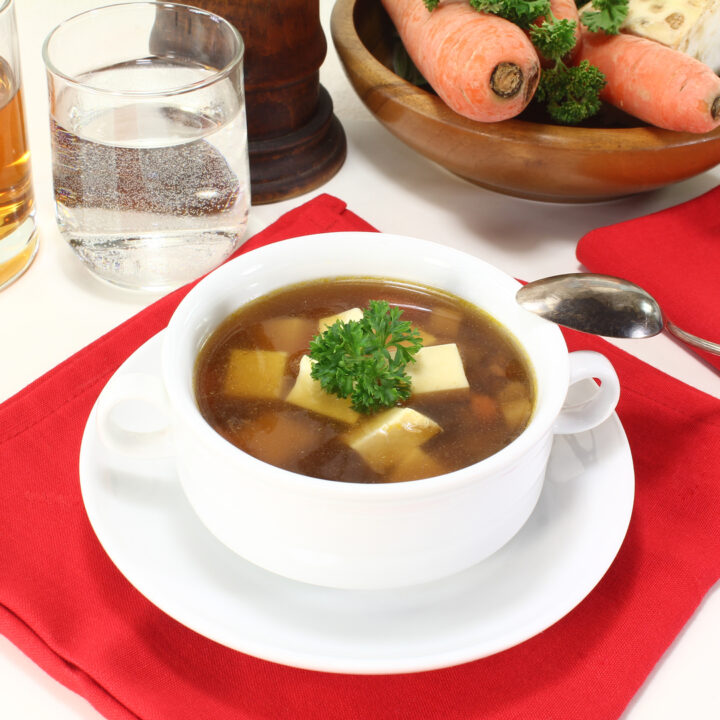 Homemade Beef Consomme Recipe
Cook Time:
1 hour
10 minutes
Total Time:
1 hour
20 minutes
Here's my version of the beef consomme that you can easily prepare at home:
Ingredients
1/2 pound sirloin, fillet, shank, or spicy beef
1 cup tomatoes (diced)
1 cup beef stock (cold)
4 egg whites and eggshells
1 cup celery (cut)
1 tablespoon crushed peppercorn
2 teaspoons salt
To taste: rosemary or thyme
Instructions
1. First, whisk egg whites, egg shells, and peppercorns together. Then use a food processor to chop the meat, celery, tomatoes, and other ingredients.

2. Take a stock pot and combine both mixes together. Bring to a boil and stir. Once the impurities and solids float to the top of the mixture, stop stirring. Set on low heat and let it simmer for 30 to 40 minutes.

3. Lastly, use a cheesecloth and sieve to strain the liquid from the solids. Do this two times if needed. Your condensed beef broth (read: beef consomme) is done, so prepare your side dishes and serve hot.

Nutrition Information:
Yield:

10
Serving Size:

1
Amount Per Serving:
Calories:

94
Total Fat:

5g
Saturated Fat:

2g
Trans Fat:

0g
Unsaturated Fat:

2g
Cholesterol:

28mg
Sodium:

518mg
Carbohydrates:

2g
Fiber:

1g
Sugar:

1g
Protein:

11g
Congrats, Now You Know What Beef Consomme Is!
Not only that. You also know how to prepare beef consomme at home. The next time someone tries to convince you that beef consomme and beef broth are the same thing, let them know that they're wrong. Or you can simply let them read this blog post.
Best,
Aiden