Truth be told, lamb is not as common as pork or beef, so it's no wonder if some people still wonder what lamb tastes like. (Hint: I used to be one of those people.)
Lamb refers to the meat of a younger sheep (4-6 months old) which is more tender than the meat of a hogget and mutton (older sheep).
Now, what does lamb taste like, and what do different lamb cuts taste like? What is the tastiest part of lamb? How is lamb compared to other types of meat? What are some delicious lamb recipes?
Let's see below!
What Does Lamb Taste Like?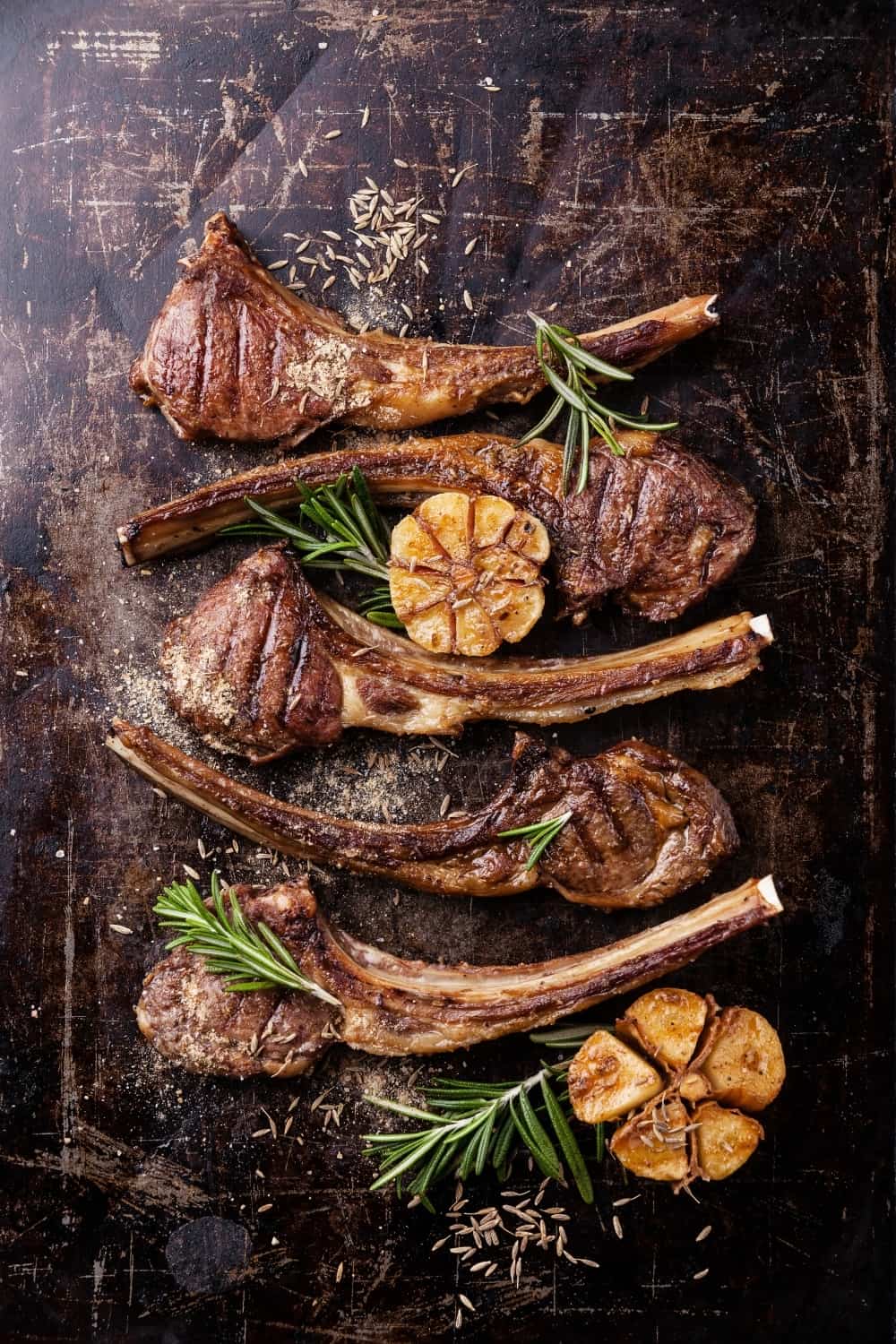 Generally, lamb has a meaty, earthy, and gamey taste. Slightly sweet and grassy are also correct descriptions of lamb meat (especially if the lamb was grass-fed).
My own taste buds would also like to add that lamb has a strong flavor with a hint of smokiness. However, there are some factors that can affect the taste of lamb (see below).
The taste of lamb can be affected by these 3 factors:
1. How lamb was fed and raised: Not every lamb is grass-fed. Some of them feed on grain which can affect the taste of meat. In other words, lambs that are pasture-raised have a different taste than lambs that eat grain.
2. Different cooking methods: The most common lamb cooking methods are grilling, roasting, and broiling. For example, grilled lamb meat will have a smokier flavor than roasted lamb.
3. Added ingredients: Different herbs, spices, and added ingredients can alter the taste of lamb from milder to stronger. Rosemary, mint, oregano, basil, sage, thyme, garlic powder, and coriander are some of the spices and herbs that are traditionally used when cooking lamb.
What Do Different Lamb Cuts Taste Like?
Just like other kinds of edible meat, different types of edible lamb cuts have distinctive flavors and textures: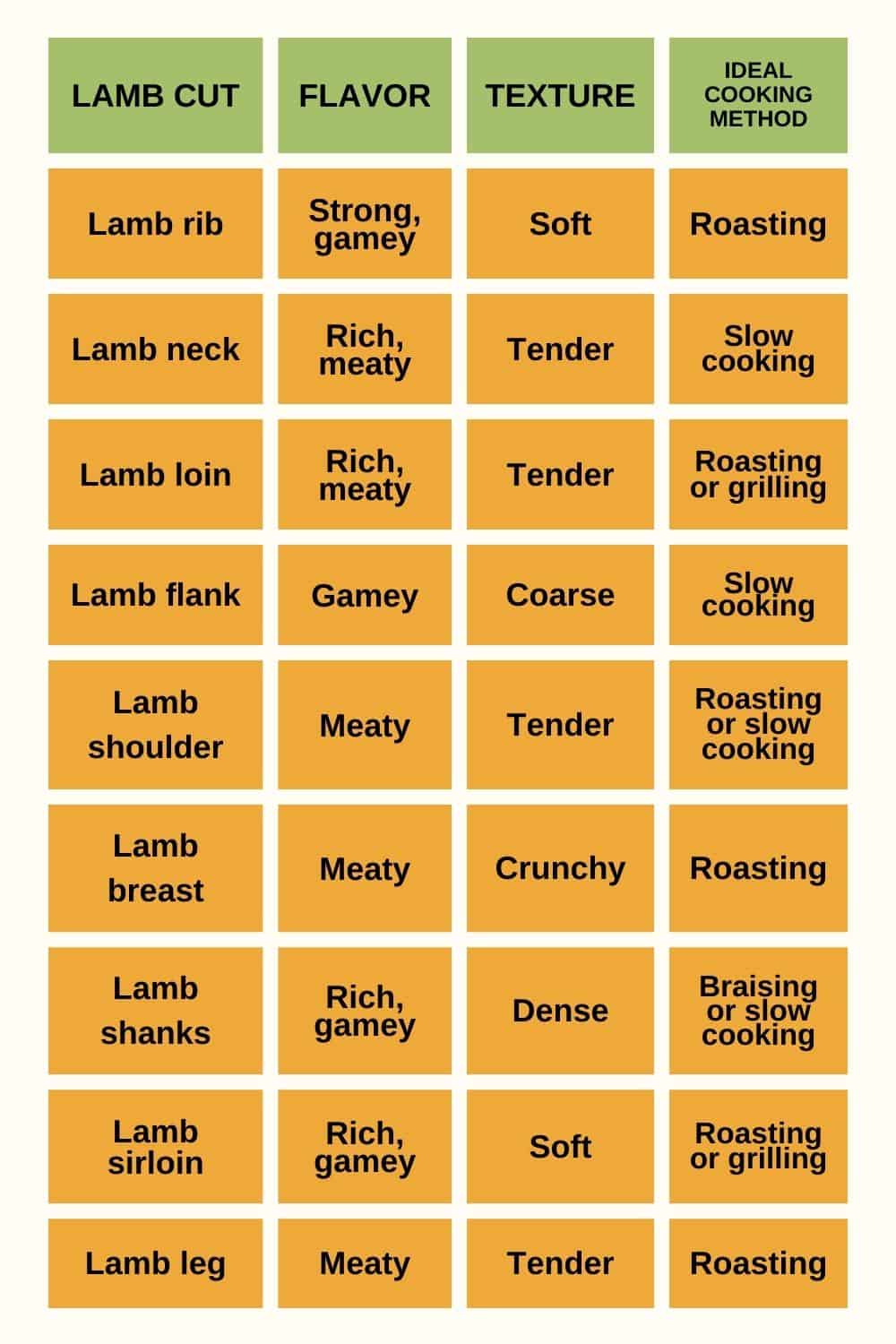 What is considered the TASTIEST cut of lamb?
And the award goes to the LOIN! This part of the lamb is located in between the sirloin and ribs. Its tenderness makes it one of the most desirable lamb cuts.
It has a low amount of fat and a whole lot of flavor. If you ever wondered where the juiciest loin chops come from, now you know for sure!
You can choose whether you'd like a boneless or a bone-in loin, which can affect the flavor and cooking time. (So, choose wisely!)
Lamb Vs Other Types Of Meat: Taste And Texture Comparison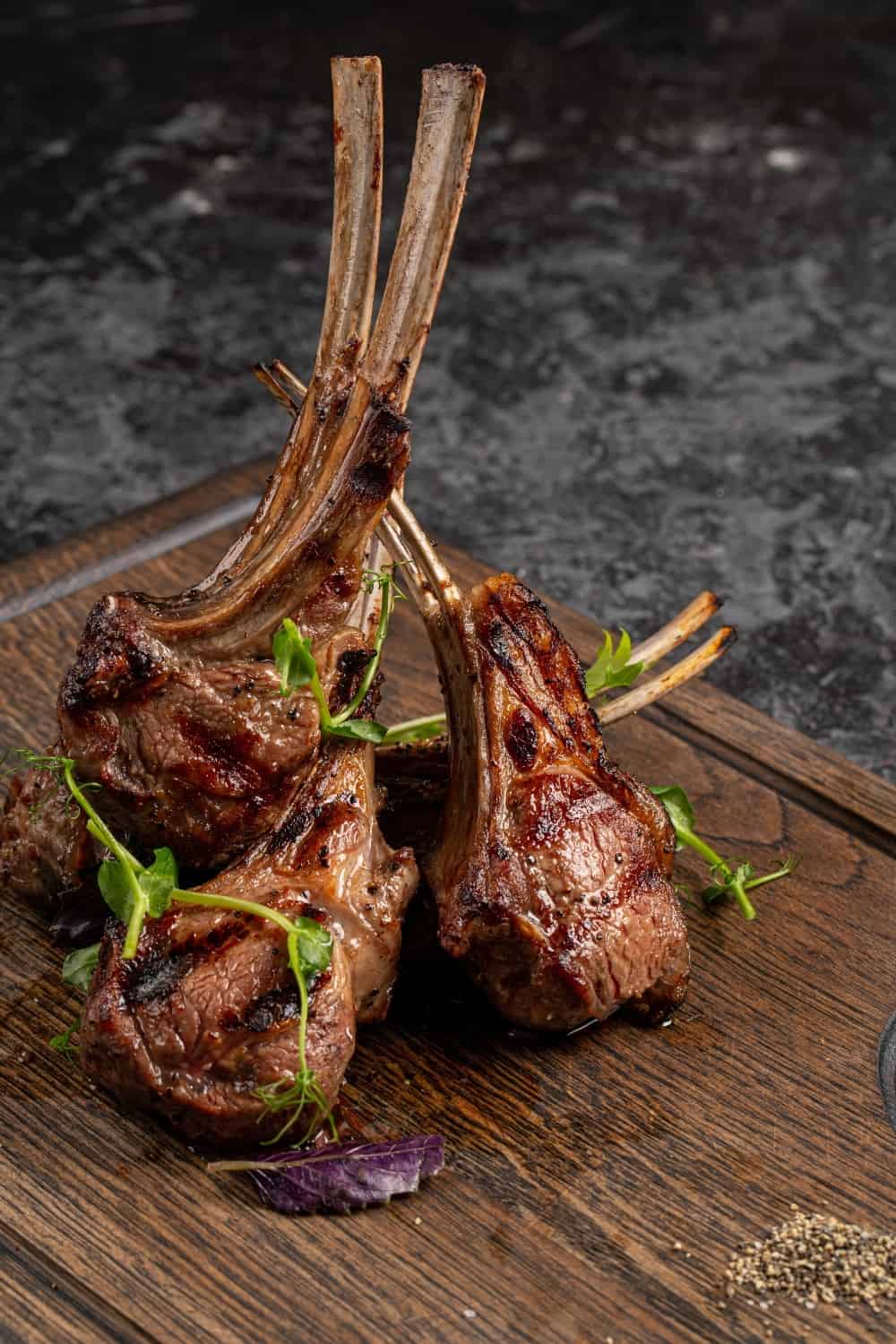 Lamb is not the most eaten food in the world, but it certainly is one of the tastiest.
So, let's make a quick taste comparison of lamb vs other types of meat:
Lamb Vs Pork
• Taste: Lamb has a meaty and gamey taste, while pork has a subtle and bland taste.
• Texture: Lamb has a tender and juicy texture, whereas pork is less tender and juicy.
Lamb Vs Chicken
• Taste: Lamb has a gamier and more intense taste, compared to the bland, mild flavor of chicken.
• Texture: Chicken has a firmer (yet still tender) texture than lamb.
Lamb Vs Beef
• Taste: Contrary to lamb, beef has a richer, beefier flavor that is heavier on the palate.
• Texture: Lamb has a tenderer texture, while beef is more chewy.
What meat is the best substitute for lamb?
If you're looking for a lamb substitute, then goat is the best choice. Why? Because goat meat can give your soups and stews that gamy flavor similar to lamb meat.
Also, goat meat contains lower levels of cholesterol than lamb, which can be a significant advantage if you're on a diet.
3 Easy And Mouthwatering Lamb Recipes
Regardless of whether you're experienced or inexperienced when it comes to preparing lamb, these recipes are ideal for every single lamb lover out there. Enjoy!
1. Greek Lamb With Orzo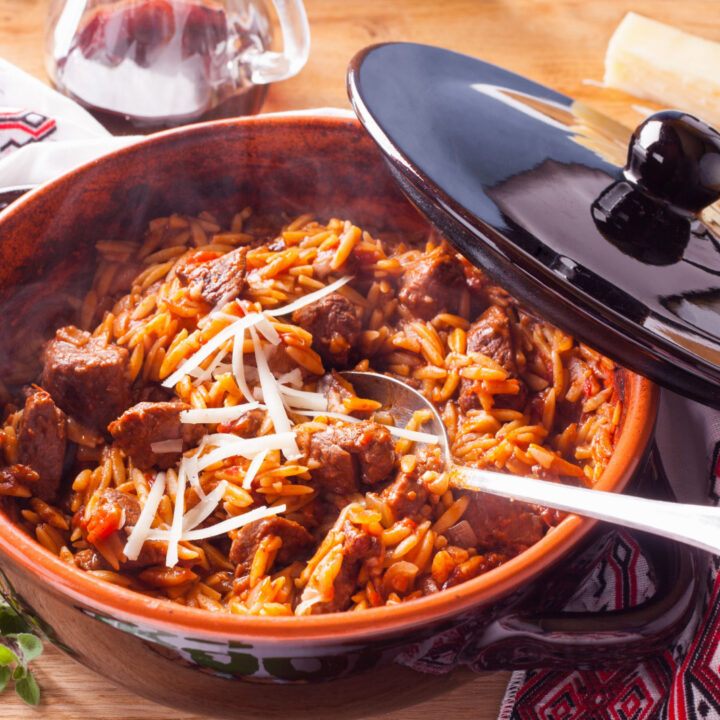 Greek Lamb With Orzo
Cook Time:
2 hours
35 minutes
Total Time:
2 hours
35 minutes
If you don't have much time to prepare the lamb dish, then this recipe is more than perfect for you.
Ingredients
1kg lamb shoulder
½ teaspoon ground cinnamon
2 cinnamon sticks (broken in half)
1.2l hot low-sodium chicken or vegetable stock
1 tablespoon chopped oregano or 1 teaspoon dried
400g orzo or orzo substitute
2 tablespoons olive oil
400g can chopped tomato
2 onions (sliced)
Instructions
1. If you use a traditional electric oven, heat it to 180°C. If you use a fan oven, then heat it to 160°C. Cut the lamb into chunks of approximately 4 cm and spread them over a dish (a large dish is preferable). Then add oregano, ground cinnamon, olive oil, onions, and cinnamon sticks to it. Stir thoroughly. Once the oven is heated, bake it for 45 minutes (uncovered). Stir halfway through.

2. Pour the chopped tomatoes and chicken or vegetable stock over the lamb and then return it to the oven. Bake for 1½ hours until the lamb becomes tender.

3. Remove the cinnamon sticks. Add orzo and stir thoroughly. Cover the dish and cook for 20 minutes (make sure to stir halfway through). When the orzo is cooked and the sauce is thickened, sprinkle the dish with freshly grated Parmesan cheese.
Nutrition Information:
Yield:

6
Serving Size:

1
Amount Per Serving:
Calories:

569
Total Fat:

15g
Saturated Fat:

4g
Trans Fat:

0g
Unsaturated Fat:

9g
Cholesterol:

137mg
Sodium:

764mg
Carbohydrates:

50g
Fiber:

4g
Sugar:

7g
Protein:

57g
2. Slow Cooker Lamb Curry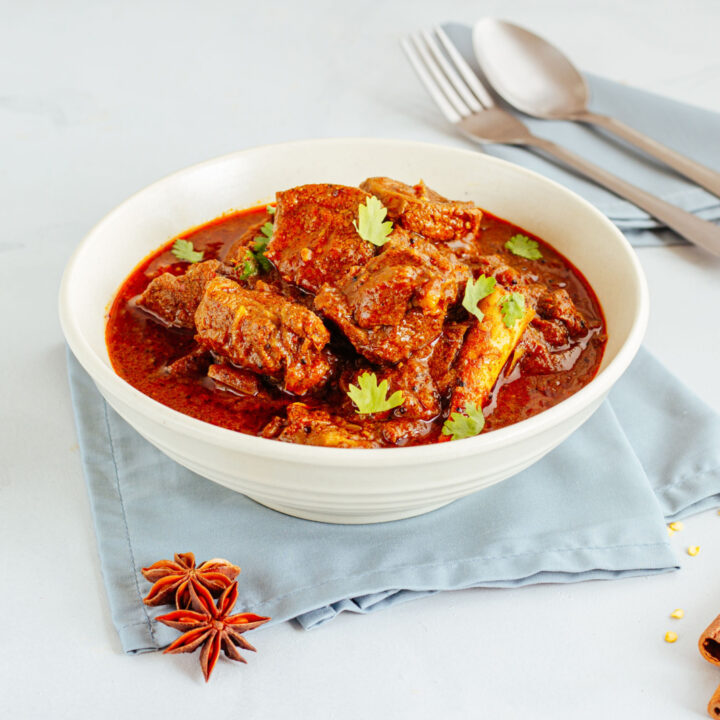 Slow Cooker Lamb Curry
Total Time:
6 hours
10 minutes
If you ask me, the slow cooker is the best thing since sliced bread. Sometimes I even forget that I'm cooking (I mean, slow cooking). So, once the meal is done, I'm like: Wow, who made this? 😅 Joking aside, if you're a slow cooker lover, then I'm sure you'll fall in love with this delicious, lamb dish.
Ingredients
2 lean lamb steaks (fat removed, diced; about 240g)
1 tablespoon grated ginger
1 teaspoon cumin seeds
400g can chopped tomatoes
25g red lentils
3 tablespoons Madras curry paste
1 large onion (halved and sliced)
75g curly kale
2 teaspoons vegetable bouillon powder
210g can chickpeas (don't drain)
1 cinnamon stick
Instructions
Put all of the ingredients into the slow cooker pot, and pour a third of a can of water into it. Stir thoroughly, and then cover the slow cooker with the lid. Put in the fridge to chill overnight.
Day 2: Stir well again and cook on low setting for 6 hours until the lamb and veggies have tender consistency. Serve the dish with brown rice.
Notes
To serve:
• Cooked brown rice
Nutrition Information:
Yield:

2
Serving Size:

1
Amount Per Serving:
Calories:

518
Total Fat:

21g
Saturated Fat:

8g
Trans Fat:

0g
Unsaturated Fat:

11g
Cholesterol:

82mg
Sodium:

1364mg
Carbohydrates:

51g
Fiber:

13g
Sugar:

14g
Protein:

35g
3. Lamb Biryani
Lamb Biryani
This classic Indian dish is ideal for spicy food lovers and fun nights with your loved ones.
Ingredients
1 tablespoon sunflower oil
1 large onion (chopped)
200g basmati rice
100g paneer (chopped)
1 tablespoon finely grated ginger
8 curry leaves
4 garlic cloves (grated)
200g spinach (cooked and drained)
1 tablespoon Madras spice paste
1 tablespoon nigella seeds
400ml good-quality lamb or chicken stock
400g lamb neck (cut into small cubes)
1 tablespoon cumin seeds
Instructions
Put the lamb in a bowl. Add the garlic, pinch of salt, and ginger to it. Marinate the lamb for a few hours or put it in the fridge overnight.
After you've heated the oil in a casserole, fry the lamb for approximately 5-10 minutes. When you notice that the lamb is starting to brown, then add the cumin seeds, onion, and nigella seeds to it. Cook for 5 minutes. Add the curry paste and stir well. Cook for 1 minute. Then add the curry leaves and rice, pour the stock over the dish, and bring to a boil.
Heat the oven to 180°C (if you're using a traditional electric oven), or heat it to 160°C (if you're using a fan oven). Add the spinach, paneer, and some seasoning to the dish, and cover it with a foil or lid. Bake for 20 minutes. When the dish is done, allow it to rest covered for 10 minutes. Serve with coriander, chilies, and some yogurt on the side.
Notes
To serve:
• Chopped coriander
• Plain yogurt
• Sliced green chilies
Lamb: "You either love me or hate me."
Lamb is a delicate meat with a strong, gamey flavor and this type of meat is not suitable for every palate.
In other words, you're either a big fan of lamb or you can't stand its flavor (I belong to the former group.) To which group do you belong? 😀