The main difference between orange chicken and general Tso is that general Tso is spicier and it doesn't contain oranges. Surprise, surprise!
However, their level of spiciness can be considered an advantage or disadvantage to fans of different flavor profiles. I personally prefer less spicy dishes, so the orange chicken is my first choice.
Given that you're here, I suppose you're interested in learning more about the differences between these two dishes, so I won't beat around the bush.
Simply stating that one dish is spicier than the other is not enough, and that's why I've prepared a brief summary of the differences between orange chicken and general Tso:
If you're interested in an in-depth explanation of all the differences between orange chicken vs general Tso, you'll find it below: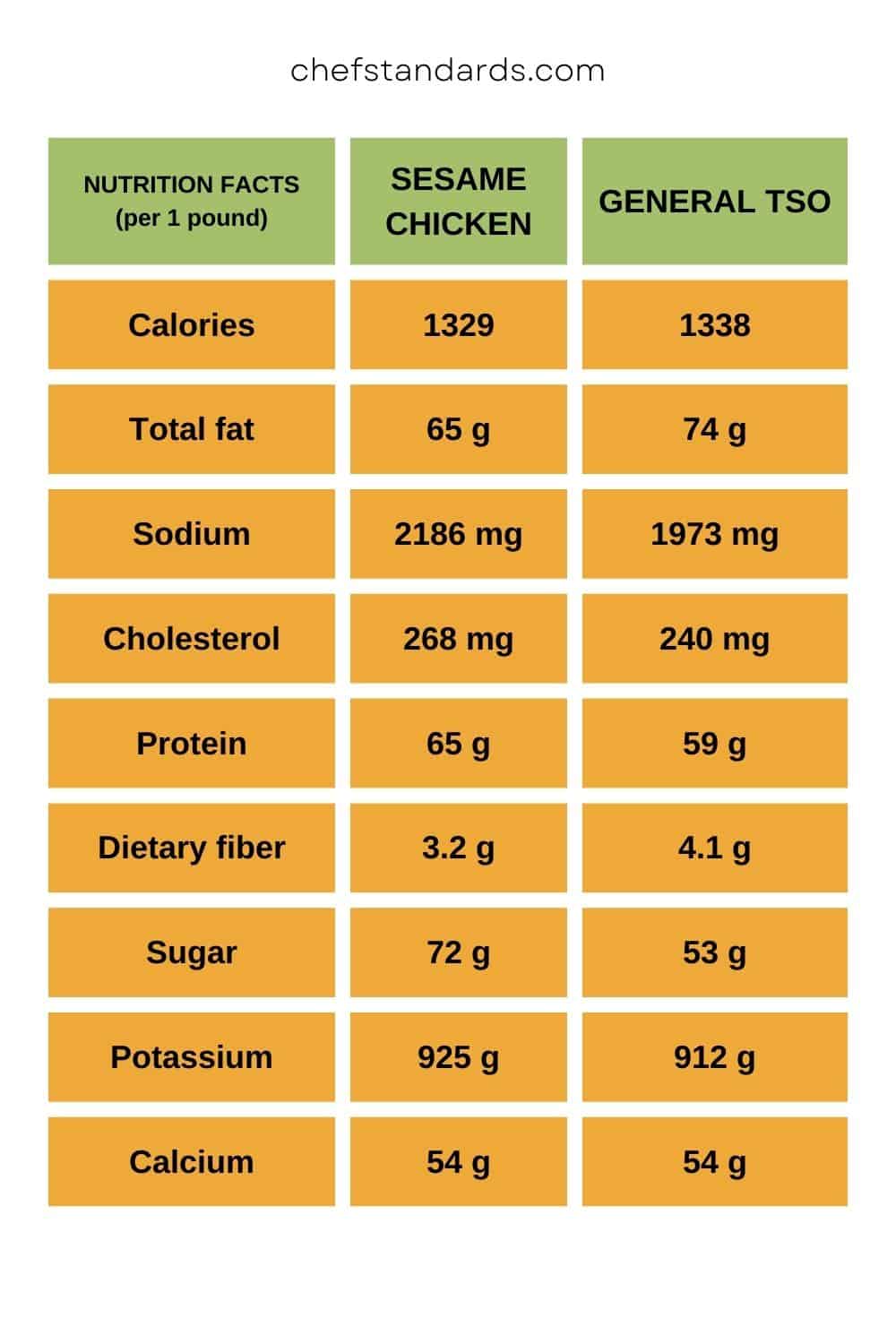 1. Ingredients
Orange chicken is deep-fried pieces of chicken breasts in a sweet, orange sauce that is made of orange juice, garlic, vinegar, soy sauce, sugar, red chili flakes, orange zest, and ginger.
General Tso doesn't contain oranges, and its sauce is darker in color. It is basically deep-fried pieces of chicken breasts coated in a soy-based sauce and Chinese rice wine.
Here is the list of their main ingredients:
• Orange chicken: boneless chicken breasts, orange juice, sugar, rice vinegar, soy sauce, ginger, garlic powder, red chili flakes, cornstarch, orange zest, eggs, flour.
• General Tso: boneless chicken breasts, dried chili peppers, sugar, spring onion greens, egg white, cornstarch slurry, white wine vinegar, soy sauce, rice wine, corn flour.
2. Flavor
Orange chicken has a complex flavor that is often described as sweet, tangy, sour, and savory. The addition of oranges is what makes this dish tangy and sour.
General Tso has a sweet, tangy, and spicy flavor. The sauce of general Tso chicken is thick, sweet, and tangy, while the dried chilis are responsible for spiciness.
3. Spice level
The spice level of orange chicken is low because red chili flakes aren't added in large amounts. Approximately, ½ teaspoon of red chili flakes are required for the orange chicken recipe.
General Tso chicken has a medium/high spice level due to the addition of dried spices and herbs which flavors are prevalent in this dish. So, if you're looking for a spicier version, then general Tso chicken is the right choice for you.
See also: 6 Main Differences Between Sesame Chicken Vs General Tso chicken
4. Pairings and serving
Orange chicken is often served with lettuce, broccoli, egg noodles, cucumber salad, baby bok choy, and rice.
General Tso chicken is usually served with white rice, steamed broccoli, and fried rice.
5. Nutritional value
Orange chicken and General Tso are nutrient-rich dishes because they are good sources of calcium, protein, and potassium.
Orange chicken has higher sugar content and fewer calories and fat than general Tso. Below you'll find the table of their detailed nutrition facts per 1 pound: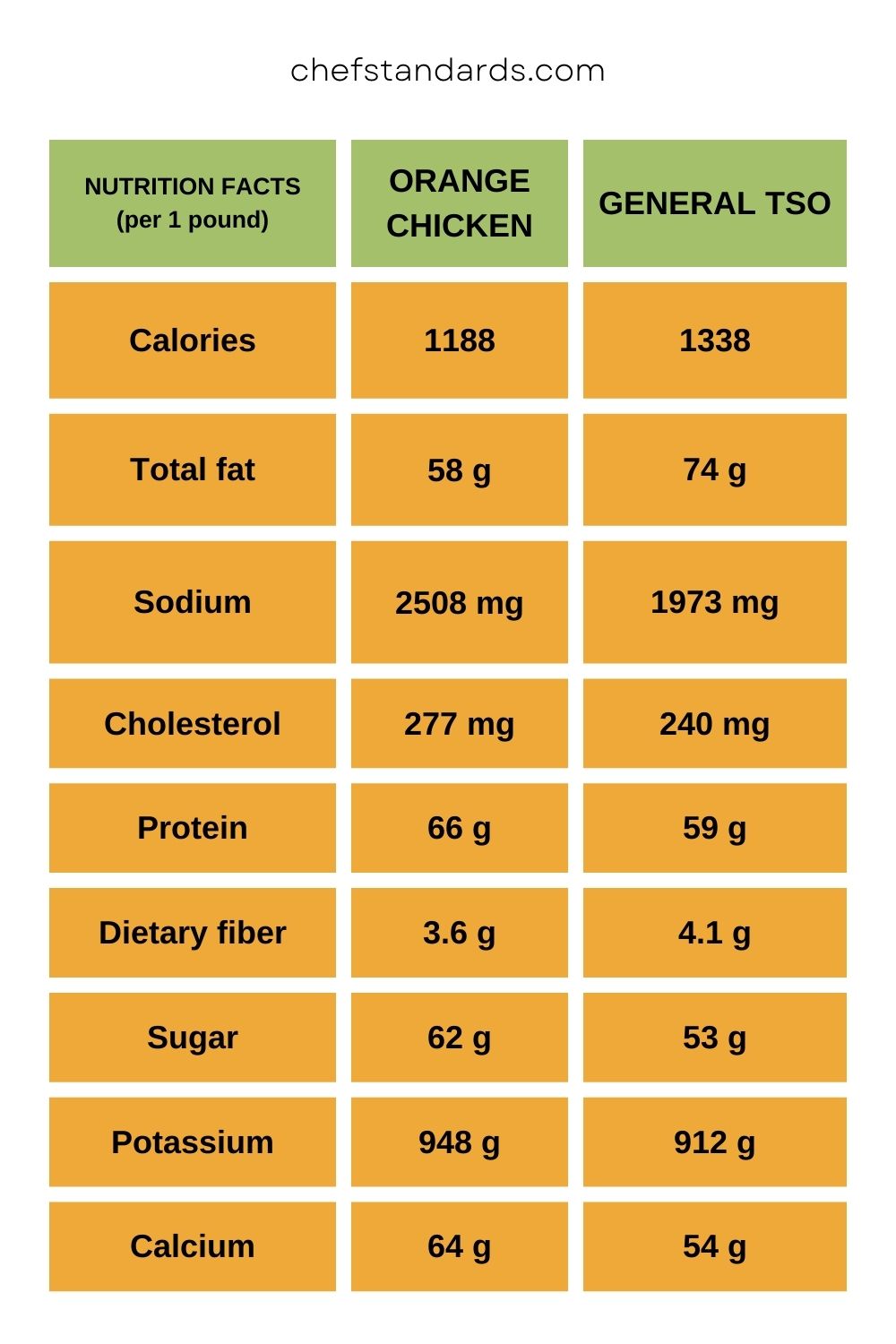 6. Origin
Orange chicken originated in Hawaii in 1987. Executive chef of Panda Express, Andy Kao, invented the orange chicken dish at one of the company's locations located in Hawaii. The flavors from the Hunan Province in China inspired him to create the dish.
Here is the origin story of general Tso chicken, as interpreted by the Smithsonian Magazine:
"The dish as most Americans know it today was invented by Peng Chang-kuei, a chef from the Hunan province. A well-known and talented chef, Peng orchestrated and supervised the grand banquets of the Chinese Nationalist government from the end of World War II until they were toppled by Mao Zedong's Communists in 1949."
It's important to note that the New York City chef Tsung Ting Wang modified the dish once it reached America. He altered the flavor to be sweeter than it was before.
Homemade Orange Chicken Recipe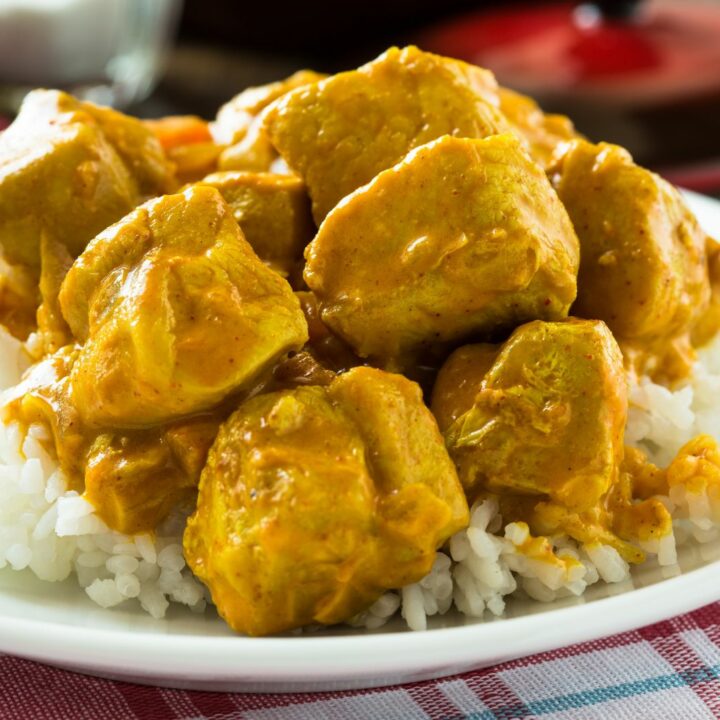 Homemade Orange Chicken Recipe
The main ingredients of this delicious orange chicken recipe are oranges, chicken breasts, and eggs. I'm sure the flavor of this dish will excite your taste buds!
Ingredients
Chicken:
1 lb of boneless skinless chicken breasts (cut into bite-size pieces)
⅓ cup cornstarch
salt
3 eggs
oil
⅓ cup flour
Sauce:
1 cup orange juice
orange zest from 1 orange
½ cup sugar
2 tbsp rice vinegar
2 tbsp soy sauce
¼ tsp garlic powder
¼ tsp ginger
1 tbsp cornstarch
½ tsp red chili flakes
Garnish:
green onions
orange zest
Instructions
ORANGE SAUCE:
Step 1: Mix sugar, vinegar, soy sauce, orange juice, red chili flakes, ginger, and garlic in a pot and heat for around 3 minutes.
Step 2: Whisk 1 tbsp cornstarch and 2 tbsp water in a bowl. Add this mixture to the orange sauce and mix well. Continue cooking it for 5 minutes until it reaches a thicker consistency. Then remove from heat and add orange zest.
CHICKEN:
Step 3: Mix cornstarch, flour, and salt on a plate. Whisk eggs in a small bowl. Dip chicken pieces first in eggs and then flour.
Step 4: Heat 2-3 inches of oil over medium heat. Once heated, add a batch of chicken pieces (around 7 pieces) to cook and continue cooking them in batches. Cook each batch for 2 to 3 minutes by turning them frequently. Cooked chicken pieces should be golden brown in color. Once done, place them on a paper towel plate.
Step 5: Toss the chicken with the orange sauce that you prepared earlier. Sprinkle the dish with some onion and orange zest.
Homemade General Tso Chicken Recipe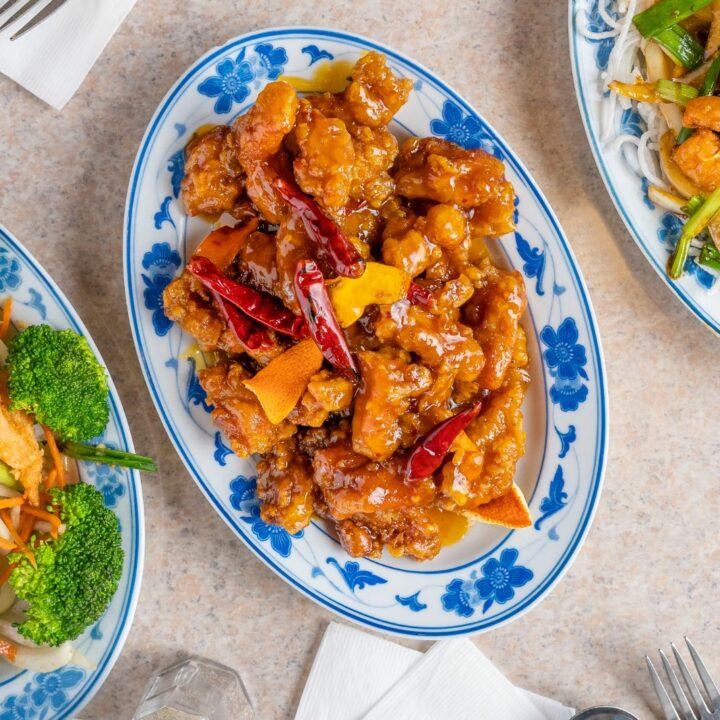 Homemade General Tso Chicken Recipe
This is my favorite dish to make at home. It's not as spicy as most General Tso recipes, but it has a lot of flavors one is bound to enjoy!
Ingredients
1 pound boneless skinless chicken breast cut into bite-sized pieces
2 tablespoons soy sauce
1 tablespoon cornstarch
2 tablespoons vegetable oil
5 cloves garlic minced or pressed
3 tablespoons rice wine vinegar or white vinegar
3 tablespoons honey or brown sugar (or more to taste)
2 teaspoons red pepper flakes (optional)
Instructions
Step 1: In a medium bowl, combine the soy sauce and cornstarch with other sauce ingredients. Add the chicken pieces, stirring to coat evenly, and let stand for 10 minutes.
Step 2: Heat oil in a large skillet on medium-high heat. When the oil is hot, add the chicken pieces in batches and cook until golden brown on all sides (around 5 minutes).
Step 3: Remove and drain on paper towels when done. Reduce heat to low and add the mixture to the crispy chicken.
Step 4: Enjoy your meal! 😄