Both sesame chicken and general Tso are incredibly tasty which is their biggest similarity. Now, when it comes to their main differences, sesame chicken is usually made of chicken thighs, while general Tso is made of chicken breasts.
Another significant difference that shouldn't go unnoticed is their level of spiciness. (This is one of those things I wish I had learned sooner.) General Tso is spicier than sesame chicken which can be considered an advantage or disadvantage to fans of different flavor profiles.
We're not done yet. There are more differences between these two chicken dishes people usually don't pay attention to and today we'll go through all of them!
Let's start with a brief summary of the differences between sesame chicken and general Tso: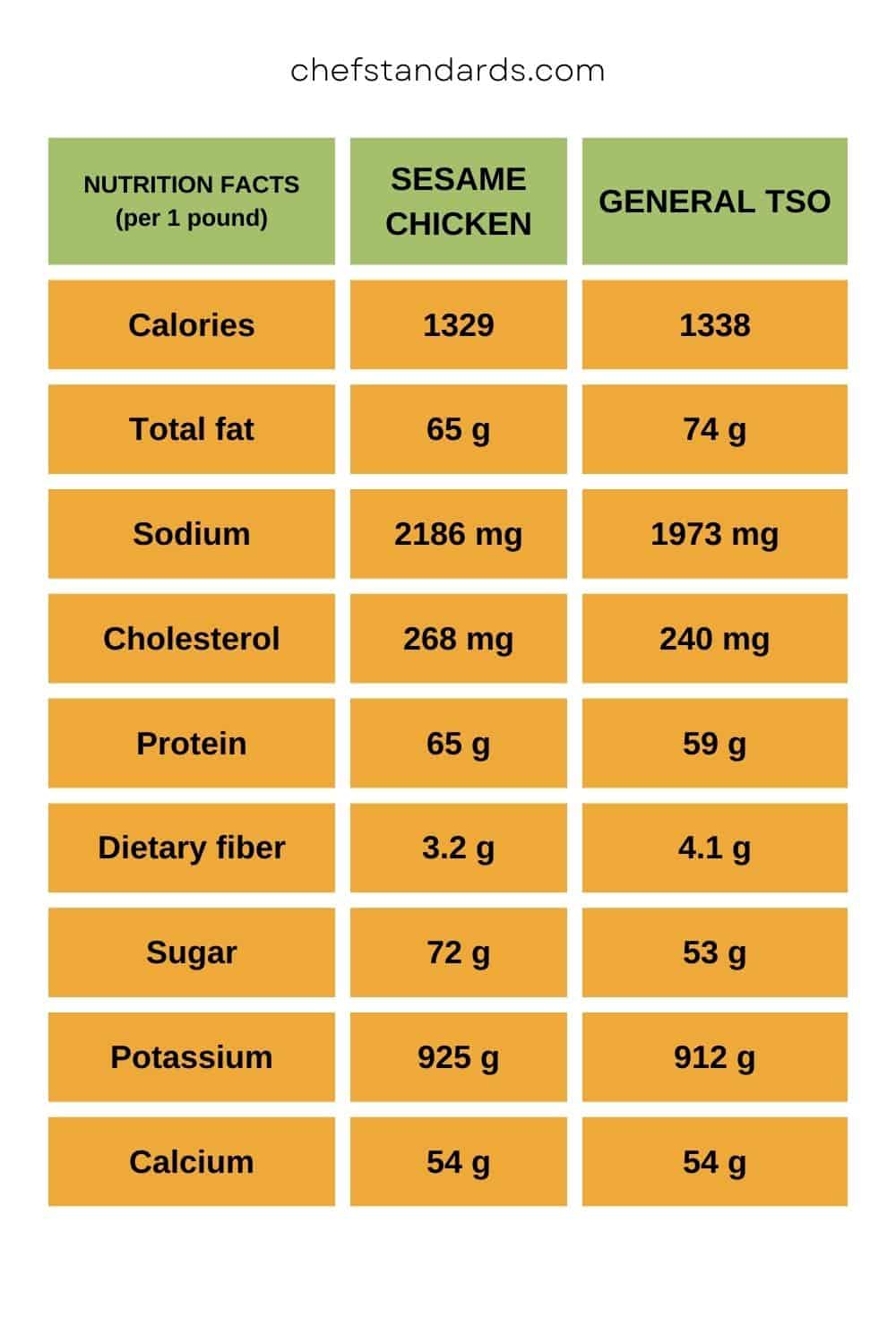 If you're interested in an in-depth explanation of all the differences between sesame chicken vs general Tso, here you go:
1. Ingredients
Sesame chicken is deep-fried boneless chicken thighs coated in egg, sesame, cornstarch, and special sauces made of ketchup and honey. This dish is easily recognizable by the sesame seeds and lighter sauce.
As you can see, sesame chicken is one of the reasons why people use cornstarch.
General Tso doesn't contain sesame, and its sauce is darker in color. It is basically deep-fried pieces of chicken breasts coated in a soy-based sauce and Chinese rice wine. Also, general Tso contains only egg white, while sesame chicken contains whole eggs.
Since it contains soy sauce, it can not be considered one of the gluten-free Chinese foods.
Here is the list of their main ingredients:
• Sesame chicken: boneless chicken thighs, sesame oil, soy sauce, white sesame seeds, egg, cornstarch slurry, honey, corn flour, sugar, spring onion greens, white vinegar or white wine vinegar, tomato ketchup.
• General Tso: boneless chicken breasts, dried chili peppers, sugar, spring onion greens, egg white, cornstarch slurry, white wine vinegar, soy sauce, rice wine, corn flour.
2. Flavor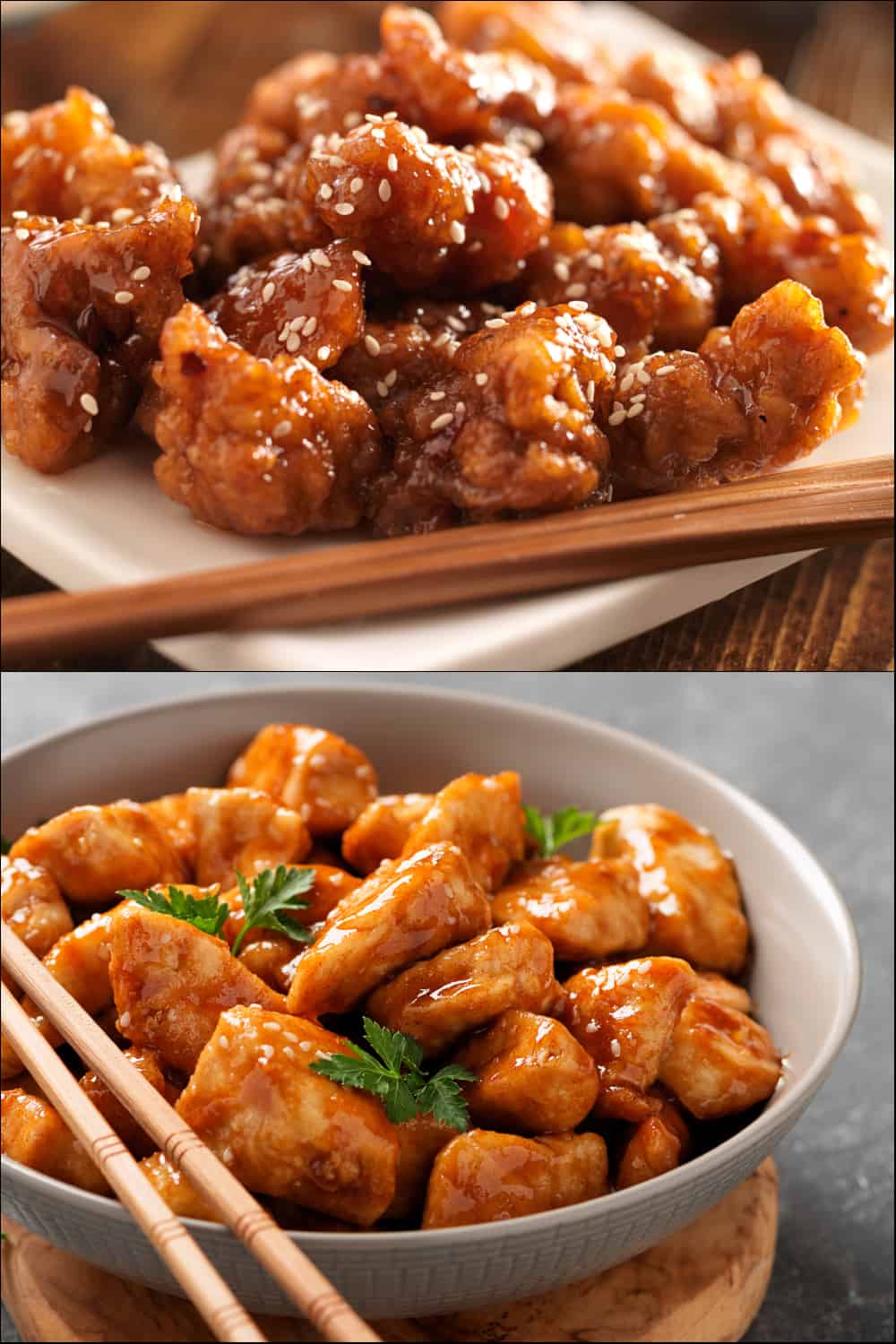 Sesame chicken has a sweet and tangy flavor with a thick and rich sauce, whereas general Tso has a sweet, tangy, and spicy flavor. The sauce of general Tso chicken is thick, sweet, and tangy, while the dried chilis are responsible for spiciness.
3. Spice level
The spice level of sesame chicken is low because it has a neutral and non-spicy flavor. General Tso chicken has a medium/high spice level due to the addition of dried spices and herbs. If you're looking for a spicier version, then general Tso chicken is the right choice for you.
See also: 5 Ways Of Comparing Orange Chicken Vs General Tso
4. Pairings and serving
Sesame chicken is often combined with carrots, cabbage, broccoli, and rice.
General Tso chicken is usually served with white rice, steamed broccoli, and fried rice.
5. Nutritional value
Both sesame chicken and General Tso are nutrient-rich dishes. These two dishes are good sources of calcium, protein, and potassium.
However, they both have high sugar content. Also, sesame chicken has fewer calories and fat than general Tso. Below you'll find the table of their detailed nutrition facts per 1 pound: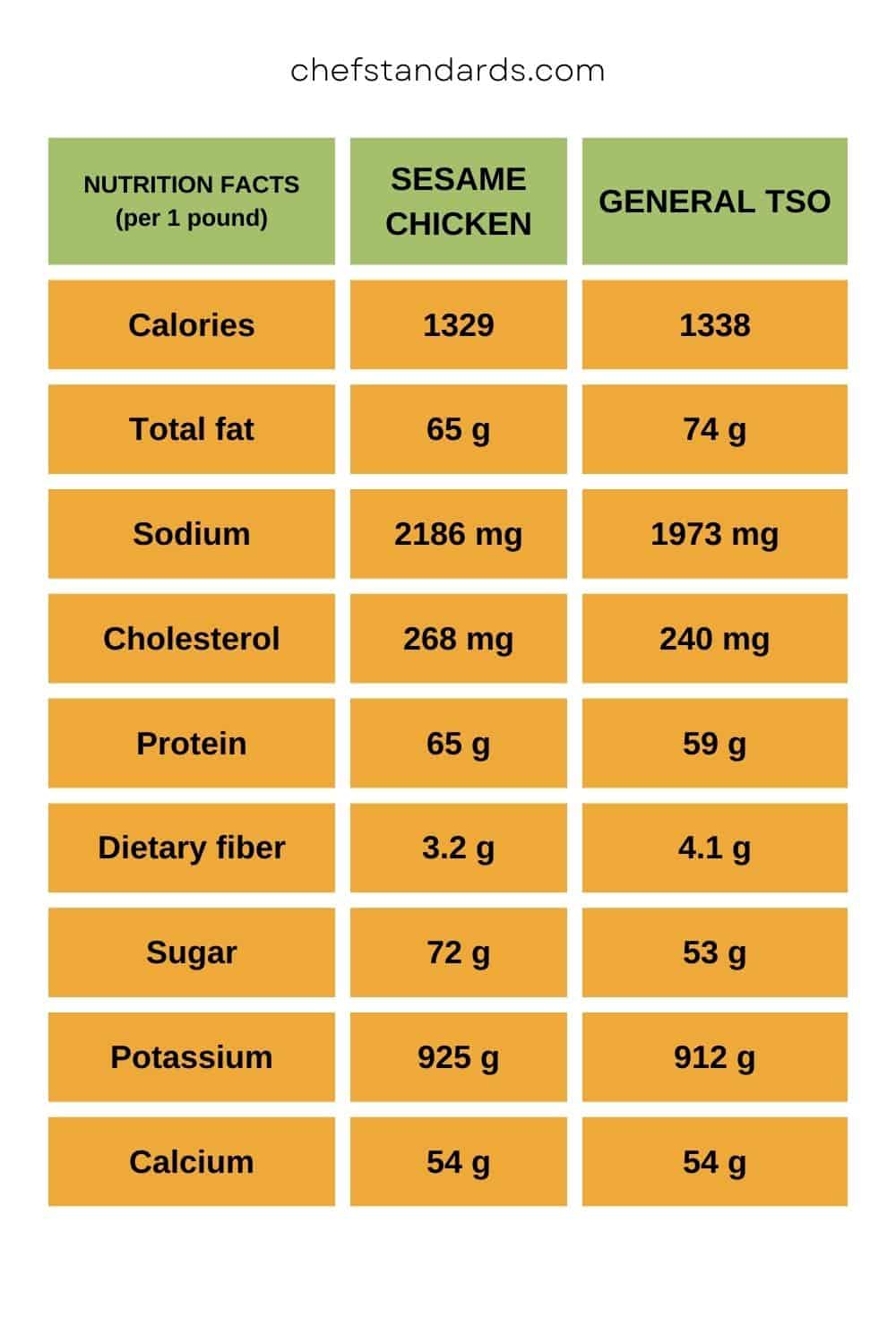 6. Origin
Sesame chicken originated from the southern Chinese region of Guangdong. It's believed that the recipe for sesame chicken was created in Hong Kong by the Red Chamer Restaurant during the 1980s. The immigrants who opened Chinese restaurants brought this dish to North America where it became extremely popular.
Here is the origin story of general Tso chicken, as interpreted by the Smithsonian Magazine:
"The dish as most Americans know it today was invented by Peng Chang-kuei, a chef from the Hunan province. A well-known and talented chef, Peng orchestrated and supervised the grand banquets of the Chinese Nationalist government from the end of World War II until they were toppled by Mao Zedong's Communists in 1949."
It's important to note that the New York City chef Tsung Ting Wang modified the dish once it reached America. He altered the flavor to be sweeter than it was before.
Homemade Sesame Chicken Recipe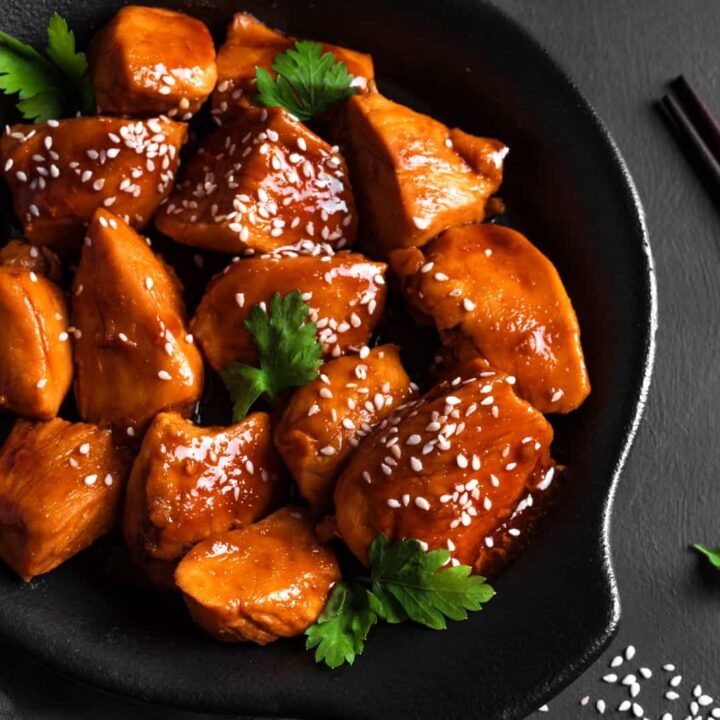 Homemade Sesame Chicken Recipe
This is a simple sesame chicken recipe that you can make at home. It will be ready in less than 30 minutes. The main ingredients are chicken, sesame seeds, and soy sauce.
Ingredients
1 lb of boneless skinless chicken thighs
1 cup Chicken stock
3 tablespoons of soy sauce
2 tablespoons of sesame seeds
1 tablespoon of vegetable oil
Salt and pepper to taste
Sesame sauce mixture if needed
Instructions
In a small bowl mix together the soy sauce, sesame seeds, salt, and pepper. Add the vegetable oil to a large saucepan over medium-high heat.
Add chicken cut into small pieces and sprinkle over the mixture of soy sauce and sesame seeds on both sides of each piece of chicken until completely coated with the mixture on each side (about 1 minute).
Reduce heat to medium-low, add stock, cover, and cook for about 8 minutes. A thick sauce should form and the cooking process should be done.
Remove chicken from pan, mix in the sauce mixture, and serve immediately with sesame seeds on top. Add in some steamed broccoli, red chili, green onions, and sweet and sour chicken sauce on the side.
Nutrition Information:
Yield:

3
Serving Size:

1
Amount Per Serving:
Calories:

378
Total Fat:

21g
Saturated Fat:

5g
Trans Fat:

0g
Unsaturated Fat:

15g
Cholesterol:

188mg
Sodium:

1549mg
Carbohydrates:

8g
Fiber:

2g
Sugar:

3g
Protein:

41g
Homemade General Tso Chicken Recipe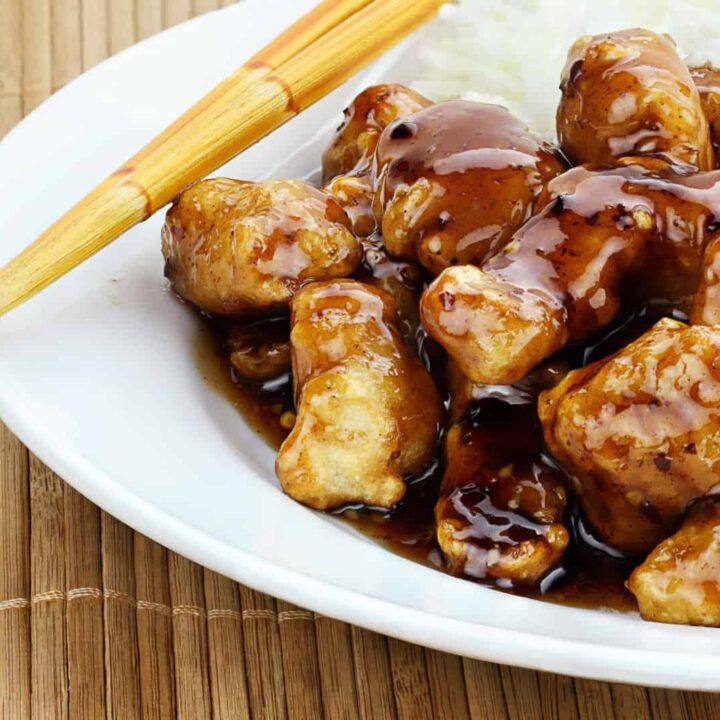 Homemade General Tso Chicken Recipe
This is my favorite dish to make at home. It's not as spicy as most General Tso recipes, but it has a lot of flavors one is bound to enjoy!
Ingredients
1 pound boneless skinless chicken breast cut into bite-sized pieces
2 tablespoons soy sauce
1 tablespoon cornstarch
2 tablespoons vegetable oil
5 cloves garlic minced or pressed
3 tablespoons rice wine vinegar or white vinegar
3 tablespoons honey or brown sugar (or more to taste)
2 teaspoons red pepper flakes (optional)
Instructions
In a medium bowl, combine the soy sauce and cornstarch with other sauce ingredients. Add the chicken pieces, stirring to coat evenly, and let stand for 10 minutes.
Heat oil in a large skillet on medium-high heat. When the oil is hot, add the chicken pieces in batches and cook until golden brown on all sides (around 5 minutes).
Remove and drain on paper towels when done. Reduce heat to low and add the mixture to the crispy chicken.
Nutrition Information:
Yield:

3
Serving Size:

1
Amount Per Serving:
Calories:

428
Total Fat:

15g
Saturated Fat:

2g
Trans Fat:

0g
Unsaturated Fat:

11g
Cholesterol:

129mg
Sodium:

699mg
Carbohydrates:

24g
Fiber:

1g
Sugar:

19g
Protein:

48g
Sesame Chicken Vs General Tso: My Personal Favorite
I've tried both sesame chicken and general Tso dishes and my personal favorite is sesame chicken because it has a mild and slightly sweet flavor. In addition, sesame seeds are my weakness which only makes the choice more natural.
Still, from time to time I also enjoy the spicier version of general Tso (especially when in PMS). How many of you, ladies, can relate to this? 😀