Bok choi, also known as pak choi, is a Chinese cabbage. It originated in Central Asia and it's one of the oldest cultivated veggies with high amounts of vitamins A, C, K, and folate.
With its green leaves and white stalks, bok choy looks like lettuce and celery combined. However, its thick and long stalks resemble cabbage.
That's what bok choy looks like, but what does bok choy taste like and how can you use it in recipes? See below!
DID YOU KNOW? Bok choi means "white vegetable" in Cantonese.
What Does Bok Choy Taste Like?
As one of the foods starting with B, bok choy tastes belicious! Generally, bok choy tastes like cabbage. Its green leaves have a mineral flavor that is slightly bitter, while its white stalks provide a celery-like crunchy and juicy texture due to high levels of water.
More specifically, its flavor depends on when bok choy is harvested. According to their maturity, we have two types of bok choy flavors:
• Baby bok choy: As the name implies, baby bok choy is a younger version of bok choy. Its young leaves have a mild flavor similar to lettuce.
• Fully mature bok choy: Contrary to baby bok choy, fully mature bok choy has bitter flavors that are more accentuated and mustardy.
Preparation + Cooking Methods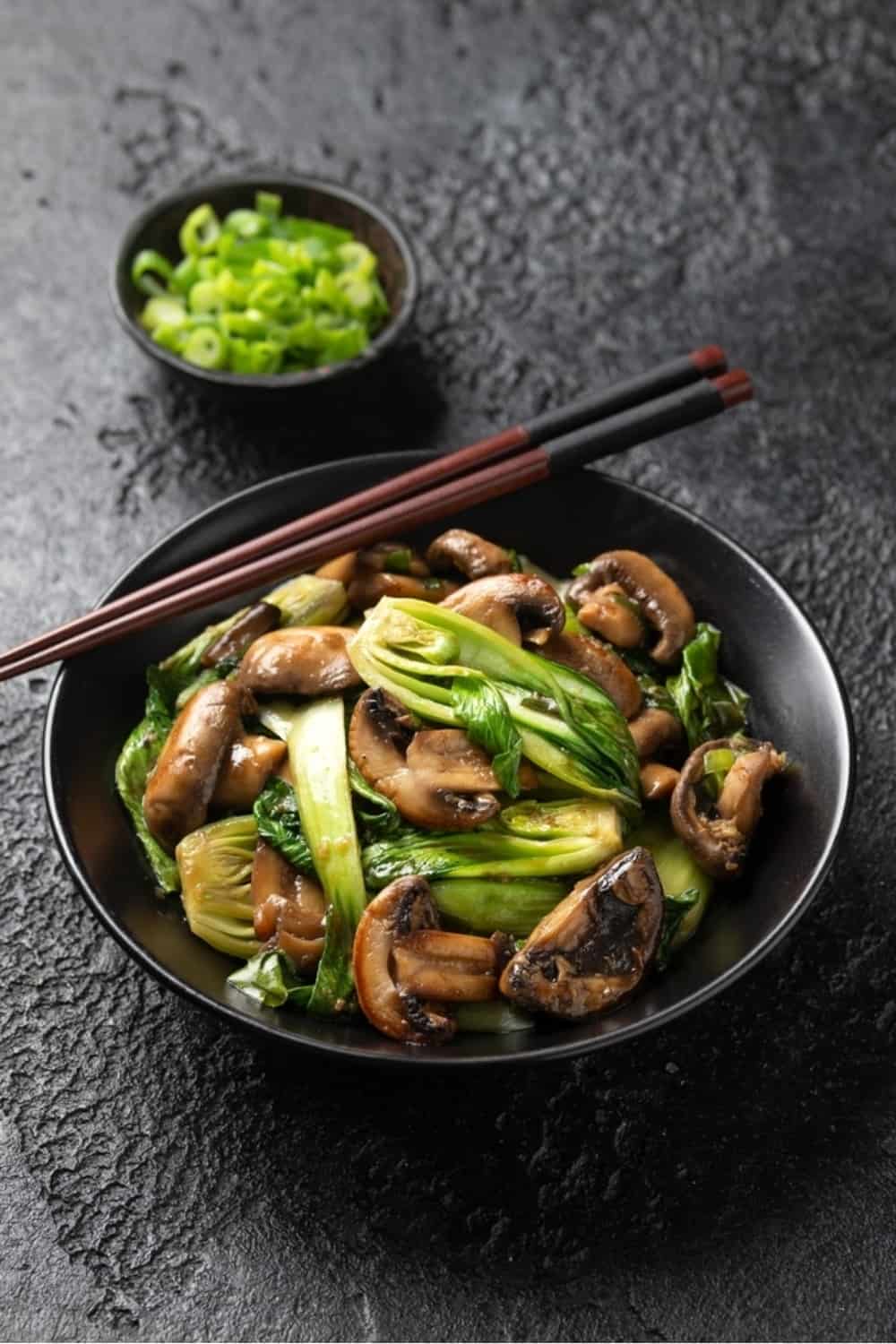 Do you want to make a delicious bok choy meal but you aren't sure where to start? Here's how to prepare a bok choy for cooking, followed by the best cooking methods that will make your bok choy cooking experience enjoyable and stress-free.
Preparing bok choy for cooking
Before cooking bok choy (or eating it raw), make sure to follow these steps:
• Step 1: Wash it thoroughly, especially around the core and between the leaves because most of the dirt accumulates there.
• Step 2: Leave it whole, chop bok choy or cut it in half lengthwise, and then soak it in cold water. You can also cut the base in order to separate its leaves. Don't forget to rinse the leaves!
• Step 3: Dry it on a kitchen towel.
Cooking methods
Bok choy can be eaten raw, or it can be braised, stir-fried, or fermented. Here are a few words about each cooking method:
• Raw: Chop it or slice it into ribbons. If you want to prepare a delicious salad, then vinegar, olive oil, and soy sauce are all you need to add to your chopped or sliced bok choy.
• Braised: Simmer bok choy in soy sauce, water, and brown sugar in a covered skillet. Your braised bok choy is cooked once it reaches a crispy and tender texture. Pro tip: If you're going to braise a larger bok choy, then you should cut it in half lengthwise.
• Stir-fried: To stir-fry bok choy, you'll need a wok, high heat, and sesame (or vegetable) oil. You can also add garlic cloves, sesame seeds, some soy sauce, and fresh ginger to it.
• Fermented: Even though napa cabbage is the kimchi's main ingredient, you can also use bok choy as a substitute in order to make 'bok choy kimchi'. For those of you who are interested in what kimchi tastes like, here's a short description of how to prepare one:
Kimchi is a Korean side dish made from various types of veggies. The cabbage is brined in salt and some other ingredients including ginger, garlic, and Korean red pepper flakes that give the kimchi a recognizable red color.
3 Bok Choy Recipes That Will Excite Your Taste Buds
Although there are some great bok choy substitutes, a dish with the original ingredient is always the best.
From easy to more complex bok choy recipes, I'm sure you'll enjoy the taste of this cruciferous green veggie combined with other ingredients.
1. Easy Bok Choy Stir-fry Recipe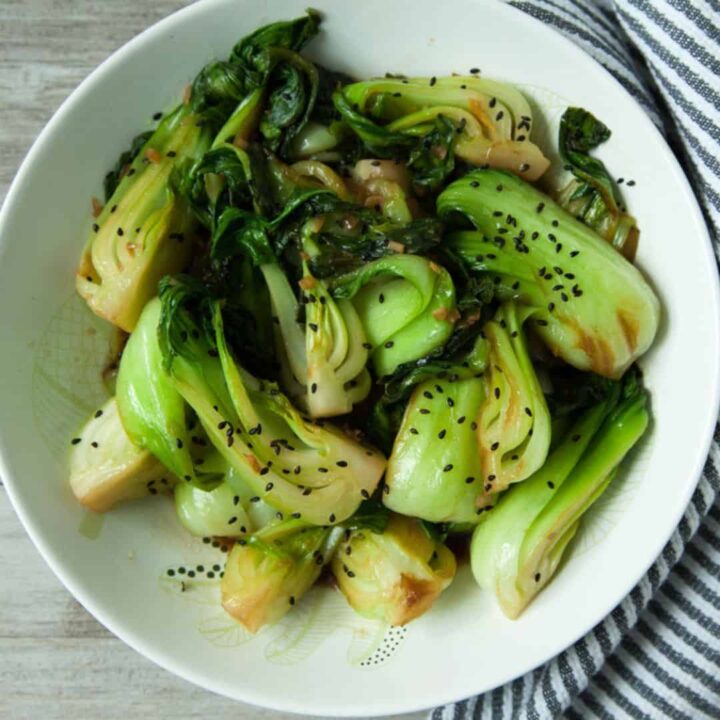 Easy Bok Choy Stir-fry Recipe
From easy to more complex bok choy recipes, I'm sure you'll enjoy the taste of this cruciferous green veggie combined with other ingredients.
Ingredients
2 cloves garlic (crushed and chopped)
1 tablespoon vegetable oil
8 heads baby bok choy (trimmed and cut into small pieces)
Salt to taste
Instructions
Step 1: Pour 1 tablespoon of vegetable oil into a large skillet or wok and heat it over medium heat. Then add garlic and cook it for 1-2 minutes until it disperses its fragrant, rich smell.

Step 2: Add bok choy to garlic and cook and stir for approximately 5 to 8 minutes. The leafy green parts must turn bright green, while the stalks need to be slightly translucent. Sprinkle your bok choy stir-fry with salt and serve.
2. Baby Bok Choy With Mushroom Sauce (Chinese-Style)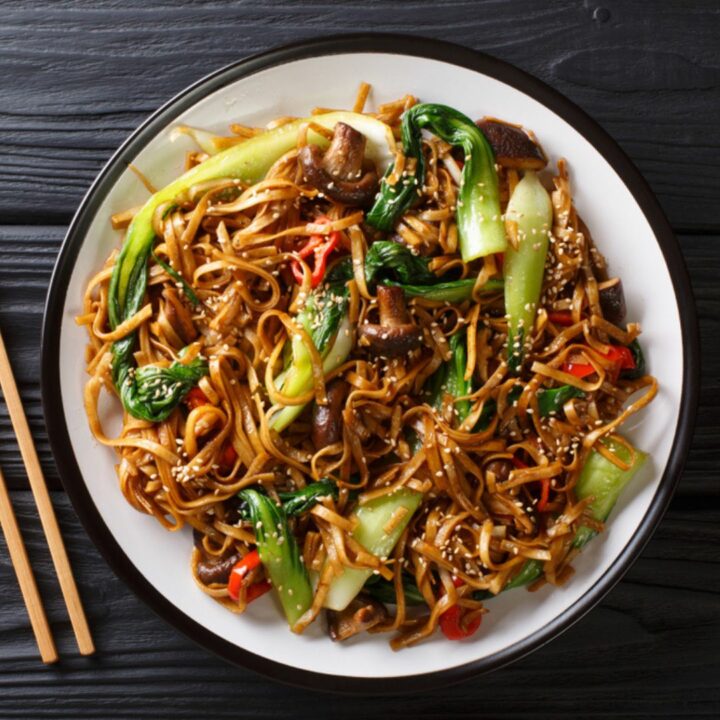 Baby Bok Choy With Mushroom Sauce (Chinese-Style)
If you're a fan of baby bok choy and mushroom sauce, then you'll fall in love with this recipe:
Ingredients
1 tablespoon soy sauce
2 pinches salt
4 heads baby bok choy
2 tablespoons minced green onion
¼ teaspoon vegetable oil
1 tablespoon minced garlic
1 (8 ounce) package sliced portobello mushrooms
1 teaspoon potato starch
3 tablespoons olive oil
1 tablespoon water
2 teaspoons brown sugar
2 tablespoons oyster sauce
Instructions
Step 1: Mix together the soy sauce, brown sugar, and oyster sauce in a bowl until the sugar is dissolved. Combine the water and potato starch in a small bowl and stir it into the oyster sauce mixture until it reaches a smooth consistency
Step 2: Bring to a boil a pot with water and add salt and vegetable oil to it. Once boiled, add the bok choy to it and cook for about 2 to 3 minutes until it becomes tender and bright green. Drain the bok choy.
Step 3: Heat the olive oil in a large skillet or wok, and then add the green onion and garlic. After a few seconds, add the mushrooms. Cook it and stir until the mushrooms being to shrink. Sprinkle the mushrooms with salt and allow it to cook for 5 minutes. Pour in the oyster sauce and stir for 1 minute. Pour the mushroom sauce over the cooked bok choy and serve.
3. Bok Choy Salad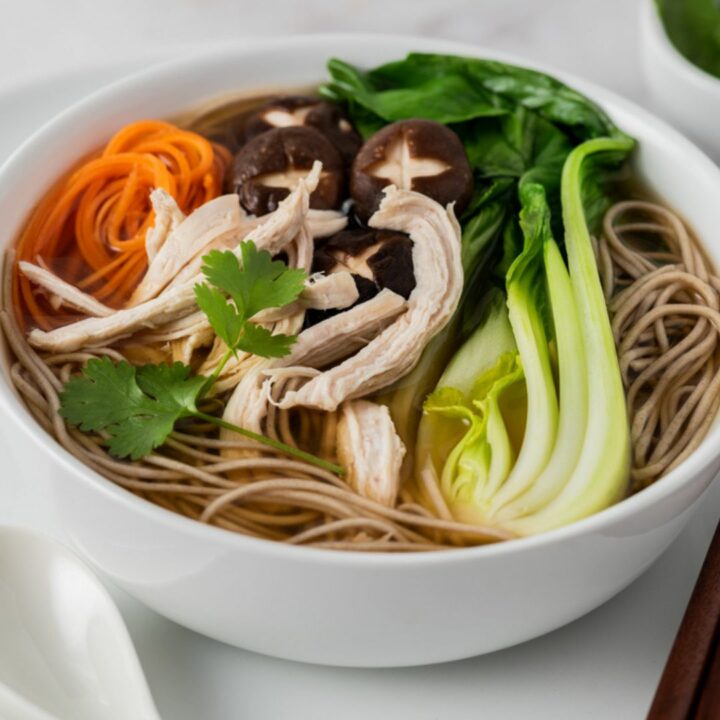 Bok Choy Salad
The dressing in this salad is the best thing since sliced bread. If you don't believe it, then I dare you to try and see it for yourself:
Ingredients
¼ cup white vinegar
½ cup olive oil
⅛ cup slivered almonds, toasted
1 bunch green onions, chopped
½ (6 ounce) package chow mein noodles
3 tablespoons soy sauce
⅓ cup white sugar
2 bunches baby bok choy (cleaned and sliced)
Instructions
Step 1: Combine white vinegar, olive oil, soy sauce, and sugar in a glass jar and shake until it's mixed thoroughly. (Pro tip: Don't forget to close the lid beforehand.)

Step 2: Mix together the green onions, bok choy, chow mein noodles, and almonds in a bowl. Pour the dressing over it and serve.
Final Thoughts
Now that you know what bok choy tastes like and how to cook it, I'm sure it will be a regular ingredient in your kitchen. I personally enjoy cooking with bok choy because it's fun and simple.
When I have a hectic schedule, I make sure to store plenty of bok choy and try various recipes that will do justice to this cruciferous green veggie. If you resonate with me at the moment, know that nutritious bok choy is waiting for you! 😉