I don't know a lot of people who don't like this crispy and creamy sweet treat called donuts or doughnuts.
Even if you've never tried any donuts, which I really don't believe, I am sure that you have seen these incredible treats being eaten by policemen in movies because that is their trademark in popular culture.
Most people that have tried donuts once in their life, couldn't resist continuing to enjoy this sweet treat. However, I know many people who really like donuts, but they are vegans, i.e. they do not consume animal products and by-products.
That means "no eggs for them". So, the main question arises "Do donuts have eggs?". Unfortunately, traditional donuts, as well as most store-bought donuts from grocery stores, bakeries, and donut shops do contain eggs.
I personally really like the Japanese type of donuts called mochi donuts, but those donuts do contain eggs.
But, fortunately, there are vegan-friendly donuts. It is just harder to find them. In this article, I will show you which types of donuts have eggs and where you can find vegan-friendly donuts.
Do Donuts Have Eggs?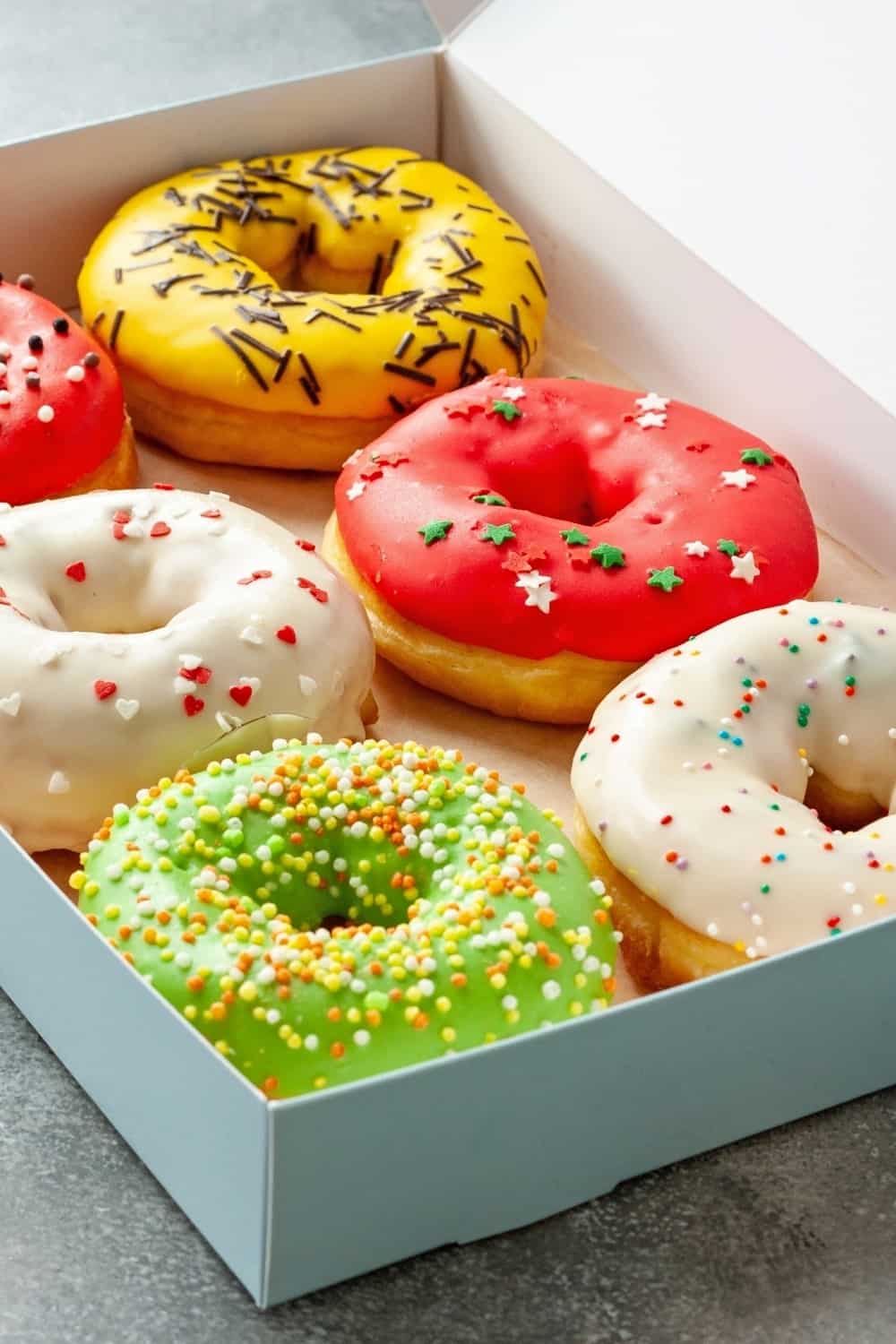 Most donut manufacturers use eggs to make donuts. Traditional donut recipes include eggs and that is a fact. Eggs, alongside dairy milk, make donuts what they are and every fan of donuts loves them because of that specific sweetness and creaminess.
Donuts are, for example, suitable for vegetarians. However, if you are vegan and you love donuts, you might have a problem.
But, there is no room for despair because there are vegan doughnuts and donut holes and you just have to search a little harder to find decent vegan substitutes for donuts.
Aside from that, there are also numerous delicious vegan donut recipes so you can make your own favorite sweet treat.
What Are Donuts Made Of?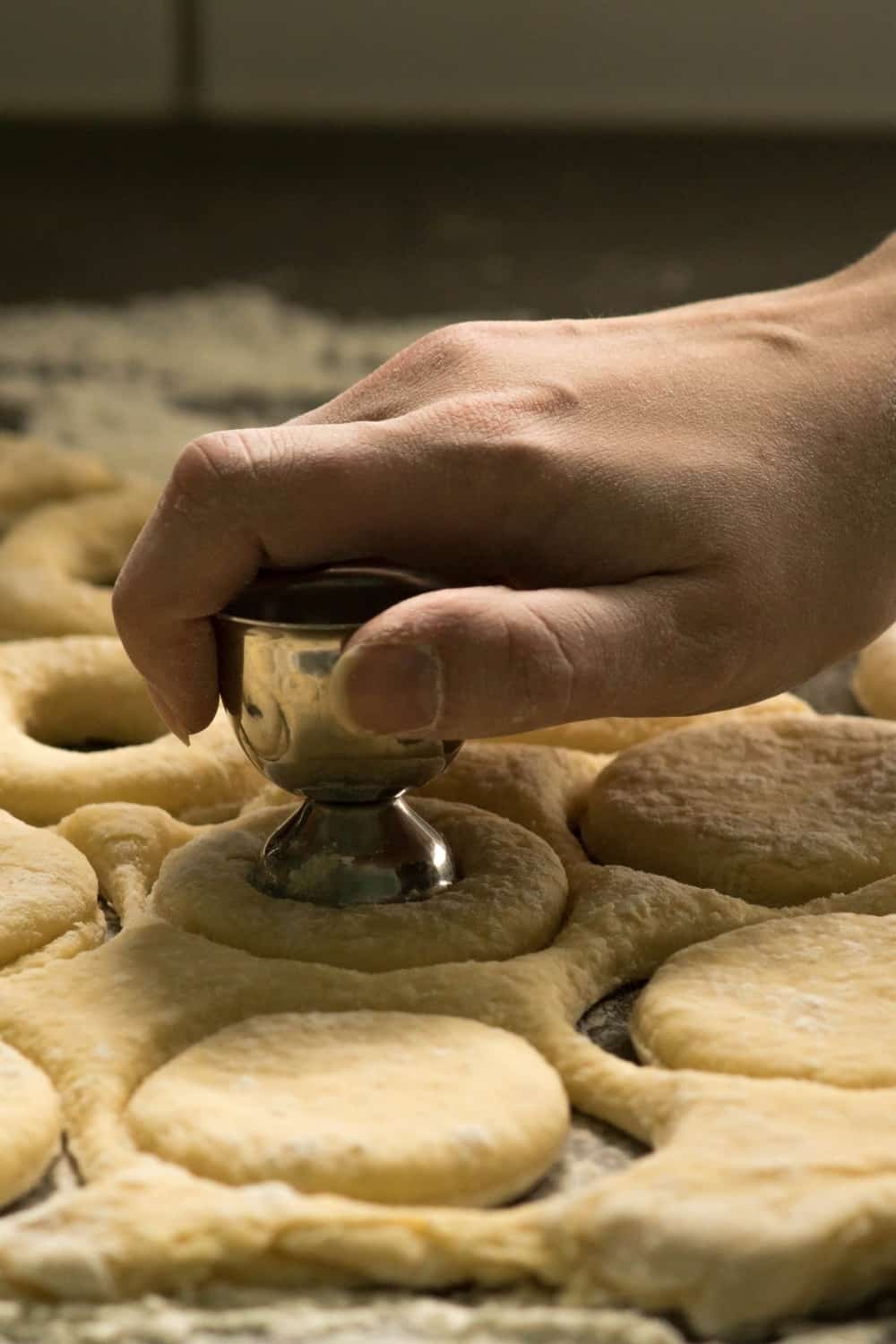 First, you must know what are the traditional non-vegan ingredients that bakers use to make donuts. The ingredients list is quite huge, so I will highlight only the most important ingredients.
• Flour (Vegan)
• Eggs: Egg yolk, Egg white (Non-vegan)
• Milk Ingredients: Skim milk, Whey (Non-vegan)
• Oil: Palm oil, Soybean oil (Vegan)
• Enzymes (Usually vegan)
• Sugar: Usually white sugar (Vegan)
• Yeast (Vegan)
• Salt (Vegan)
• Mono-glycerides (Some are vegan, some are not)
• Di-glycerides (Some are vegan, some are not)
When it comes to toppings, ingredients in traditional donuts may include:
• Chocolate Chips
• Sprinkles
• Frosting/Glaze
• A bit of sugar
As you can see, there are quite a number of ingredients that are not vegan, so it is always best to take a look at ingredient information if you are avoiding animal by-products.
Do Dunkin Donuts Have Eggs?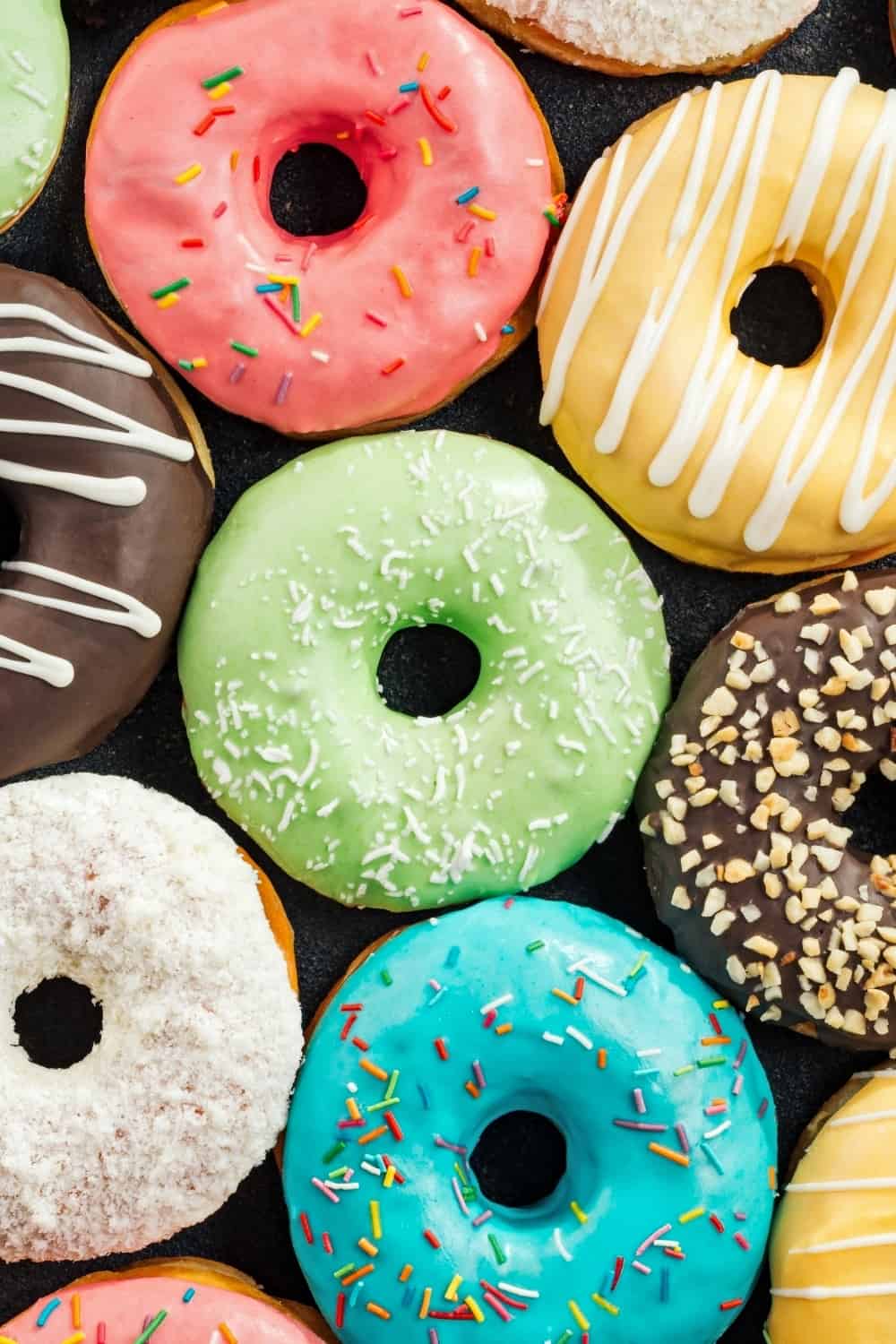 These donuts are made with the traditional recipe, so they mostly contain the ingredients mentioned above. So yes, Dunkin Donuts do have eggs.
Although they have some vegan ingredients, most are non-vegan ingredients. So, Dunkin Donuts are not vegan-friendly.
Ingredients in Dunkin Donuts are egg yolks, skim milk, water, palm oil, and sugar.
Do Krispy Kreme Donuts Have Eggs?
Krispy Kreme donuts also contain eggs. So, it can not be said that this type of donut is vegan. Their original donuts contain non-vegan ingredients including egg yolk, dried milk powder, as well as very unhealthy palm oil.
Their website states that they have begun making limited-edition vegan doughnuts using a vegan recipe that doesn't include egg and milk ingredients.
However, they do not guarantee that their vegan donuts are suitable for people with egg or milk allergies due to the manufacturing methods and the potential risk of cross-contamination.
And I also have to emphasize that they do not make gluten-free donuts because all their products are made from wheat flour which contains gluten according to the allergen information on their website.
See Also: Can You Freeze Krispy Kreme Donuts? Freezing The Sweetness
Do Tim Hortons Donuts Have Eggs?
When it comes to Tim Horton's donuts, you can always take a look at the Tim Hortons allergen information for their menu items. I looked at their website and found some information about their donuts.
I found that most of their yeast donuts do not contain eggs.
On the other hand, cake donuts do contain eggs.
In their "FAQs", I found that the only animal by-products that they use are eggs (egg whites and egg yolks) as well as dairy products including milk, yogurt, butter, nonfat milk, whey, and nonfat whey.
So, if you are just avoiding eggs, it is best to choose their yeast donuts because they don't contain eggs.
Where Can I Find Vegan Donuts?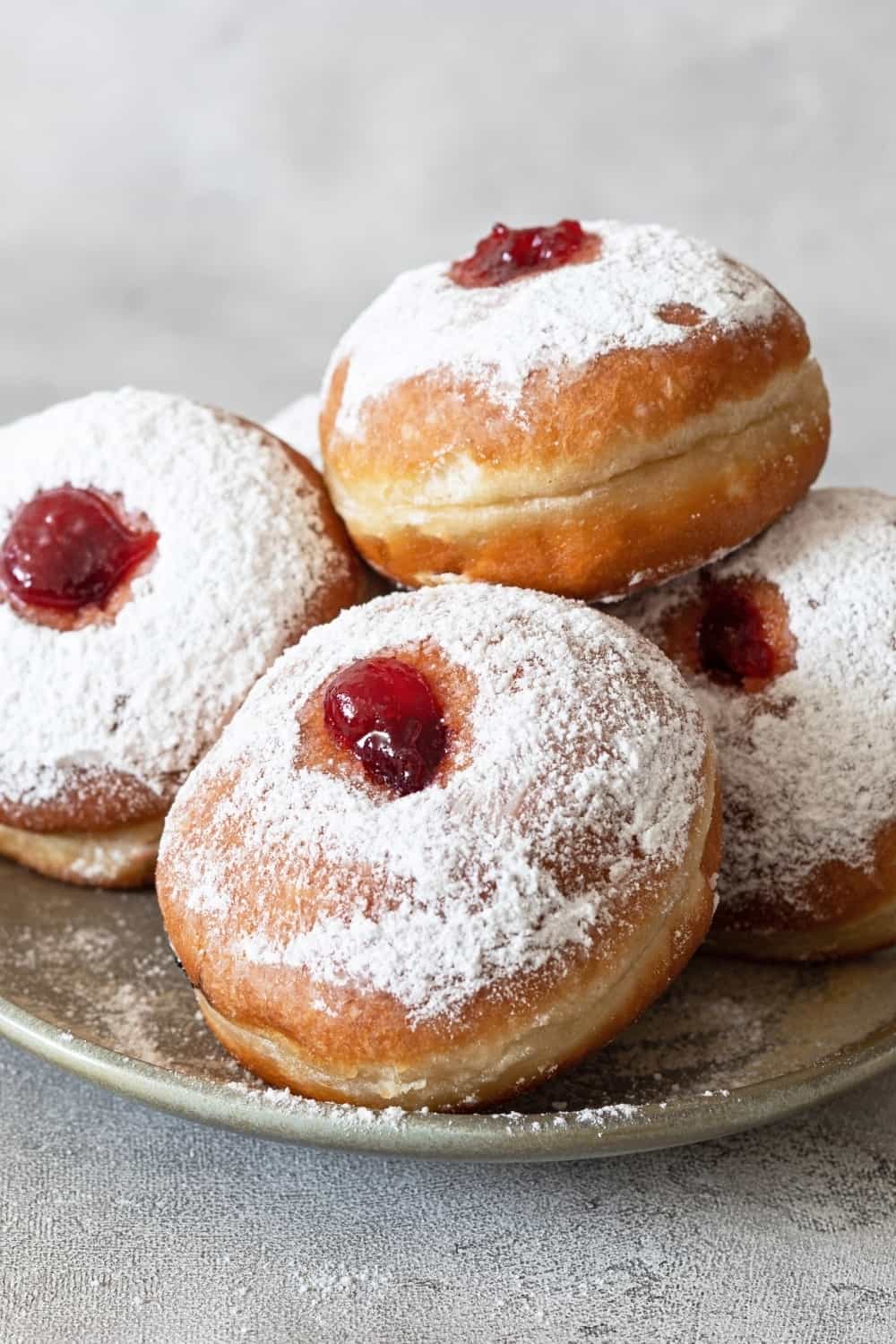 There are ways to find vegan donuts, although it is not as easy as it is with regular donuts. So here, I will present you with a list of a few types of vegan-friendly donuts that you must try.
• Walmart And Target: Kats Frozen Glazed Donuts are their best vegan-friendly options.
• Amazon: You can find many vegan donuts on Amazon. You just have to search hard and you will find what suits you best for sure.
• Goldbelly: Just like on Amazon, you can order your donuts online from Goldbelly and satisfy your donuts cravings without any guilt because they have many types of vegan-friendly donuts on their shelf.
• GoPuff: Just like Amazon and Goldbelly mentioned above, GoPuff is a donuts store from where you can order your vegan donuts. I recommend you choose their Vegan Schmeagn Assorted Vegan Donut Box, which contains four tasty vegan donuts you won't resist.
• Homemade Vegan Donuts: I always recommend to people to go ahead and make their own culinary masterpieces if they can. The same goes for vegan donuts. Some of the classics include Vegan Brioche Donuts, Cinnamon Sugar Vegan Donuts, Vegan Jam Donuts, and Doughnut Shop Style Vegan Doughnuts.
FAQs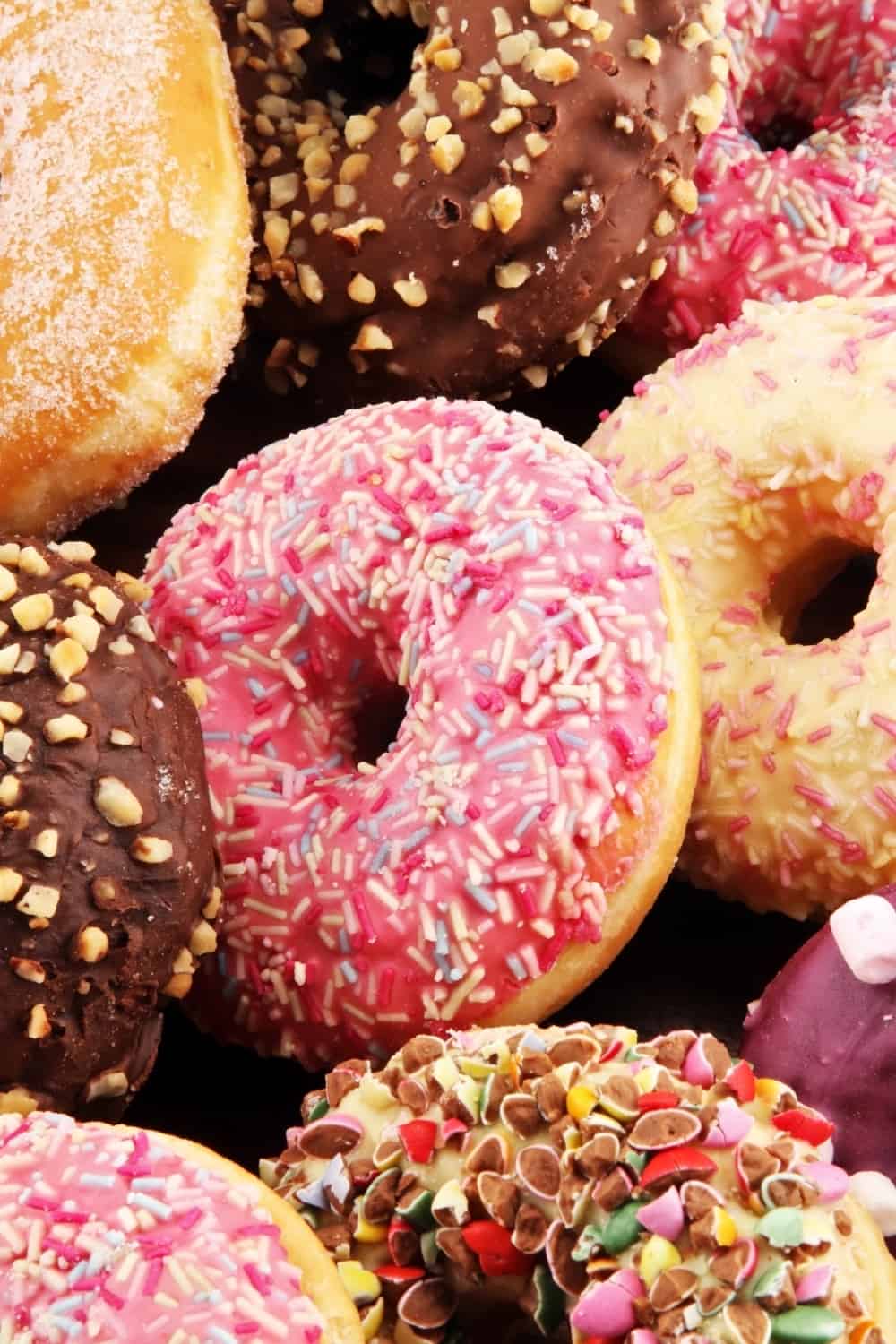 Is There Milk In Donuts?
Yes, in most traditionally made donuts, there is a certain amount of milk or some kind of milk by-product including skim milk, whey, or milk powder.
However, there are many vegan-friendly options. If you are vegan, i.e. if you are avoiding those particular ingredients, it is best to take a look at the ingredients list to be safe and sound.
Are There Eggs In Cake Donuts?
Yes, the egg is one of the ingredients in cake donuts. Other ingredients in cake donuts include all-purpose flour, milk baking powder, granulated sugar, shortening, as well as some spices like cinnamon and nutmeg.
Since there are milk and eggs in cake donuts, they are not suitable for vegans.
What Kind Of Donuts Have Eggs?
All traditionally made donuts contain eggs. Other main ingredients in donuts are milk and milk by-products, flour, oil, and sugar. Since there are eggs and milk in donuts, they can not be considered as vegan-friendly.
However, there are some types of donuts that do not contain these animal-by products. They can be found in some online stores like Amazon, Walmart, Goldbelly, etc.
Final Words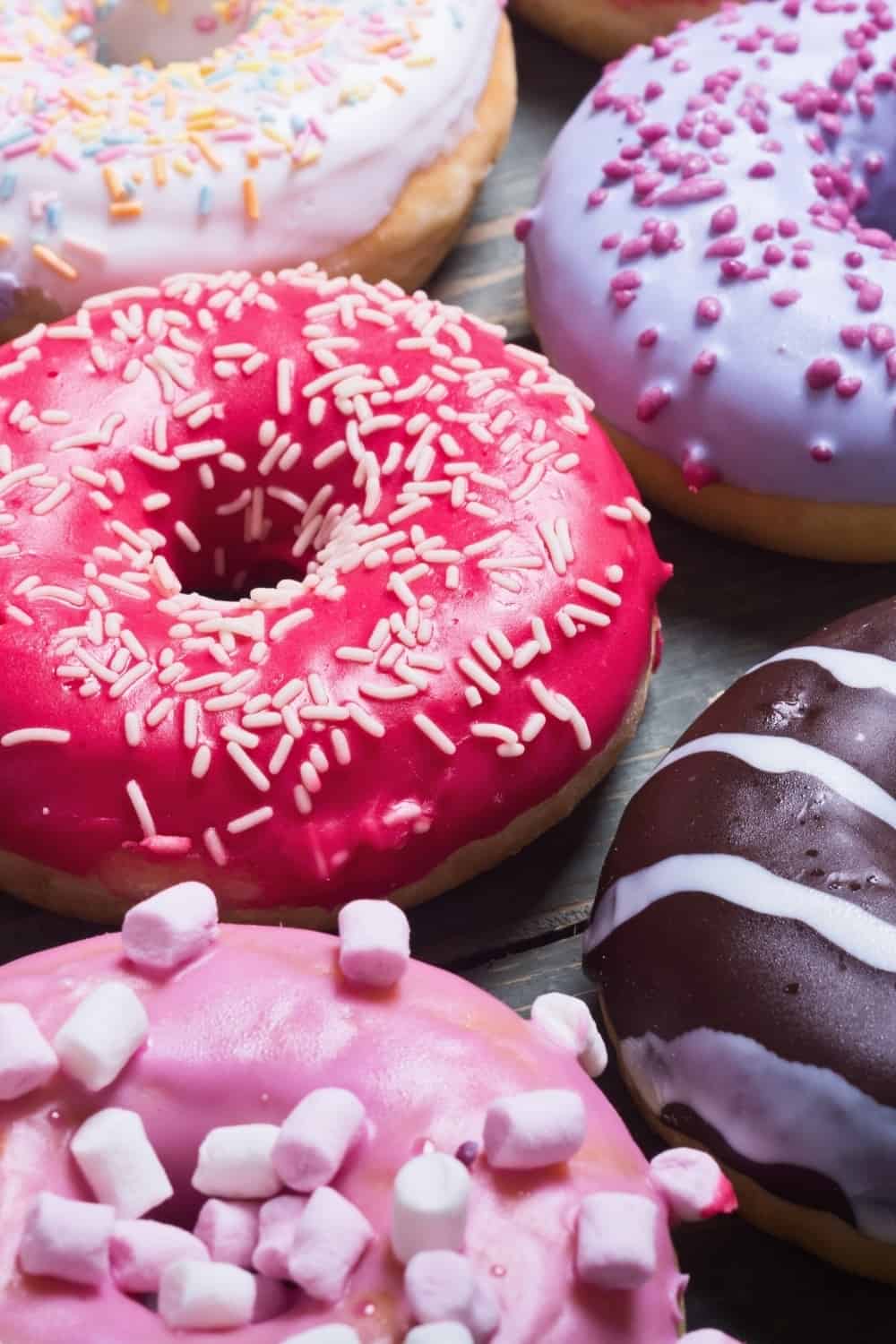 Most of the bagels in any bakery you can find are not vegan-friendly since most of them contain eggs and, in most cases, dairy products like milk and milk by-products. The same goes for donuts and donut holes.
However, there are types of donuts that do not contain eggs and/or dairy products. You just have to search a little harder to find them, but eventually, you will be able to find them and enjoy their sweetness, crispiness, and creaminess.