I must admit that it took me a while to absorb the fact that dragon fruit (pitaya) is actually a cactus that is native to Central and South America, and Mexico. Also, I think its unique, "spiky" appearance classifies it as one of the most unusual fruits I've ever seen.
Now, what about its taste?
Explaining the taste of dragon fruit is a bit complex, and it depends on the following factors:
• Whether the fruit is ripe or unripe
• The variety of dragon fruit
Worry not, we'll cover that in the following paragraphs. You'll also learn how to know when dragon fruit is ripe, and how to peel and cut it. As a bonus, I've included 3 easy and delicious recipes with dragon fruit!
The Unique Taste Of Dragon Fruit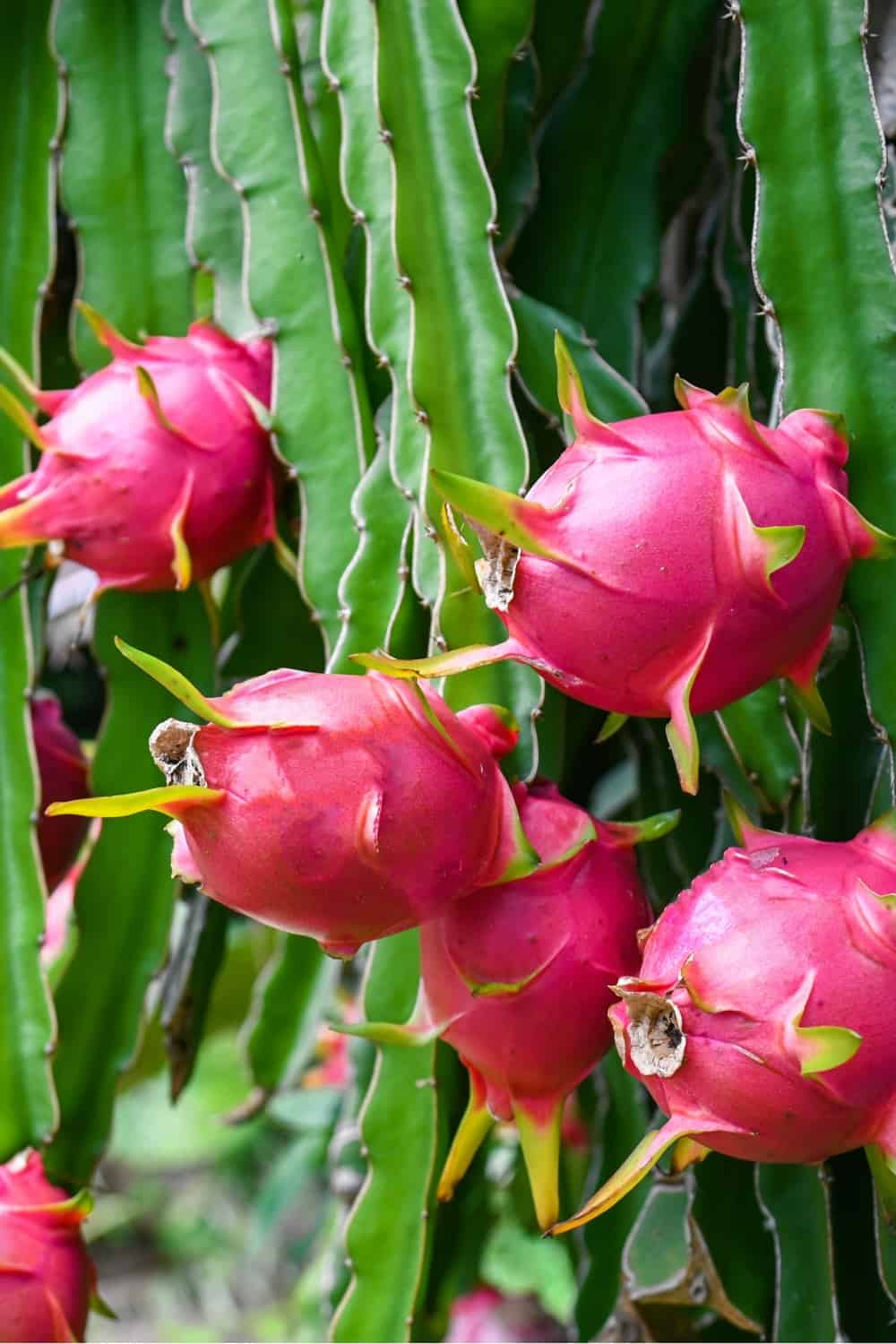 As I already mentioned, the taste of this food that starts with D greatly depends on whether it's ripe or unripe. Trust me, you do not want to eat unripe dragon fruit for the first time like my friend Jane did. Here's why:
• Ripe dragon fruit: mildly sweet and subtly tangy (a combination of kiwi and pear)
• Unripe dragon fruit: flavorless
Yes, unripe dragon fruit has no flavor and that is why it's important to pick the ripe ones. This brings us to the next important section:
How will you know that the dragon fruit is ripe?
There are different varieties of dragon fruit, and we'll focus on the most common one which is dragon fruit with pink skin and different types of flesh (red, purple, pink, and white). You can pick ripe dragon fruit from the store or you can buy unripe one and then wait for it to ripe.
Here's how you'll know when it's ripe:
• It feels too heavy for its size: compare a few pink dragon fruits by picking them up and noticing the difference in their weight. Choose the one that is heaviest for its size because this is an indicator of juiciness!
• Consistent pink color: choose a fruit that is fully pink and has no signs of bruises.
• The squeezing test: ripe dragon fruit has a firm texture by default but you can squeeze it with your thumb like a ripe avocado.
• Wings (texture and discoloration): ripe dragon fruit has dried wings that have turned yellowish-brown in color.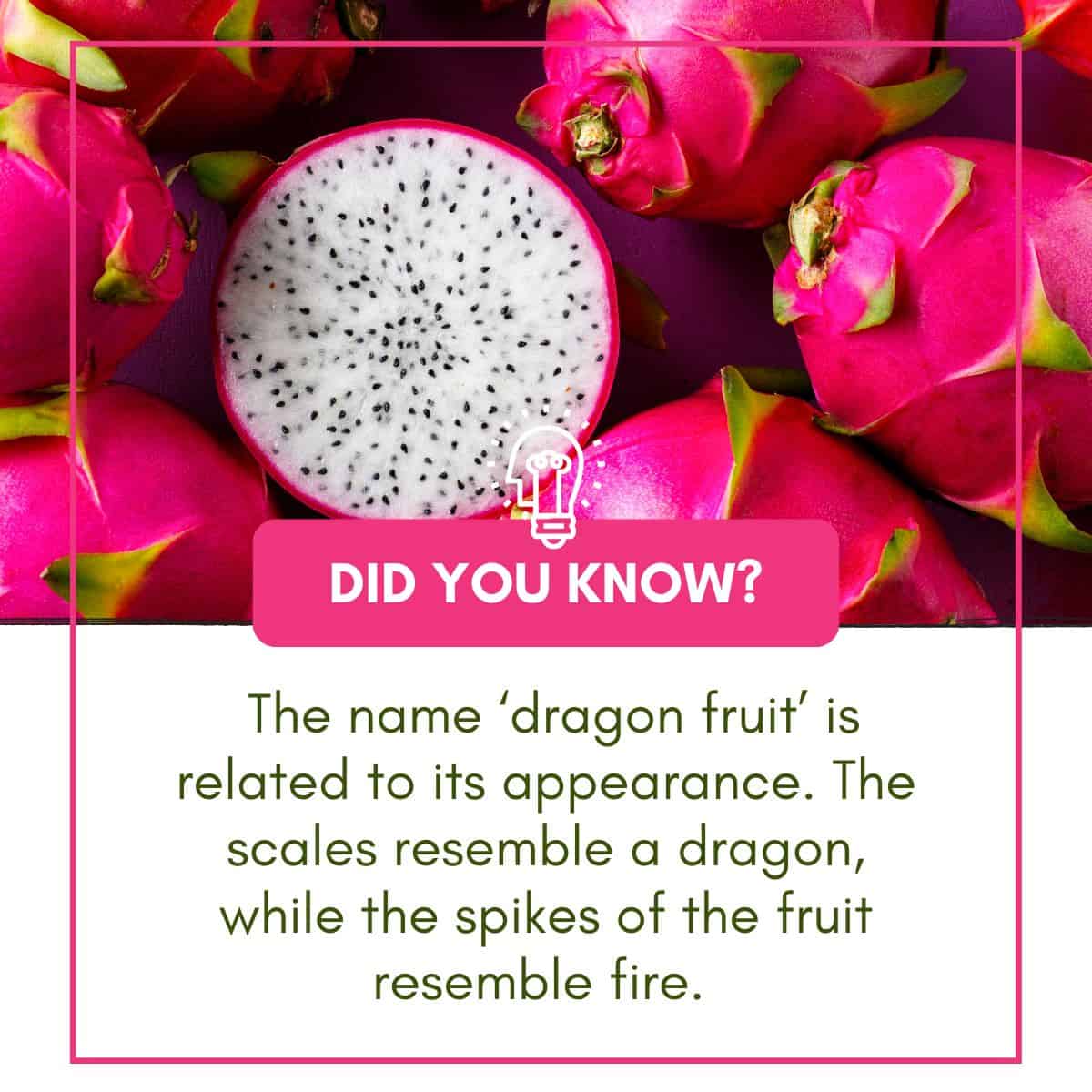 What Do Different Types Of Dragon Fruit Taste Like?
This extraordinary fruit comes in four varieties. Here's what each of them tastes like:
1. Pink-skinned with white flesh
This is the most common variety and it has the least sweet flavor of all four varieties. Most stores sell dragon fruit will pink skin and white flesh under the following names: Guyute, Neitzel, Alice, David Bowie, Harpua, and Cosmic Charlie.
2. Pink-skinned with pink or red flesh
This dragon fruit variety is longer and it tastes sweeter than the white flesh type. You can find it in stores under these names: Red Jaina, Zamorano, Bloody Mary, and Woodoo Child.
3. Pink-skinned with purple flesh
Dragon fruit with pink skin and purple flesh has a similar level of sweetness to the pink or red flesh varieties. It is usually sold under the name American Beauty.
4. Yellow-skinned with white flesh
Yellow-skinned variety is the smallest of all four and it is the sweetest one. It's really hard to stumble upon this variety in stores, so you should look for it in online stores.
SEE ALSO: Fruits That Start With P: 36 Sweet Gifts Of Nature
Why Should You Eat Dragon Fruit?
Because it has a unique taste and because it looks amazing! Okay, here are the more concrete reasons why you should eat dragon fruit and they are mainly related to its health benefits:
• It is a great source of fiber.
• Dragon fruit is high in vitamin C.
• It also contains calcium.
• Dragon fruit is rich in antioxidants.
• It is low in fat and calories.
See also: Acai Vs Pitaya: The Ultimate Showdown Of Two Superfoods
How To Eat Dragon Fruit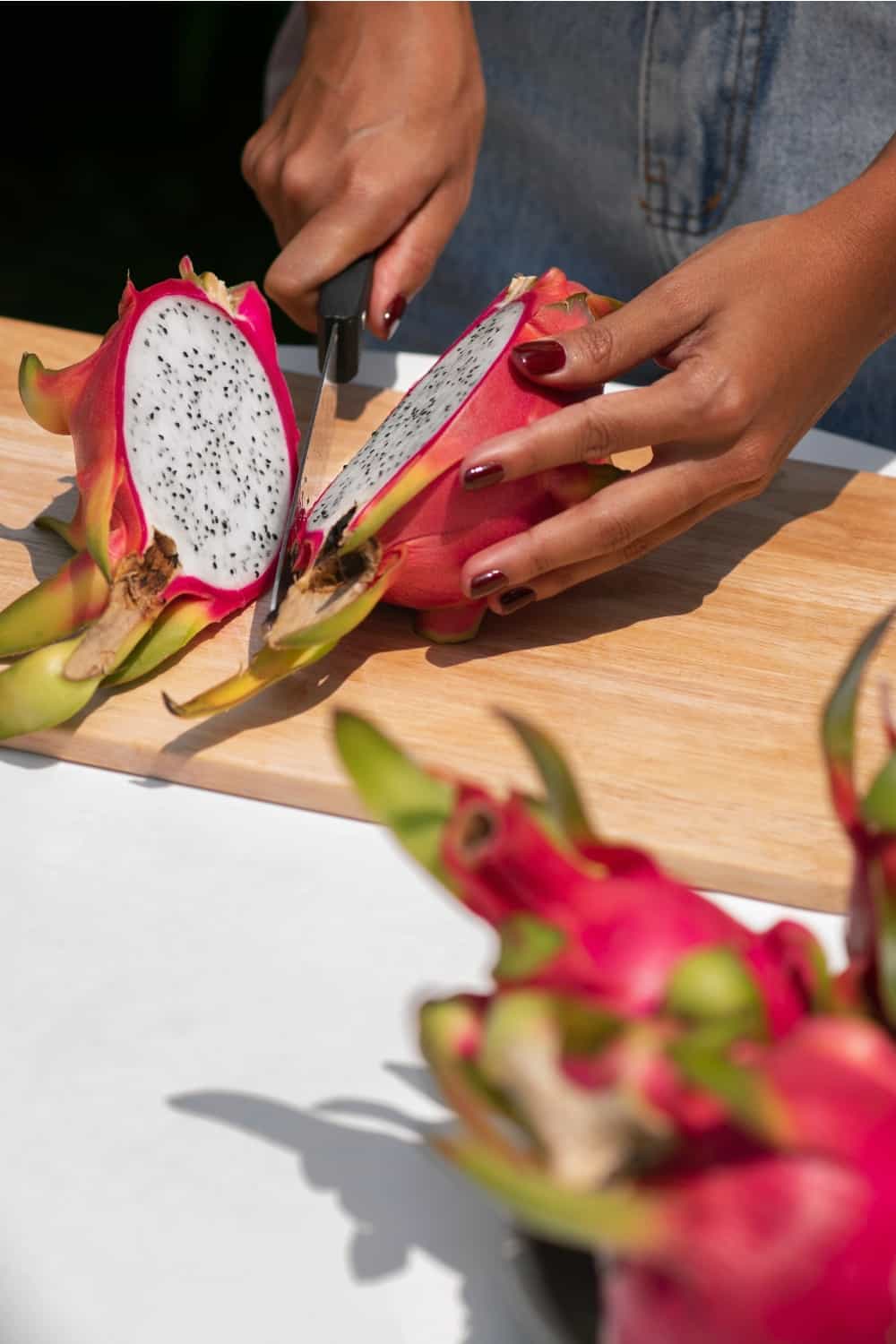 Of course, buying a dragon fruit doesn't come with instructions and if you're eating it for the first time, you should know how to properly peel it and cut it. Also, you should know what type of food is best paired with dragon fruit. So, let's see:
Peeling and cutting
The best way to cut dragon fruit is by cutting it in half down the middle. Then slice it and eat the slices of dragon fruit like you would eat watermelon. There's another way of eating it. You can scoop out the flesh from the (inedible) skin by using a spoon and cut it into cubes.
Dragon fruit pairings
Dragon fruit pairs well with sweeter fruits such as mango, bananas, strawberries, pineapple, and blueberries. It also goes well with white fish, fruit salads, salsas, smoothies, margaritas, honey, and yogurt.
3 Recipes With Dragon Fruit
Aside from the fact that it plays a huge role in the flavor profile of Red Bull, i.e. The Green Edition, you can also use it in various recipes.
I prefer adding dragon fruit to my smoothies, salads, and to pudding. That's how these recipes were brought to life:
1. Dragon Fruit Tropical Smoothie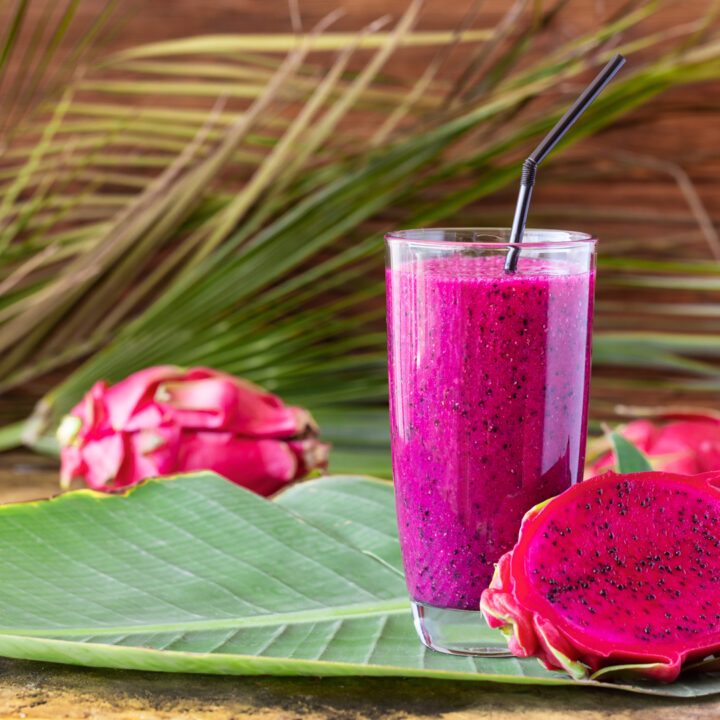 Dragon Fruit Tropical Smoothie
So many vitamins in one smoothie! Let this tropical smoothie load you up with energy.
Ingredients
1 cup frozen pineapple chunks
1 large banana
½ cup cold water
7 oz frozen dragonfruit puree
½ cup frozen mango (diced or fresh)
1 tbsp lime juice (optional)
Instructions
Step 1: Pour the frozen dragonfruit with warm water to thaw a bit, and then add the pieces of it to the blender. Also add the pineapple chunks, mango, water, and banana chunks. Blend until it reaches a smooth consistency. Add a bit of cold water if needed and continue blending.

Step 2: Add the lime juice (optional)
Nutrition Information:
Yield:

1
Serving Size:

1
Amount Per Serving:
Calories:

506
Total Fat:

2g
Saturated Fat:

0g
Trans Fat:

0g
Unsaturated Fat:

1g
Cholesterol:

0mg
Sodium:

18mg
Carbohydrates:

128g
Fiber:

14g
Sugar:

98g
Protein:

5g
2. Dragon Fruit Salad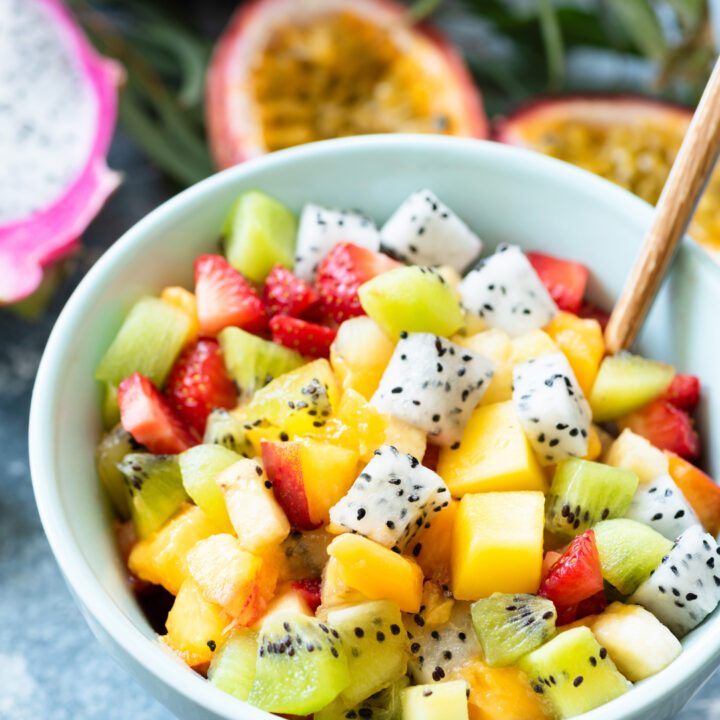 Dragon Fruit Salad
This fun, tasty, and colorful dragon fruit salad will definitely win your heart!
Ingredients
½ cup raspberries
½ cup strawberries
1 dragon fruit (cut in half, scooped out, and diced)
1 kiwi (peeled and sliced)
½ cup blueberries
Instructions
Step 1: Use a spoon to Scoop the flesh out of dragon fruit. The dragon fruit peel will be used for serving.

Step 2: Cut the kiwis, dragon fruit, and strawberries into small pieces. Mix the fruit and place it back into the dragon fruit peel.
Nutrition Information:
Yield:

2
Serving Size:

1
Amount Per Serving:
Calories:

103
Total Fat:

1g
Saturated Fat:

0g
Trans Fat:

0g
Unsaturated Fat:

1g
Cholesterol:

0mg
Sodium:

4mg
Carbohydrates:

25g
Fiber:

6g
Sugar:

15g
Protein:

2g
3. Dragon Fruit Chia Pudding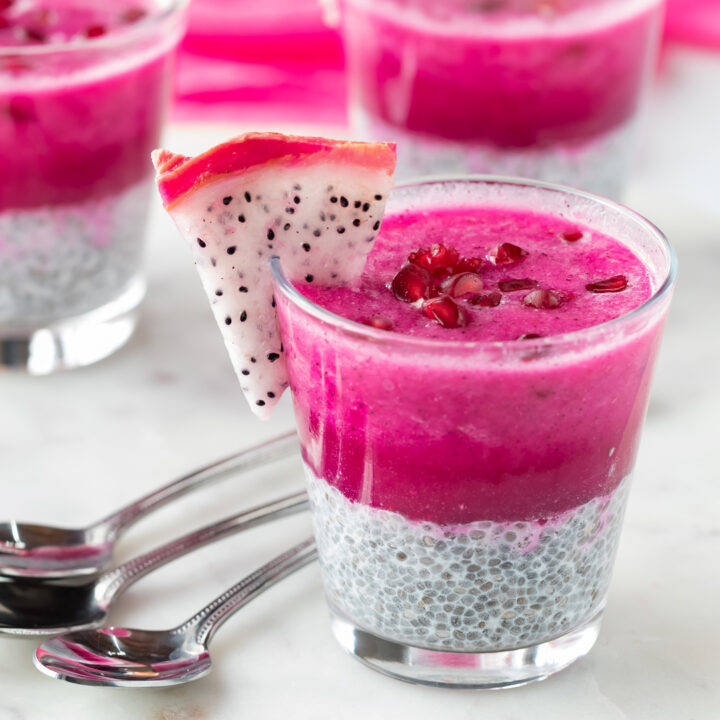 Dragon Fruit Chia Pudding
You can eat this delicious pudding for breakfast, as a snack, or for dessert.
Ingredients
1 cup coconut milk
2 tbsp sugar
¼ tsp vanilla extract
4 tbsp chia seeds
1 dragon fruit
Instructions
Step 1: Peel the dragon fruit and chop it into small pieces.

Step 2: Put the dragon fruit and the rest of the ingredients into a blender and blend until smooth. When done, place it into the fridge for 1 to 3 hours or overnight.
Nutrition Information:
Yield:

2
Serving Size:

1
Amount Per Serving:
Calories:

420
Total Fat:

32g
Saturated Fat:

22g
Trans Fat:

0g
Unsaturated Fat:

8g
Cholesterol:

0mg
Sodium:

20mg
Carbohydrates:

33g
Fiber:

10g
Sugar:

17g
Protein:

7g
What Are Your Thoughts On Dragon Fruit?
How do you like these recipes? Do you think that dragon fruit is one of those intimidating fruits that require special knowledge on how to cut or peel it?
Words of encouragement: Worry not, after some time preparing meals with dragon fruit will be effortless like breathing air. Speaking from experience.
P.S. I'm sure you'll get "addicted" to its unique taste. 😊