This article will provide you with a recipe for the most fluffy and flavorful banana pancakes that are, at the same time, free from gluten.
These gluten-free banana pancakes are packed with natural sweetness and filling ingredients which is the perfect way to start your day.
All you have to do is to follow an easy step-by-step recipe to make your future favorite sweet treat.
Recipe For Fluffy And Delicious Gluten-Free Banana Pancakes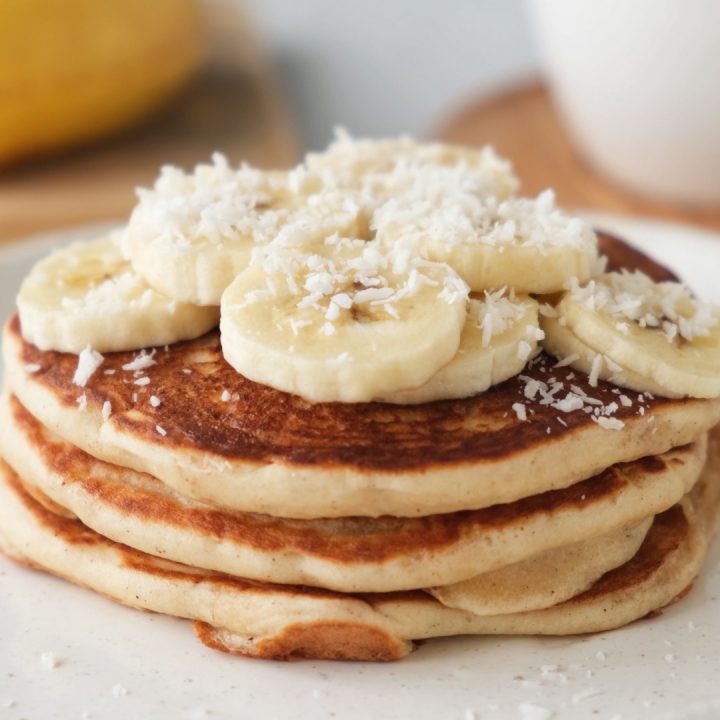 Gluten-Free Banana Pancakes
In order to make this delicious and healthy sweet treat, you will only have to blend a few simple ingredients according to the instructions. Here is how to do it:
Ingredients
1 Cup of almond flour
3 Tablespoons of tapioca starch
1 ½ Teaspoon of baking powder
¼ Cup of unsweetened almond milk
Pinch of kosher salt
1 egg
1 Tablespoon of maple syrup
1 Teaspoon of vanilla extract
1 Banana (4 ounces): ½ mashed banana + ½ diced banana
Instructions
First, take a large bowl and, in it, combine almond flour, tapioca flour, baking powder, and slat by gently whisking all the ingredients with a fork.
Add almond milk, egg, maple syrup, banana, and vanilla to the same bowl and whisk everything together until combined.
Add wet ingredients to the dry ingredients and gently stir until everything has come together.
Heat a medium non-stick skillet over medium heat and coat with coconut oil.
Scoop ¼ cup of pancake batter and pour it into the pan to form small to medium-sized pancakes.
Cook for 2-3 minutes or until the edges begin to puff and the bottom is golden brown.
Flip and cook for another 2 minutes and repeat the process until you work through all the batter.
Serve and enjoy the fluffy sweetness!
Notes
Use fully ripe bananas because they are sweeter and smoother than unripe varieties and will serve better in the recipe.
If you can get your hands on them, use pasture-raised eggs from the farm because they are quite healthier than commercial eggs.
Remember to use a non-stick skillet in which you will use coconut oil (or butter if you are okay with dairy). Just dont use any type of cooking spray because it will create a film on the surface of the pan.
Nutrition Information:
Yield:

4
Serving Size:

1
Amount Per Serving:
Calories:

270
Total Fat:

16g
Saturated Fat:

2g
Trans Fat:

0g
Unsaturated Fat:

13g
Cholesterol:

47mg
Sodium:

222mg
Carbohydrates:

28g
Fiber:

5g
Sugar:

12g
Protein:

8g
Why You'll Crave More Once You Try Almond Flour Banana Pancakes?
I know that all pancakes are delicious and sweet and that they can make anyone's mouth water, but there are plenty of reasons why gluten-free banana pancakes made from almond flour are so special.
Aside from the fact that they are free from gluten, which makes them suitable for so many people to enjoy, these banana pancakes will provide your taste buds with the natural sweetness of bananas without any added sugar.
Aside from that, the nutty flavor from almond flour will complement the sweetness of the bananas and create the perfect flavor combination for everyone with a sweet tooth, and for many more as well.
As you could have seen from the recipe itself, the method used to make these delicious pancakes is not difficult at all and you'll need to sacrifice just 10 minutes of your precious time to enjoy them for hours or even days.
And on top of that, you can always refrigerate your almond flour banana pancakes and enjoy their sweet and delicious flavors at almost the same level of freshness a day after.
Finally, compared to other pancake varieties that you can find at almost any pancake shop or restaurant, these types of pancakes are quite healthy as well.
They don't contain gluten and can provide you with a lot of protein and healthy fats, as well as various nutrients from the bananas.
What more could you ask for really?
How To Enjoy Their Best Flavors?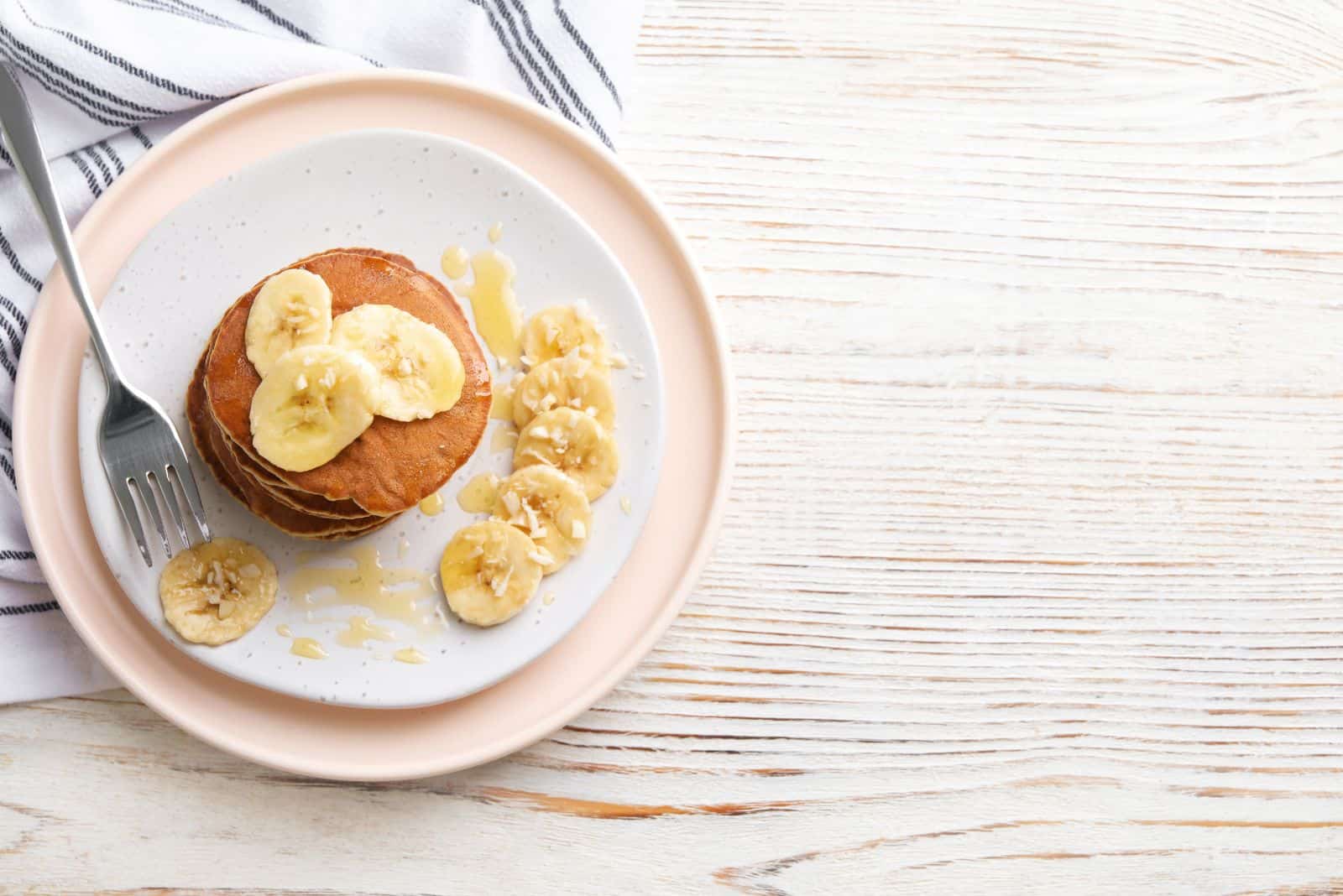 Although the list of ingredients that can enrich the flavor profile of pancakes is almost limitless, there are certain "flavor enhancers" that will make your banana pancakes even better. So, let's take a look.
• Simply Add Fresh Fruits: If you want to add some extra sweetness to your pancakes, it is best to toss a few slices of banana on the top.
Aside from bananas, you can also add some berry fruits like strawberries, raspberries, or blueberries to produce a perfect combo of sweetness and tartness, as well as some extra healthy nutrients.
• Nut Butter: Most nut butters are gluten-free and dairy-free and, if you can find one without sugar, it can be a perfect addition to your banana pancakes because of the extra delicious and nutty flavor.
Just be careful if you have a nut allergy. In that case, cookie butter can serve as a great alternative because the taste of cookie butter is similar to nut butter.
• Honey Or Maple Syrup: These two ingredients are classics when it comes to all types of pancakes, including our banana pancakes.
If you want to provide your banana pancakes with some true natural sweetness, make them more tender, and make them look beautifully golden brown, then adding one of these two ingredients might be your best bet.
Btw. if you don't have maple syrup at hand, these maple syrup substitutes may come in handy.
• Chopped Nuts: If you don't have nut allergies, it is always a great idea to sprinkle some chopped almonds, pecans, or walnuts over your pancakes to add a nice nutty crunch.
Aside from that, all types of nuts are quite healthy and nutritious as well.
• Chocolate Chips: If you are not avoiding sugar and like to enjoy some delicious chocolate from time to time, then sprinkling some chocolate chips over your pancakes is a great idea.
Aside from that, they can also be added to the pancake batter itself.
What About Other Gluten-Free Banana Pancake Options?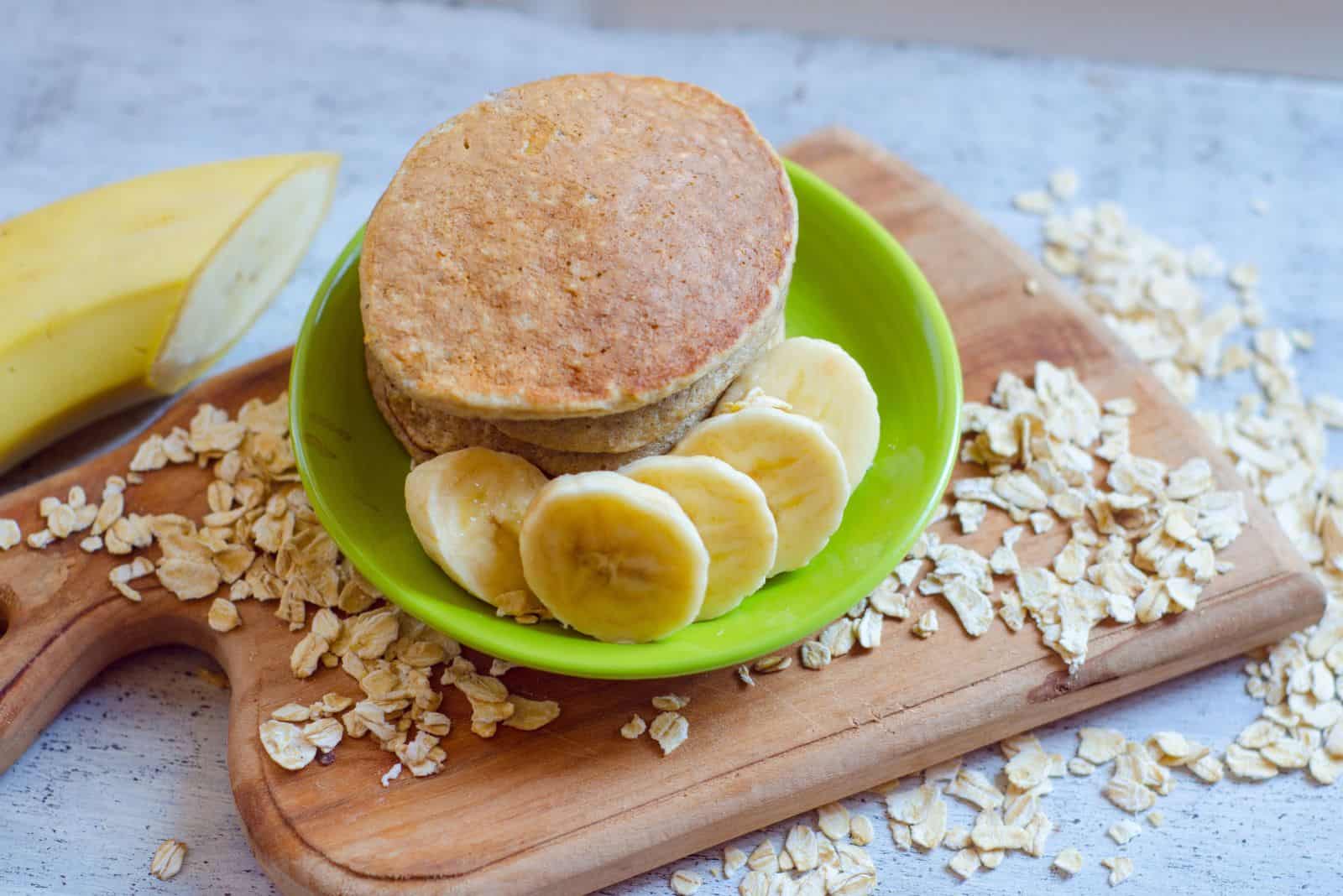 Not all gluten-free banana pancakes are made from almond flour. Various other kinds of flour can be used, including coconut flour, buckwheat flour, oat flour, and rice flour.
There are also gluten-free banana pancakes made entirely without flour and there are even vegan varieties.
So, let's briefly go through the list of the most popular gluten-free banana pancakes that might give you an idea for your next delicious and healthy breakfast.
Oatmeal Banana Pancakes: Oats And Mashed Bananas Unite
Combining mashed bananas with oat flour, as a replacement for regular wheat flour, can make a perfect gluten-free alternative.
You can easily make some oat flour by simply grinding oats into a fine powder in a food processor or blender.
Other ingredients in the recipe are similar to almond flour banana pancakes, typically including eggs, milk or dairy-free alternative, baking powder, and a natural sweetener such as maple syrup or honey.
Similarly to almond flour, oats have many health benefits because they're packed with plenty of vitamins and minerals.
However, the flavor profile of oatmeal banana pancakes is a bit different, i.e. it is more neutral with a slight sweetness from the bananas.
Aside from that, they also tend to be denser and more filling due to the use of oat flour.
Flourless Banana Pancakes: Quick Low-Carb Meal
The first and most obvious thing when it comes to flourless banana pancakes is the fact that they do not contain any flour.
The ingredients that people use to make this type of banana pancake are quite similar to the ingredients in our recipe.
It contains no flour, but there are eggs, baking powder, ripe bananas, and some additional flavorings or spices, like cinnamon or vanilla extract.
There are a few reasons why people choose to make flourless banana pancakes. The most obvious one is the absence of gluten.
However, since there is a certain amount of carbs in flour (gluten-free flour), people consume them to limit their carb intake, especially if they are on some type of low-carb diet or keto diet.
And of course, some people just don't have any flour on hand at the moment but want to enjoy some delicious banana pancakes, so they make themself some without flour.
Finally, these pancakes are also quite nutritious (full of protein, fiber, and healthy fats), and they can be also enjoyed with some fresh fruits, nut butter, or your favorite natural sweetener, including honey and maple syrup.
Vegan Banana Pancakes Without Gluten: Sweet Gift For Special People
Of course, I didn't forget vegans and there is also a variety of gluten-free banana pancakes suitable for that diet style.
Just like many other types of foods, pancakes can also be made without animal by-products, including eggs and dairy products like milk and butter.
To make that a reality, you'll need some ingredients like ripe bananas, plant-based milk (such as soy milk or almond milk), any type of flour that doesn't contain gluten, baking powder, and additional flavorings and spices.
Some recipes also call for a vegan egg replacement, such as apple sauce or flax seeds that can also be a great substitute for bananas in baking.
When comparing our almond flour banana pancakes with any type of vegan banana pancake, the biggest difference is the fact that, because of the absence of eggs, they do not contain that much protein.
Aside from that, banana pancakes are more filling. Vegan banana pancakes, on the other hand, have a lighter texture and a more pronounced sweet banana flavor.
They also tend to be more tender and fluffy than almond flour banana pancakes, with a slightly moist and delicate texture. One more thing. Banana pancakes without gluten pair well with honey milk tea which is one of my favorite drinks.