Most people in the United States are not familiar with this veggie.
However, it is important to know more about turnips because they are vegetables that have been in the ground for thousands of years.
Yet, because of their absence from the shelves of American supermarkets, many Americans don't know much about them and even less about how they taste.
So, what do turnips taste like?
In short, the flavor profile of turnips can be described as a mild, earthy flavor with the addition of delicate sweetness and slightly bitter undertones, and just a hint of peppery spice.
If you want to know more about the taste of turnips, both cooked and raw, continue reading.
What Do Raw Turnips Taste Like?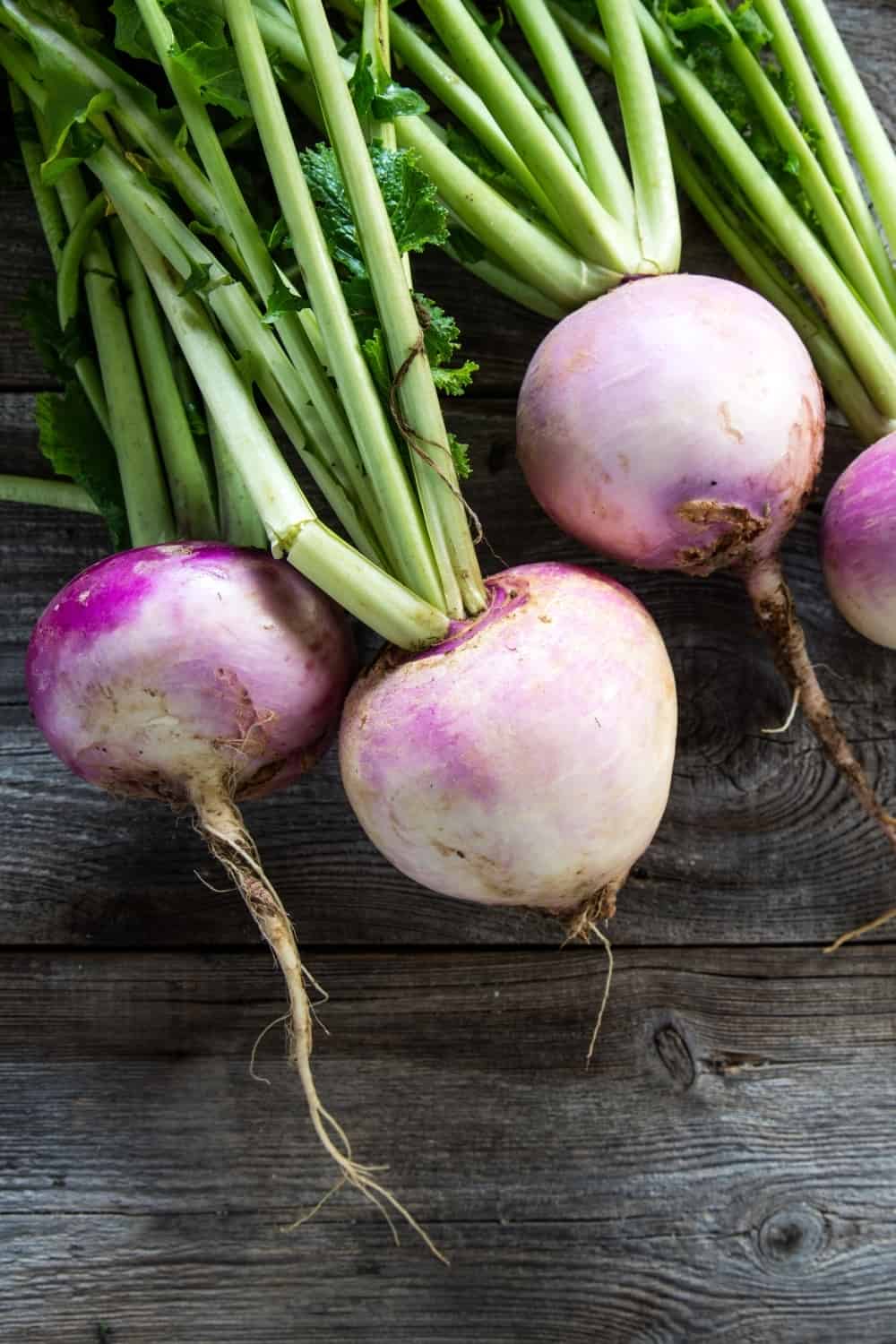 Since they grow in the soil, it is not difficult to conclude that the first flavor you will experience while eating turnips is earthy. The flavor of beets, carrots, and rutabagas is similar because they also grow beneath the ground.
However, the earthy taste is not the only one you will taste in your mouth.
A slightly sweet taste combined with peppery undertones is kind of the trademark of turnips.
In order to provide you with a bigger picture, that flavor profile can be described as a cross between a carrot and a potato.
Now, the ratio between sweet and spicy, peppery taste mainly depends on the age of your turnips. So, let's see what it is all about.
Young Turnips
I made this classification because there are certain differences between the flavor profiles of young and old turnips.
Younger turnips are milder and sweeter and their taste is similar to that of carrots.
And there is also the texture that depends on the age as well as the size of the turnips.
In general, raw turnips have a firm, crunchy texture. However, younger, smaller turnips tend to be more tender.
My advice would therefore be to go for younger, smaller turnips if you want to enjoy them raw.
Old Turnips
It is a different story with old turnips.
As they age, turnips become spicier and more intense, and, in some cases, very old turnips can become very bitter.
Aside from that, older, larger turnips can be more fibrous and, consequently, less tender.
The combination of the spicier, more intense flavor with some bitter undertones and tougher texture is not very appealing, so my suggestion is to cook older turnips instead of eating them raw.
What Do Boiled Turnips Taste Like?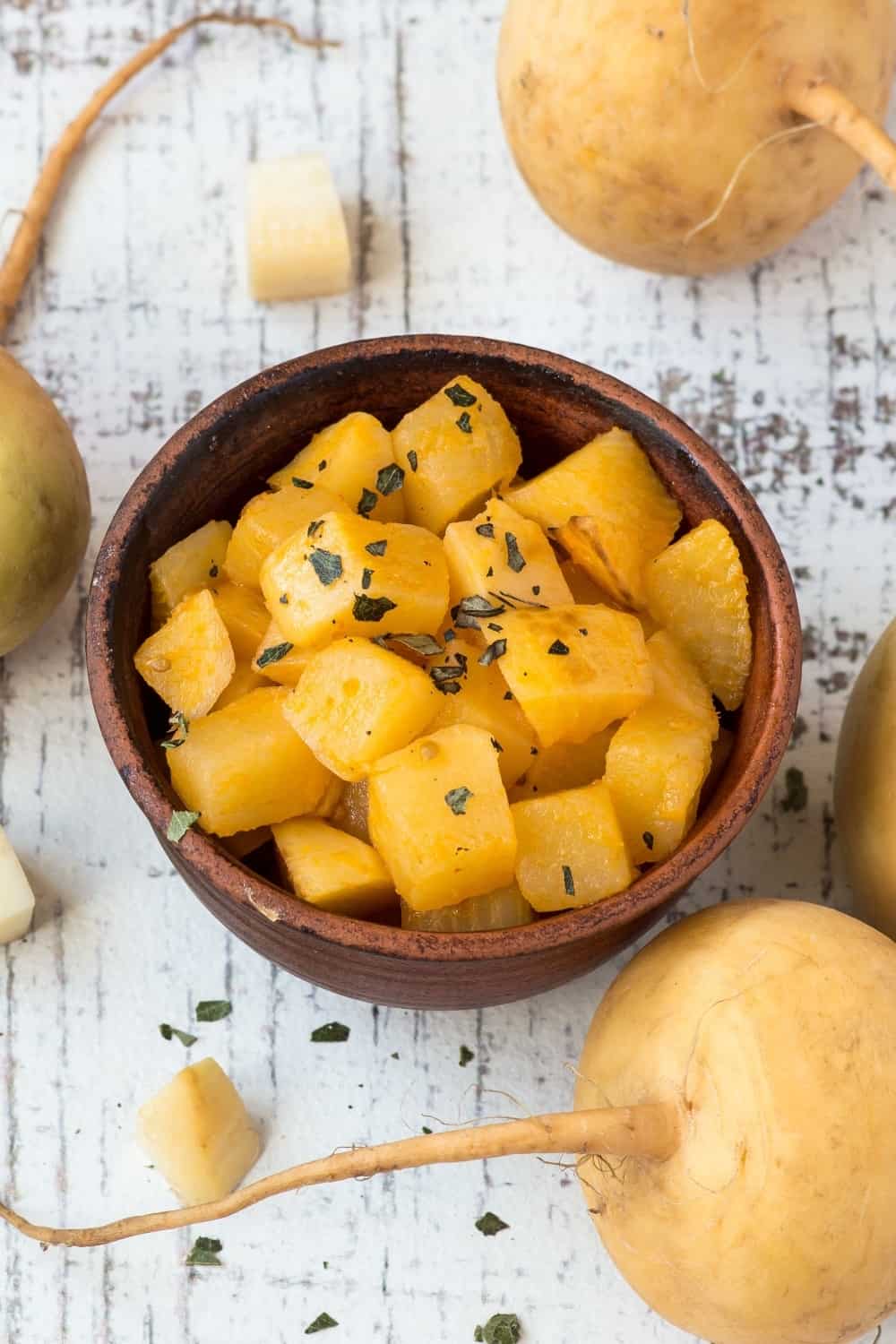 Generally, you can cook your turnips however you like, but not all cooking processes suit these nutritious veggies.
However, there are few that can make your turnips taste very well, especially if prepared and seasoned the right way. The first and simplest process is boiling.
Once you boil your turnips, they become milder and it can be said that they even become slightly blander in taste. Also, that specific peppery taste evolves into more earthy, nutty, and even savory with the reduced bitter undertones.
If you are cooking young turnips, they will become much sweeter, with the flesh tasting somewhat like sweet potatoes.
The texture also changes significantly. Unlike raw turnips that have a crunchy, firm texture, cooked turnips will have a much softer and more tender texture that is just slightly fibrous, similar to that of cooked potatoes and carrots.
And if you boil them for longer, they can even become creamy to some extent.
EXTRA FLAVOR TIP:
Now, if you want to make them taste better, you can't just throw them in a pot of boiling water and expect a miracle to happen.
You have to add a few pinches of salt, and you can also add butter, herbs, or spices to enhance their flavor. My recommendation is to add a bay leaf for some extra flavor.
If you want to know how to cook turnips and enjoy their best flavor, take a look at this video.
What Do Roasted Turnips Taste Like?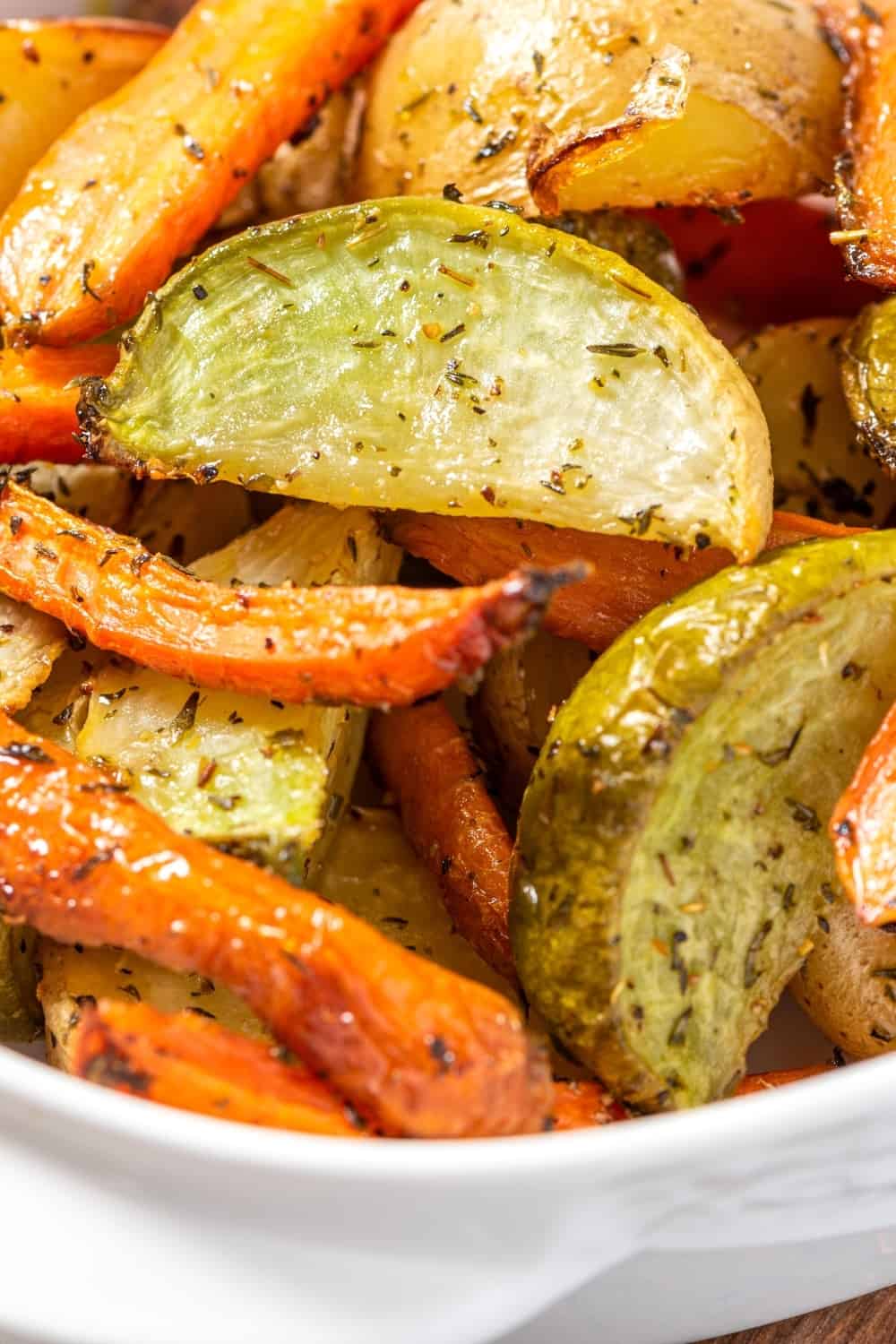 More people find the roasting method much more appealing when it comes to cooking turnips.
And that is no surprise since turnips tend to be much sweeter when roasted, especially compared to boiled turnips.
In terms of flavor profile, roasted turnips taste somewhat like a cross between a carrot and a potato, sometimes even sweeter.
When roasted the right way, the natural sugars inside turnips caramelize and add extra sweetness to the flesh itself.
Aside from that, the flesh becomes softer and more tender, while the exterior of the turnip becomes slightly caramelized and crispy. For me, this is the ideal combo and many other people share this opinion.
EXTRA FLAVOR TIPS:
Since starchy parts inside turnips tend to absorb flavors much better when roasted, it is a great idea to add seasonings to your roasted turnips in order to create a whole new world of flavors.
Some of the best ingredients that you can add to your roasted turnips and make them more flavorful include olive oil, salt, pepper, and various seasonings like rosemary, garlic powder, cumin, paprika, or chili powder, as well as thyme.
It is especially good to add olive oil to young turnips because it provides them with a rich, savory flavor that compliments their natural sweetness and nuttiness.
Aside from that, it also makes the turnips more tender and juicy on the inside while developing a golden-brown crust on the outside.
Herbs such as rosemary and thyme will give your turnips a fragrant, savory flavor.
Spices like cumin, paprika, and chili powder will provide them with some heat and complexity.
And garlic adds a sweet, nutty flavor that pairs pretty well with your turnips.
What Do Sauteed Turnips Taste Like?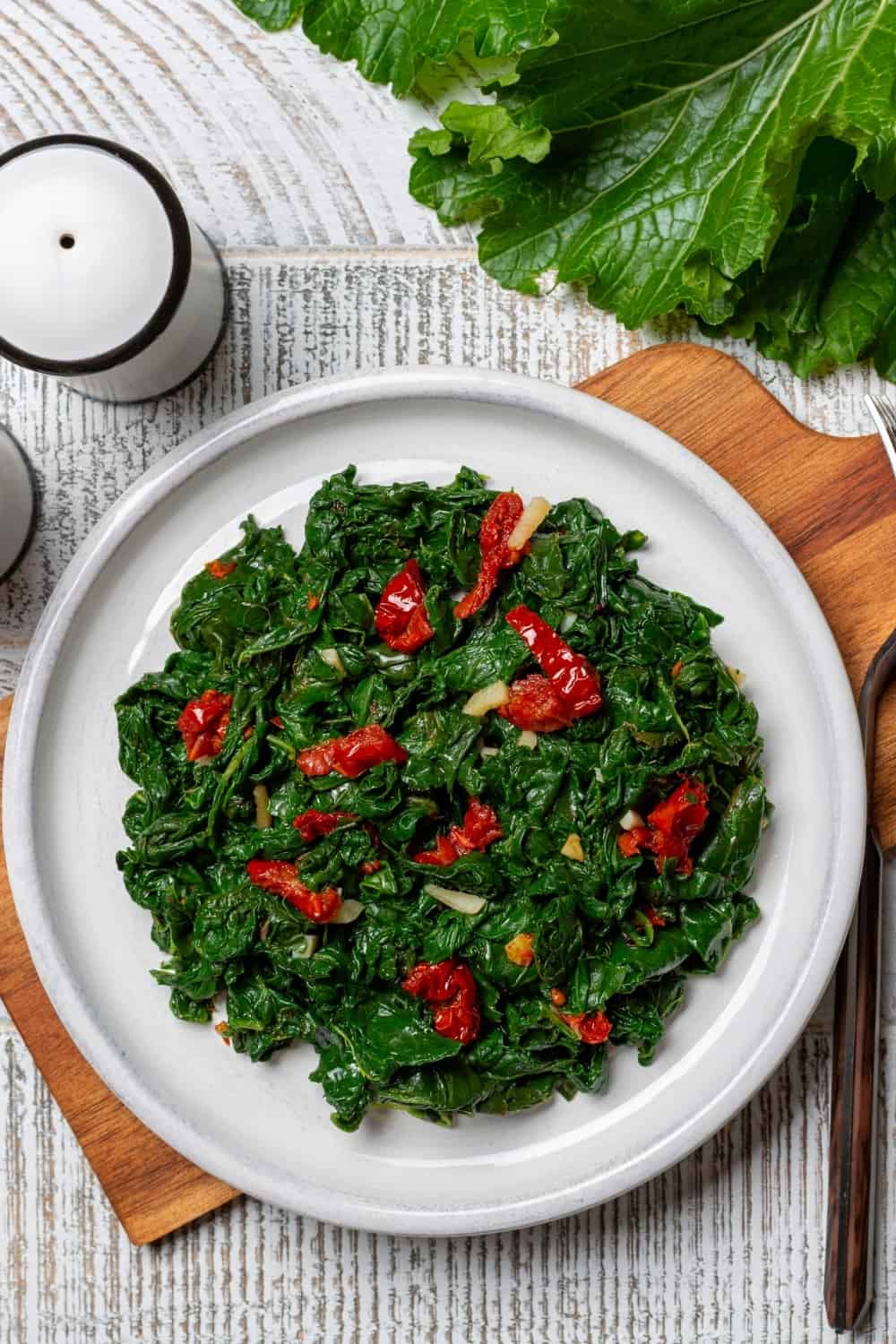 The final result of sauteing turnips will be quite similar to the result of roasting them. Also, the ingredients that will be added to turnips will be similar as well.
No matter if you add seasonings or not, sauteed turnips will achieve a rich and complex flavor that will be slightly sweet and quite delicious.
But, of course, it is always good to add more ingredients to provide your turnips with some extra complexity.
EXTRA FLAVOR TIPS:
You can sautee your turnips in olive oil and add some seasonings like salt, pepper, rosemary, garlic, and thyme to make them more flavorful. I usually sautee them alongside some other veggies to achieve a more versatile dish.
Of course, you can always add a few slices of butter because turnips are so much better with it.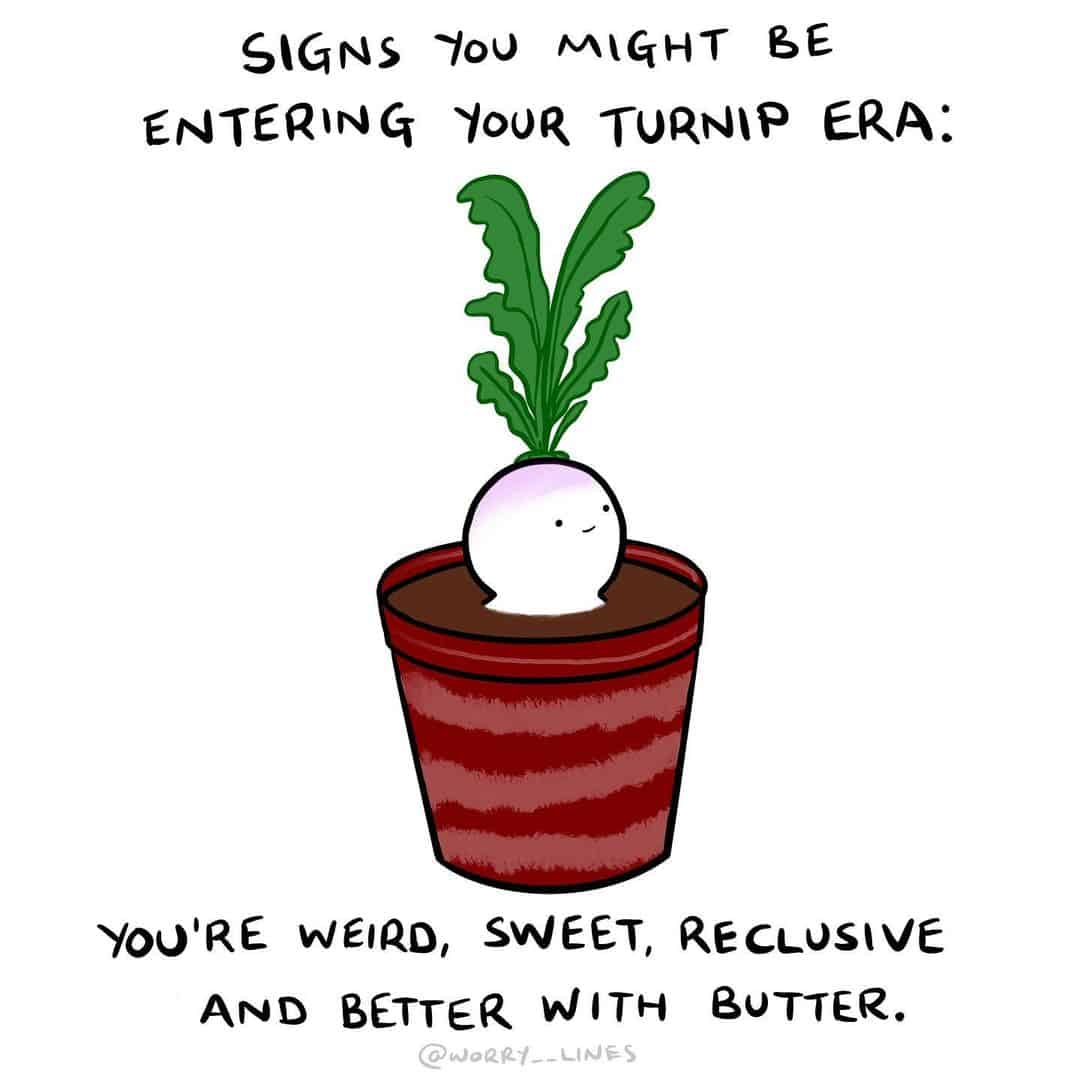 The texture of your turnips will be more tender and slightly creamy, but that depends on the cooking time and temperature.
If you sautee them for a shorter period of time at a higher temperature, their texture will be slightly firm, i.e. your turnips will be tougher.
If you sautee them for longer at lower temperatures, they will be more tender, with a creamy and almost buttery texture. So, my recommendation is to follow this method, i.e. sautee your turnips for longer at a lower temperature.
What Do Pickled Turnips Taste Like?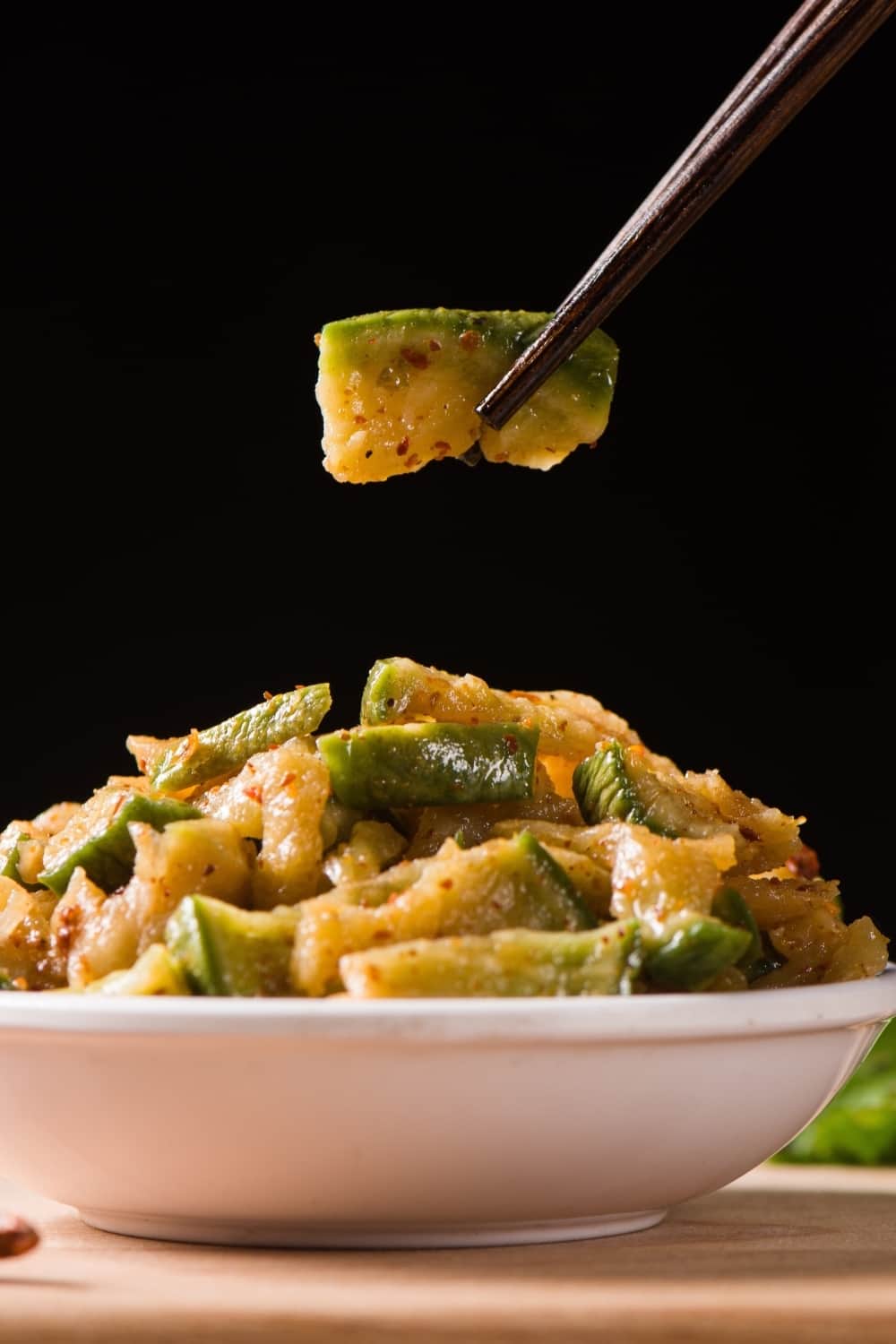 Pickled vegetables are always a great choice when you want to make them more flavorful. Turnips are not an exception and, in pickled form, people find them quite appealing.
They tend to change flavor when they go through this process as they apply a distinctive tangy, sour flavor that is slightly salty, peppery, and vinegary.
Vinegar and salt brine are mainly responsible for the distinctive flavor which is similar to that of other pickled veggies, just a bit sweeter, especially if young turnips were used.
Pickled turnips are slightly more tender than raw turnips, but they still have a slight crunch that makes them appealing to many people.
EXTRA FLAVOR TIPS:
If you want to enhance the flavor of your pickled turnips even further, my suggestion is to take some of the following tips into consideration.
First, you can experiment with different kinds of vinegar to add more complexity to them. Use a combo of different kinds of vinegar such as apple cider vinegar, white vinegar, or white wine vinegar.
Always add garlic because it can provide your turnips with delicious flavor. It is best to add minced garlic to the pickled brine before adding the turnips.
If you are a fan of hot and spicy, it is not out of hand to add some spicy ingredients like chili powder, paprika, or cumin.
Let your turnips marinate longer because that will make them more flavorful. It is best to let them sit out for at least a week before eating them.
Finally, add a bit of sugar to balance the acidity of the vinegar, giving your turnips some extra sweetness.
What Is The Flavor Profile Of Turnip Greens?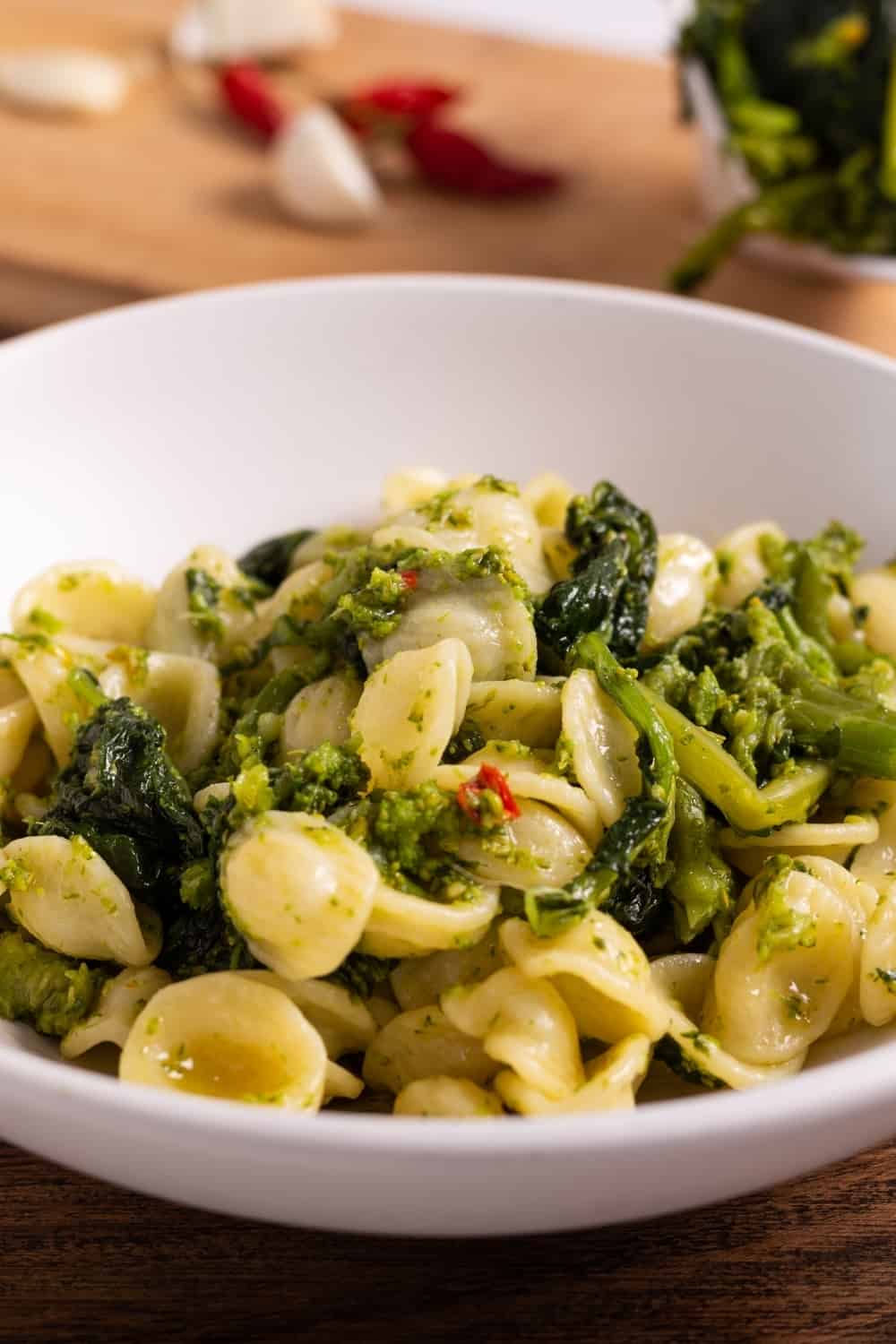 In general, turnip root is a highly overlooked kind of food. Turnip greens are an even less consumed part of turnip and some people don't even know that they are edible at all.
That is such a shame considering how these incredible greens can be versatile and what nutritional benefits they can offer. Namely, they are full of vitamins A, C, and K, as well as fiber, iron, and calcium.
However, their exact flavor profile mainly depends on whether they are cooked or not, so let's see what raw and cooked turnip greens have to offer.
Raw Turnip Greens
If you've ever tasted mustard greens or collard greens, you will know the taste of turnip greens as well. Turnip greens and collard greens are actually quite similar.
However, there are some differences since turnip greens have a slightly earthy flavor and a slightly sharper taste as well.
The exact taste of these healthy greens mainly depends on their age. Younger greens have a milder flavor, while older ones can have a more robust, pungent flavor.
When it comes to texture, turnip greens have a slightly chewy and fibrous texture, with a silky and tender mouthfeel.
Also, younger turnip leaves are thinner and more tender, with a softer and silkier texture, while older leaves are thicker and more fibrous, with a chewy texture.
Cooked Turnip Greens
As you already know, raw turnips can be quite bitter and intense in taste and that is not very appealing to many people. Fortunately, this can be solved by cooking them the right way.
When you cook them, the level of bitterness tends to reduce and they become a bit chewy in texture.
Aside from that, if you choose the right seasonings and cooking methods, you can do wonders with this healthy green.
EXTRA FLAVOR TIPS:
The best way to cook and add flavor to turnip greens is to make braised turnip greens, alongside some other ingredients like onions and garlic, as well as olive oil and lemon juice.
You can also make sauteed, steamed, or stir-fried turnip greens, and you can add them to soups, stews, and pasta.
If you are planning to cook collard greens or spinach but don't have any, turnip greens can be a great substitute.
I also have to add that older turnip greens may require a longer cooking time to soften and become more palatable, while younger versions can be cooked more quickly and still retain their delicate texture and fine flavor.
Do Turnips Taste Like Potatoes?
People often tend to ask about the differences and similarities between almost similar vegetables.
Since turnips and potatoes are both root vegetables and share similarities in terms of nutrition and cooking methods, this question is also frequent.
However, I have to emphasize that these two vegetables do not share the same flavor profiles.
Namely, although both have earthy tastes to some extent, turnips are sweeter, contrary to potatoes being somewhat neutral in taste.
When it comes to texture, they can be similar to some extent since they are both quite firm. However, potatoes are much starchier than turnips, and that mainly results in different textures once the vegetables are cooked.
Once cooked, both vegetables will become tender and soft. But, due to the starchier texture, potatoes will be much more tender and even creamy, especially if you boil or mash them in dishes such as mashed potatoes or potato salad.
Turnips, on the other hand, will maintain their firmness to a higher extent and, therefore, won't be as creamy and tender once cooked.
However, I have to emphasize that, just like you can eat potato skin, you can do the same with that of turnips.
Turnips Flavor Profile Compared To Some Other Veggies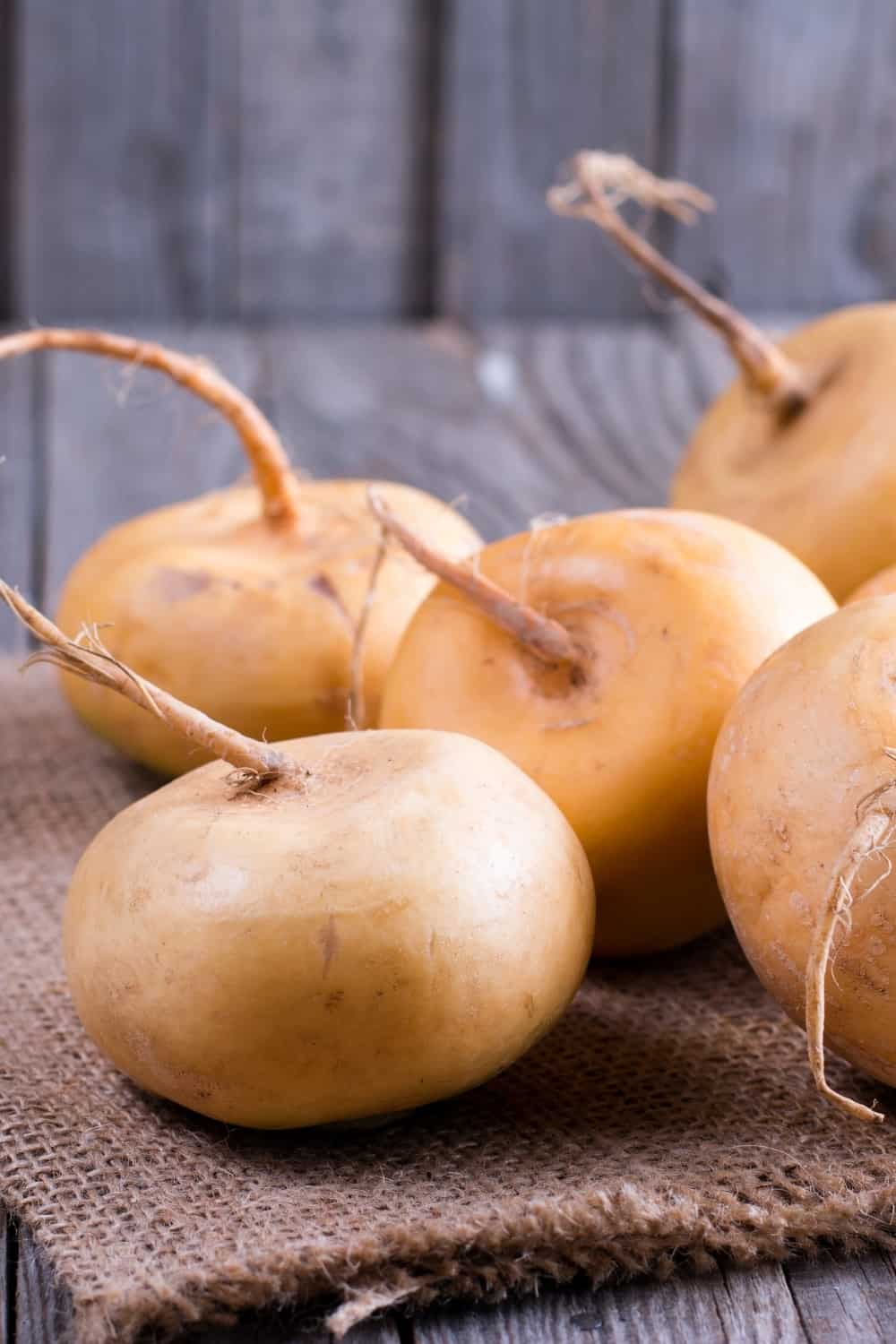 Some other types of veggies, especially root vegetables, share certain similarities with turnips. However, since those are different types of veggies, they have differences after all and it is important to know them, especially in terms of flavors.
Turnips Vs Radish
These two vegetables are often confused with one another because both are root vegetables and are similar in shape and appearance. On top of that, turnips and radishes both come from the same Brassicaceae family.
And they really have some similarities in terms of flavor and texture. Namely, both of these veggies have slightly spicy flavors.
But, the thing is that turnips are sweeter and have an earthy flavor with a slightly bitter undertone, while radishes have a sharper, more peppery taste.
When it comes to texture, these root vegetables share a slightly crunchy texture when raw. However, once cooked, turnips tend to be less firm and more tender than radishes.
Because of that, turnips are generally more used in cooked dishes like soups and stews, while radishes are most commonly used raw in salads, which means that their texture is often more crunchy and firm.
Turnips Vs Rutabagas
Rutabagas are also root vegetables. And, when you know that it is believed that they originated as a cross between a cabbage and a turnip, it is no surprise when they are mistaken for one another.
Both of these root vegetables share that specific earthy flavor that is enriched with sweetness. However, rutabagas are much sweeter than turnips, even more than the youngest varieties.
Speaking about texture, both veggies share a firm and dense flesh, but rutabagas are denser and more firm. They are more fibrous than turnips and that provides them with a tougher texture.
Although they are interchangeable in many recipes, if you want a softer texture and more delicate flavor for your dish, it is always better to choose turnips.
Turnips Vs Parsnips
Although they are quite different in many terms, people often tend to ask questions about the differences and similarities between turnips and parsnips.
I believe it may be because they are both root vegetables and both share some traits with carrots.
Nonetheless, I decided to briefly go through the differences and similarities between these two root veggies in order to provide you with the most important information on this topic.
While turnips have a slightly bitter and peppery taste with hints of sweetness, parsnips are much sweeter vegetables with a slightly nutty flavor.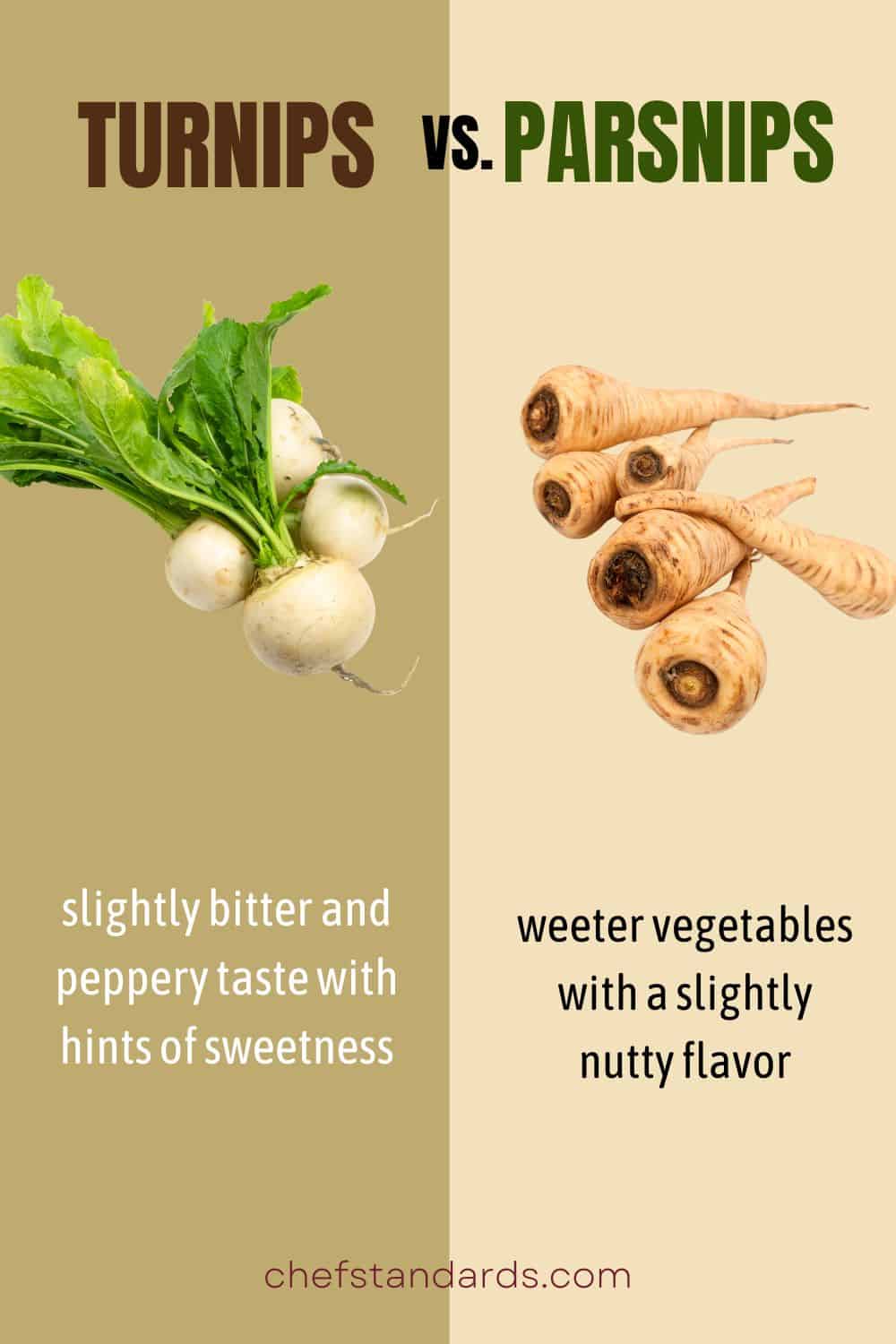 In terms of texture, turnips have firmer flesh that is much denser, while parsnips are softer and more tender.
Once you cook turnips, they become much softer and their flavor becomes more delicate than the flavor of parsnips.
Cooked parsnips, on the other hand, also become more tender, but much sweeter and more flavorful than turnips.
That makes them an ideal choice for mashing and pureeing if you want to substitute sweet potatoes.