Recently my friend Sofia prepared for us her favorite meal – pasta with salmon and peas. As we started eating it, she asked me to guess whether we were eating fusilli or rotini pasta.
I was like: Are you telling me that there's a difference between the two?
Given that she's a legit pasta lover with Italian roots, she explained to me that fusilli and rotini may look the same, but there are some differences that many people don't pay attention to.
She piqued my interest, so I had to fulfill my holy duty and do research on this. It turned out that she was totally right about it, and today I'm fulfilling another holy duty of sharing the main differences between fusilli and rotini with you, my dear friend.
Let's first start with a brief summary of the differences between fusilli and rotini:
| | FUSILLI | ROTINI |
| --- | --- | --- |
| Shape | Spring-like, thicker | Corkscrew-like, thinner |
| Size | Longer | Shorter |
| Ingredients | Semolina flour + water | Durum wheat flour + water |
| Cooking time | 10 – 12 minutes | 7 – 10 minutes |
| Color | Multiple colors | One color |
If you're interested in an in-depth explanation of the differences between fusilli vs rotini, you'll find it below:
1. Shape
Fusilli pasta strands have a thicker, spring-like shape and wider gaps between each hole. Contrary to it, rotini has a thinner, corkscrew-like shape and much tighter strands.
Because of this, rotini is better at trapping in sauces and other ingredients, including some types of fish like shrimp.
DID YOU KNOW? The Italian name rotini translates to "small wheels".
2. Size
Fusilli and rotini may look similar, but if you pay closer attention you'll notice the difference in their size. In a nutshell, rotini is shorter than fusilli because of its tighter strands.
3. Ingredients
Fusilli is made from semolina flour + water, while rotini is made from durum wheat flour + water. This difference in ingredients gives both types of pasta their unique shapes, textures, and flavors.
DID YOU KNOW? The name fusilli comes from the Italian word fuso which means "spindle".
4. Cooking time
Given that rotini pasta is thinner, it needs less time to cook. Rotini takes 7 to 10 minutes to cook, while fusilli takes around 10 to 12 minutes to cook. Still, you should always check the recommended cooking time on the packaging of each pasta.
5. Color
Fusilli dough is often dyed into different colors such as red (tomato, beetroot), black (cuttlefish), or green (spinach). So, if you see a colorful pasta in a store, it's most likely fusilli.
On the other hand, rotini is usually only found in yellow color.
See Also: 9 Main Differences Between Egg Noodles Vs Rice Noodles
Can You Use Fusilli And Rotini Interchangeably?
Even though they have slightly different shapes, sizes, and ingredients, fusilli and rotini can be used interchangeably. However, there are some things you should pay attention to.
For example, rotini pasta traps in sauces and other ingredients better than fusilli and it takes less time to cook. I'm sure every extra minute means a lot to those of you who have extremely busy lives.
Other than that, choosing between these two types of pasta is only a matter of personal preference.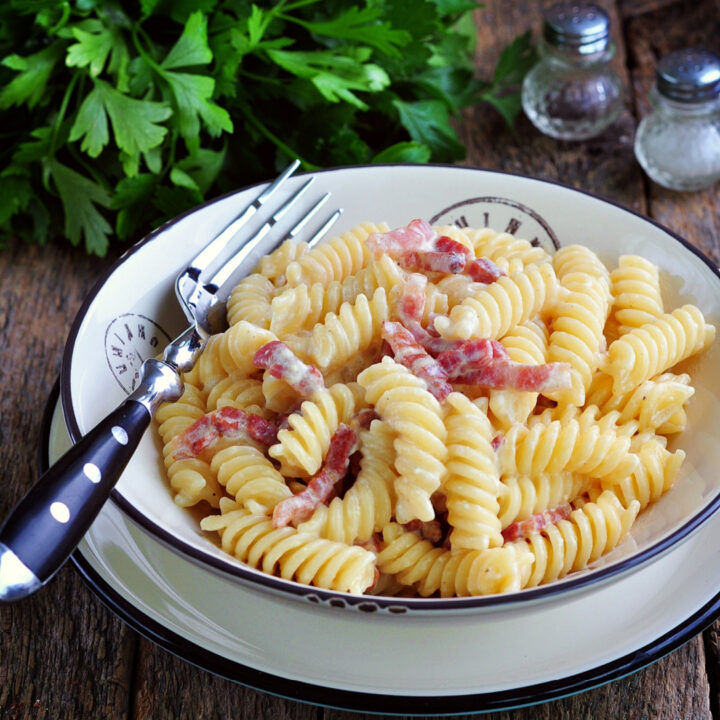 Butternut And Bacon Fusilli Recipe
Spinach + pancetta + butternut squash = one of the healthiest and tastiest versions of fusilli recipes.
Ingredients
100 g young leaf spinach (roughly chopped)
2 rosemary sprigs (leaves finely chopped)
¼ teaspoon chilli flakes
350 g fusilli
½ x 160 g pack pancetta di cubetti
3 garlic cloves (finely chopped)
750 g butternut squash (deseeded and cut into 2cm cubes)
1 ½ tablespoon olive oil
grated parmesan, to serve
Instructions
Step 1: Add pancetta into a frying pan over medium heat and cook for 5-8 minutes. Remove the pancetta from the pan while leaving the fat in the pan. Now add the oil, squash, rosemary, garlic, and chili to the pan, cover, and cook for 25 minutes. Stir frequently. Season well to taste and crush a bit of butternut squash using the back of a spoon.
Step 2: Pour water into a large pan, add salt to it, and bring to a boil around 15 minutes before the squash is done. Add pasta to the salted water and cook it according to the package instructions or to your liking.
Step 3: Drain the pasta and reserve the cooking water. Now add 1-2 ladles of that water to the squash and let it bubble for a few minutes. Add the drained pasta and spinach to the squash. Stir well. Sprinkle over grated Parmesan cheese, black pepper, and the pancetta.
Nutrition Information:
Yield:

4
Serving Size:

1
Amount Per Serving:
Calories:

378
Total Fat:

17g
Saturated Fat:

5g
Trans Fat:

0g
Unsaturated Fat:

11g
Cholesterol:

16mg
Sodium:

57mg
Carbohydrates:

49g
Fiber:

8g
Sugar:

4g
Protein:

10g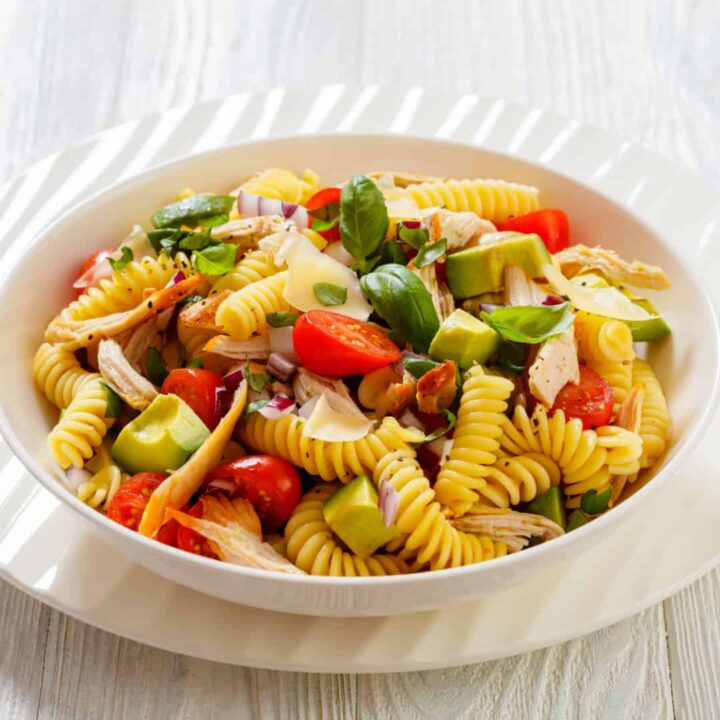 Rotini Pasta Salad Recipe
The best thing about this salad is its versatility and the fact that you can always freeze your pasta salad in case you end up with leftovers. Feel free to experiment by adding carrots, cucumber, salami, feta cheese, different veggies, or chicken to it.
Ingredients
12 ounces rotini pasta
1/8 tsp pepper
1-1/2 cups Italian salad dressing with roasted red pepper and Parmesan
1/8 tsp salt
1 pint grape tomatoes
4 cups fresh broccoli florets
1 can (6 ounces) pitted ripe olives (drained)
Instructions
Step 1: Cook pasta in a Dutch oven according to package instructions or to your liking. Add the broccoli during the last 2 minutes of cooking pasta. When cooked, drain and rinse in cold water.
Step 2: Place pasta with broccoli in a large bowl and add olives, tomatoes, salt, and pepper to it. Drizzle with Italian salad dressing and lightly mix until coated. Chill the salad before serving.
Step 3: Enjoy your pasta! 😊
Nutrition Information:
Yield:

14
Serving Size:

1
Amount Per Serving:
Calories:

145
Total Fat:

8g
Saturated Fat:

1g
Trans Fat:

0g
Unsaturated Fat:

6g
Cholesterol:

0mg
Sodium:

381mg
Carbohydrates:

16g
Fiber:

2g
Sugar:

5g
Protein:

3g