Birthdays in school or office can be celebrated in many ways. Some schools and offices have birthday cakes for their students and employees on their birthdays.
But bringing a whole cake in a cake box is no surprise. That's when you wished you had some cake to make the day more flashy. But the Koreans took care of that by inventing the bento cakes of lunchbox mini cakes.
Birthday cakes are a common sight in schools and offices. They are usually brought in by the birthday person or their family and shared with everyone.
Nowadays, people bring cakes to school or the office as a gesture of goodwill towards their colleagues and friends.
Still, bringing two mini cakes in a bento box is easier than dragging a whole three-tier cake in. That's why I love these cakes, and I will share them with you.
Bento Cakes Basics: The Korean Lunchbox Cake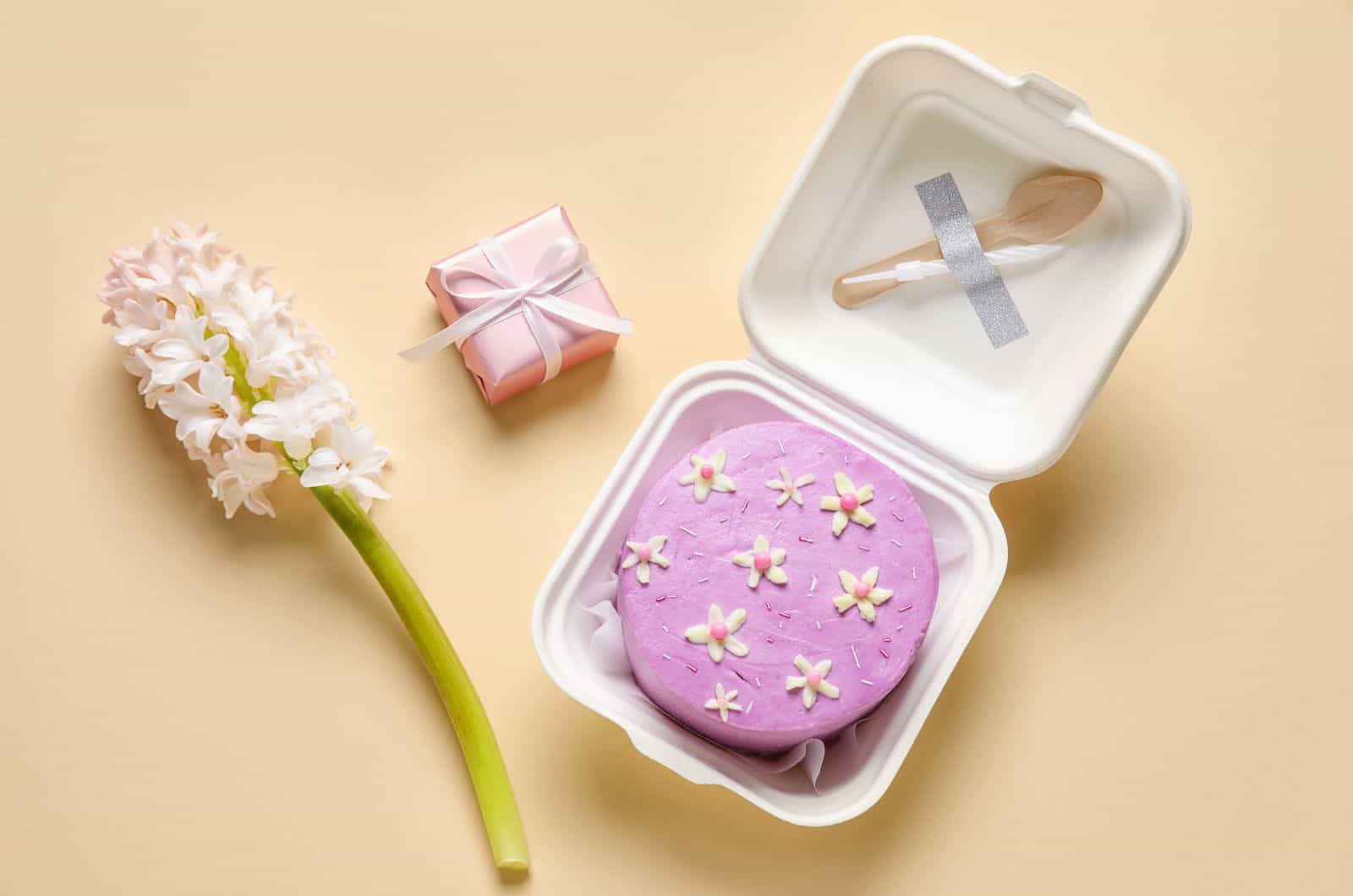 Bento Cakes are a type of popular Korean and Japanese sweet that has become increasingly popular in the Western world. Next up are some basics on these amazing mini cakes.
What Is Bento Cake?
Bento cakes are miniature cakes that come in a takeout box and are often served at Korean bakeries. They were originally popularized in South Korea and are common across the country.
Bento is a Japanese word for a portable box that is used to pack food for travel. Bento boxes are typically lunch boxes, but the term has recently been used to refer to small individual portions of food.
Bento cakes evolved from this idea and are miniature cakes that come in a takeout box and are often served at Korean restaurants or bakeries.
Korean "bento" desserts are typically packaged and served in takeout boxes. They first became popular at Korean cafes and bakeries – places known for their beautiful, distinctive dishes and minimalist aesthetic.
After becoming popular, however, they soon spread to other parts of the world. A Bento cake is a type of small cake that has been adapted to suit Western tastes.
It is made with layers of sponge cake and custard or cream filling. The cake can be topped with fruit or chocolate sauce.
Bento cakes are typically composed of two or three layers, which are separated by a layer made from chocolate, caramel, or whipped cream. The first layer is generally made from white cake batter with different flavorings added to it.
What Is The Size Of Bento Cake?
The size of a bento cake or bento size cake is around 6 inches in diameter. The average weight of a bento cake is around 400 grams.
A Bento lunchbox cake is a cake made to fit into a bento lunch box. It's often made by layering a variety of different types of cakes and frosting. These cakes are often decorated with food items that are commonly found in the sweets section.
In Japan, Bento lunch boxes are popular among school children who pack their lunches for school. The size of the cake is important because it must fit into the bento box without being too big or too small.
Traditional Korean pastries and desserts are not as sweet or elaborate as Western-style desserts.
The Korean lunch cake is a bento-sized sweet dessert made out of flour, eggs, yeast, and lots of sugar. They typically weigh about 350g, but bigger sizes are also available.
This take-out clamshell container can be decorated or formed into shapes like hearts, circles, or others, and that perfect cake is nestled inside.
Are There Special Bento Cake Designs?
Bento lunchbox cake designs are one of the most popular trends in cake decorating. They are usually shaped in a circle like regular cakes but sometimes shaped like hearts or cubes by a cookie cutter.
These cute and creative designs have been seen on social media, on TV shows, and in magazines.
The edible piece of art is entirely delicious, not only visually but on the tongue as well! It's infused with visual appeal and mouth-watering flavor. The cake is decadent and rich.
It is no surprise that there are a lot of different types of bento lunchbox cakes out there. Some are simple, while others may be more complex with multiple tiers, sculpted flowers, or other intricacies.
One can add buttercream frosting, sprinkles, food coloring, cake pops, crumbs, and/or any other toppings you'd like.
Many different types of bento cakes are available in the market today. Some of them are designed to look like animals, such as birds or cats, while others have cartoon characters, such as Mickey Mouse or Pikachu.
There are many different types of bento boxes. Some have a clear lid, whereas others have an opaque lid. Some are square, whereas others are rectangular or round.
There are also many different designs for the outside covering of the bento box – some have patterns, such as flowers or birds, etc.
Korean Bento Cake Occasions
Bento box cakes have become a popular part of celebration ceremonies. They can also be an expression of love and affection.
A cake is an important part of any celebration. This is one of the main reasons why people choose to celebrate certain events in their life with cake.
Weddings, birthdays, anniversaries, and celebrations are some of the most common occasions where cakes are served.
This cake is a popular dessert that is often served on special occasions. It can be a birthday cake, a wedding cake, or even a celebratory cake for an anniversary. You can even make Thanksgiving or Christmas bento cakes.
Since these are small cakes, most people use them for special events that will not host too many people, like an office or school birthday. Of course, no cake needs a special occasion and can just be given as a gift to someone.
Bento Cake Recipe: Korean Lunch Box Cake Recipe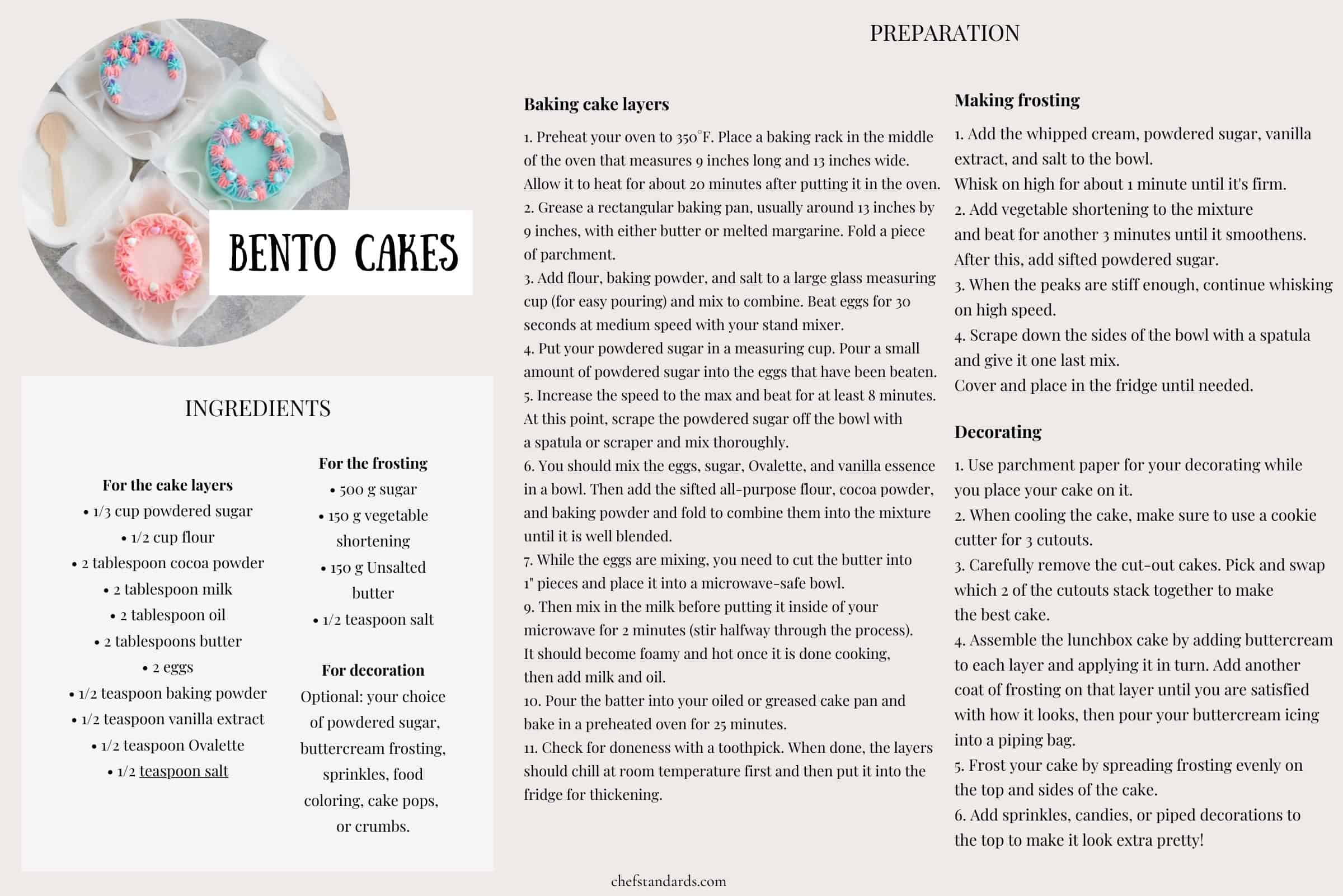 Now, after discussing what bento cakes are, their nutritional facts, and a few tips to prepare you, here is my own bento cake recipe. This recipe will yield 3 cake layers, so if you only want to bake one, divide the ingredients by three.
The baking time or total time is around 1 hour, while the prep and cooking time last up to 30 min. You will also need a sieve, spatula, and a hand mixer for this recipe.
Ingredients
For the cake layers
• 1/3 cup powdered sugar
• 1/2 cup flour
• 2 tablespoon cocoa powder
• 2 tablespoon milk
• 2 tablespoon oil
• 2 tablespoons butter
• 2 eggs
• 1/2 teaspoon baking powder
• 1/2 teaspoon vanilla extract
• 1/2 teaspoon Ovalette
• 1/2 teaspoon salt
For the frosting
• 500 g sugar
• 150 g vegetable shortening
• 150 g Unsalted butter
• 1/2 teaspoon salt
For decoration
Optional: your choice of powdered sugar, buttercream frosting, sprinkles, food coloring, cake pops, or crumbs.
Preparation
Baking cake layers
1. Preheat your oven to 350°F. Place a baking rack in the middle of the oven that measures 9 inches long and 13 inches wide. Allow it to heat for about 20 minutes after putting it in the oven.
2. Grease a rectangular baking pan, usually around 13 inches by 9 inches, with either butter or melted margarine. Fold a piece of parchment.
3. Add flour, baking powder, and salt to a large glass measuring cup (for easy pouring) and mix to combine. Beat eggs for 30 seconds at medium speed with your stand mixer.
4. Put your powdered sugar in a measuring cup. Pour a small amount of powdered sugar into the eggs that have been beaten.
5. Increase the speed to the max and beat for at least 8 minutes. At this point, scrape the powdered sugar off the bowl with a spatula or scraper and mix thoroughly.
6. You should mix the eggs, sugar, Ovalette, and vanilla essence in a bowl. Then add the sifted all-purpose flour, cocoa powder, and baking powder and fold to combine them into the mixture until it is well blended.
7. While the eggs are mixing, you need to cut the butter into 1″ pieces and place it into a microwave-safe bowl.
9. Then mix in the milk before putting it inside of your microwave for 2 minutes (stir halfway through the process). It should become foamy and hot once it is done cooking, then add milk and oil.
10. Pour the batter into your oiled or greased cake pan and bake in a preheated oven for 25 minutes.
11. Check for doneness with a toothpick. When done, the layers should chill at room temperature first and then put it into the fridge for thickening.
Making frosting
1. Add the whipped cream, powdered sugar, vanilla extract, and salt to the bowl. Whisk on high for about 1 minute until it's firm.
2. Add vegetable shortening to the mixture and beat for another 3 minutes until it smoothens. After this, add sifted powdered sugar.
3. When the peaks are stiff enough, continue whisking on high speed.
4. Scrape down the sides of the bowl with a spatula and give it one last mix. Cover and place in the fridge until needed.
Decorating
1. Use parchment paper for your decorating while you place your cake on it.
2. When cooling the cake, make sure to use a cookie cutter for 3 cutouts.
3. Carefully remove the cut-out cakes. Pick and swap which 2 of the cutouts stack together to make the best cake.
4. Assemble the lunchbox cake by adding buttercream to each layer and applying it in turn. Add another coat of frosting on that layer until you are satisfied with how it looks, then pour your buttercream icing into a piping bag.
5. Frost your cake by spreading frosting evenly on the top and sides of the cake.
6. Add sprinkles, candies, or piped decorations to the top to make it look extra pretty!
Bento Cakes Nutritional Facts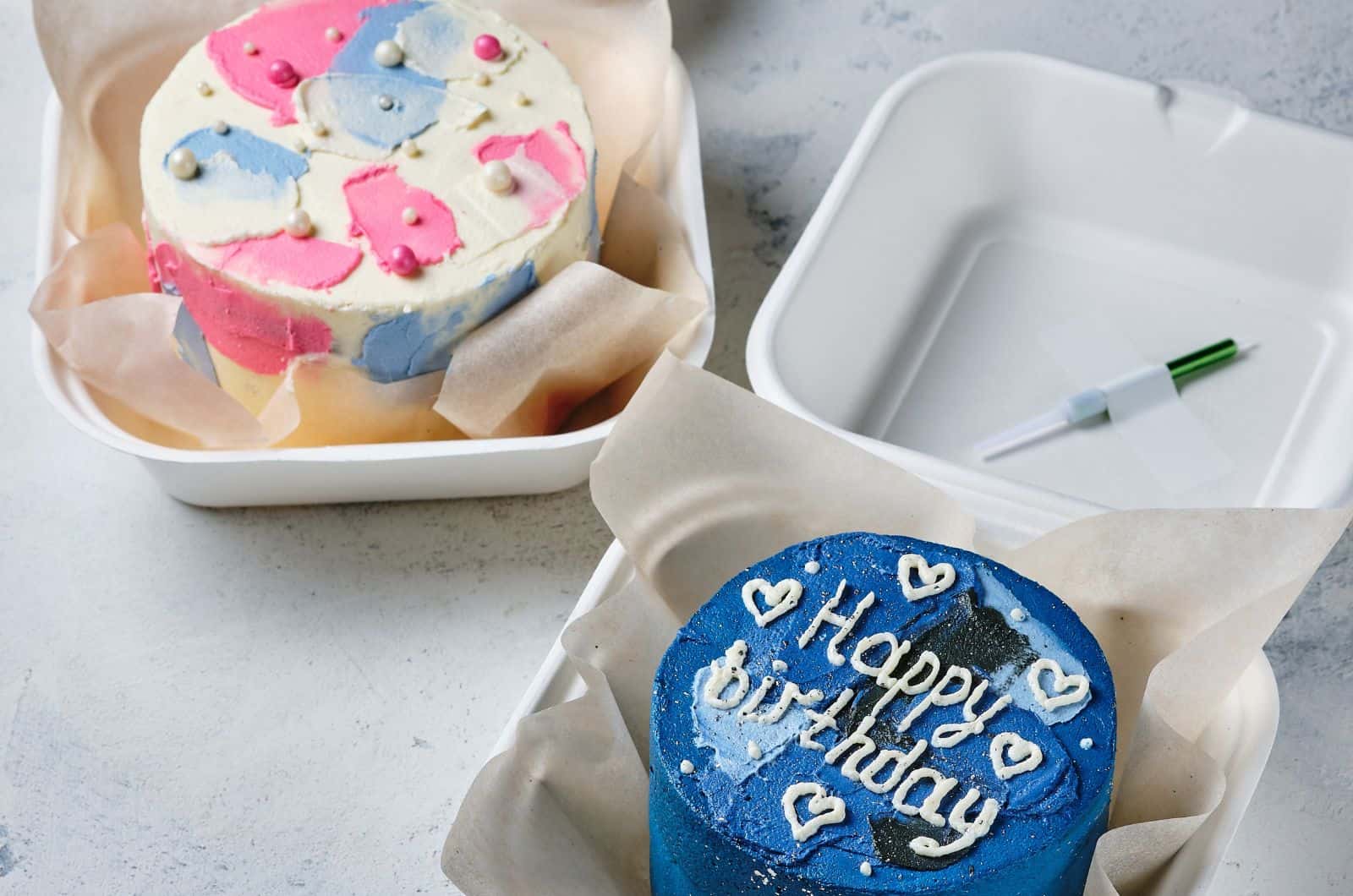 While they are small, these are still cakes and should not be consumed in excess. Here are the bento cake nutritional facts for 100 g or one third of a bento cake:
• Calories: 360 kcal
• Carbohydrates: 50 g
• Protein: 1 g
• Fat: 20 g
• Trans fats: 10 g
• Sodium: 20 mg
• Sugar: 50 g
These cakes are not gluten-free or sugar-free. Despite this, they are considered to be low-calorie cakes. They have many health benefits, such as being high in fiber and lower in sodium than most other dishes.
The nutritional facts for a 6-inch cake vary depending on the ingredients used. Some may be more nutritious than others. Some ingredients may also have higher levels of sodium or fat content than others which can impact the nutritional value of the cake.
Bento cakes are popular among bakers who want to watch their weight or those who want to be healthy but enjoy eating a flavorsome treat.
8 Tips For Making The Most Delicious Bento Cakes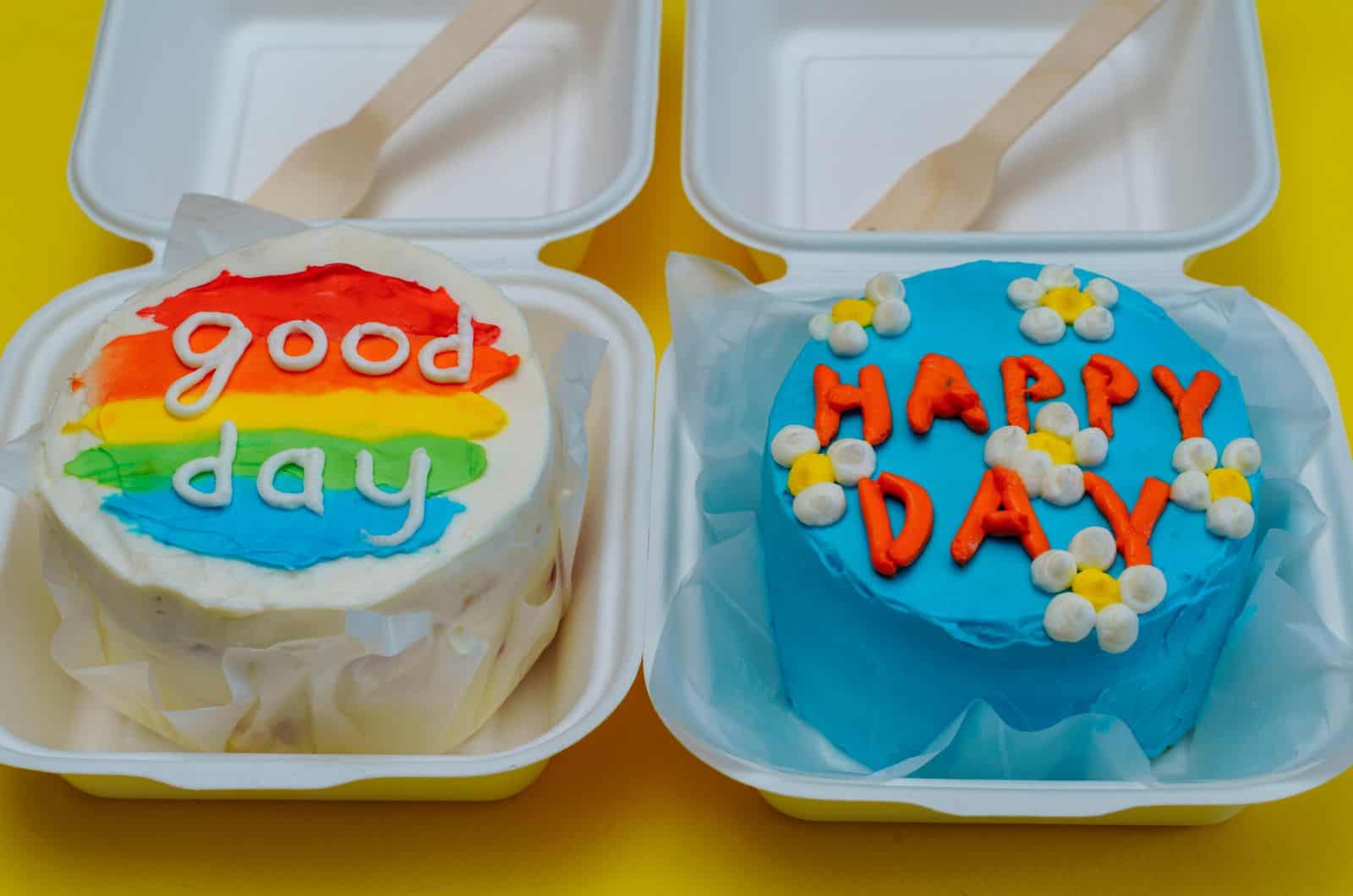 The cake is made with a few simple ingredients and is easy to assemble. It's moist, delicious, and has a fluffy texture that is perfect for lunch or any other time of day. Here is how to make the best one out there:
1. Use butter or oil rather than water when you are creaming the sugar and eggs together.
2. Don't overmix the batter once it's been mixed with the flour and baking powder.
3. Be careful not to overbake the cake because it will dry out quickly.
4. You can soak the baked base pastry in simple syrup to keep it moist while assembling and decorating.
5. You should buy the best quality flour, oil, eggs, and sugar. Other than that, you can also use natural extracts like vanilla and chocolate to add flavor and sweetness.
6. A stand mixer is perfect for this task because it has a motor with enough power to mix the batter in the right way without overworking it.
7. A basic lunchbox cake needs a few simple components that make it easy to assemble. You can decorate your cake yourself with chocolate, vanilla, or other types of frosting.
8. It is recommended to use a hand mixer when beating/mixing the buttercream. Trust me, it goes a lot faster!
Bake The Mini Cake
Bento cakes are a convenient and delicious way to make dessert for a crowd in just minutes. These easy desserts can be made from your own home-made ingredients or store-bought ingredients.
They can easily be made ahead of time and kept in the refrigerator until you're ready to serve them up. I hope you try this bento cake recipe, and I wish you happy cooking and enjoy your fun occasion!