No, picante sauce is not something new you haven't heard of before. Basically, picante sauce is a type of salsa. Let's start from the very beginning.
Salsa is a Spanish word that means sauce, while the word picante means spicy. Picante sauce is a spicy type of salsa that can make your booty shake if you aren't accustomed to its level of spiciness. Speaking from experience.
If you're interested in learning more about picante sauce or you're just here for the recipes (or both), you'll find everything you need below.
More About Picante Sauce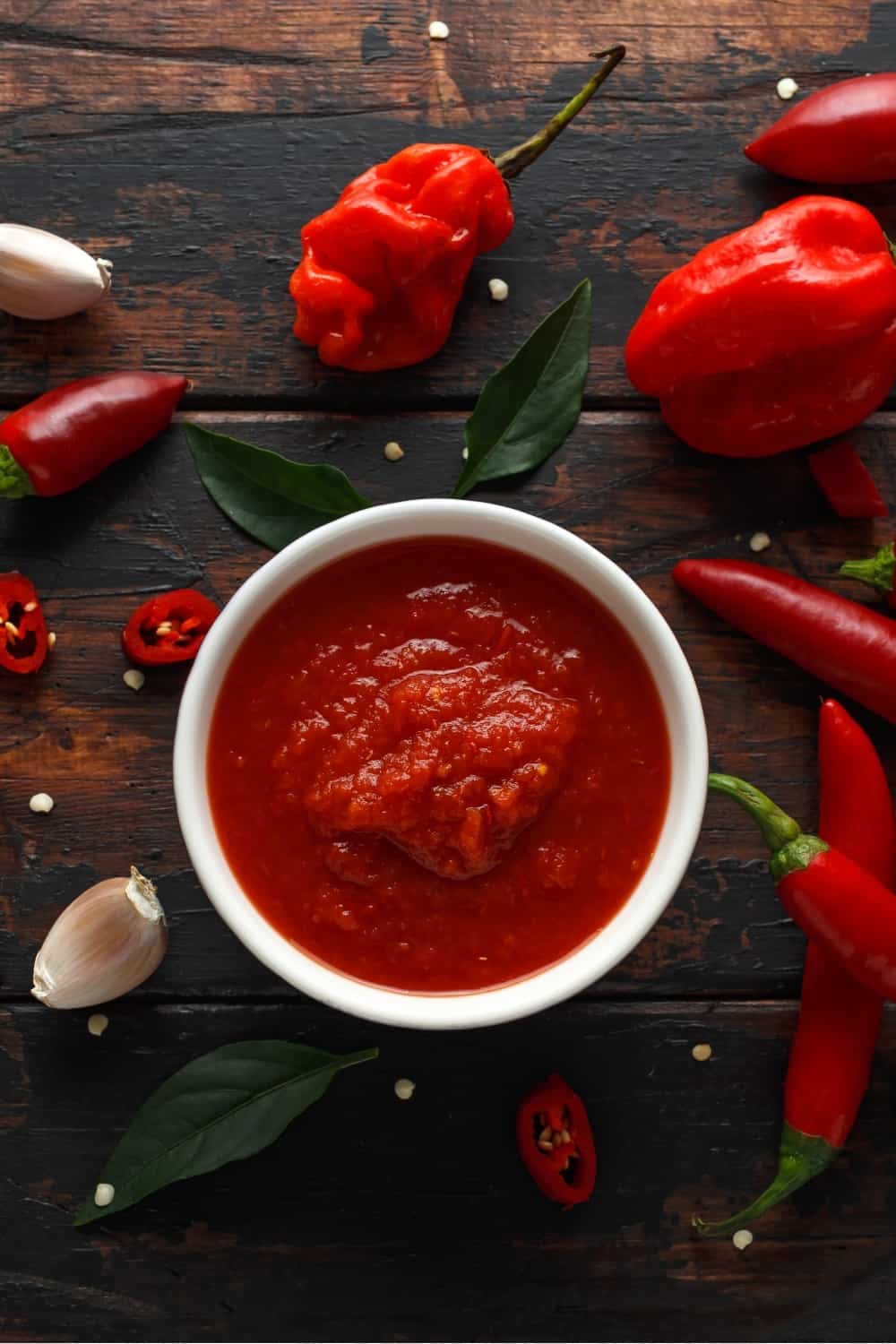 I hate writing unnecessarily lengthy paragraphs about each section, so I've just briefly summarized the most important facts about picante sauce. You're welcome:
• Most common ingredients used in this sauce: tomatoes, chilies, onion, garlic, and spices.
• Two versions of picante sauces: there's the U.S. version and the Mexican version. The main difference between the two is that they are made from slightly different ingredients (e.g. the Mexican version contains vinegar and red peppers). I've included both versions in the recipes below.
• Spiciness myth: even though picante sauce is mainly spicy, there are also sweet variations of it. If you're interested in a hot and sweet version of this sauce, you'll find the recipe below.
• Four different levels of spiciness: extra mild, mild, medium, and hot.
• Serving: picante sauce is usually served as a condiment with Mexican dishes such as tacos, chimichangas, burritos, and enchiladas. It is also a popular dip for tortilla chips, and it can be added to rice or beans. Additionally, eating smoked ribs with picante sauce is my guilty pleasure.
• Substitutes for picante sauce: enchilada sauce, Pico de Gallo, Romesco sauce, salsa Ranchero.
• Origins: the first store-sold Picante sauce was made by David Pace, the owner of the Pace Picante Sauce brand. Pace decided to experiment with his family's recipe for salsa and as a result, he established the Picante Sauce brand in 1947. Thank you, David!
Here are more interesting facts about the history of Picante sauce along with the Pace Picante commercial from 1994 with a catchy slogan: Pick up your party dips. Pick up the Pace!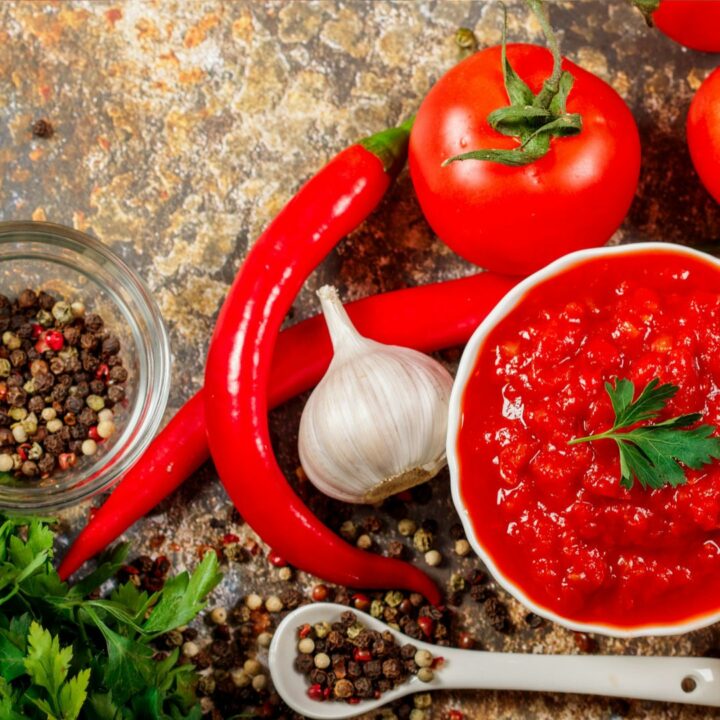 Homemade Picante Sauce Recipe (The U.S. Version)
This is the U.S. version of a quick Picante sauce that will excite your taste buds. Here's how to prepare it:
Ingredients
2 cups diced tomatoes
1 cup onion
½ cup cilantro
1 clove of garlic
1 tablespoon lime or lemon juice
1 whole jalapeno
1 teaspoon salt
1 teaspoon chili or other hot sauce
Instructions
Step 1: First, cut your ingredients into small pieces and then put them in a blender. Blend the sauce until it becomes chunky and not too smooth.
Nutrition Information:
Yield:

2
Serving Size:

1
Amount Per Serving:
Calories:

100
Total Fat:

1g
Saturated Fat:

0g
Trans Fat:

0g
Unsaturated Fat:

1g
Cholesterol:

1mg
Sodium:

1352mg
Carbohydrates:

22g
Fiber:

7g
Sugar:

12g
Protein:

4g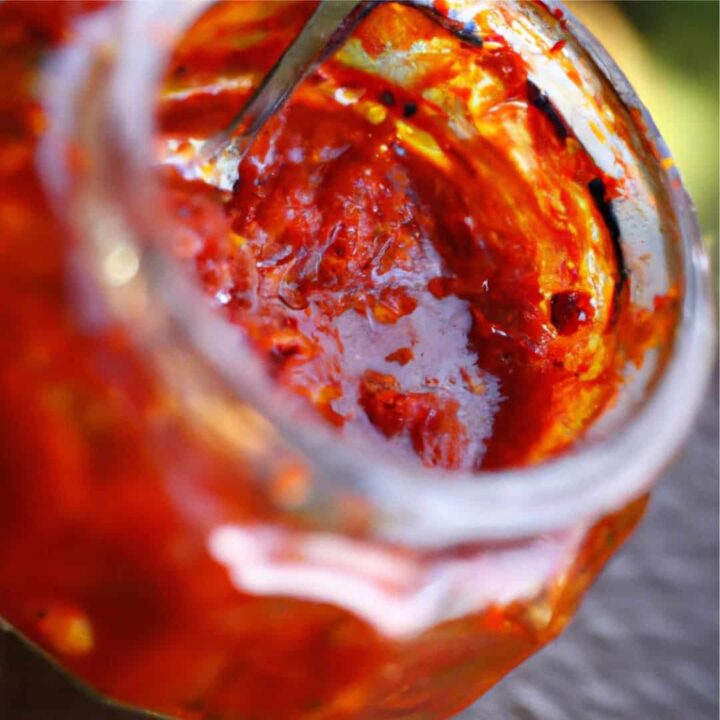 Homemade Picante Sauce Recipe (The Mexican Version)
The picante sauces is made of three different types of peppers, chopped tomatoes, and vinegar which all together create a spicy-sweet-sour deliciousness.
Ingredients
2 cups chopped tomatoes
2 red bell peppers (stemmed + quartered)
½ cup diced red onion
1 poblano pepper (stemmed + quartered)
½ cup cilantro leaves
2 cloves garlic (chopped)
2 limes (juiced)
2 jalapenos (stemmed + halved)
kosher salt
olive oil
⅔ cup cider vinegar
1 tablespoon water
Instructions
Step 1: Preheat the oven to 500°F. Place the poblano peppers and the red bell peppers on a sheet pan. Drizzle the peppers with oil and spread them evenly on the sheet pan. Season them with salt according to your taste and let them roast for around 15 minutes.
Step 2: Add the jalapenos to the pan, drizzle them with oil, and add some salt. Continue roasting all of the peppers together for 15 more minutes. When done, let the peppers cool a bit. Then peel them and let them cool completely.
Step 3: Add the peppers, tomatoes, lime juice, red onion, garlic, vinegar, and cilantro to a food processor. Process until smooth. Add the water to it and season with salt according to taste.
Nutrition Information:
Yield:

4
Serving Size:

1
Amount Per Serving:
Calories:

99
Total Fat:

4g
Saturated Fat:

1g
Trans Fat:

0g
Unsaturated Fat:

3g
Cholesterol:

0mg
Sodium:

89mg
Carbohydrates:

16g
Fiber:

4g
Sugar:

7g
Protein:

2g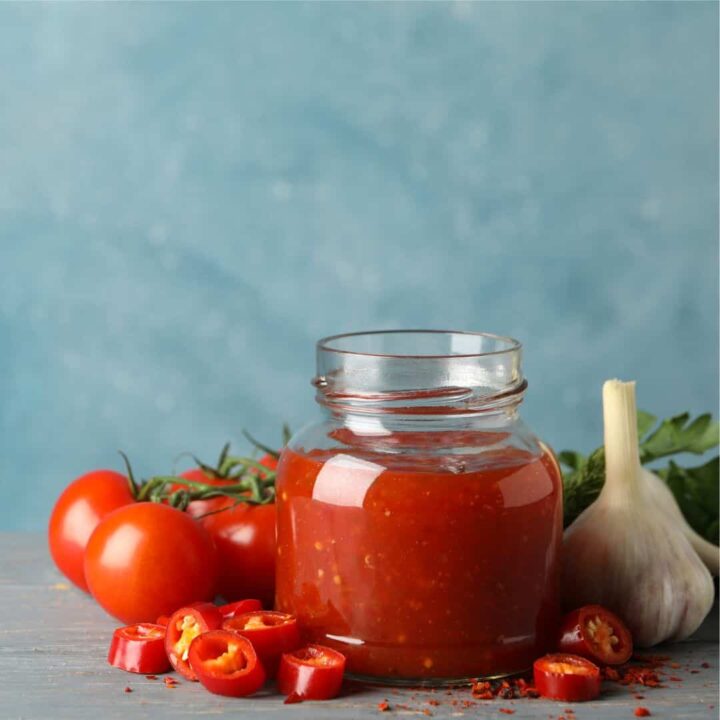 Homemade Hot & Sweet Picante Sauce Recipe
If you're neither a fan of hot nor sweet but you rather enjoy the combination of both, then this hot and sweet picante sauce is for you.
Ingredients
2 cups tomatoes (chopped and peeled)
1/2 cup red onions (chopped)
1/2 small can tomato paste
2 jalapenos (deseeded and chopped)
2 teaspoon salt
2 cloves garlic (ground in the food processor)
⅔ cup vinegar
1 ½ tablespoon white sugar
1 teaspoon brown sugar
Instructions
Step 1: Add 1 cup of tomatoes to a blender and blend until smooth. Leave the remaining 1 cup of tomatoes chopped. Mix all tomatoes and place them in a large kettle. Add the remaining ingredients. Stir thoroughly and bring to a boil. Cover and simmer for around 5 minutes. Let it cool.
Nutrition Information:
Yield:

4
Serving Size:

1
Amount Per Serving:
Calories:

62
Total Fat:

0g
Saturated Fat:

0g
Trans Fat:

0g
Unsaturated Fat:

0g
Cholesterol:

0mg
Sodium:

1065mg
Carbohydrates:

13g
Fiber:

2g
Sugar:

10g
Protein:

1g
Muy Bien!
I'm happy that I had the opportunity to share with you some of my favorite picante sauce recipes, and I hope that you'll surprise your taste buds and your loved ones by preparing these delicious sauces.
Of course, feel free to experiment by adding some other ingredients to it or discarding some of the mentioned. Picante sauce doesn't have to be prepared strictly according to some unwritten rules.
I want to encourage you to create your own version of this sauce and then brag to your close people about your perfect recipe. Who knows, maybe you'll get to post it one day on a website just like I did today.
Buen provecho! (Enjoy your meal!)