Their majesty – DATES grow on date palms and are native to North Africa, the Middle East, and South Asia. The fruit's name comes from the Greek word dáktulos meaning "finger" because they look like fingers (obviously).
When it comes to their taste, dates are sweet just like your first date with someone you've been crushing on for a while. Dates can make every day a little bit more exciting and the best part of all is that you can eat them for dinner or dessert.
Before describing their distinct taste in detail, here are a few fun facts:
DID YOU KNOW?
• A date palm tree can reach up to 30 meters (100 feet) in height.
• Dates have the highest antioxidant content of all dried fruits.
• Date has 94% more potassium per 100 g than a banana.
• A single mature date palm tree can produce up to 10,000 dates in just one season. Wow!
THE MORE YOU KNOW.
What Do Dates Taste Like?
Dates taste like a combination of caramel, toffee, and chocolate. They have this rich, sweet flavor no one can stay indifferent to. Of course, their taste varies depending on whether you eat fresh or dried dates:
• Fresh dates: Fresh dates are less sweet than dried dates, and they have a smoother texture. They have this caramel-like taste and chocolate-like aftertaste that excites your taste buds. They remind me of persimmon and apricots.
• Dried dates: As expected, dried dates have a chewier texture similar to raisins. Also, they have a sweeter taste because their natural sugars are intensified during the drying process.
From my own tasting experience, they somewhat resemble the flavor profile of a honeycomb but those are just my taste buds.
Different Types Of Dates (Taste, Texture, Color)
There are plenty of date varieties out there that have slightly different tastes, colors, and textures. Here are some of them: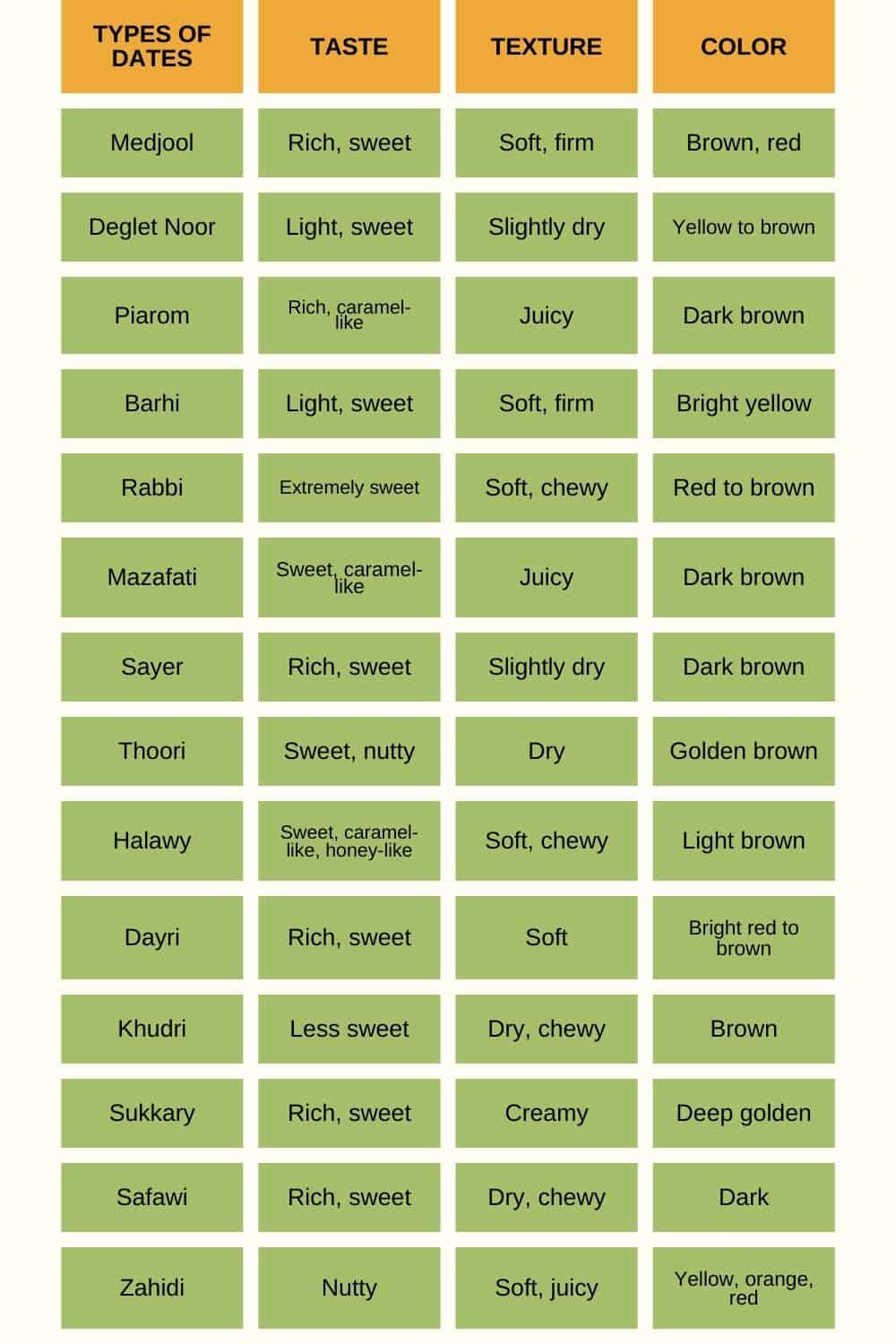 What Goes Well With Dates?
Dates are naturally sweet, and their sweetness goes with almost anything. They don't overshadow other ingredients in recipes but add that hint of caramel and chocolate.
I personally like to pair them with the flavor of goat cheese, but they go well with various ingredients. Dates are best paired with the following ingredients: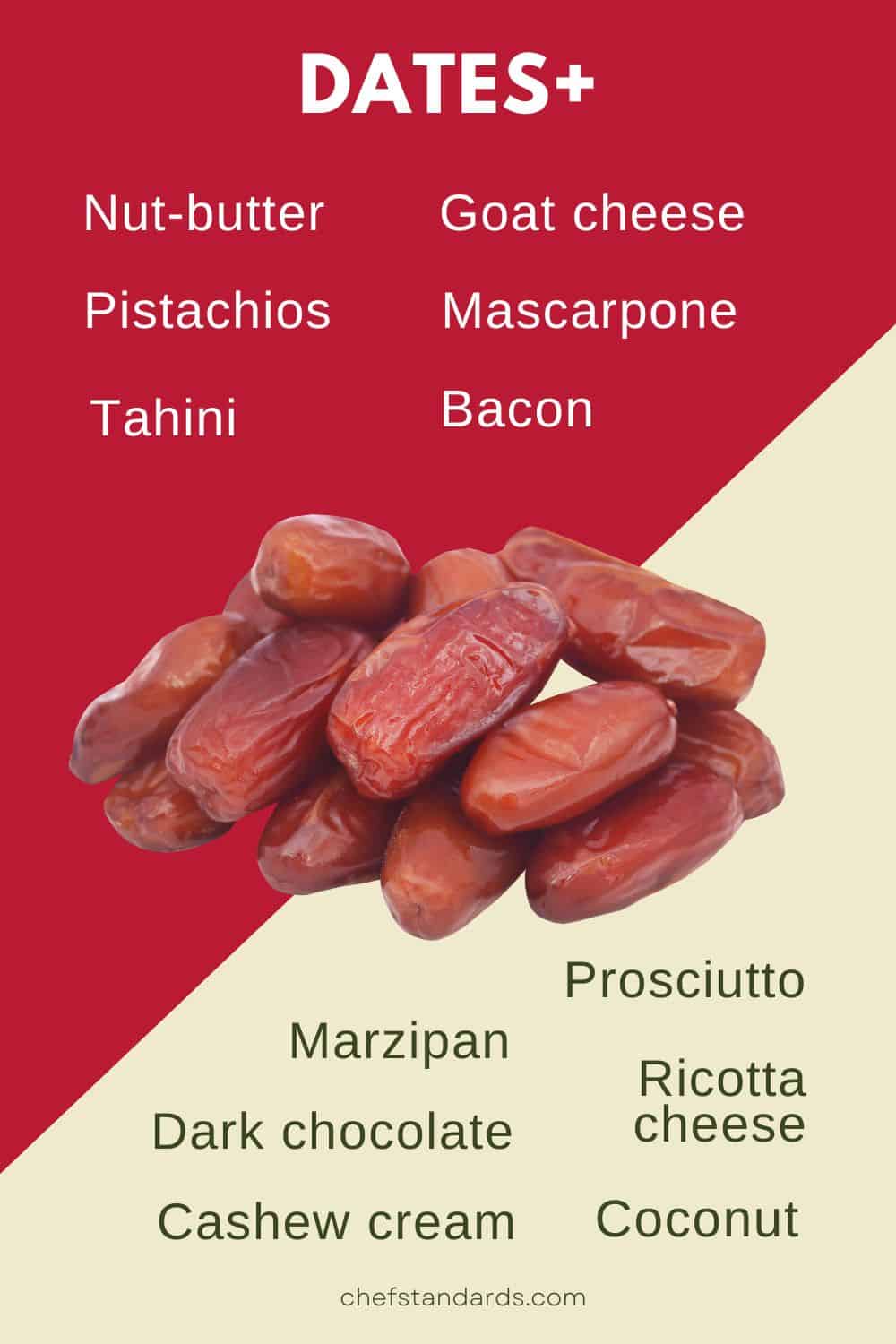 Why Are Dates Good For You?
Dates offer plenty of health benefits because they're highly nutritious. They are rich in antioxidants, fiber, vitamins, and minerals. They have a similar calorie content to raisins and figs. According to Healthline, here's what a 3.5-ounce (100-gram) of Medjool dates gives to your body:
• Calories: 277
• Carbs: 75 grams
• Fiber: 7 grams
• Protein: 2 grams
• Potassium: 15% DV
• Magnesium: 13% DV
• Copper: 40% DV
• Manganese: 13% DV
• Iron: 5% DV
• Vitamin B6: 15% DV
3 Date-licious Ways To Prepare Dates
Now that you know how nutritious and delicious dates are, it's time to learn how to prepare them. Below are my three favorite recipes for dates. Enjoy!
1. Orange, Almond & Date Salad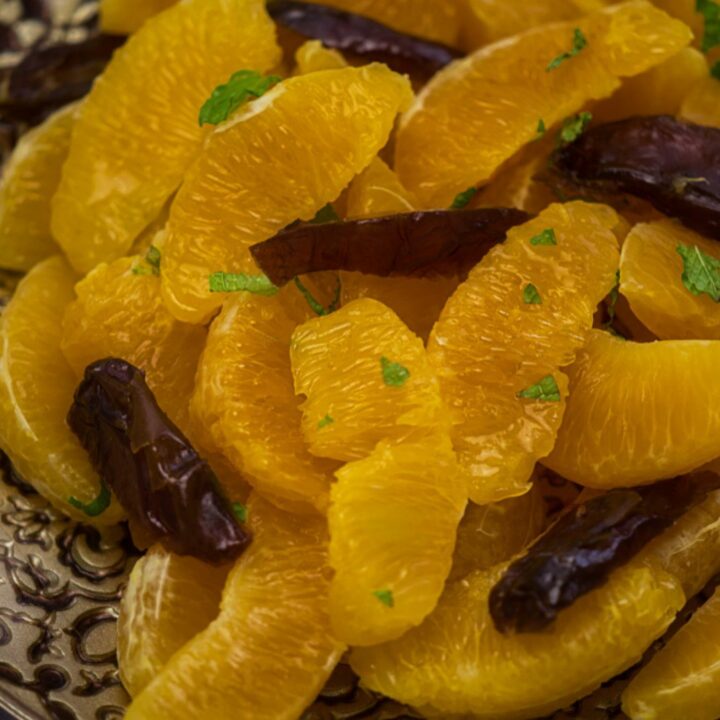 Orange, Almond & Date Salad
Now that you know how nutritious and delicious dates are, it's time to learn how to prepare them. Below are my three favorite recipes for dates. Enjoy!
Ingredients
1/4 cup raw almonds
1 tsp agave nectar
1/4 tsp cinnamon
4 dates (thinly sliced)
1 tbsp chiffonade of mint
4 to 6 oranges
1 tsp coconut oil (melted)
Salt
1/4 tsp orange flower water (optional)
Instructions
Step 1: Preheat the oven to 325°F.
Step 2: Mix agave nectar, cinnamon, coconut oil, and half a pinch of salt. Then add almonds to the mixture. Place the almonds on a baking sheet, and bake for 10 minutes. Stir a few times during the baking process. Cool the almonds.
Step 3: Cut each orange into ¼-inch thick slices and remove the seeds. Place the orange slices on a large plate and drizzle them with orange flower water (optional). Then scatter the almonds, dates, and mint.
2. Bacon-Wrapped Dates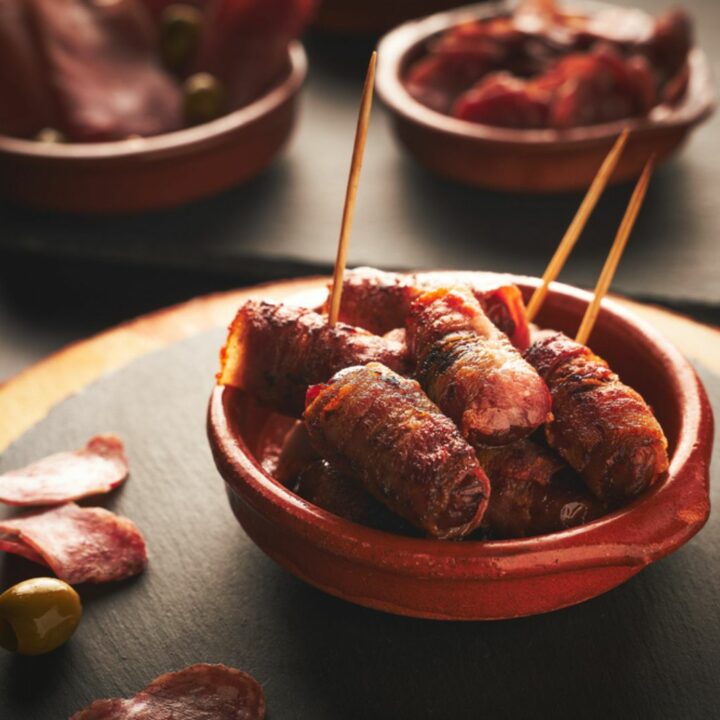 Bacon-Wrapped Dates
Prep Time:
25 minutes
20 seconds
Cook Time:
35 minutes
30 seconds
Total Time:
1 hour
50 seconds
Dates and bacon? Are you being serious? That's what I said when my friend Caroline introduced me to this extraordinary recipe. So, today I'm proud of sharing it with you, dear reader.
Ingredients
20 to 24 dried Medjool dates (12 to 16 ounces)
4 ounces goat cheese or blue cheese
20 to 24 toasted almonds (optional)
12 to 16 ounces bacon
Toothpicks soaked in water
Instructions
Step 1: Preheat the oven to 400°F.
Step 2: Cut open the dates by using a knife and stuff them with goat cheese or blue cheese. Press the cheese and almonds (if you're using them) into the date with the back of the spoon. Close the date and wrap them with stripes of bacon. Secure the end of each bacon with a toothpick.
Step 3: Place the dates on a baking sheet and bake them for 15 minutes. Then flip the dates and continue baking them for additional 15 to 20 minutes until they become crispy. Remove them from the oven and place them on a paper towel. You can serve them warm or at room temperature.
3. Creamy Orange Date Smoothie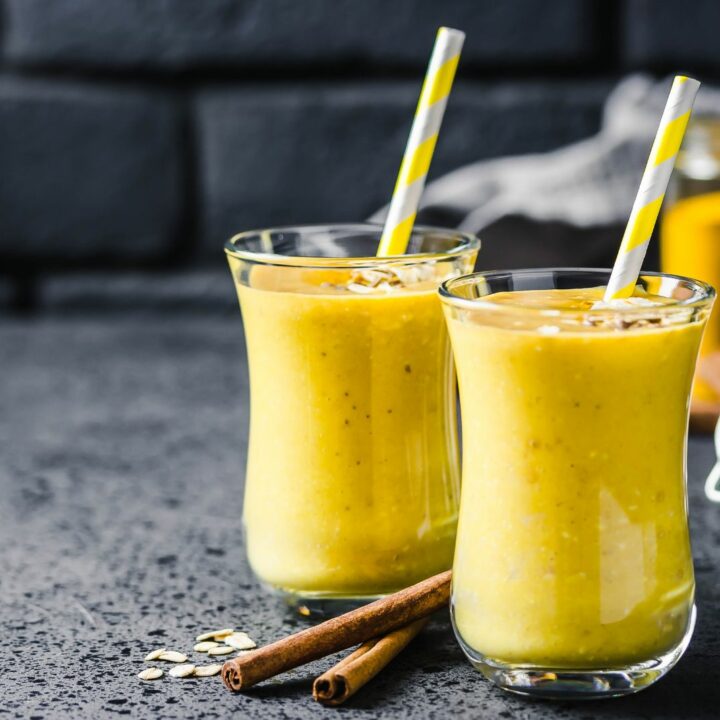 Creamy Orange Date Smoothie
If you're looking for a flavorful smoothie that is loaded with nutrients, then you shouldn't miss this one!
Ingredients
2 pitted Medjool dates
1 cup unsweetened coconut milk
1 tbsp tahini
1/2 tsp vanilla extract
Small pinch of sea salt
1 tsp bee pollen
1/3 cup cooked sweet potato flesh
1 medium orange (peeled and frozen in segments)
Instructions
Step 1: Put all of the ingredients in a blender and blend on high speed for about 50 seconds until the mixture becomes smooth and creamy. You can also freeze the smoothie if you want to prepare it in advance.
Step 2 (optional): Don't forget to share the recipe with your loved ones. Enjoy your meal! 😊