Is there anything more annoying than ending up with overcooked slices of chicken breast? I don't think so.
When you overcook chicken breast, it turns into a rubber-like texture which our taste buds despise. If you want to do them (read: your taste buds) a favor, then you need to learn how long to bake chicken breast.
In this case, we'll specifically focus on how long to bake thin-sliced chicken breast so that it stays juicy and tender.
Of course, the baking time doesn't only depend on the size of the chicken breast or baking temperature, but also on the baking method, whether it's frozen, and similar.
So, let's see!
How Long To Bake Thin-Sliced Chicken Breast At Different Temperatures
I'm pretty sure you're aware of the fact that baking thin-sliced chicken breast at 400°F will take a bit longer than if you bake it at 350°F. See the table below: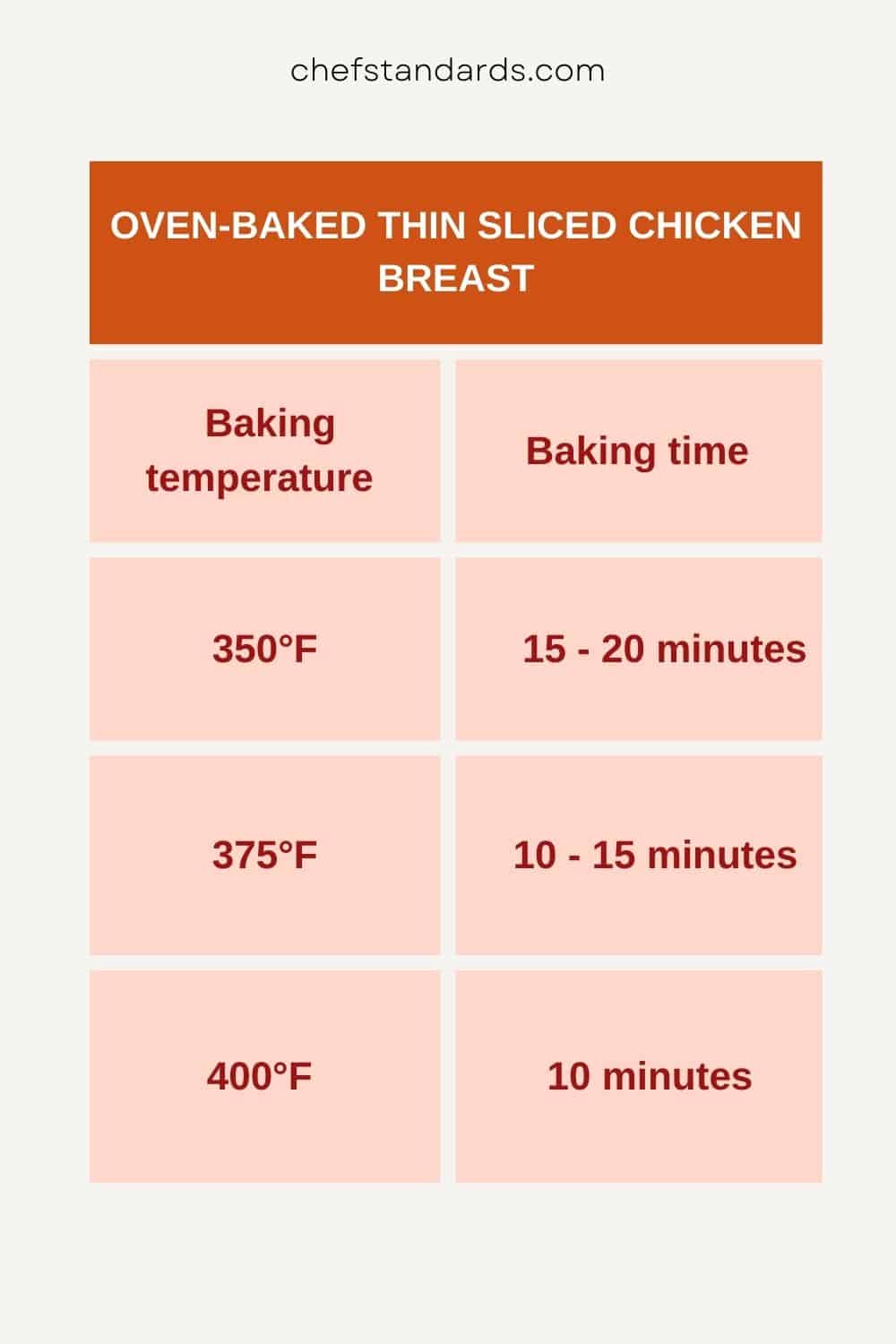 Why Is It Recommended To Bake Thin-Sliced Chicken Breast At 350°F?
Why should you bake thin-sliced chicken breast at 350°F and not 400°F? Let's see.
Baking thin-sliced chicken breast at a higher temperature increases the risk of drying it out, and it helps preserve its flavor and texture.
Many people forget that this type of meat doesn't cook long (especially thin-sliced chicken breasts). So, baking chicken breast at 350°F helps prevent potential overcooking. It also helps preserve its nutrients.
2 Factors To Consider When Baking Thin-Sliced Chicken Breast
Besides its size, how long to bake a thin chicken breast also depends on the cooking methods and type of chicken breast:
1. Baking methods
Normally, I prefer baking chicken breast in the oven. From time to time, I also like to use an air-fryer.
Depending on whether you use an oven or air-fryer, here's how long you should bake thin-sliced chicken breast at 350°F:
• In the oven: 15 – 20 minutes
• With an air-fryer: 10 – 15 minutes
2. Frozen or unfrozen
Here's how long you should bake frozen, or unfrozen thin chicken breast at 350°F:
• Frozen thin-sliced chicken breast: 25 – 30 minutes
• Unfrozen thin-sliced chicken breast: 15 – 20 minutes
Pro tip: Opening the oven door more times than needed will not accelerate the baking process but it will result in letting the heat escape which will prolong the baking time.
How To Know If Chicken Breast Is Cooked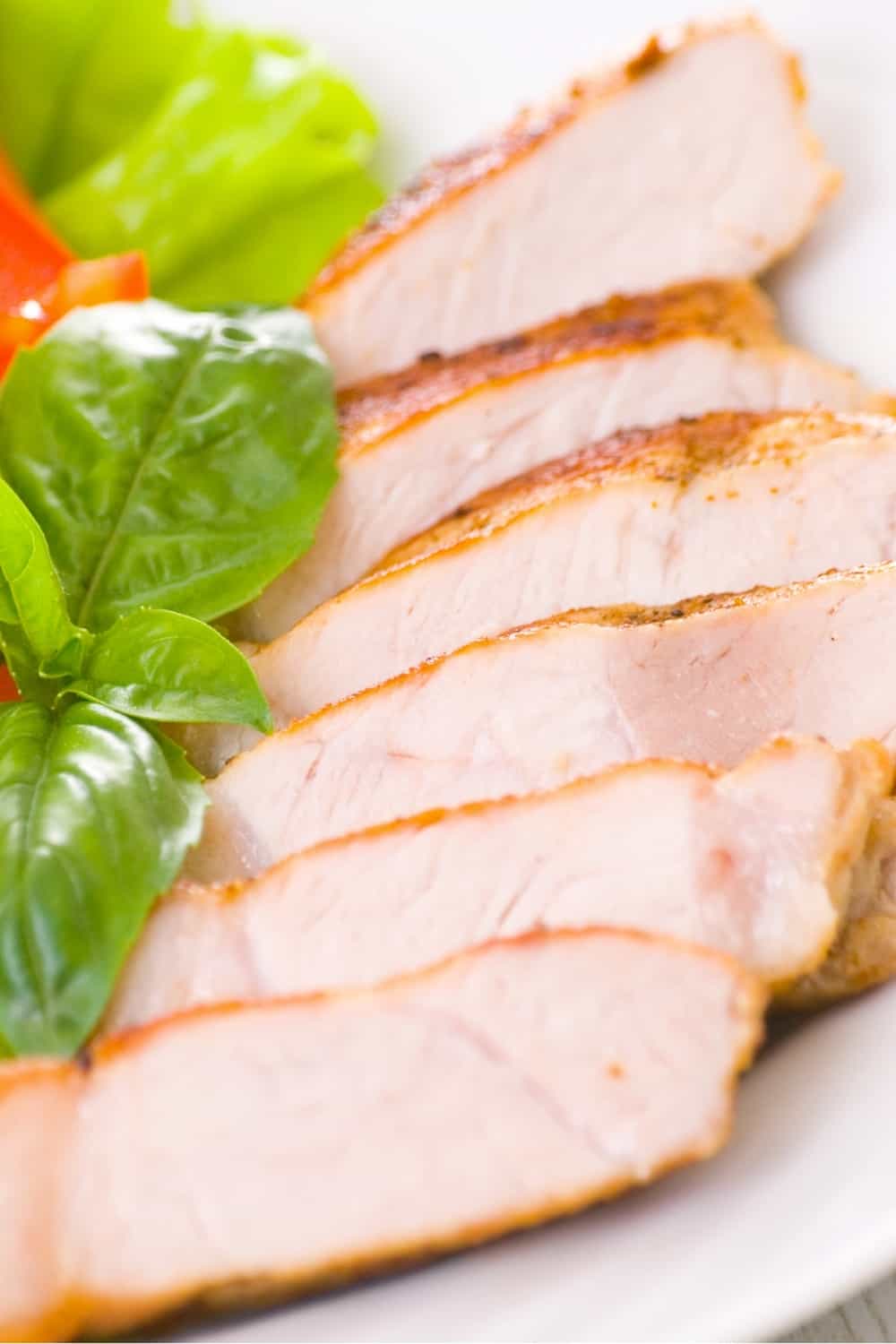 Here are a few ways to know when the chicken breast is done baking:
• Use a meat thermometer: Insert your food thermometer into the thickest part of the chicken breast. According to the USDA, "all poultry should reach a safe minimum internal temperature of 165 °F (73.9 °C) as measured with a food thermometer".
• Color: If the chicken breast is white with no pink tones, then it's done baking.
• Size: The size of the cooked chicken breast will shrink in comparison to the size of the raw chicken breast. That's how you know it's cooked.
• Firmness: You can also use your finger to poke into the thickest part of the chicken breast slice. If it feels firm, then the chicken is done baking or should be done soon. If not, then you should continue baking it until it reaches a firm texture.
7 Extra Tips For Baking Chicken Breast To Perfection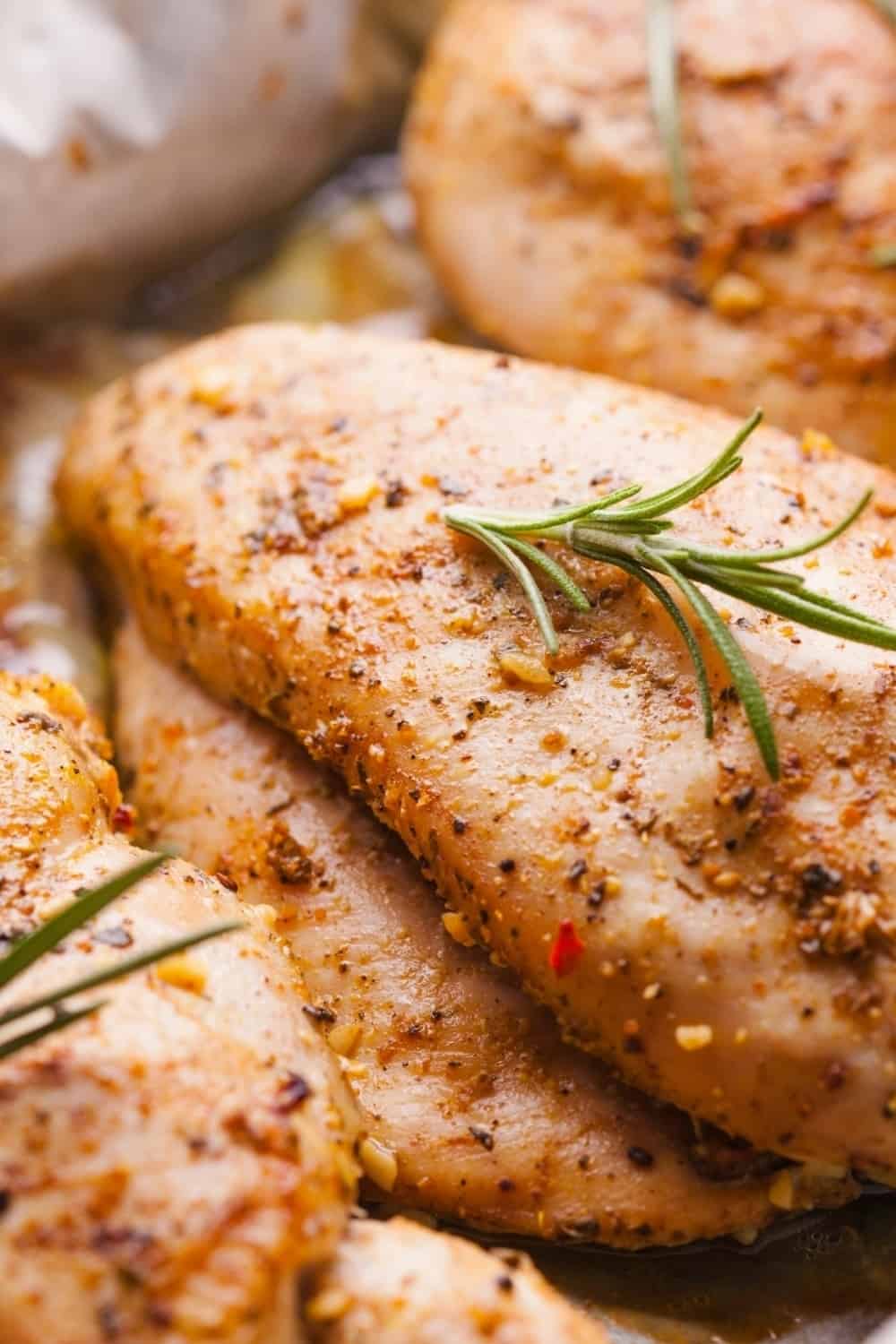 Here's how to successfully avoid eating rubbery chicken and keep it moist and tender when baking:
1. Use aluminum foil: Covering chicken breast slices with aluminum foil while baking will help keep the juices inside. Pro tip: You can use aluminum foil in an air fryer as well.
2. Use olive oil: Olive oil keeps chicken juicy and it also adds extra flavor.
3. Soak the chicken in milk: Soaking chicken in milk for at least 4 hours (or overnight) and placing it in the fridge helps the chicken preserve its juiciness and tenderness. How? Thanks to the lactic acid that breaks down muscle fibers in the meat.
4. Marinate the chicken for a few hours: Marinate the chicken breast in a Ziploc bag for at least 2-3 hours before baking. Once it absorbs the marinade, the chicken will stay juicy after baking. Pro tip: You can also marinate the chicken overnight.
5. Don't skip the resting period: Allow the meat to rest for 10 to 15 minutes before cutting and eating it. This will result in a more tender texture.
6. Basting: This is one of my favorite methods for preserving juiciness. The basting method means pouring the oil or butter onto the chicken a few times while it's baking.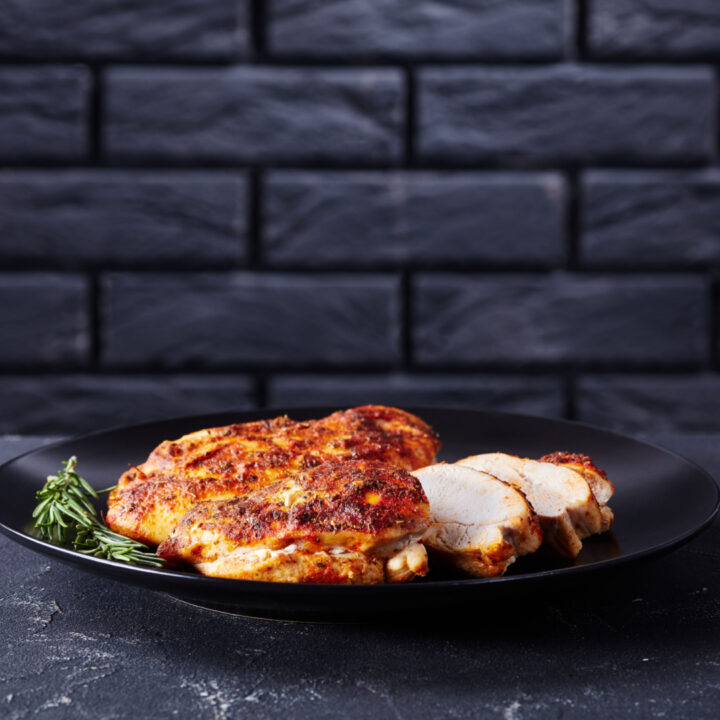 Oven-Baked Thin Chicken Breast Recipe
Here's how to bake thin-sliced chicken breast to perfection. You can thank me later!
Ingredients
Rosemary, thyme, oregano, salt, pepper, and other spices to taste
2 teaspoons Italian seasoning or Italian seasoning substitutes
2 tablespoons of olive oil
2 small chicken breasts (skinless, boneless, thin-sliced)
Instructions
Step 1: Prepare a marinade by mixing rosemary, thyme, oregano, Italian seasoning, and other spices with olive oil.


Step 2: Place chicken breast slices in the marinade in a large bowl or airtight container. Marinate chicken overnight or let them sit for up to 2 hours in the refrigerator.


Step 3: Preheat oven to 350 degrees Fahrenheit.


Step 4: Place the chicken slices in a baking dish and bake for 15 to 20 minutes. The chicken breast slices should reach an internal temperature of 165 °F (73.9 °C).


Step 5: Once baked, let the chicken breasts rest for a few minutes. This will make them more tender.
Nutrition Information:
Yield:

2
Serving Size:

1
Amount Per Serving:
Calories:

342
Total Fat:

19g
Saturated Fat:

3g
Trans Fat:

0g
Unsaturated Fat:

14g
Cholesterol:

102mg
Sodium:

383mg
Carbohydrates:

6g
Fiber:

3g
Sugar:

0g
Protein:

38g
Bon Appétit!