As the season changes, so do our preferences for various food and drinks. However, a sip or two of a delicious and refreshing cocktail is always preferable.
No matter whether you are enjoying your time in the sun on the beach or trying to warm up your taste buds at the most wonderful time of the year, you really can not go wrong with an amazing cocktail mix.
Take some time and dive into the adventure of finding the perfect cocktail recipe for every season.
Beat The Heat With These Refreshing Summer Cocktail Recipes
It really isn't a surprise that our journey will start with the hottest season. The refreshing summer cocktail goes perfectly with hot summer days, whether you are at the beach or just enjoying those sunny waves in your favorite cocktail bar.
Mix The Freshness And Spice Into Popular Vodka And Ginger Ale
Four out of five of my summer cocktails contain vodka, so I decided to start with the simple, yet refreshing and flavorful vodka cocktail known as vodka and ginger ale.
It is so simple to make this classic any time you want, but at the same time, it will provide you with so much joy that you won't be able to resist another glass.
And you really need just a few simple ingredients:
• Vodka: 2 oz
• Ginger Ale: 4 oz
• 1 Lime Wedge
• Clear Ice
Let's mix that cocktail:
1. Prepare one tall, shiny glass because this drink deserves it.
2. Add the vodka and ice and stir it to combine.
3. Top the mixture with the ginger ale and squeeze the juice from the lime.
4. Garnish the glass with the lime wedges or wheels, serve, and enjoy the freshness.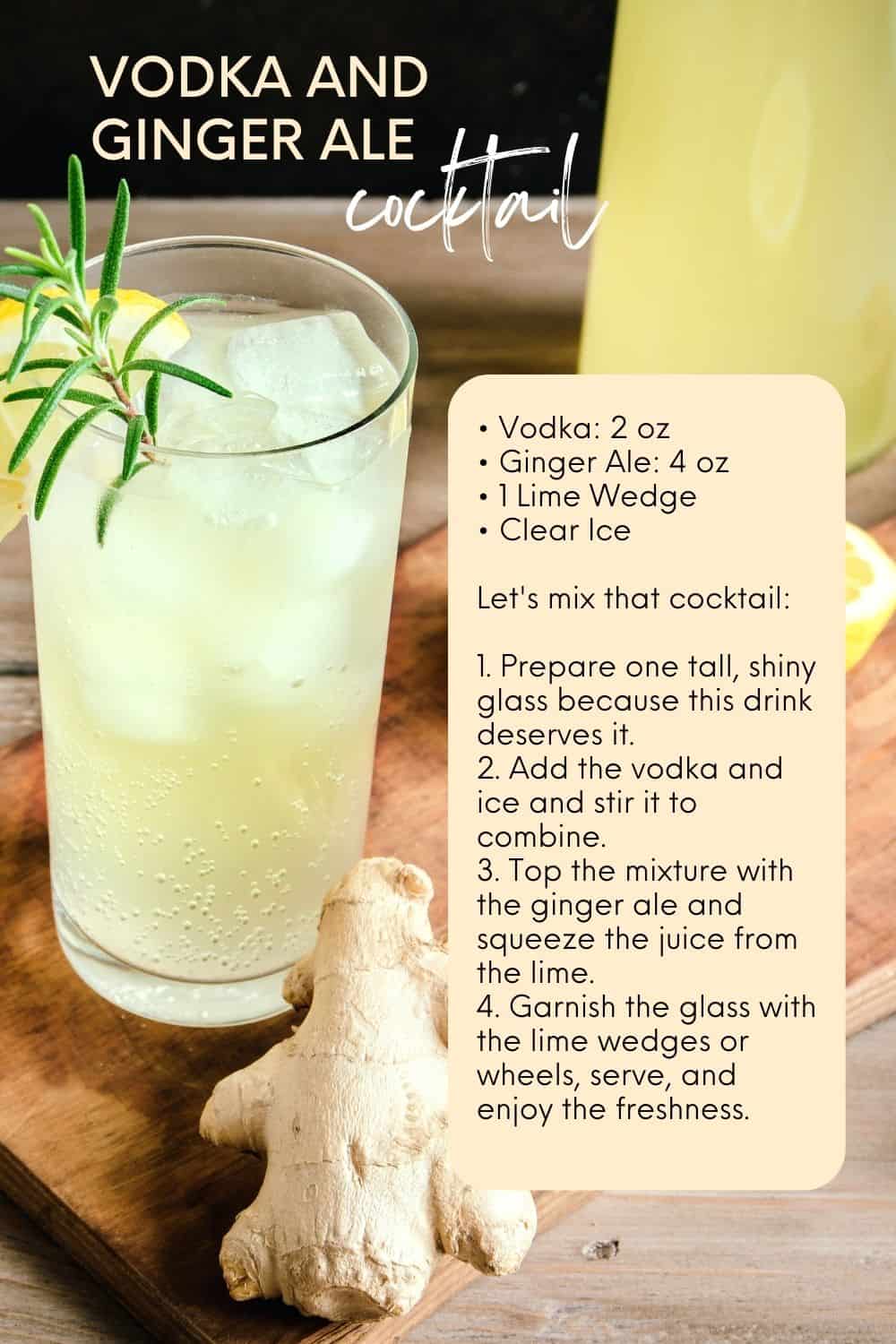 Conquer The Beach With This Classic Gin And Tonic Cocktail
This gin cocktail is really timeless and can serve any occasion.
The perfect combo of botanical gin, sparkling tonic water, and zesty lime will delight your taste buds and leave your whole body refreshed for the rest of the hot day.
To make this simple, magical drink, you'll need just a few ingredients:
• Gin: 2 oz
• Tonic Water: 4-5 oz
• 2 Lime Wheels For Garnish
• A Few Ice Cubes
How to prepare the cocktail classic:
1. First, fill your Collins glass with some ice.
2. Pour that gin over the refreshing cubes.
3. Add sparkling tonic water.
4. Stir the magical mixture to combine.
5. Garnish with the lime wedge and surprise your taste buds!
Go On The Hot Adventure With The Popular Mezcal Margarita Cocktail
If gin or vodka doesn't make you happy, but you still want to enjoy the freshness of a cocktail, don't worry. You can try this popular mezcal cocktail that can similarly battle those hot summer days, or even make it better.
To make this popular Mexican classic, you will need the following ingredients:
• Mezcal: 1 ½ oz
• Cointreau Liqueur: 1 oz
• Freshly-Squeezed Lime Juice: 1 oz
• Agave Nectar (Or Simple Syrup): ¾ oz
• Ice
• Salt And Lime Wedge: for rimming the glass
Make your favorite cocktail by following these simple steps:
1. If you prefer a salt-rimmed glass, rim that shiny glass with salt by rubbing a lime wedge around the rim and then dipping it into a small dish of salt.
2. Put those ice cubes in the glass.
3. Combine the rest of the ice with mezcal, agave syrup, and lime juice in a shaker. Shake well.
4. Strain the mixture into the glass with ice and garnish it with a lime wheel.
5. Serve that freshness and enjoy.
Taste The Freshness Of The Amazing Watermelon Paloma Cocktail
If you are craving a refreshing burst of flavor on that hot sunny day, there is no better relief than to take a sip of the cocktail classic known as Watermelon Paloma.
The sparkling soda will excite your taste buds and the refreshing watermelon will add to the natural sweetness, alongside a few ounces of the mighty tequila.
Let's take a look at how to prepare this cocktail.
• Tequila Blanca: 1 ½ oz
• Cubed Watermelon: 5 pounds
• Sparkling Club Soda
• Lime Juice: From ½ of fresh lime
Combine these amazing ingredients this way:
1. You will first need to make watermelon juice by blending half of the cubes into liquid and straining it through a strainer until all the juice comes out.
2. After that, you can blend and strain the rest of the watermelon cubes and cover all the juice until it is ready for use.
3. Take a one shiny tall glass and put a few ice cubes in it.
4. Add tequila, lime juice, and ¼ cup of watermelon juice and stir the mixture gently.
5. Top the mixture with some club soda and stir until it is ready for serving and enjoying.
Rise That Shiny Glass For The Refreshing Limoncello Mojito
If you are a true cocktail lover, then you surely know what an amazing cocktail classic mojito is.
Now, imagine something even better, a zesty twist on that same cocktail that will transfer you directly to heaven full of lemon trees and refreshing air.
Yes, limoncello mojito is all of that and I am here to reveal to you how to make this magical drink. Let me start with the ingredients:
• White Rum: 2 oz
• Fresh Lime Juice: 1 oz
• Limoncello: 1 oz
• Simple Syrup: 1 oz
• Mint: 7-8 leaves
• Crushed Ice
• Club Soda
• Mint Spring And Lime Wedge: For Garnish
Now, let's make the magic happen:
1. Muddle the mint leaves with simple syrup and lime juice in a cocktail shaker.
2. Then add a white rum and limoncello to the shaker and fill it with ice.
3. Shake the mixture well and pour it into a glass filled with ice.
4. Top it with club soda and stir gently until it's ready.
5. Garnish with mint spring and lime wedge, serve it, and enjoy.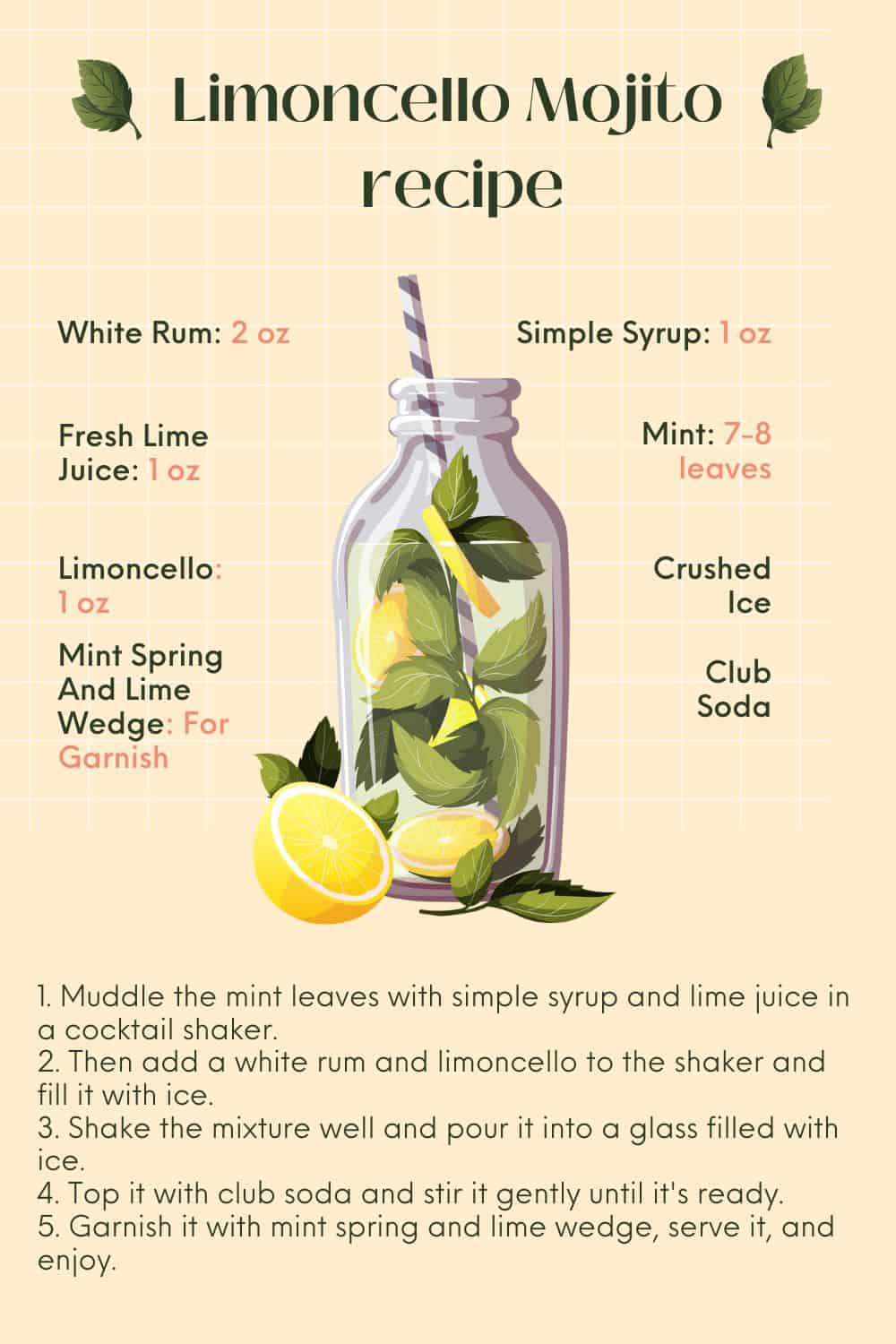 Welcome The Flowers With These Amazing Spring Cocktail Combinations
For many, it is the favorite season of all because the warmer days are coming and beautiful nature is on the rise. There is no better way to celebrate it than with a glass of a flavorful and refreshing spring cocktail.
Whether you are hosting a garden party or just want to enjoy the birds singing, here are a few spring cocktails that won't disappoint the perfect atmosphere.
Enjoy Nature With A Glass Of The Classic Cosmopolitan Cocktail
What better cocktail to start with than a good old vodka cocktail? And the classic cosmopolitan cocktail is truly a classic and the best one to welcome spring.
And some of the ingredients come directly from nature:
• Cosmopolitan Vodka: 1 ½ oz
• Triple Sec: ¼ oz
• Cranberry Juice: ¼ oz
• Lime Juice: ¼ oz
• Ice
• 1 Lime Wedge: For Garnish
Mix these ingredients in the colorful nature and enjoy a refreshing drink:
1. Combine the vodka, triple sec, cranberry juice, and lime juice in one good cocktail shaker.
2. Add ice to the mixture, cover it, and shake it well.
3. Strain it into a shiny cocktail glass and make it even more eye-catching with the lime wedge garnish.
4. Serve and enjoy!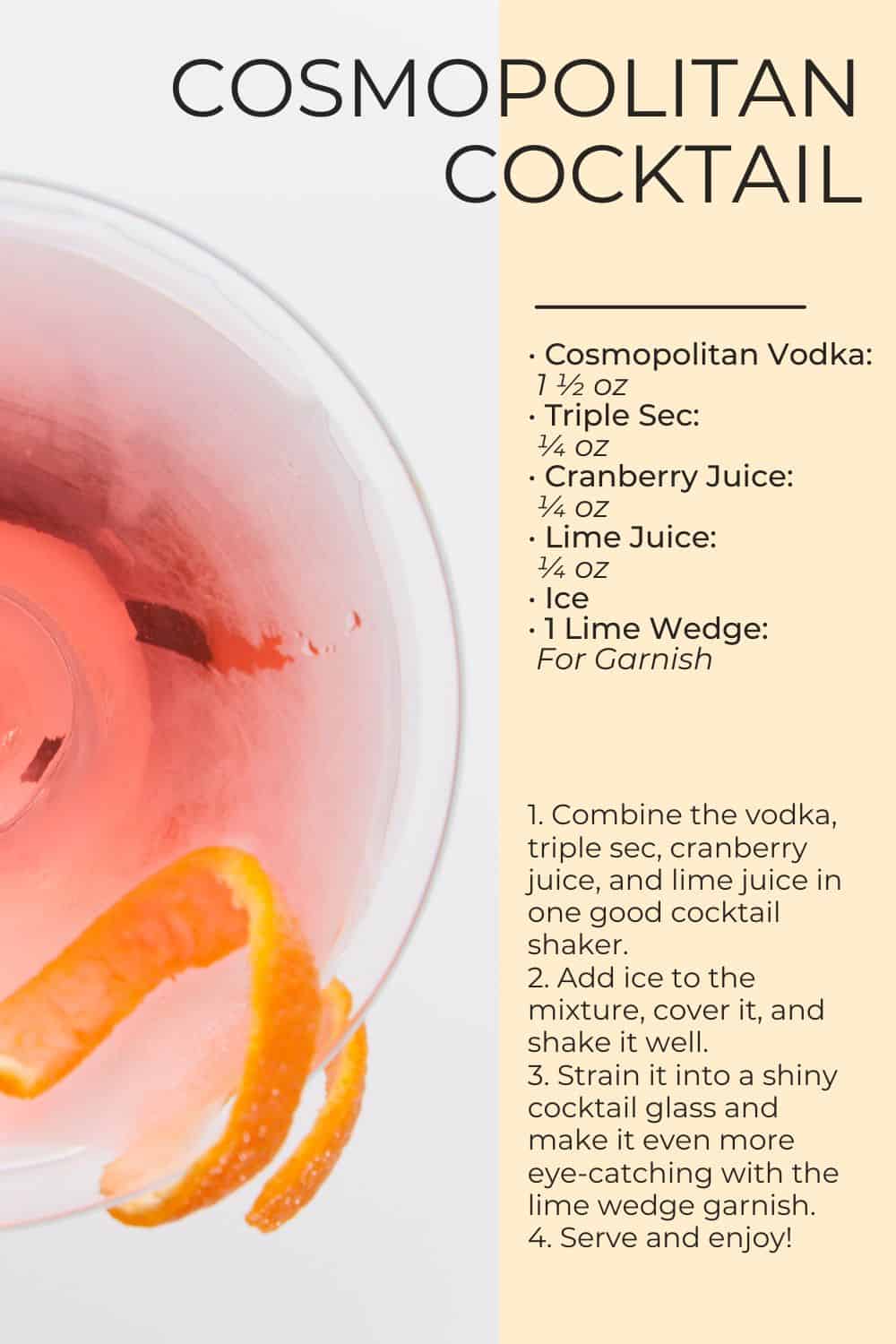 Enjoy The Relaxing Party In Nature With Refreshing Garden Party Cocktail
It is not hard to conclude the cocktail that bears this name is an absolute star of this beautiful season.
Garden party cocktail with Empress gin as its main ingredient is a perfect party cocktail for every outdoor gathering in nature.
And it doesn't require much, just a few ingredients:
• Empress 1908 Gin: 1 ½ oz
• Peach Liqueur: ½ oz
• Lemon Juice: 1 oz
• Soda Water
Let's get the party started:
1. Add all the ingredients, except the soda water, to a cocktail shaker.
2. Add the ice and shake well.
3. After you shake it, top it with soda water.
4. Finally, you can garnish it with a sprig of mint and edible flowers and it will look like it came from the heart of nature.
5. Serve and enjoy!
Experience Smokey And Refreshing Tones Of Mezcal Paloma Cocktail
It is sweet, tangy, and smokey and it perfectly pairs refreshing lime and grapefruit with a hint of mezcal.
Meet Mezcal Paloma, your best bet for the beautiful season.
This perfect combo of mezcal and tequila is the top choice of most Mexicans, but you can also enjoy it on those beautiful spring afternoons by combining just a few ingredients.
• Tequila Blanco: 1 ½ oz
• Mezcal: ½ oz
• Grapefruit Juice: 2 oz
• Simple Syrup: ½ oz
• Lime Juice: ½ oz
• Soda Water: 1 oz
• Grapefruit Wedge And Flaky Sea Salt: For The Garnish
Mix your perfect spring cocktail by following these simple steps:
1. Run the grapefruit wedge around the rim of the glass.
2. Then dip the edge of the glass into a plate of flaky salt.
2. Add the rest of the ingredients except the ice and soda and stir gently until they combine.
3. Add the ice to the glass and top the mixture with soda water.
4. Serve it and enjoy!
Refresh Your Taste Buds With The Perfect Sparkling Limoncello Recipe
I will end the list of spring cocktails with the limoncello cocktail that can be enjoyed at any time, but its natural flavors and freshness just make it perfect to enjoy it in the spring.
Here are the ingredients:
• Limoncello: 1 ⅓ oz
• Sparkling Lemon Soda: 2 ⅔ oz
• Prosecco: 3 ⅓ oz
• 2 Slices Lemon
• 1 Sprig Of Mint
• Ice Cubes
Here is what you have to do:
1. Add the limoncello to the glass.
2. Top it with lemon soda and then add the Prosecco.
3. Add ice cubes and garnish them with lemon and mint.
4. Enjoy!
All You Want For Christmas Is A Delicious Cocktail To Enjoy
It's the most wonderful time of year and why not make it even more exciting with these flavorful and warming cocktails that will excite your taste buds?
Rum Eggnog: The Recipe For The Most Wonderful Cocktail Of The Year
There is no better way to welcome the holidays than with this classic Christmas cocktail known as Rum Eggnog.
Rum eggnog is a creamy, comforting drink that will warm up your Christmas spirit.
Ingredients:
• 1 Egg
• Heavy Cream: 1 oz
• Superfine Sugar: 2 teaspoons
• Vanilla Extract: ½ teaspoon
• Aged Rum: 1 ½ oz
• Almond Extract: ¼ teaspoon
• Grated nutmeg and cinnamon: For garnish
Let's do some magic:
1. Separate the egg white from the yolk into two bowls.
2. Beat the yolk until creamy.
3. Beat the egg white with sugar.
4. Gently combine the egg yolk and white.
5. When you are done with the egg, beat the cream with almond and vanilla extracts and 1 teaspoon of sugar. Now add the rum.
6. Gently combine the cream with the egg mixture.
7. Serve the final mixture in a martini glass.
8. Garnish with cinnamon and nutmeg and enjoy.
Other Sweet Cocktails To Welcome The Holidays With
If you are not satisfied with the rum variation of this incredible holiday drink, below are some other recommendations for you to try.
• Classic Homemade Eggnog
• Brandy Eggnog
• Bourbon Eggnog
• Coquito
• Keto Eggnog
• Vegan Eggnog
• Gingerbread Eggnog
• Eggnog Martini
• Fireball Eggnog
• White Christmas
• Non-Alcoholic Eggnog
Mix The Perfect Batch Cocktail Once And Enjoy All Night
Give it some of your precious time and they will give you all the flavors of fullness and freshness all night long. Here is a recipe for the refreshing mimosa pitcher that won't disappoint any person at your party.
Impress Them With The Creative Mimosa Pitcher Cocktail
A few simple ingredients that you'll need:
• Finely Sliced Citrus Fruits: lemons, limes, oranges, and grapefruits
• Cool Prosecco: 1 bottle
• Cranberry Juice
• Orange Juice: 3-4 cups
Let's make the best pitcher for your party:
1. Fill the pitcher with thinly sliced citrus fruit.
2. Top it with orange juice and put it in the fridge until ready to use.
3. When ready, remove it from the fridge and add the Prosecco.
4. Fill champagne flutes and add cranberry juice to each.
5. Enjoy the party!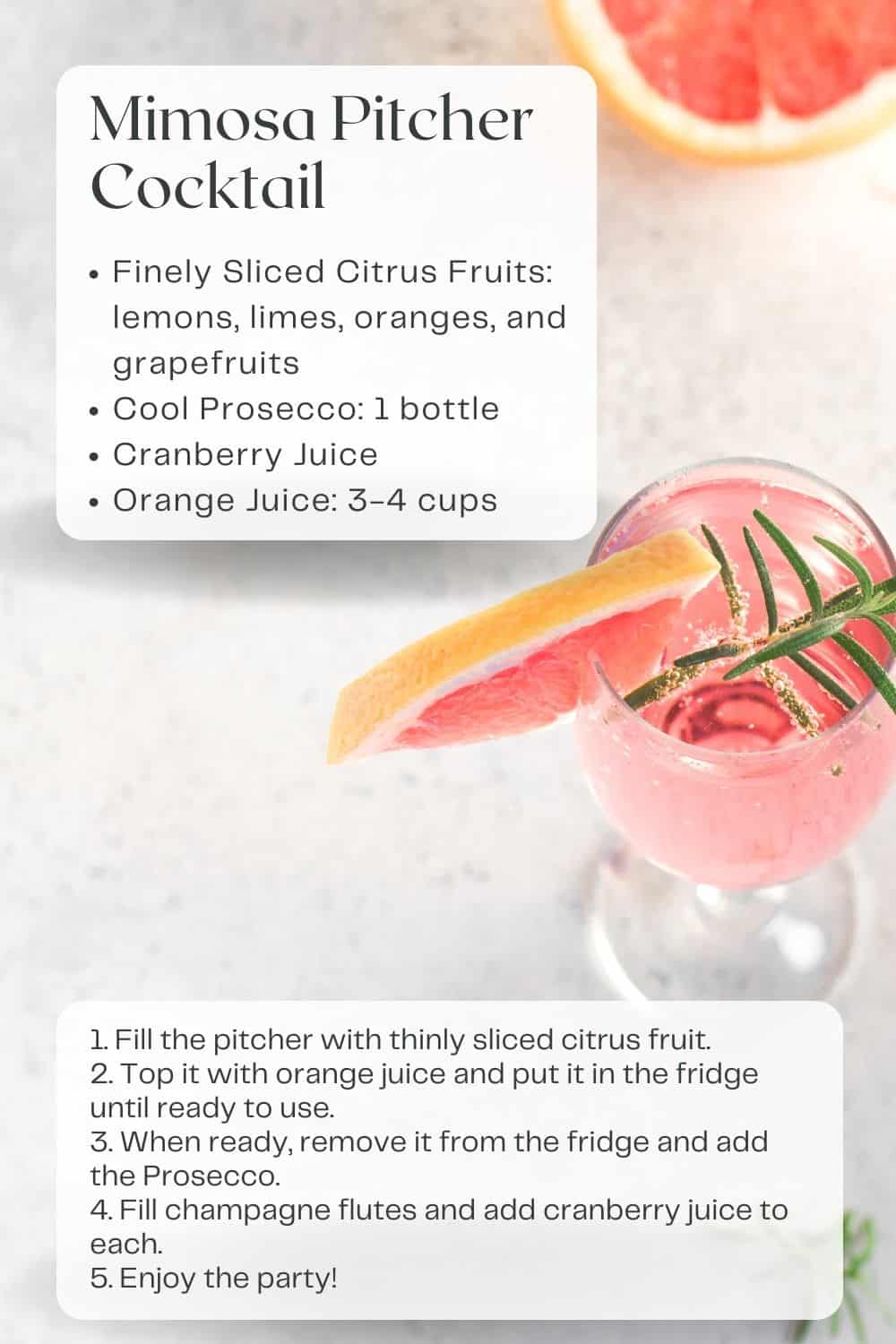 Some Other Pitcher Ideas That Won't Disappoint The Party People
Here are a few recommendations that will surely work for every party, graduation night, or wedding.
• Big Sangria Batch For The Big Cocktail Flavor
• Shake Up The Party With The Perfect Margarita Pitcher
• Champagne Holiday Punch For The Finest Holiday Flavors
• Boat House Punch: A True Bubbly Crowd-Pleaser
• Summer Peach Tea: Refreshing Iced Tea From The Cocktail Heaven
Refreshing Mocktail Recipe To Enjoy Without Regret
Enjoying those flavorful and refreshing cocktails is, for some people, unfortunately just a dream, for many reasons. However, if you want to enjoy that delicious drink without a buzz, a refreshing mocktail might just be the solution.
Pina Colada Mocktail: Healthy And Flavorful
No matter if you are on the beach looking at the beautiful sunset or you are just celebrating a special occasion, the combo of sweet and tangy flavors that a pina colada mocktail offers is always a winner.
And you need just three simple ingredients!
• Frozen Pineapple Chunks: 1 cup
• Pineapple Juice: ½ cup
• Coconut Cream: ⅓ cup
And, of course, here are the instructions:
1. Pour all the ingredients into the blender and let it do the thing until the mixture becomes smooth.
2. When the mixture is smooth enough, pour it into a fine glass and garnish it with a pineapple wedge.
3. Finally, you can serve it and enjoy your precious non-alcoholic beverage.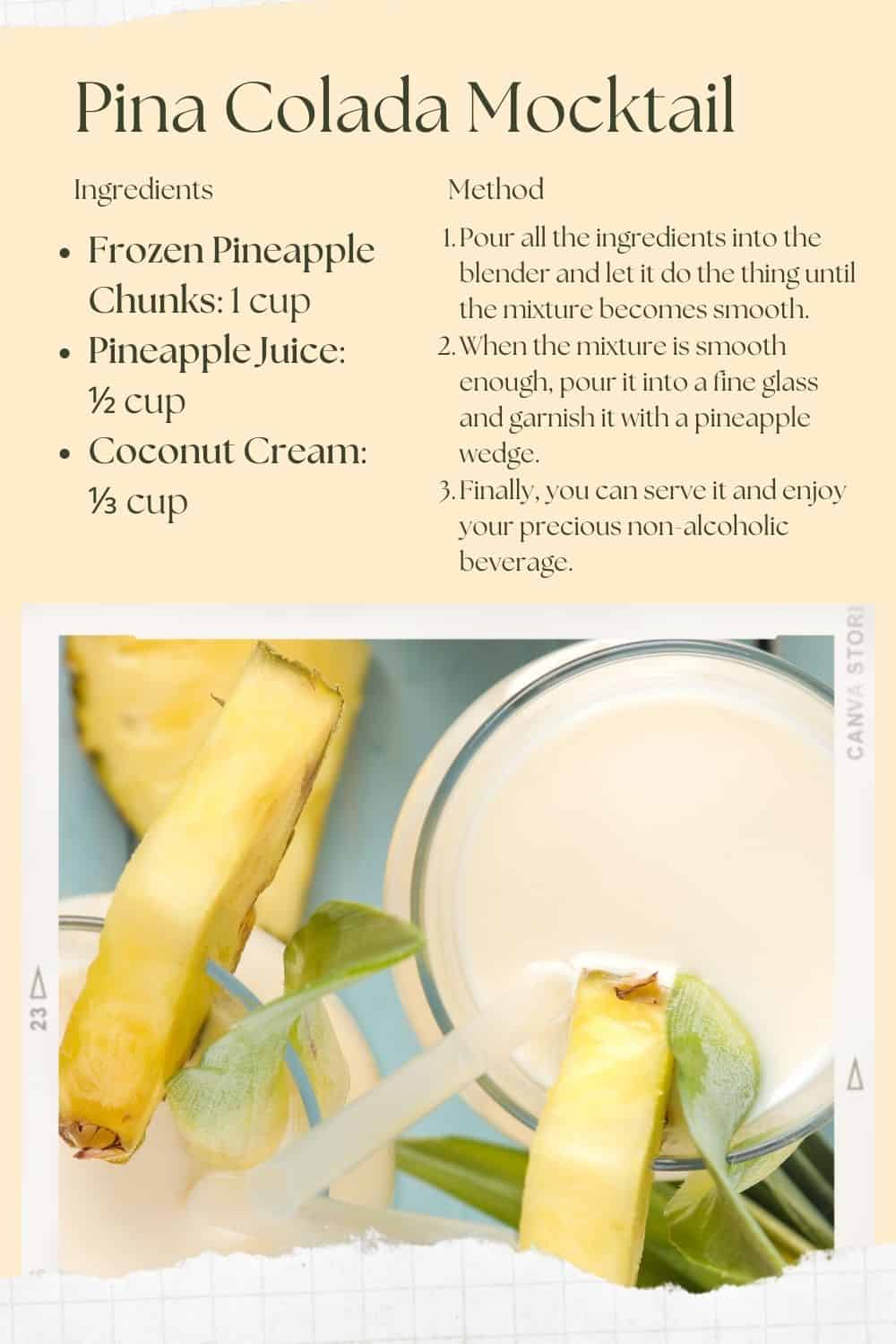 Shake Things Up And Discover A Few Other Amazing Mocktails
Not a fan of coconut or pineapple? No need to worry because below are a few other mocktail ideas that will activate the mocktail cravings in your heart.
• Virgin Mojito: Refreshing Non-Alcoholic Classic
• Shirley Temple: Well-Known Among Non-Alcoholic Folks
• Non-Alcoholic Thanksgiving Punch For Happy Holidays
• Virgin Margarita: Indulge Your Taste Buds In The Mocktail Madness
• Arnold Palmer: The Finest Blend Of Tea And Lemonade
• Blueberry Mojito: The Ultimate Summer Refresher
• Roy Rogers: The Wild Combo Of Sweetness And Fizz
Did You Find Your Most Eye-Catching Cocktail Mix?
Shake things up and raise a glass for your favorite cocktail for every season and every occasion.
Finding your perfect refresher among all these amazing cocktail ideas is easy-peasy, but controlling your cocktail cravings when they experience the flavors and freshness might be a little more tricky…