Hello, hot and spicy lovers. Surely, most of you are, seeing as you came to look for an answer to this question. The topic of this article is, primarily, the best harissa substitute.
Of course, apart from that, you will also learn something about harissa itself, that is about harissa paste. This type of paste is definitely not for those with a weak palate, but for those a little braver.
So, what is that spooky harissa? It is actually one really hot chili paste but at the same time a really tasty paste, that originates from Tunisia, a North African country. This Tunisian pasta represents a truly unique spice blend that includes hot chili peppers, caraway seeds, ground coriander seeds, cumin, garlic, and olive oil.
When it comes to the flavor profile, the flavor of this pasta is light, and it represents a unique combination of spicy and sweet taste. It is best used in stews, meat dishes, and soups.
11 Ideal Harissa Substitute Options For Your Dish
So, now that we know a little more about harissa itself, let's find out more about its potential alternatives, shall we.
Let's proceed to our first option.
1. Hot Sauce: A Little Spicier Alternative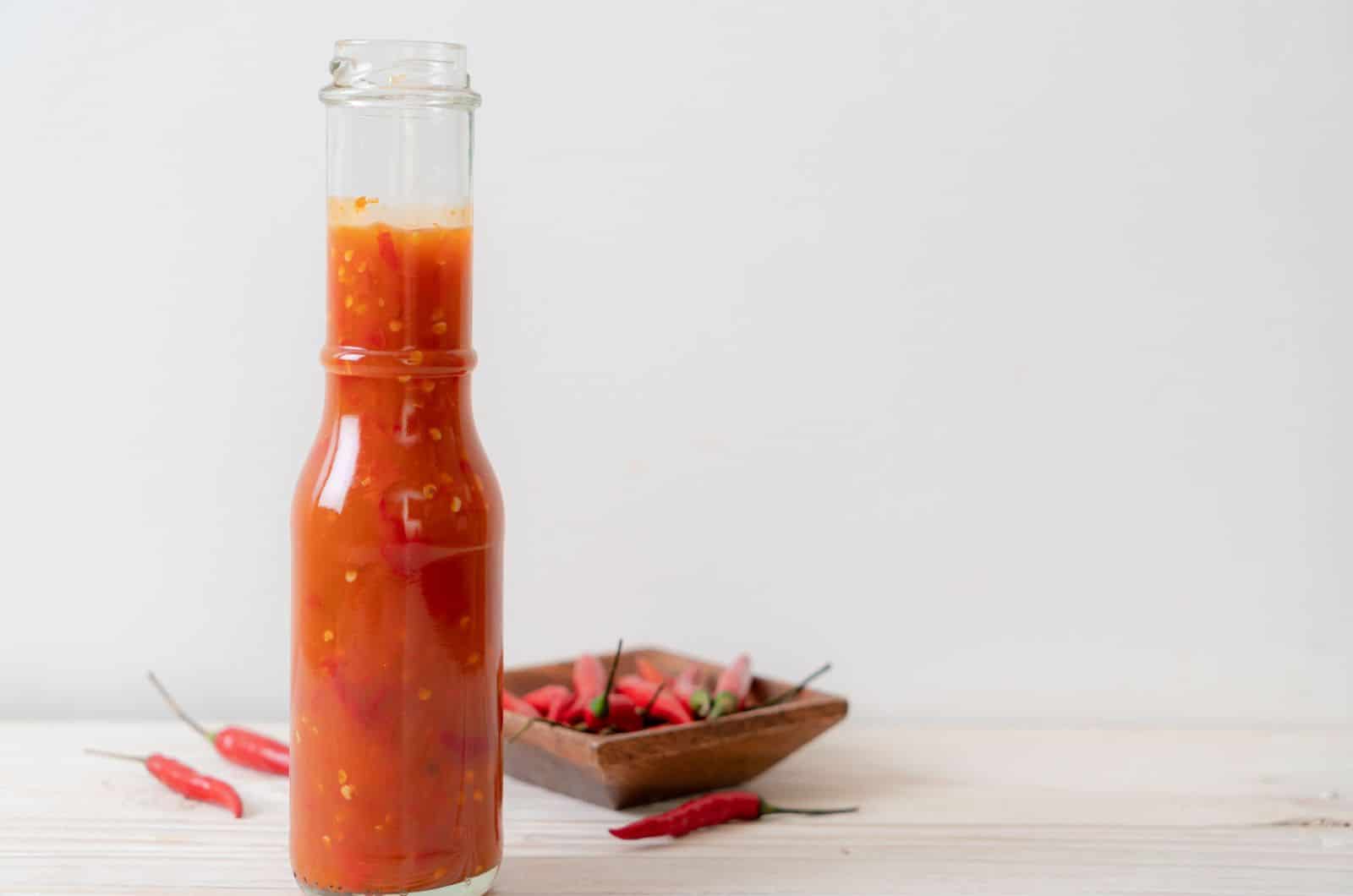 A really spicy alternative, hot sauce represents the option that you can easily find in most grocery stores. It is its availability that brought it to this list in the first place.
It should also be said that the heat level is the link between these two ingredients. With the fact that the heat level, as far as the hot sauce is concerned, can vary greatly, it is very important to pay attention to the amount of sauce you use in the desired dish.
Dishes that go best with hot sauce are meat dishes, marinades, and roasted vegetables, for example.
2. Sriracha: Nice Mix Of Ingredients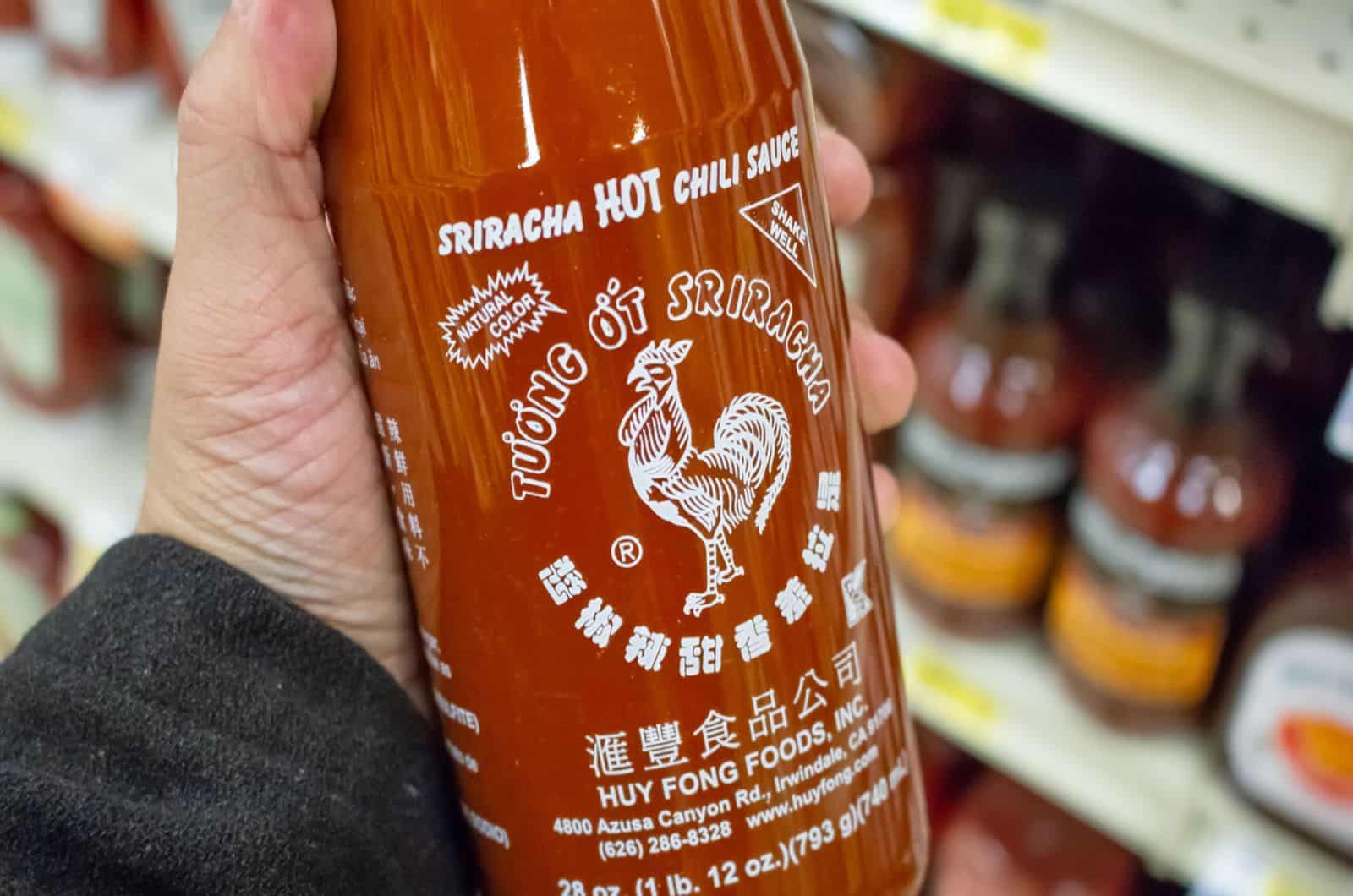 A very similar mix of ingredients to harissa sauce, sriracha is a hot and spicy alternative. It is a good substitute for harissa, although it has a slightly different consistency.
It is full of flavor, just like harissa, but the textures don't quite match one another, but there is also a solution for that in the form of adding some spices such as cumin and coriander to it.
It should also be noted that, if you wish for more hotness, it is not a bad idea to add some hot paprika or cayenne pepper.
3. Red Chili Paste: Very Spicy Option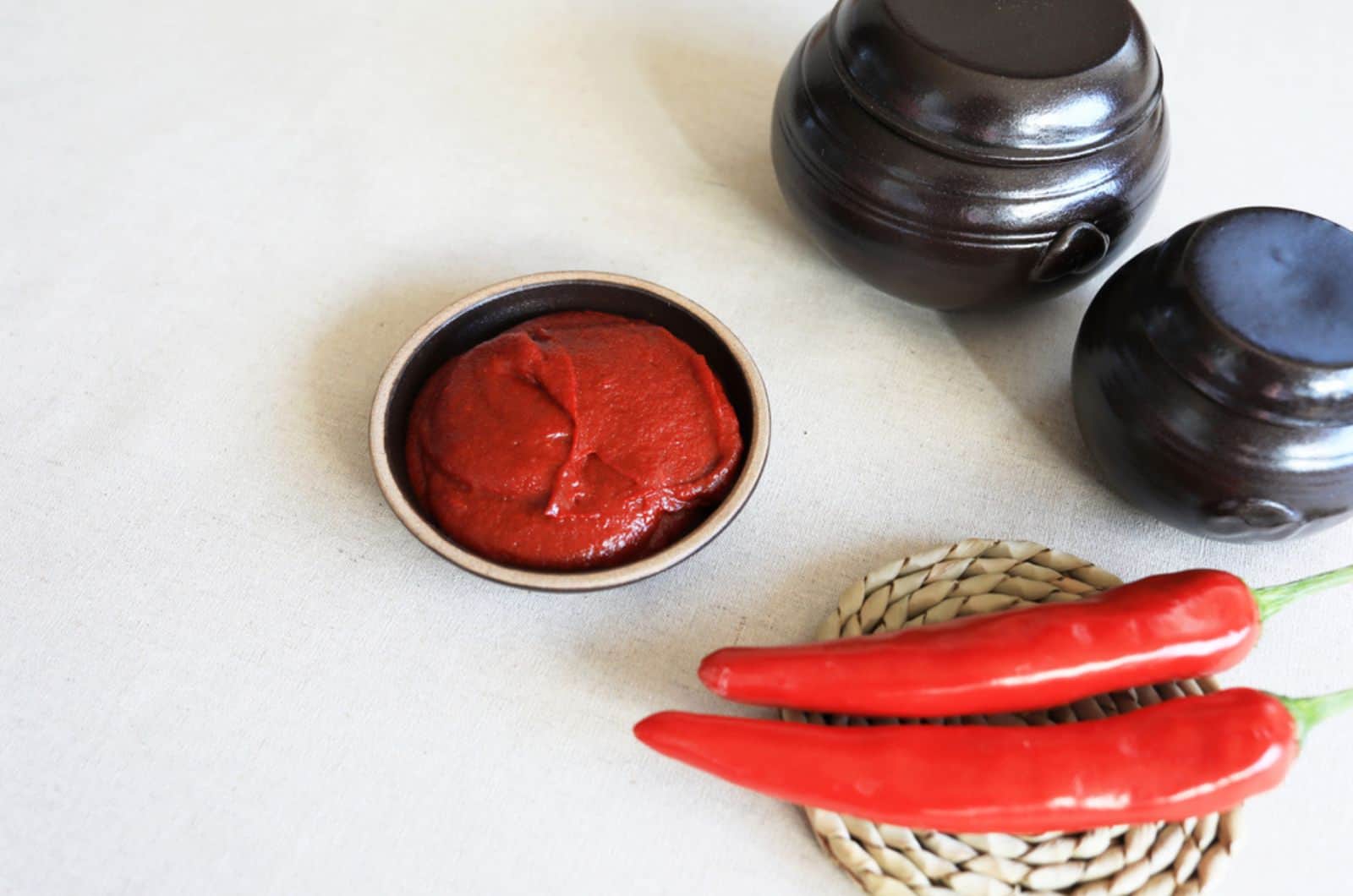 This paste is very hot and spicy, and is a blend of washed, cleaned, and nicely chopped red chilies, along with some lemon juice, sugar, salt, and cumin. It is best used in hot pizzas and sandwiches.
There are a lot of red chili paste variants, but the one that can be a really good substitute for harissa paste is Thai red chili paste or, so-called, Nam Prik Pao.
The heat level is very similar to harissa, but you can also navigate it with cayenne pepper or hot paprika, just like with sriracha.
Also, I must not forget to mention that this type of red chili paste also contains fish, which is of course very important information for those of you who are oriented toward a vegan-style diet.
4. DIY Homemade Harissa Paste: Your Own Best Option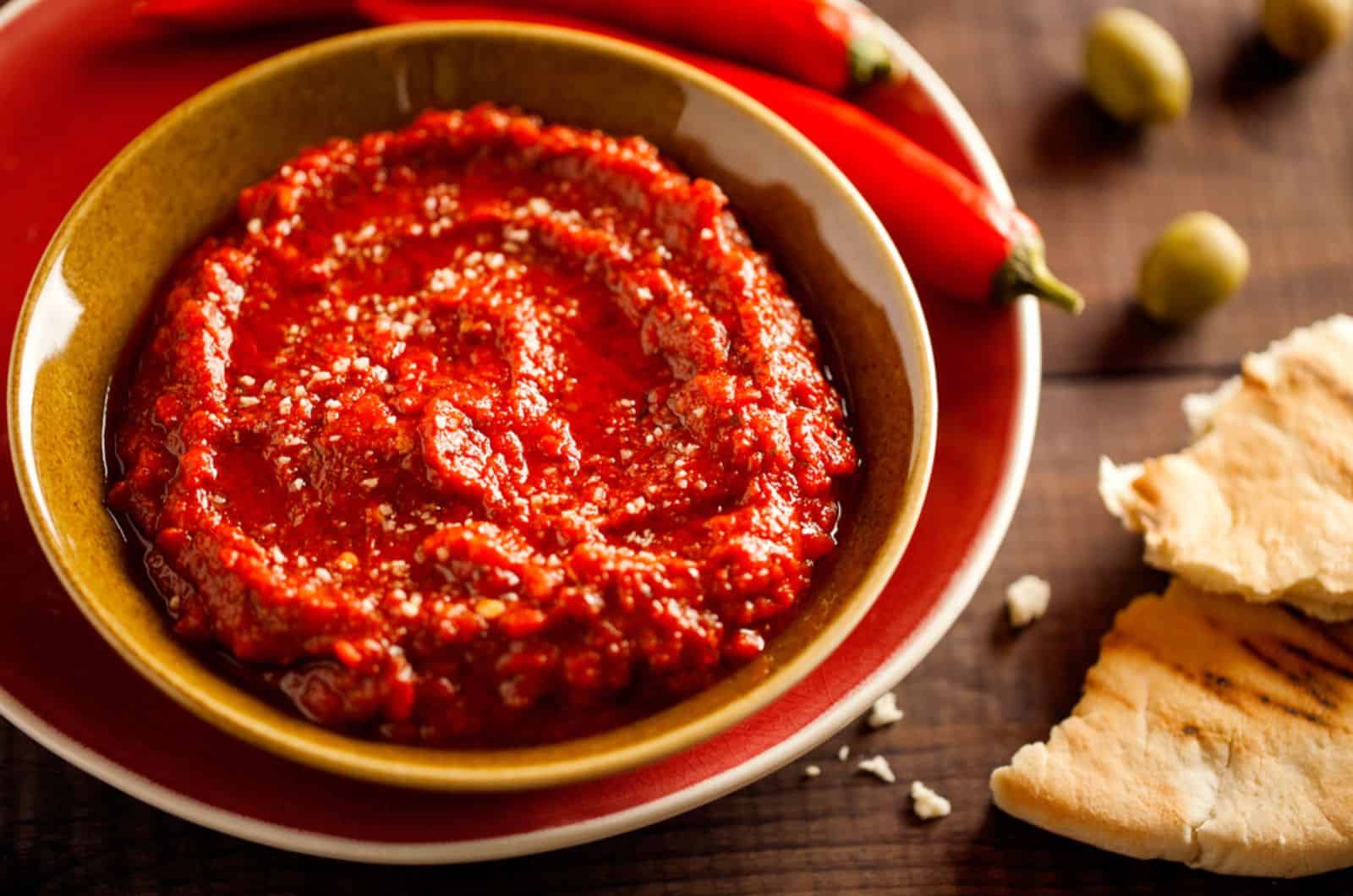 You have already learned the basic ingredients of harissa paste. So, what are you waiting for, quickly go to your pantry and peek into the drawers to find the ingredients to make your own unique harissa paste.
All you need is a few pieces of hot red peppers, and some spices like caraway, cumin, and coriander in your food processor. If you want some more spiciness, you can always add some hot paprika to your blend.
5. Red Pepper Flakes: Add Of Extra Heat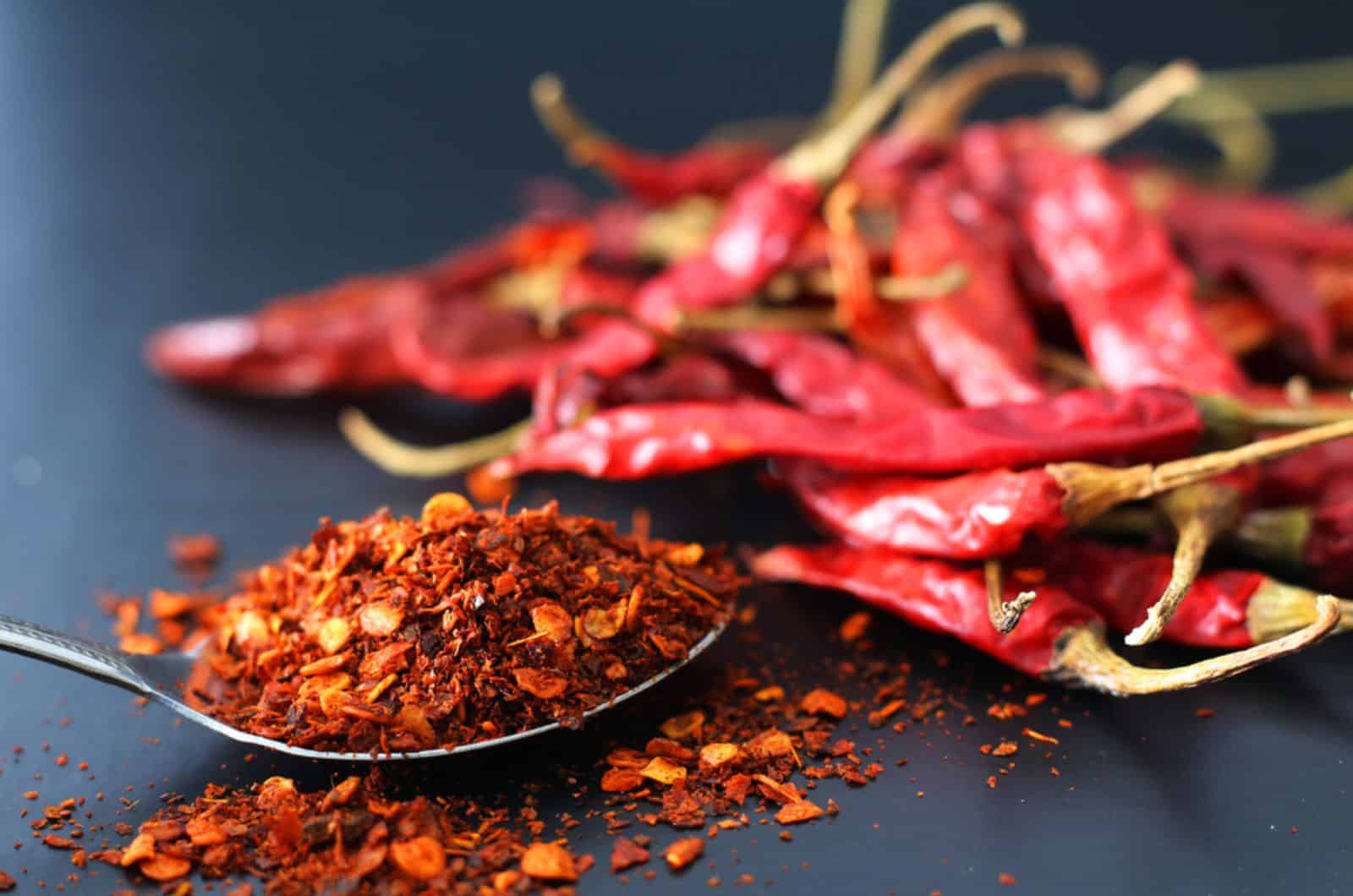 Red pepper flakes is one of those options that I will choose when I really have no other choice. Then you can conclude that there is not much similarity between these two foods, and this especially refers to the texture.
Where you can definitely use red pepper flakes is to increase the level of spiciness in your dish. Among many peppers that make this powerful mix are good old cayenne peppers, and they are the ones guilty of providing that extra heat.
Red pepper flakes are ideal in pizzas, but they can contribute to the good taste of some dishes such as vegetable dishes, meat dishes, or in marinades and pastas.
6. Gochujang: Sweet And Spicy Korean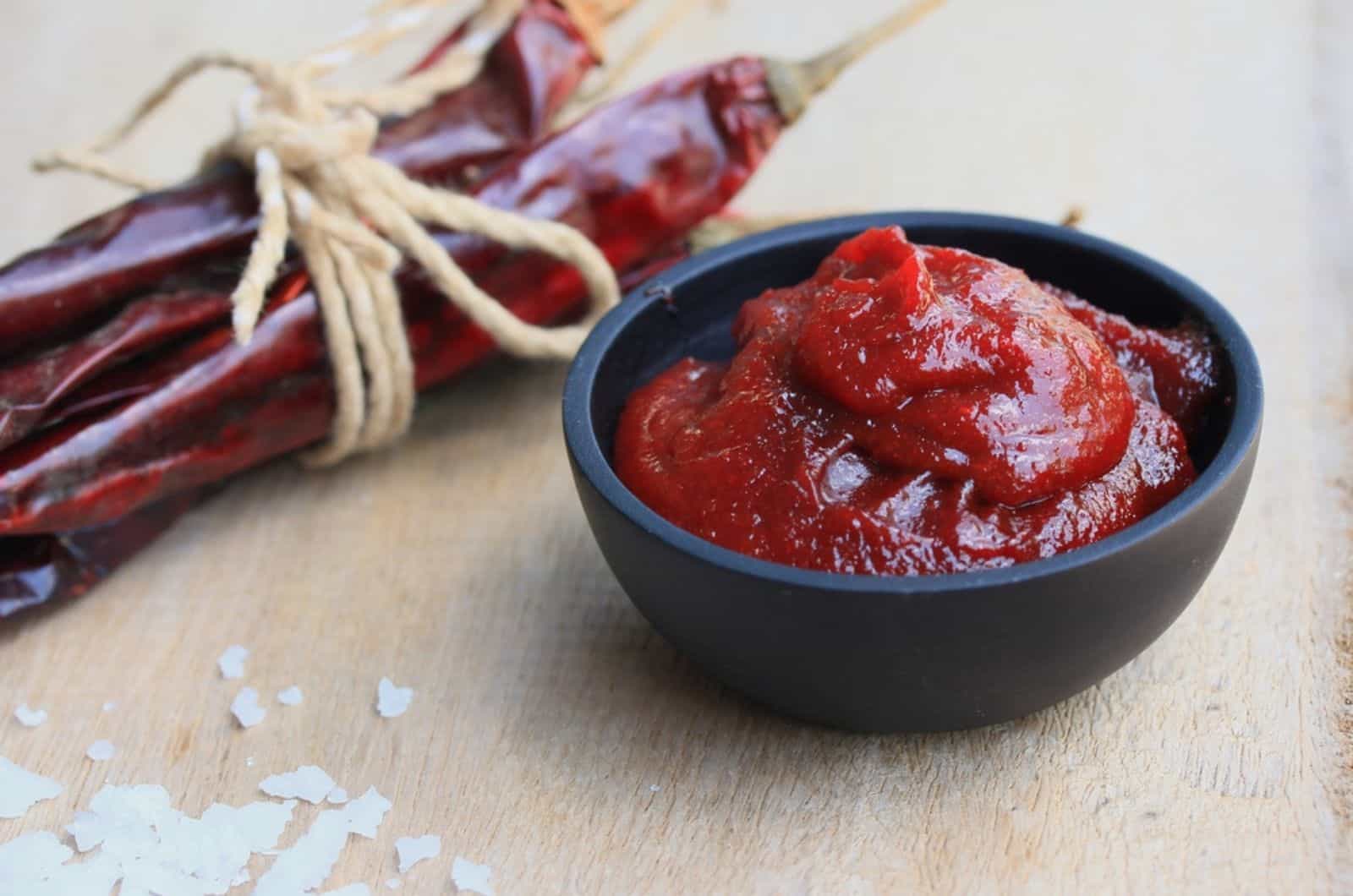 Sweet and spicy are the exact words that best describe this Korean red chili paste, which is considered one of the hottest condiments of all.
This is an indispensable ingredient in most Korean spicy dishes, like a kind of Korean hot sauce.
Korean red chili flakes and miso paste form the basis of this paste, together with sweeteners that give it a distinctive sweet taste. Although it does not have a similar flavor to harissa, it can serve quite well in place of harissa in a good number of dishes like vegetable dishes, chicken dishes, and dips.
7. Chili Powder: Favorite Spicy Mix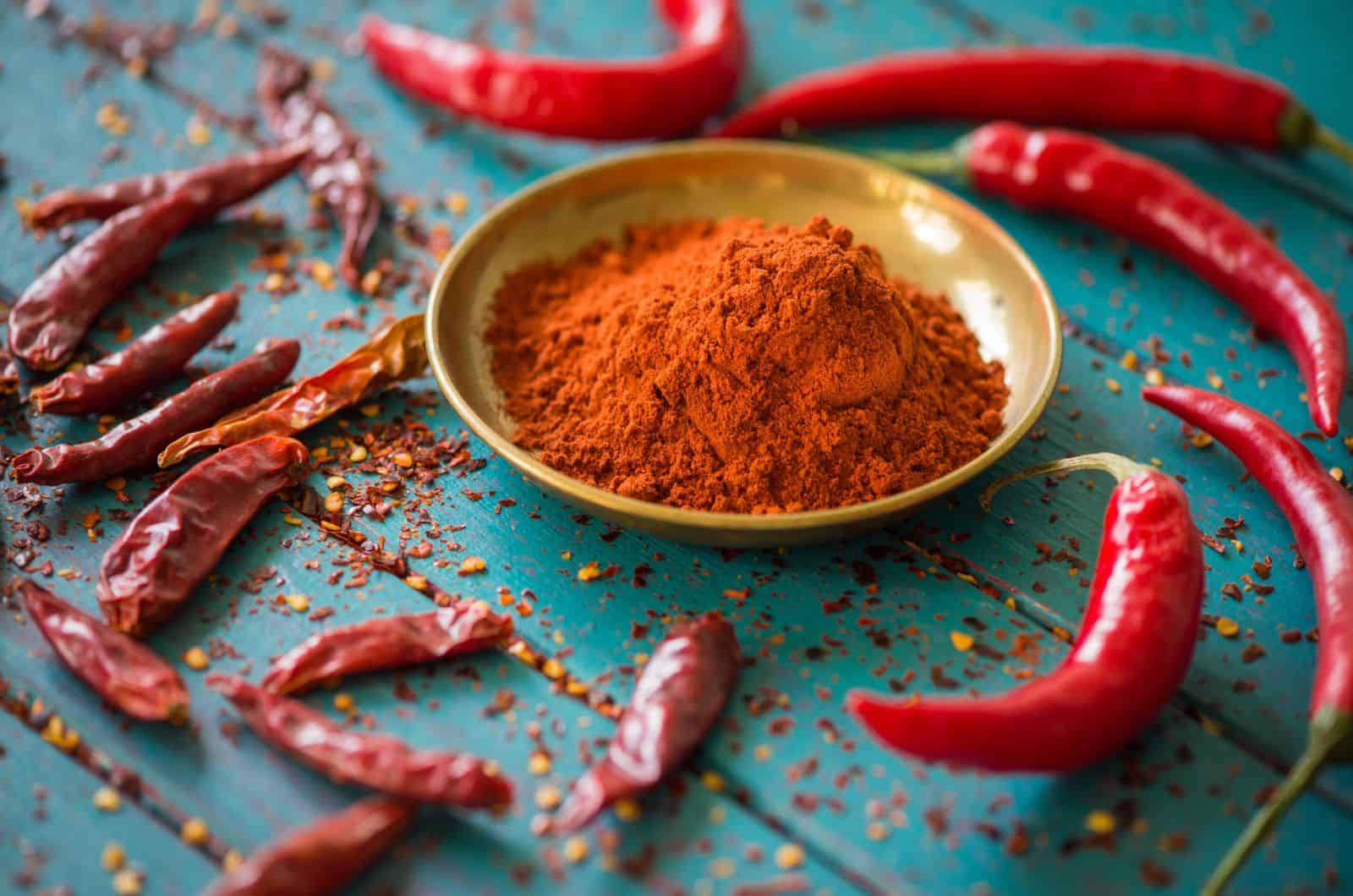 Since harissa powder contains dried chilies, among other ingredients, the conclusion is that chili powder can definitely serve as a good harissa substitute. The flavor of harissa is not very different from that of chili pepper.
But when it comes to heat level, I can't say that chili powder can fulfill the requirements. Fortunately, there is always a solution, and it is in the form of red chili flakes or cayenne peppers, which can be added to increase the degree of heat.
Another solution that is worth mentioning is the possibility of adding some ingredients to this powder, such as vegetable oil, along with spices such as garlic, Sichuan pepper, and paprika.
By adding this combination, you will get another form of chili that can serve as a great alternative for harissa, and that is chili oil.
8. Berbere: Very Hot Combination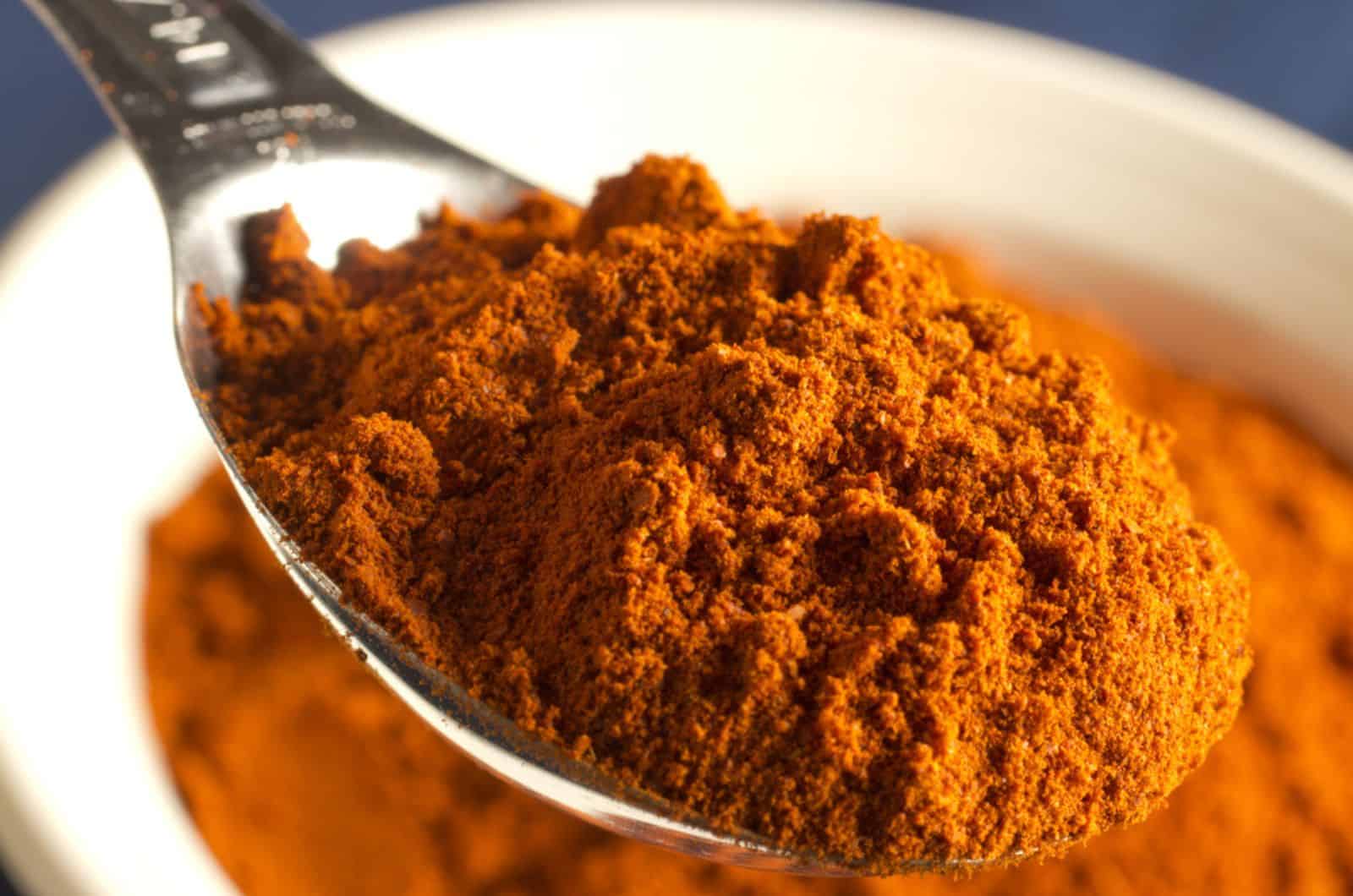 This traditional spice mix with Ethiopian origins is very versatile and can be used in many different recipes, including as a substitute in some harissa recipes.
Berbere is actually not a paste like harissa, but a powder.
But to get around this issue, you need only add a certain amount of olive oil and you will get a paste very similar to harissa, taking into account some ingredients such as cumin and coriander that are found in both mixtures.
The level of spiciness is still something on Berbere's side, so you need to be extra careful about the amount you use in dishes in which it is acting as a harissa substitute. Dishes that are most suitable for berbere are stews.
9. Sambal Oelek: Best Of Indonesia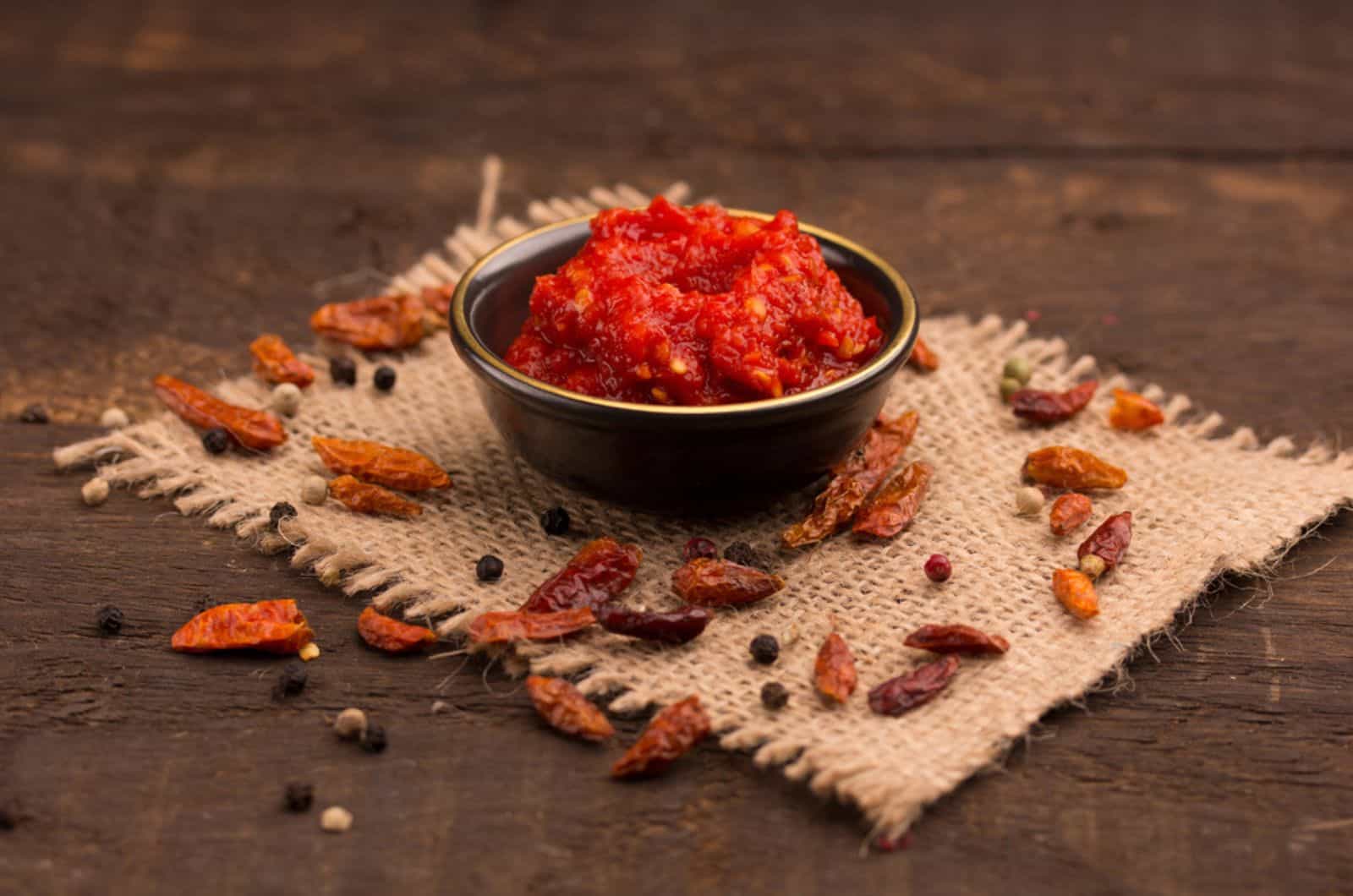 This Indonesian chili paste is a product of red hot chili peppers, with some additions including salt and vinegar.
It should also be emphasized that some types contain a combination of ingredients, including lemon juice, sugar, and onion.
I must admit that the taste of these two ingredients is not exactly the same because sambal oelek lacks some ingredients such as cumin, coriander, and caraway.
That is why adding them to this mixture is not a bad idea if you want to get a worthy harissa substitute.
10. Piri-Piri Sauce: Harissas Relative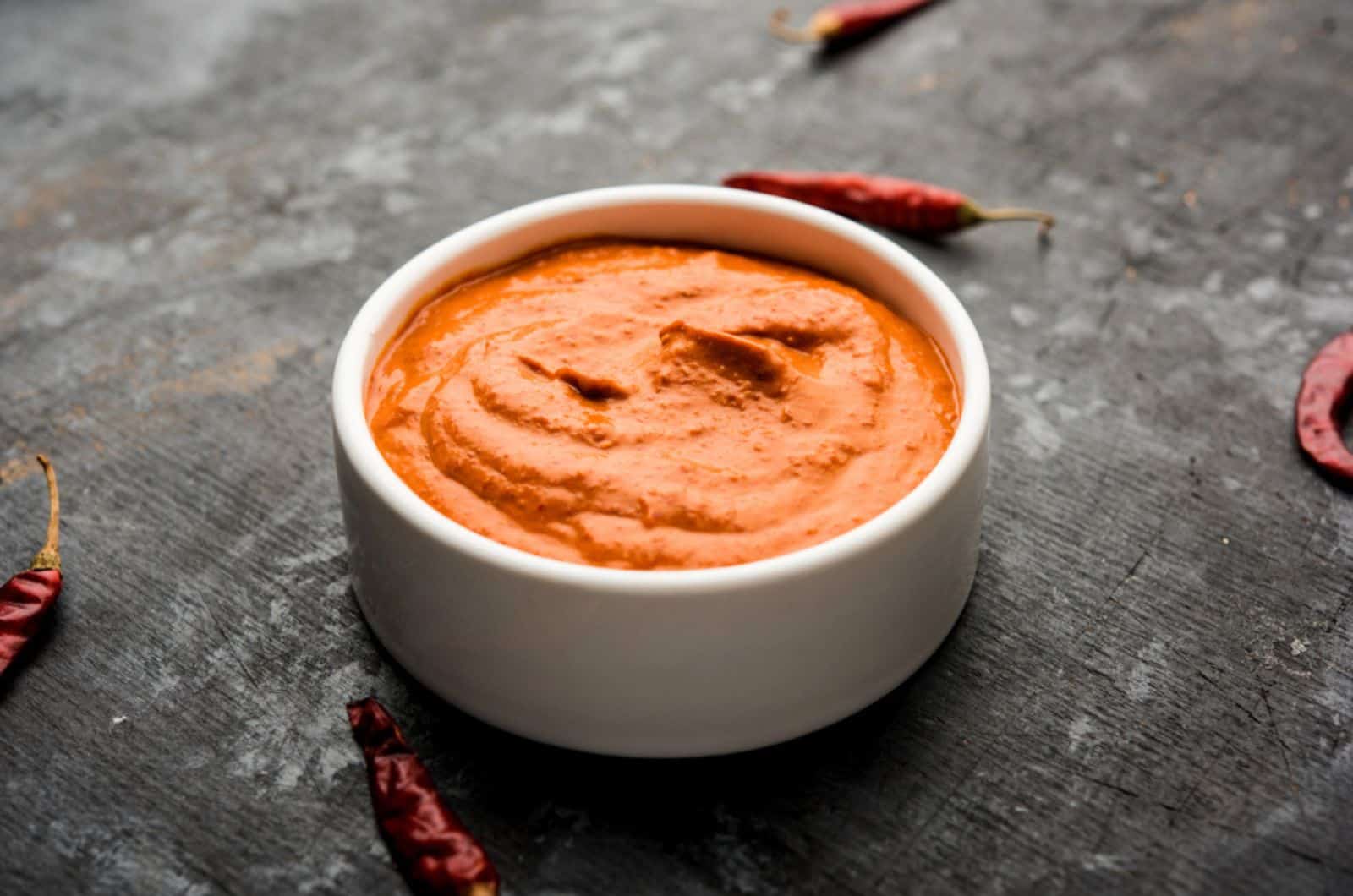 This is one very versatile sauce that originates from African countries, and it is a mix of so-called African bird's eye chilies.
It can serve as a great harissa substitute, primarily because they are relatives, but also because piri-piri is easy to find in most grocery stores and because there is a high probability that you will find it in your spice rack.
Although piri-piri sauce is much saucier than harissa, the combination of ingredients that create piri-piri gives it a very similar taste to harissa.
11. Ras El Hanout: Middle Eastern Hot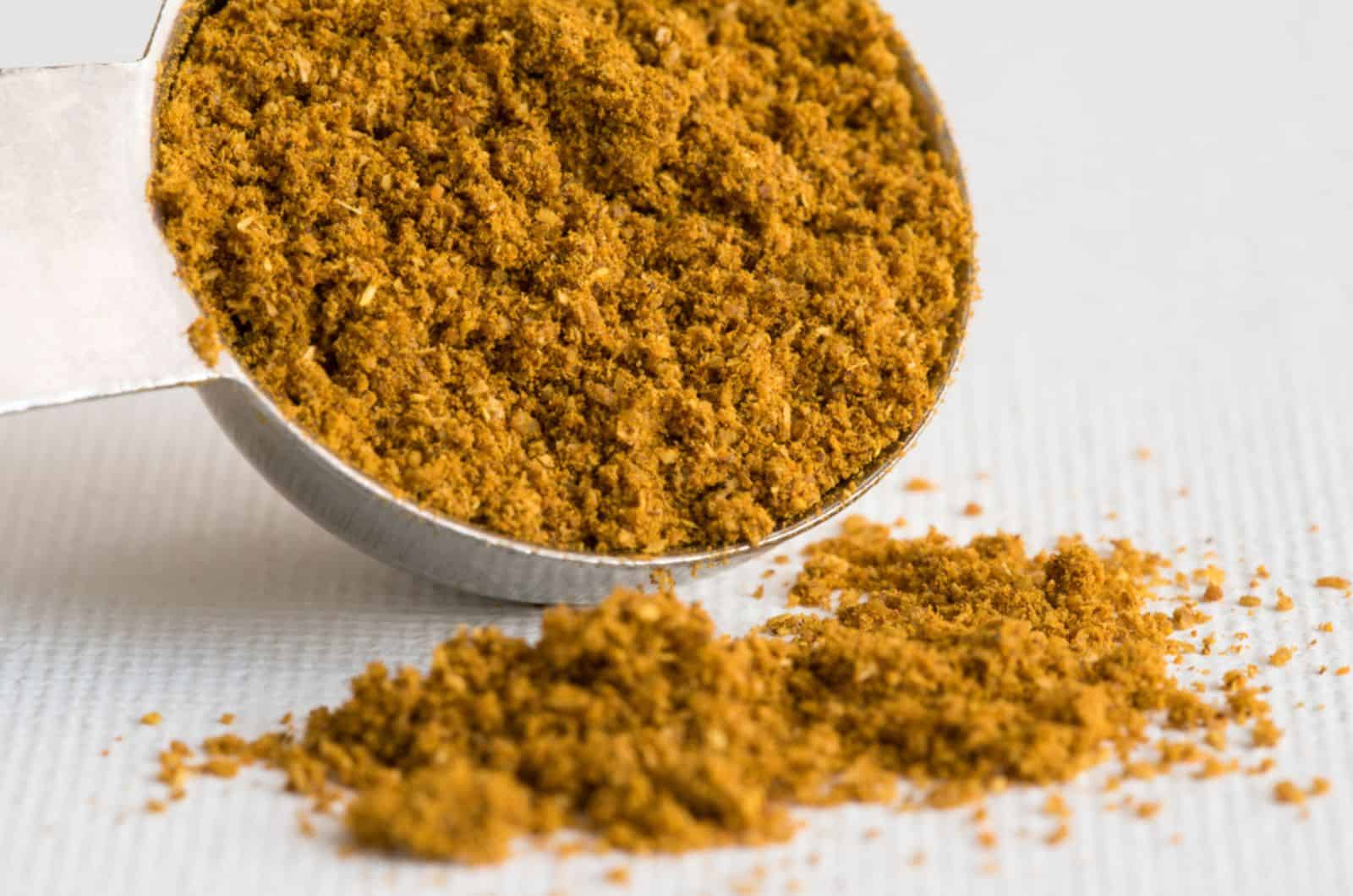 Ras el hanout is a Tunisian and Moroccan spice mixture that includes a lot of ingredients like cumin, cinnamon, ginger, turmeric, chili peppers, paprika, coriander seeds, and peppercorn.
There are many versions of this mixture and many of them contain aphrodisiacs.
It can be a nice harissa substitute due to their similarities in color, heat, and flavor. It is best used for stews, and also as a rub for grilled meats and vegetables, and to create tanginess.
Although it is a bit difficult to find it in a grocery store, you can always buy it in international stores or you can find it on Amazon.
Can You Substitute Paprika For Harissa?
Yes, of course! But, it would be best to use hot paprika, because sweet paprika is too mild to be a good substitute for hot harissa.
Another one is smoked paprika, but with the addition of some red pepper flakes.
However, it should be emphasized that you will use paprika when all other options are unavailable, that is when you really have to because the foods listed above are still better options than paprika.
Can I Use Tomato Paste Instead Of Harissa?
Yes, but with some additions such as olive oil and some spices to build up consistency and taste.
Tomato paste represents an excellent alternative to harissa paste for people who want a similar flavor with a touch of tang, and for those who do not like it very spicy.
In addition, it is very easy to find it in the grocery store, so that in itself is a huge advantage.
Final Thought
This unique sauce is definitely very difficult to replace, especially when it comes to the degree of spiciness. But each of these listed alternatives is certainly a quality harissa substitute, and you definitely cannot go wrong with any of them.